Trinity Sunday (A)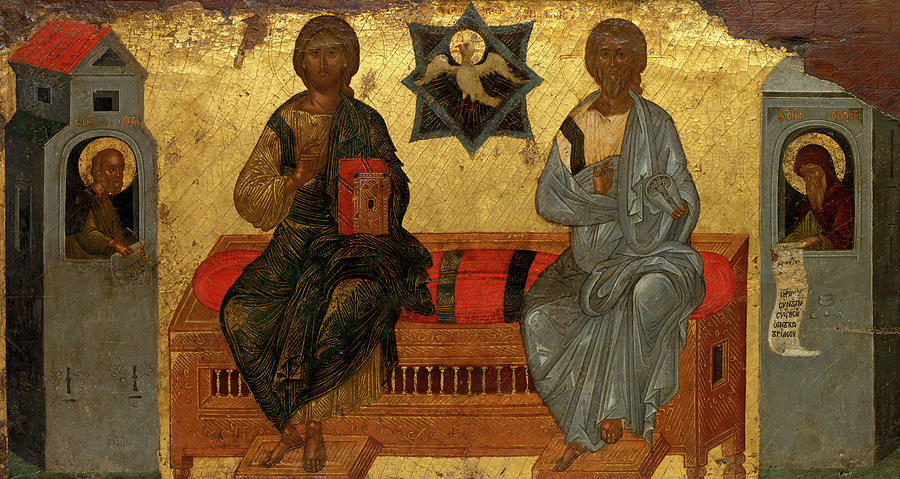 Introit
Kyrie
Gloria
Collect
God our Father, who by sending into the world
the Word of truth and the Spirit of sanctification
made known to the human race your wondrous mystery,
grant us, we pray, that in professing the true faith,
we may acknowledge the Trinity of eternal glory
and adore your Unity, powerful in majesty.
Through our Lord Jesus Christ, your Son,
who lives and reigns with you in the unity of the Holy Spirit,
one God, for ever and ever.
Liturgy of the Word
First reading Exodus 34:4b–6, 8–9
Early in the morning Moses went up Mount Sinai as the Lord had commanded him, taking along the two stone tablets. Having come down in a cloud, the Lord stood with Moses there and proclaimed his name, "Lord." Thus the Lord passed before him and cried out, "The Lord, the Lord, a merciful and gracious God, slow to anger and rich in kindness and fidelity." Moses at once bowed down to the ground in worship. Then he said, "If I find favor with you, O Lord, do come along in our company. This is indeed a stiff-necked people; yet pardon our wickedness and sins, and receive us as your own."
Responsorial Psalm Daniel 3:52, 53, 54, 55,
Glory and praise for ever!
Blessed are you, O Lord, the God of our fathers,
praiseworthy and exalted above all forever;
and blessed is your holy and glorious name,
praiseworthy and exalted above all for all ages. R/.

Blessed are you in the temple of your holy glory,
praiseworthy and glorious above all forever. R/.

Blessed are you on the throne of your kingdom,
praiseworthy and exalted above all forever. R/.

Blessed are you who look into the depths
from your throne upon the cherubim,
praiseworthy and exalted above all forever. R/.

Second reading 2 Corinthians 13:11–13
Brothers and sisters, rejoice. Mend your ways, encourage one another, agree with one another, live in peace, and the God of love and peace will be with you. Greet one another with a holy kiss. All the holy ones greet you. The grace of the Lord Jesus Christ and the love of God and the fellowship of the Holy Spirit be with all of you.
Gospel Acclamation
Gospel John 3:16–18
God so loved the world that he gave his only Son, so that everyone who believes in him might not perish but might have eternal life. For God did not send his Son into the world to condemn the world, but that the world might be saved through him. Whoever believes in him will not be condemned, but whoever does not believe has already been condemned, because he has not believed in the name of the only Son of God.
Catena Nova
We acknowledge the Trinity, holy and perfect, to consist of the Father, the Son and the Holy Spirit. In this Trinity there is no intrusion of any alien element or of anything from outside, nor is the Trinity a blend of creative and created being. It is a wholly creative and energizing reality, self-consistent and undivided in its active power, for the Father makes all things through the Word and in the Holy Spirit, and in this way the unity of the holy Trinity is preserved. Accordingly, in the Church, one God is preached, one God who is above all things and through all things and in all things [Eph. 4:6] . God is above all things as Father, for he is principle and source; he is through all things through the Word; and he is in all things in the Holy Spirit. Writing to the Corinthians about spiritual matters, Paul traces all reality back to one God, the Father, saying: Now there are varieties of gifts, but the same Spirit; and varieties of service, but the same Lord; and there are varieties of service but the same Lord; and there are varieties of working, but it is the same God who inspires them all in everyone [1 Cor. 12:4]....This is also Paul's teaching in his second letter to the Corinthians [13:13]: The grace of our Lord Jesus Christ and the love of God and the fellowship of the Holy Spirit be with you all. For grace and the gift of the Trinity are given by the Father through the Son in the Holy Spirit. Just as grace is given from the Father through the Son, so there could be no communication of the gift to us except in the Holy Spirit. But when we share in the Spirit, we possess the love of the Father, the grace of the Son and the fellowship of the Spirit (St. Athanasius of Alexandria).
This I give you to share, and to defend all your life, the one Godhead and power, found in the Three in unity, and comprising the Three separately, not unequal in substance or nature, neither increased nor diminished by superiorities or inferiorities; in every respect equal, in every respect the same; just as the beauty and the greatness of the heavens is one. This is the infinite conjunction of three infinite Ones, each is God when considered in Himself; as the Father, so the Son; as the Son, so the Holy Spirit. No sooner do I conceive of the One than I am illumined by the splendour of the Three; no sooner do I distinguish them than I am carried back to the One. When I think of any One of the Three I think of him as the Whole, and my eyes are filled, and the greater part of what I am thinking of escapes me. I cannot grasp the greatness of that One so as to attribute a greater greatness to the Rest. When I contemplate the Three together, I see but one torch, and cannot divide or measure out the Undivided Light (St. Gregory Nazianzen).
Eternal God, eternal Trinity, you have made the blood of Christ so precious through his sharing in your divine nature. You are a mystery as deep as the sea; the more I search, the more I find, and the more I find the more I search for you. But I can never be satisfied; what I receive will ever leave me desiring more. When you fill my soul I have an even greater hunger, and I grow more famished for your light. I desire above all to see you, the true light, as you really are. I have tasted and seen the depth of your mystery and the beauty of your creation with the light of my understanding. I have clothed myself with your likeness and have seen what I shall be. Eternal Father, you have given me a share in your power and the wisdom that Christ claims as his own, and your Holy Spirit has given me the desire to love you. You are my Creator, eternal Trinity, and I am your creature. You have made of me a new creation in the blood of your Son, and I know that you are moved with love at the beauty of your creation, for you have enlightened me. Eternal Trinity, Godhead, mystery deep as the sea, you could give me no greater gift than the gift of yourself. For you are a fire ever burning and never consumed, which itself consumes all the selfish love that fills my being. Yes, you are a fire that takes away the coldness, illuminates the mind with its light and causes me to know your truth. By this light, reflected as it were in a mirror, I recognise that you are the highest good, one we can neither comprehend nor fathom. And I know that you are beauty and wisdom itself. The food of angels, you gave yourself to humanity in the fire of your love. You are the garment which covers our nakedness, and in our hunger you are a satisfying food, for you are sweetness and in you there is no taste of bitterness, O triune God! (St. Catherine of Siena).
In You, Father almighty, we have
our preservation and our bliss.
In You, Christ,
we have our restoring and our saving.
You are our mother, brother and Saviour.

In You, our Lord the Holy Spirit,
is marvelous and plenteous grace.
You are our clothing,
for love You wrap us and embrace us.
You are our maker, our lover, our keeper.

Teach us to believe,
that by Your grace
all shall be well,
and all shall be well,
and all manner of things
shall be well.
Amen (Julian of Norwich).
To be baptized means to be a child of the Trinity, after the manner in which Jesus is the Only Begotten Son of the Father. It means to have entrance through Jesus, and with him and in him, into the family of the three divine Persons, sharing with them their own life of thought and love, their own eternal joy and happiness. It means, in the magnificent words of Saint John, to have fellowship with the Father and the Son in one and the same Spirit. This is the inmost meaning of our spiritual rebirth in and through Christ, from its beginning in baptism to its crowning and glory in heaven. The whole spiritual life of the Christian, therefore, is no more and no less than living as a child of God within the family of the Trinity. Let there be no misgiving in the matter: baptism establishes a real friendship between the three divine Persons and the newly baptized. Hence, for us Christians the Trinity becomes our home, the father's house that we must never leave, even as the Son never left the bosom of his Father. Progress in the spiritual life will consist simply in becoming more and more instilled with this very real presence of the Trinity in the soul, and allowing ourselves to be led by Jesus unto ever more intimate fellowship with the Father, the Son, and the Holy Spirit. It was the Word himself who came to make known to us this life-giving indwelling of the Trinity in the soul. If anyone love me, they will keep my word, and my Father will love that them, and we will come to them and make our abode with them. It is baptism that marks the beginning of this presence of the divine Persons in the soul, giving it, together with grace, the right to enjoy the possession of the Trinity…. Is it not true in fact that God has but one desire: to give himself and to be loved? (M.M. Philipon)
O my God, Trinity whom I adore, let me entirely forget myself that I may abide in you, still and peaceful as if my soul were already in eternity; let nothing disturb my peace nor separate me from you, O my unchanging God, but that each moment may take me further into the depths of your mystery ! Pacify my soul! Make it your heaven, your beloved home and place of your repose; let me never leave you there alone, but may I be ever attentive, ever alert in my faith, ever adoring and all given up to your creative action.
O my beloved Christ, crucified for love, would that I might be for you a spouse of your heart! I would anoint you with glory, I would love you - even unto death! Yet I sense my frailty and ask you to adorn me with yourself; identify my soul with all the movements of your soul, submerge me, overwhelm me, substitute yourself in me that my life may become but a reflection of your life. Come into me as Adorer, Redeemer and Savior.
O Eternal Word, Word of my God, would that I might spend my life listening to you, would that I might be fully receptive to learn all from you; in all darkness, all loneliness, all weakness, may I ever keep my eyes fixed on you and abide under your great light; O my Beloved Star, fascinate me so that I may never be able to leave your radiance.
O Consuming Fire, Spirit of Love, descend into my soul and make all in me as an incarnation of the Word, that I may be to him a super-added humanity wherein he renews his mystery; and you O Father, bestow yourself and bend down to your little creature, seeing in her only your beloved Son in whom you are well pleased.
O my "Three," my All, my Beatitude, infinite Solitude, Immensity in whom I lose myself, I give myself to you as a prey to be consumed; enclose yourself in me that I may be absorbed in you so as to contemplate in your light the abyss of your Splendor! (St. Elizabeth of the Trinity)
The Trinity is often presented as a puzzle: How can one be three and three be one? Mathematicians haven't come up with any answers to that, so let's treat the Trinity as a mystery to live, not a puzzle to solve. After all, it was through living the Mystery that the apostles preached a Triune God. The mystery begins at Creation. The Breath of God breathes on the primordial waters and the Word of God calls the world into being. Then, God breathes God's own life into the first human made out of wet clay. Think about it a moment. Having been made out of the clay of the earth, we are each called to life by a silent voice that resonates deeply within us with God's Desire, and the Breath of the same God enlivens us with that same Desire. Of course, we don't remember either the Call or the Breath. We emerge into life with forgetfulness, quickly falling prey to anger and anxiety, even though the Call and the Breath continue without ceasing. In daily life, we use memory to refer to remembering things such as appointments, how to do things, and what books we've read. But the great mystical writers in Christianity such as St. Augustine and St. John of the Cross use the word "memory" to refer to recollecting ourselves in the Memory of God who Calls us and Breathes in us. That is, memory, this deeper memory, is recollection in the Trinity. If we stop and think, we might hear the still small voice of this inner memory calling us and breathing in us. If we are fortunate enough to have people in our lives who take time to remember deeply, our own deeper memory is quickened.... If we puzzle over the numbers, we miss the adventure of the mystery of living deeply in the memory of the Trinity calling us and breathing through us out of the depth of the Godhead. This is a mystery we need to live each day as we live in a world where so much anger and anxiety pull us towards forgetfulness. But if "the grace of the Lord Jesus Christ, the love of God, and the communion of the Holy Spirit" is with all of us as St. Paul affirms in his closing words to the Corinthians, then we will "agree with one another [and] live in peace." (2 Cor. 13: 11-13) And, we will preach this deeper memory to others by the way we live our lives (Abbot Andrew Marr).
Homily
Cloudy with Some Sun
The Cloud of Unknowing. That's the title of a work by an unknown author of the Fourteenth Century on prayer. It appears to have been written for a young person beginning a life devoted to contemplation, either as a monk or a hermit. The author may have been a priest, maybe a monk, but unfortunately we know virtually nothing about him -- or her.
The author describes the virtue of putting all thoughts, all images, all concepts beneath what he calls a "cloud of forgetting," and then single-heartedly seeking to love God, who is hidden from our finite minds by what he calls a "cloud of unknowing." To pierce that cloud, the author tells us, we are to send "sharp darts" of "longing love" rather than many words or thoughts. The Cloud of Unknowing also encourages us to use short words like "God" or "love" repeatedly in prayer, as a mantra, in order to help surrender all distracting thoughts and seek the place of inner silence, where one may "be still and know God."
In all of this, the author represents a form of Christian spirituality called apophatic, which is an approach to prayer and relationship to God that seeks the Holy through no created thing, not even through words or images. This is the opposite of the kataphatic approach which relies on verbal formulae and the imagination in prayer. The rosary and the stations of the cross come to mind as Catholic forms of this sort of prayer. Mind you, these too can be prayed "apophatically" if they are done in a contemplative manner, as can the "kataphatic" prayer of the liturgy.
Now besides the author of the Cloud, others who advocate the apophaticapproach include the famous monk Dionysius. He teaches us not only to be careful of relying too heavily on words and images in prayer, but also in our thinking about God. So in his work The Mystical Theology, he tells us in somewhat startling language that God is not anything we "can have knowledge of."
The Carmelite, St. John of the Cross, is another representative of this approach. He tells us in language still more startling that after one ascends Mt. Carmel -- his symbol for the spiritual journey -- one finds at the summit only nada – "nothing" – meaning no word or image, that could possibly express the Mystery of God. St. John tells us too of the "dark nights" which people pass through as they are weaned from words and images in prayer. For if you grow in the life of prayer, and not everyone does, the time will normally come when these things are put aside. As St. Theresa of Avila once complained of her nuns who had not made the transition, "God save me from devotions!" But for those who do manage the shift, it's a moment of crisis in the spiritual life, because many people fear they are no longer praying when the mode shifts so radically. But in fact they are praying, and in more mature ways than before.
Now the mystics often resort to poetry to help them express the inexpressible, which is beyond words and images. St John of the Cross thus writes, "I entered into unknowing. Yet when I saw myself there, Without knowing where I was, I understood great things; I shall not say what I felt, For I remained in unknowing, Transcending all knowledge. . . . He who truly arrives there, Cuts free from himself. All that he knew before, Now seems worthless, And his knowledge so soars, That he is left in unknowing, Transcending all knowledge. The higher he ascends, The less he understands, Because the cloud is dark, Which lit up the night; Whoever knows this, Remains always in unknowing, Transcending all knowledge."
There's that image of a cloud again. The mystics borrow it, of course, from the Bible. There a cloud often signals God's glory, present yet hidden. Like in the passage from the book of Exodus we just heard: the story of Moses' encounter with God on Mt. Sinai when God came down in a cloud and passed before [Moses] and proclaimed his name, 'Lord' (I). That was a supremely "apophatic" moment when the mystery of the Godhead came shrouded in cloud and even the "kataphatic" name revealed on Sinai was such that it could not be spoken, under penalty of death, except by the high priest once a year on the Day of Atonement. And the "kataphatic" tablets of the Law which Moses carried to the summit of Mt. Sinai are, as St. John of the Cross tells us, laid aside on Mt Carmel's because "for the just person there is no law, he is a law unto himself."

And so it's good on this feast of the Holy Trinity to remember that, even as we celebrate the central mystery of our Christian faith; even as we believe it's true because the only Son of God (G) has revealed it; even as we confess this mystery in the words of the Nicene Creed -- despite the confidence with which we do these things -- we remain in a "cloud of unknowing" when it comes to the mystery of God. For that mystery lies absolutely beyond human comprehension. And any words, any images we use, even the hallowed ones of Scripture, the Liturgy, and the Creed, still fall short of the glory of God.
Which is why the two greatest theologians of the Catholic Church, St. Augustine of Hippo and St. Thomas Aquinas are remembered for two "apophatic" incidents in their lives as well as the many volumes of "kataphatic" teaching they wrote. Of Augustine, the story is told of his walk along the beach while working on his great book On the Trinity. He was trying to grasp the mystery of the Trinity, when he suddenly came across a little child who was pouring water into a hole he had dug in the sand. When Augustine asked the child what he was doing, he responded, "I'm trying to pour the ocean into this hole." Augustine scoffed at the child, who went on to say, "And it is just as futile for you to try and fill your mind with the mystery of the Holy Trinity." In a more modest moment, Augustine would later write, "If you think it's God you understand, then it isn't God."
Of St. Thomas, we are told at the end of his life, after celebrating Mass, he had some sort of experience which left him dazed. When he came out of his cloud of unknowing, he told his brethren, "After what I've seen, all that I've written of God seems like so much straw." He never wrote again, leaving the greatest of his works, the Summary of Theology, unfinished.
How much then should we approach with humility the Mystery before whom Moses bowed down to the ground in worship (I); and of the Son whom God sent into the world; and of the Holy Spirit whose communion we enjoy: One God in Three Persons, living and reigning, forever and ever. Amen.
Nicene Creed
Intercessions in a Time of Civil Unrest and Violence (Mary Grace Melcher, Diocese of Austin, Pope Francis et. alia)
God wills all peoples to be gathered into one family free from division and strife. Trusting in divine providence, we offer our petitions for peace and justice.
That the witness of Christians to the communion that has its origin in the Holy Trinity may be an inspiration to the nations to do everything they can to live in peace. R/. Lord, have mercy.
For an end to the violence perpetrated by harsh words, deadly weapons, or cold indifference and that victims of racially-motivated hatred may find healing. R/. Lord, have mercy.
That God will forgive the sins and wickedness of those who, with stiff necks, engage in racist rhetoric and behaviors and who cover their evil intent with religious symbols and hypocritical devotion. R/. Lord, have mercy.
For those who tolerate or turn a blind eye to racism and exclusion in any form and yet claim to defend the sacredness of every human life. R/. Lord, have mercy.
That our homes, our nation, and countries around the world may become havens of peace and justice and for an end to violence in our land by whomsoever committed. R/. Lord, have mercy.
For the grace to see every human being as a child of God, regardless of race, language or culture. R/. Lord, have mercy.
For the wisdom to receive the stories and experiences of those different from ourselves and to respond with respect. R/. Lord, have mercy.
For our faith communities, that we may celebrate and welcome the diverse faces of Christ in our worship, our ministries, and our leaders. R/. Lord, have mercy.
For those who defend the innocent and protect the common good, may the Lord guide them and protect them. R/. Lord, have mercy.
For those who have died, especially those who have died as a result of systemic racism, especially
Trayvon Martin, Yvette Smith, Eric Garner, Michael Brown, Laquan McDonald, Tanisha Anderson, Akai Gurley, Tamir Rice, Jerame Reid, Natasha McKenna, Eric Harris, Walter Scott, Freddie Gray, William Chapman, Sandra Bland, Darrius Stewart, Samuel DuBose, Janet Wilson, Calin Roquemore, Alton Sterling, Philando Castile, Joseph Mann, Terence Crutcher, Chad Robertson, Jordan Edwards, Aaron Bailey, Stephon Clark, Danny Ray Thomas, Antwon Rose, Botham Jean, Atatiana Jefferson, Michael Dean, Ahmaud Arbery, Breonna Taylor, and George Floyd.
May the Lord receive them into eternal life. R/. Lord, have mercy.
For the consolation of their grieving families and friends and for the national reconciliation and peace for which we yearn. May Our Lady of Guadalupe, Mother of America, intercede for all those who work for peace and justice in this land and throughout the world. R/. Lord, have mercy.
O God of peace, who are peace itself and whom a spirit of discord cannot grasp, nor a violent mind receive, grant that those who are one in heart may persevere in what is good and that those in conflict may forget evil and so be healed. Through our Lord Jesus Christ, your Son, who lives and reigns with you in the unity of the Holy Spirit, one God, for ever and ever. Amen.
(Collect for the Preservation of Peace and Justice)
Offertory Chant
Lord's Prayer
In the Spirit we cry out "Abba!" in the words of the beloved Son....
Spiritual Communion
Indwelling Trinity, your Word promised that if anyone love him, so would the Father, and both would come and make their abode in that person through the gift of the Spirit. Though unable to experience the divine Presence in the mystery of the Eucharist we nevertheless trust that our desire for spiritual communion will renew us once more as a dwelling-place for God in the Spirit.
Communion Hymn (John Stainer)
God so loved the world.
God so loved the world,
that He gave His only begotten Son,
that whoso believeth, believeth in Him
should not perish, should not perish
but have everlasting life.

For God sent not His Son into the world to condemn the world.
God sent not His Son into the world to condemn the world;
but that the world through Him might be saved.

God so loved the world.
God so loved the world,
that He gave His only begotten Son,
that whoso believeth, believeth in Him
should not perish, should not perish
but have everlasting life,
everlasting life, everlasting, everlasting life.
God so loved the world.
God so loved the world.
God so loved the world.
Closing Hymn
Holy God,
Holy Mighty,
Holy Immortal,
Have mercy on us. (3x)
Glory to Father, Son, and Holy Spirit,
Now and ever and to the ages. Amen.
Holy God,
Holy Mighty,
Holy Immortal,
Have mercy on us.
Archives