Second Sunday of Easter (or 'of Divine Mercy') A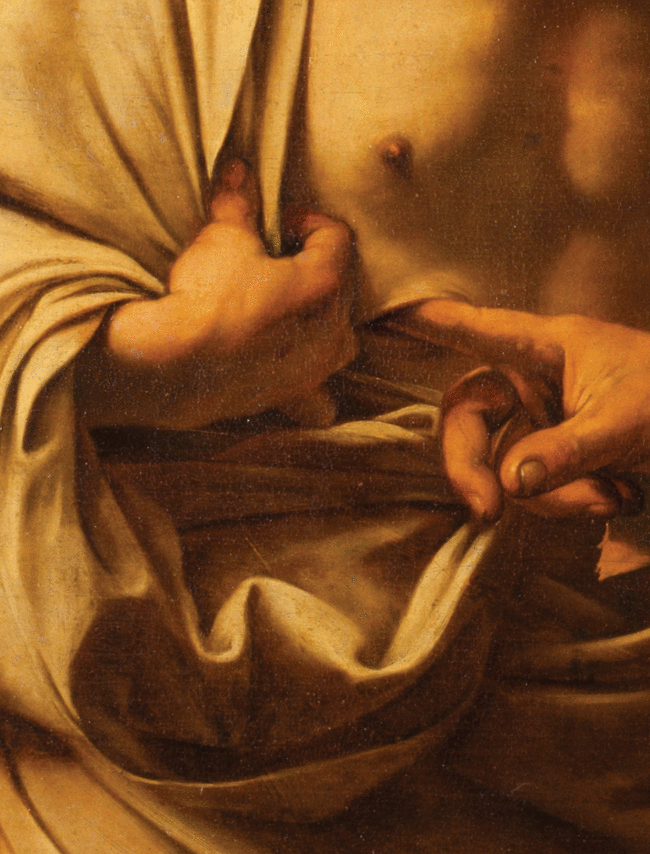 Introit
Collect
God of everlasting mercy,
who in the very recurrence of the paschal feast
kindle the faith of the people you have made your own,
increase, we pray, the grace you have bestowed,
that all may grasp and rightly understand
in what font they have been washed,
by whose Spirit they have been reborn,
by whose Blood they have been redeemed.
Through our Lord Jesus Christ, your Son,
who lives and reigns with you in the unity of the Holy Spirit,
one God, for ever and ever.
Liturgy of the Word
First Reading Acts 2:42-47
They devoted themselves to the apostles' teaching and fellowship, to the breaking of bread and the prayers. And fear came upon every soul; and many wonders and signs were done through the apostles. And all who believed were together and had all things in common; and they sold their possessions and goods and distributed them to all, as any had need. And day by day, attending the temple together and breaking bread in their homes, they partook of food with glad and generous hearts, praising God and having favor with all the people. And the Lord added to their number day by day those who were being saved.
Responsorial Psalm
Second Reading 1 Peter 1:3-9
Blessed be the God and Father of our Lord Jesus Christ! By his great mercy we have been born anew to a living hope through the resurrection of Jesus Christ from the dead, and to an inheritance which is imperishable, undefiled, and unfading, kept in heaven for you, who by God's power are guarded through faith for a salvation ready to be revealed in the last time. In this you rejoice, though now for a little while you may have to suffer various trials, so that the genuineness of your faith, more precious than gold which though perishable is tested by fire, may redound to praise and glory and honor at the revelation of Jesus Christ. Without having seen him you love him; though you do not now see him you believe in him and rejoice with unutterable and exalted joy. As the outcome of your faith you obtain the salvation of your souls.
Gospel Acclamation
Gospel John 20:19-31
On the evening of that day, the first day of the week, the doors being shut where the disciples were, for fear of the Jews, Jesus came and stood among them and said to them, "Peace be with you." When he had said this, he showed them his hands and his side. Then the disciples were glad when they saw the Lord. Jesus said to them again, "Peace be with you. As the Father has sent me, even so I send you." And when he had said this, he breathed on them, and said to them, "Receive the Holy Spirit. If you forgive the sins of any, they are forgiven; if you retain the sins of any, they are retained." Now Thomas, one of the twelve, called the Twin, was not with them when Jesus came. So the other disciples told him, "We have seen the Lord." But he said to them, "Unless I see in his hands the print of the nails, and place my finger in the mark of the nails, and place my hand in his side, I will not believe." Eight days later, his disciples were again in the house, and Thomas was with them. The doors were shut, but Jesus came and stood among them, and said, "Peace be with you." Then he said to Thomas, "Put your finger here, and see my hands; and put out your hand, and place it in my side; do not be faithless, but believing." Thomas answered him, "My Lord and my God!" Jesus said to him, "Have you believed because you have seen me? Blessed are those who have not seen and yet believe." Now Jesus did many other signs in the presence of the disciples, which are not written in this book; but these are written that you may believe that Jesus is the Christ, the Son of God, and that believing you may have life in his name.
Reflection Questions
In this time of "social distancing" what are you missing the most from Christian community?

How is your faith being tested by fire in this time of crisis?

What ongoing challenges to faith have surfaced for you in these days that you might not have been aware of before?
Catena Nova
And I know that He was possessed of a body not only in His being born and crucified, but I also know that He was so after His resurrection, and believe that He is so now. When, for instance, He came to those who were with Peter, He said to them, "Lay hold, handle Me, and see that I am not an incorporeal spirit." "For a spirit hath not flesh and bones, as ye see Me have." And He says to Thomas, "Reach hither thy finger into the print of the nails, and reach hither thy hand, and thrust it into My side; " and immediately they believed that He was Christ. Wherefore Thomas also says to Him, "My Lord, and my God." And on this account also did they despise death, for it were too little to say, indignities and stripes. Nor was this all; but also after He had shown Himself to them, that He had risen indeed, and not in appearance only, He both ate and drank with them during forty entire days. And thus was He, with the flesh, received up in their sight unto Him that sent Him, being with that same flesh to come again, accompanied by glory and power. For, say the [holy] oracles, "This same Jesus, who is taken up from you into heaven, shall so come, in like manner as ye have seen Him go unto heaven." But if they say that He will come at the end of the world without a body, how shall those "see Him that pierced Him," and when they recognise Him, "mourn for themselves? " For incorporeal beings have neither form nor figure, nor the aspect of an animal possessed of shape, because their nature is in itself simple. (St. Ignatius of Antioch)
Dearly beloved, what do you see in these events? Do you really believe that it was by chance that this chosen disciple was absent, then came and heard, heard and doubted, doubted and touched, touched and believed? It was not by chance but in God's providence. In a marvelous way God's mercy arranged that the disbelieving disciple, in touching the wounds of his master's body, should heal our wounds of disbelief. The disbelief of Thomas has done more for our faith than the faith of the other disciples. As he touches Christ and is won over to belief, every doubt is cast aside and our faith is strengthened. So the disciple who doubted, then felt Christ's wounds, becomes a witness to the reality of the resurrection. Touching Christ, he cried out: My Lord and my God. Jesus said to him: Because you have seen me, Thomas, you have believed. Paul said: Faith is the guarantee of things hoped for, the evidence of things unseen. It is clear, then, that faith is the proof of what can not be seen. What is seen gives knowledge, not faith. When Thomas saw and touched, why was he told: You have believed because you have seen me? Because what he saw and what he believed were different things. God cannot be seen by mortal man. Thomas saw a human being, whom he acknowledged to be God, and said: My Lord and my God. Seeing, he believed; looking at one who was true man, he cried out that this was God, the God he could not see. What follows is reason for great joy: Blessed are those who have not seen and have believed. There is here a particular reference to ourselves; we hold in our hearts one we have not seen in the flesh. We are included in these words, but only if we follow up our faith with good works. The true believer practices what he believes. But of those who pay only lip service to faith, Paul has this to say: They profess to know God, but they deny him in their works. Therefore James says: Faith without works is dead. (Pope St. Gregory the Great)
"I desire that the Feast of Mercy be a refuge and shelter for all souls, and especially for poor sinners. On that day the very depths of My tender mercy are open. I pour out a whole ocean of graces upon those souls who approach the fount of My mercy. The soul that will go to Confession and receive Holy Communion shall obtain complete forgiveness of sins and punishment. On that day all the divine floodgates through which grace flow are opened. Let no soul fear to draw near to Me, even though its sins be as scarlet…. [Let] the greatest sinners place their trust in My mercy. They have the right before others to trust in the abyss of My mercy. My daughter, write about My mercy towards tormented souls. Souls that make an appeal to My mercy delight Me. To such souls I grant even more graces than they ask. I cannot punish even the greatest sinner if he makes an appeal to My compassion, but on the contrary, I justify him in My unfathomable and inscrutable mercy. (St. Faustina Kowalska)
O blessed they indeed, who are destined for the sight of those wonders in which they now stand, at which they now look, but which they do not recognize! Blessed they who shall at length behold what as yet mortal eye hath not seen, and faith only enjoys! Those wonderful things of the new world are even now as they shall be then. They are immortal and eternal; and the souls who shall then be made conscious of them, will see them in their calmness and their majesty where they ever have been. But who can express the surprise and rapture which will come upon those, who then at least apprehend them for the first time, and to whose perceptions they are new! Who can imagine by a stretch of fancy the feelings of those who having died in faith, wake up to enjoyment! The life then begun, we know, will last for ever; yet surely if memory be to us then what it is now, that will be a day much to be observed unto the Lord through all the ages of eternity. We may increase indeed for ever in knowledge and in love, still that first waking from the dead, the day at once of our birth and our espousals, will ever be endeared and hallowed in our thoughts. When we find ourselves after long rest gifted with fresh powers, vigorous with the seed of eternal life within us, able to love God as we wish, conscious that all trouble, sorrow, pain, anxiety, bereavement, is over for ever, blessed in the full affection of those earthly friends whom we loved so poorly, and could protect so feebly, while they were with us in the flesh, and above all, visited by the immediate visible ineffable Presence of God Almighty, with His Only-begotten Son our Lord Jesus Christ, and his Co-equal Co-eternal Spirit, that great sight in which is the fulness of joy and pleasure for evermore,—what deep, incommunicable, unimaginable thoughts will be then upon us! what depths will be stirred up within us! what secret harmonies awakened, of which human nature seemed incapable! Earthly words are indeed all worthless to minister to such high anticipations. Let us close our eyes and keep silence. (St. John Henry Newman)
O faith, untainted and immortal,
Thou art a stream miraculous;
To heaven's home, Thou art the portal,
The dawn of future life for us.

O lamp of faith, within one burning,
Burn brighter, let none smother Thee,
Be Thou my guide as I am learning,
On paths of life, enlighten me. (Abbess Theisia)
[God] allowed my soul to be overwhelmed with darkness, and the thought of Heaven, which had consoled me from my earliest childhood, now became a subject of conflict and torture. This trial did not last merely for days or weeks; I have been suffering for months, and I still await deliverance. I wish I could express what I feel, but it is beyond me. One must have passed through this dark tunnel to understand its blackness … When I sing of the happiness of Heaven and the eternal possession of God, I do not feel any joy therein, for I sing only of what I wish to believe. Sometimes, I confess, a little ray of sunshine illumines my dark night, and I enjoy peace for an instant, but later, the remembrance of this ray of light, instead of consoling me, makes the blackness thicker still. (St. Thérèse of Lisieux)
God's call is mysterious: it comes in the darkness of faith. It is so fine, so subtle, that it is only with the deepest silence within us that we can hear it. And yet nothing is so decisive and overpowering for a person on this earth, nothing surer or stronger. This call is uninterrupted: God is always calling us! But there are distinctive moments in this call, moments which leave a permanent mark on us -- moments which we never forget. (Carlo Carretto)
Homily
SECOND SUNDAY OF EASTER (A)
Readings: Acts 2:42-47; 1 Pt. 1:3-9; Jn. 20:19-31
Sightings
While most of us, like the first disciples, have been sequestered behind locked doors living in fear– though for very different reasons – the Internet has proved vital for keeping us in touch with those, like Thomas, who are absent from our normal company. Facetime, email, Zoom, telemedicine, and online versions of newspapers, have all been indispensable in helping to keep us informed and in touch with one another. Even the old-fashioned telephone call has been resurrected as we reach out to loved ones near and far. Of course, the Net is also a great source of entertainment and, at times, exasperation at the sheer lunacy on tap all the way from conspiracy theories to deliberate misinformation to political chicanery.
One site that caught my attention – please don't ask me why – is a Facebook page called "Evidence Elvis Presley Is Alive." It proclaims that, "Evidence on this page proves beyond the shadow of a doubt that Elvis Aron Presley is ALIVE!" It promises to provide "one post per day with exciting information leading to the fact that Elvis faked his death." One of these claimed, "Elvis was in the witness protection program and living on the island of Kauai, Hawaii for a long period of time. I have heard that he is still there, however his appearance is vastly different than pre-1977 [when he died]. I have no hard evidence of the above but I believe it to be true."
Nonsense, you say? No doubt. But it sure sounds familiar, doesn't it? These so-called witness-bearers to someone being alive who was thought to be dead might just as well be Mary Magdalene, or Peter, or John -- the disciples who told Thomas 'We have seen the Lord' (G). And I for one don't blame Thomas one bit for wanting hard evidence. Wouldn't you? Because if you know anything at all about psychology -- or politics -- you know people will believe most anything if they really want to.
Which is what we Christians have been accused of since the first Easter morn. The disciples wanted Jesus alive more than anything else, and so he was -- in their minds – so say our naysayers. Chalk it up to mass hysteria, a group hallucination, or pure fabrication, but in substance believers in the resurrection aren't much different than people who say they've seen Elvis, or aliens, or who channel the dead.
And I'm afraid, in part, it's true. For our faith rests not on evidence, but on the testimony of witnesses. Either we believe them or we don't. None of us has put our finger in the hands that were pierced by nails, nor in the side that was pierced by a lance. No, all we have is the word of people who claim they were eyewitnesses to these things. Some of whom wrote them down so that [we] may come to believe that Jesus is the Messiah, the Son of God (G).
So here we are. People who accept their message. But more than that, we are people to whom the Easter message has also been entrusted. As the Father has sent me, so I send you (G), Jesus told the disciples. So we can't act like people in a "witness protection program" -- our doors locked for fear (G). Whether fear of ridicule, or of sounding like fanatics, or even the fear of our own secret doubts.
Rather, Easter faith puts us on center stage, like Peter who preached boldly in Jerusalem. And those who welcomed the message of Peter were baptized and many were added to the community (I). Just like a week ago, when the church throughout the world welcomed our newest members at the Easter Vigil. And now they too devote themselves to the apostles' teaching and fellowship, to the breaking of bread and the prayers (I) along with the rest of us.
But such things happen only if people are willing to say, even to a doubting Thomas, "Oh yes, God has given us a new birth into a living hope through the resurrection of Jesus Christ from the dead (II): In other words, "I believe." The newly-baptized heard this throughout their time of preparation from their teachers, their sponsors, and yes, their entire community. And at the Vigil, they professed it themselves in public when they said "I do" when asked if they believed.
But you can be sure before any of them approached a church to ask about baptism, someone, somewhere, testified, by word or deed, to their belief in the Risen Lord. It might have been a simple gesture, a kind word, an attitude that's hard to put your finger on. But it made an impact, such that faith led to faith.
But whatever it was that helped these new Christians believe, it wasn't because anyone saw "the King." We haven't. Because for us, seeing is not believing. Indeed, although [we] have not seen him, [we] love him; and even though [we] do not see him now, [we] believe in him and rejoice with an indescribable and glorious joy, for [we] are receiving the outcome of [our] faith, the salvation of [our] souls (cf. II). Through Christ our Lord. Amen.
Intercessions
For those who are suffering in the current outbreak of sickness that they might be healed, and for the happy repose of all who have died from this illness in recent weeks; let us pray to the Lord
For scientists, health professionals, public officials, and all who serve the common good during this difficult and uncertain time, that they may be filled with wisdom and understanding; let us pray to the Lord.
That in times of illness our merciful and loving Father will strengthen our faith and trust in his goodness and divine providence; let us pray to the Lord.
That our compassionate Father will comfort and heal all those who are sick, and give them a speedy recovery and lasting peace; let us pray to the Lord.
Father, we seek Your wisdom daily. Be with people making decisions that affect the lives and futures of our families, communities, countries, and the wider world. We pray that they communicate clearly, truthfully, and calmly — with each other and with the public — and that their messages are received and heeded. May truth and empathy be the touchstones of people setting policies for our protection.
Offertory
Lord's Prayer
Let us pray as Christ taught us for deliverance from evil….
Spiritual Communion
Lord Jesus, many of us were taught to say the words of St. Thomas, "My Lord and my God," at the elevation of the host and chalice during Mass. Even though we are not able to make that simple act of faith today, we still seek your divine Presence in our hearts by a spiritual Communion. Count us today among those who have not seen, yet believe, and in your divine Mercy keep us united to you and one another in the mystery of your Mystical Body.

Communion
Concluding Hymn
Archives