Advent with Revelation (Ch. 3)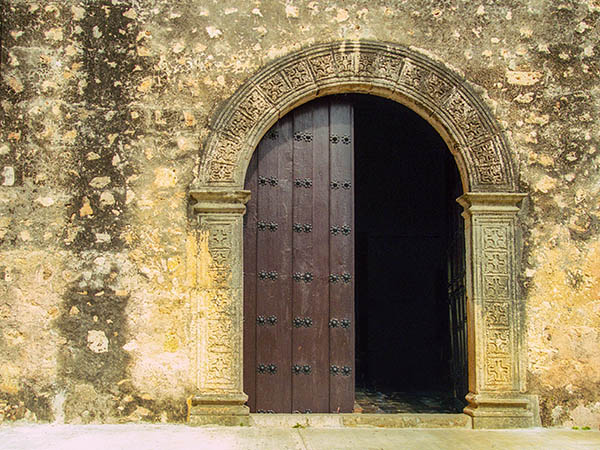 Chapter 3 (Tuesday of the First Week of Advent)
'And to the angel of the church in Sardis write: These are the words of him who has the seven spirits of God and the seven stars:
'I know your works; you have a name for being alive, but you are dead. Wake up, and strengthen what remains and is at the point of death, for I have not found your works perfect in the sight of my God. Remember then what you received and heard; obey it, and repent. If you do not wake up, I will come like a thief, and you will not know at what hour I will come to you. Yet you have still a few people in Sardis who have not soiled their clothes; they will walk with me, dressed in white, for they are worthy. If you conquer, you will be clothed like them in white robes, and I will not blot your name out of the book of life; I will confess your name before my Father and before his angels. Let anyone who has an ear listen to what the Spirit is saying to the churches.
'And to the angel of the church in Philadelphia write:
These are the words of the holy one, the true one,
who has the key of David,
who opens and no one will shut,
who shuts and no one opens:
'I know your works. Look, I have set before you an open door, which no one is able to shut. I know that you have but little power, and yet you have kept my word and have not denied my name. I will make those of the synagogue of Satan who say that they are Jews and are not, but are lying—I will make them come and bow down before your feet, and they will learn that I have loved you. Because you have kept my word of patient endurance, I will keep you from the hour of trial that is coming on the whole world to test the inhabitants of the earth. I am coming soon; hold fast to what you have, so that no one may seize your crown. If you conquer, I will make you a pillar in the temple of my God; you will never go out of it. I will write on you the name of my God, and the name of the city of my God, the new Jerusalem that comes down from my God out of heaven, and my own new name. Let anyone who has an ear listen to what the Spirit is saying to the churches.
'And to the angel of the church in Laodicea write: The words of the Amen, the faithful and true witness, the origin of God's creation:
'I know your works; you are neither cold nor hot. I wish that you were either cold or hot. So, because you are lukewarm, and neither cold nor hot, I am about to spit you out of my mouth. For you say, "I am rich, I have prospered, and I need nothing." You do not realize that you are wretched, pitiable, poor, blind, and naked. Therefore I counsel you to buy from me gold refined by fire so that you may be rich; and white robes to clothe you and to keep the shame of your nakedness from being seen; and salve to anoint your eyes so that you may see. I reprove and discipline those whom I love. Be earnest, therefore, and repent. Listen! I am standing at the door, knocking; if you hear my voice and open the door, I will come in to you and eat with you, and you with me. To the one who conquers I will give a place with me on my throne, just as I myself conquered and sat down with my Father on his throne. Let anyone who has an ear listen to what the Spirit is saying to the churches.'
Commentary
What you gladly know by the Scripture, you should strive also to do the work of the same. And because, if in these ways people return out of great destruction to great repentance, they are not only useful to themselves, but they are able also to be of advantage to many, He promised them no small reward—to sit, namely, on the throne of judgment. (Victorinus of Pettau)
The Lord, as a Conqueror, sat down with the Father on the throne, in that, after the conflict of His passion, after the victory of His resurrection, He manifested Himself more clearly to all, as coequal with the Father in power. Observe, that in all the churches the Lord first declares His own power, then recounts the works of the Church as worthy either of praise or blame, but always with admonition intermixed, and that in the last place He assigns to either part the reward which is due, and which may be understood both of the present and the future. (St. Bede the Venerable)
The Father of immortality sent the immortal Son and Word into the world, who came to humanity in order to wash us with water and the Spirit; and He....breathed into us the breath (spirit) of life, and endued us with an incorruptible panoply. If, therefore, humanity have become immortal, we will also be God. (St. Hippolytus of Rome)
Musical Selections
Ecce sto ad ostium, et pulso: si quis audierit vocem meam, et aperuerit mihi ianuam, intrabo ad illum, et cœnabo cum illo, et ipse mecum.
Behold, I stand at the door and knock. If anyone will hear my voice and will open the door to me, I will enter to him, and I will dine with him, and he with me.
Qui vicerit, dabo ei sedere mecum in throno meo: sicut et ego vici, et sedi cum patre meo in throno eius, alleluia.
Whoever prevails, I will grant to him to sit with me on my throne, just as I also have overcome and have sat down with my Father on his throne., alleluia.
O clavis David, et sceptrum domus Israel: qui aperis, et nemo claudit; claudis, et nemo aperit: veni, et educ vinctum de domo carceris, sedentem in tenebris et umbra mortis.
O Key of David and Sceptre of the house of Israel, Who dost open and no man doth shut, Who dost shut and no man doth open, come and bring forth from his prison house the captive that sitteth in darkness and in the shadow of death."
Blessèd city, heavenly Salem,
vision dear of peace and love,
who of living stones art builded
in the height of heaven above,
and with angel hosts encircled,
as a bride dost earthward move!
From celestial realms descending,
bridal glory round thee shed,
meet for him whose love espoused thee,
to thy Lord shalt thou be led;
all thy streets and all thy bulwarks
of pure gold are fashioned.
Bright thy gates of pearl are shining,
they are open evermore;
and by virtue of his merits
thither faithful souls do soar,
who for Christ's dear name in this world
pain and tribulation bore.
Many a blow and biting sculpture
polished well those stones elect,
in their places now compacted
by the heavenly Architect,
who therewith hath willed for ever
that his palace should be decked.
To this temple, where we call thee,
come, O Lord of Hosts, to-day;
with thy wonted loving-kindness
hear thy servants as they pray,
and thy fullest benediction
shed within its walls alway.
COLLECT

Look with favor, Lord God, on our petitions,
and in our trials grant us your compassionate help,
that, consoled by the presence of your Son,
whose coming we now await,
we may be tainted no longer
by the corruption of former ways.
Through our Lord Jesus Christ, your Son,
who lives and reigns with you in the unity of the Holy Spirit,
God, for ever and ever. Amen.

Archives