Twenty-sixth Sunday in Ordinary Time (A)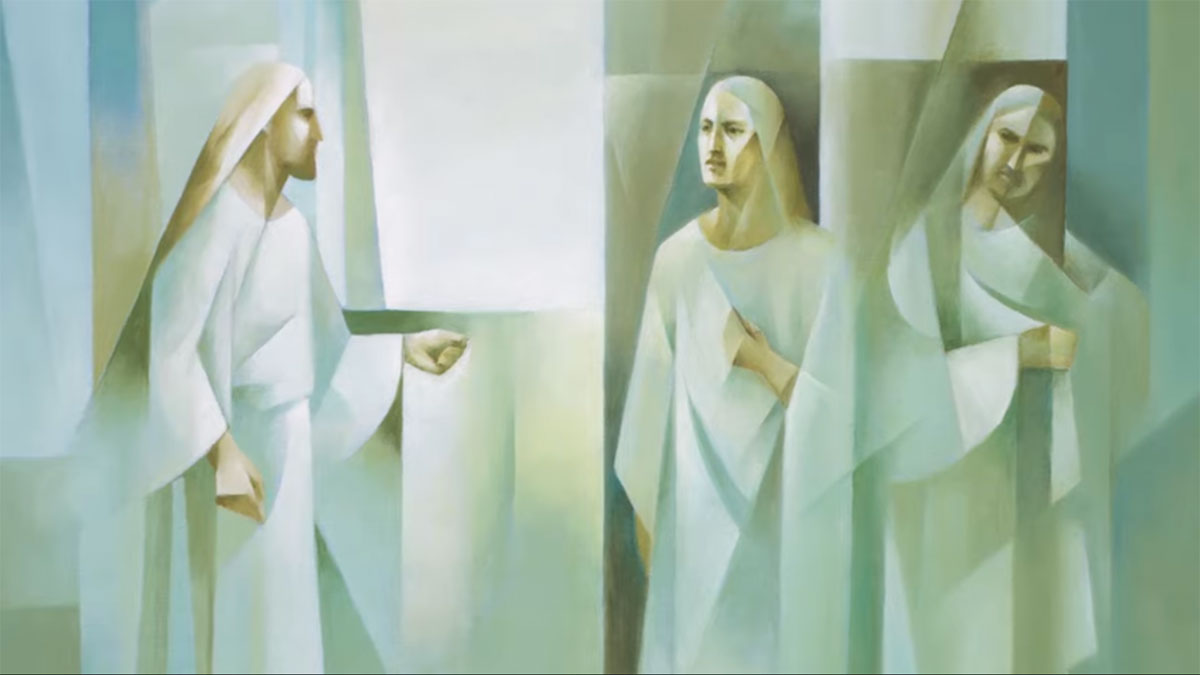 Introit
Kyrie
Gloria
Collect
O God, who manifest your almighty power
above all by pardoning and showing mercy,
bestow, we pray, your grace abundantly upon us
and make those hastening to attain your promises
heirs to the treasures of heaven.
Through our Lord Jesus Christ, your Son,
who lives and reigns with you in the unity of the Holy Spirit,
one God, for ever and ever. Amen.
First Reading Ez 18:25-28
Thus says the LORD: You say, "The LORD's way is not fair!" Hear now, house of Israel:
Is it my way that is unfair, or rather, are not your ways unfair? When someone virtuous turns away from virtue to commit iniquity, and dies, it is because of the iniquity he committed that he must die. But if he turns from the wickedness he has committed, he does what is right and just, he shall preserve his life; since he has turned away from all the sins that he has committed, he shall surely live, he shall not die.
Responsorial Psalm
R/. Remember your mercies, O Lord.
Your ways, O LORD, make known to me;
teach me your paths,
guide me in your truth and teach me,
for you are God my savior. R/.
Remember that your compassion, O LORD,
and your love are from of old.
The sins of my youth and my frailties remember not;
in your kindness remember me,
because of your goodness, O LORD. R/.
Good and upright is the LORD;
thus he shows sinners the way.
He guides the humble to justice,
and teaches the humble his way. R/.
Second Reading Phil 2:1-5
Brothers and sisters: If there is any encouragement in Christ, any solace in love, any participation in the Spirit, any compassion and mercy, complete my joy by being of the same mind, with the same love, united in heart, thinking one thing. Do nothing out of selfishness or out of vainglory; rather, humbly regard others as more important than yourselves, each looking out not for his own interests, but also for those of others. Have in you the same attitude that is also in Christ Jesus.
Who, though he was in the form of God,
did not regard equality with God
something to be grasped.
Rather, he emptied himself,
taking the form of a slave,
coming in human likeness;
and found human in appearance,
he humbled himself,
becoming obedient to the point of death,
even death on a cross.
Because of this, God greatly exalted him
and bestowed on him the name
which is above every name,
that at the name of Jesus
every knee should bend,
of those in heaven and on earth and under the earth,
and every tongue confess that
Jesus Christ is Lord,
to the glory of God the Father.

Alleluia Jn. 10:27
Gospel Mt 21:28-32
Jesus said to the chief priests and elders of the people: "What is your opinion? A man had two sons. He came to the first and said, 'Son, go out and work in the vineyard today.' He said in reply, 'I will not, ' but afterwards changed his mind and went. The man came to the other son and gave the same order. He said in reply, 'Yes, sir, 'but did not go. Which of the two did his father's will?" They answered, "The first." Jesus said to them, "Amen, I say to you, tax collectors and prostitutes are entering the kingdom of God before you. When John came to you in the way of righteousness, you did not believe him; but tax collectors and prostitutes did. Yet even when you saw that, you did not later change your minds and believe him."
Catena Nova
The all-wise Paul, steward of His mysteries and sacred minister of the Gospel proclamations, explains this for us when he says, "Let each of you have among yourselves that same mind which was in Christ Jesus who, though he was in the form of God, did not count equality with God a thing to be grasped, but emptied himself assuming the form of a slave, coming in the likeness of men; and being found in fashion as a man he humbled himself becoming obedient even to death, death on a cross" (Phil 2:5-8). And indeed, the Only Begotten Word, even though he was God and born from God by nature, the "radiance of the glory, and the exact image of the being" of the one who begot him (Heb 1:3), he it was who became human. He did not change himself into flesh; he did not endure any mixture of blending, or anything else of this kind. But he submitted himself to being emptied and "for the sake of the honor that was set before him he counted the shame as nothing" (Heb 12:2) and did not disdain the poverty of human nature. As God he wished to make that flesh which was held in the grip of sin and death evidently superior to sin and death. He made it his very own, and not soulless as some have said, but rather animated with a rational soul, and thus he restored flesh to what it was in the beginning. He did not consider it beneath him to follow a path congruous to this plan, and so he is said to have undergone a birth like ours, while all the while remaining what he was. He was born of a woman according to the flesh in a wondrous manner, for he is God by nature, as such invisible and incorporeal, and only in this way, in a form like our own, could he be made manifest to earthly creatures. He thought it good to be made human and in his own person to reveal our nature honored in the dignities of the divinity (St. Cyril of Alexandria).
The clearest biblical witness for how God exercises power (and doesn't) is in the great hymn that Paul quotes in Philippians, where Jesus "though he was in the form of God, did not regard equality with God as something to be exploited, but emptied himself, taking the form of a slave, being born in human likeness. And being found in human form, he humbled himself and became obedient to the point of death — even death on a cross." (Phil. 2:6– 11) Some religious thinkers, particularly process theologians, have suggested that God's power is limited. This idea gets God off the hook in the sense that we can't blame God for not blasting our enemies out of the water at our convenience. But if God can't exercise such power (and process thinkers usually have problems with Creation and sometimes even with the Resurrection), then God is not modeling the renunciation of power as a moral and spiritual virtue. One might as well give me a medal for not beating up a body builder. The vulnerability of God, then, is an amazing divine virtue only if God chooses to be vulnerable to Creation, even to death on a cross. In this vulnerability, there is no longer any room for projecting the violent power of worldly potentates onto God (Andrew Marr).
Could this first stanza of the great Philippian hymn, in its fullness, be applied not only to Jesus but also perhaps to the entire Trinity? I believe so. The Three all live as an eternal and generous self-emptying, the Greek word being kenosis. If you're protecting yourself, if you're securing your own image and identity, then you're still holding on. Your ego remains full of itself. The opposite of kenosis. . . .I hope this does not surprise or disappoint you, but I have often noticed these divine qualities in people who are marginalized, oppressed, "poor," or "mentally disabled" — more than in many others. They have to trust love. They need communion. They know that only the vulnerable people understand them. They profit from mutuality. They're always in relationship. They find little ways to serve their community, to serve the sick, to serve those poorer than themselves. They know that only a suffering God can save them. You can take such a pattern as the infallible sign that one lives in God, People filled with the flow will always move away from any need to protect their own power and will be drawn to the powerless, the edge, the bottom, the plain, and the simple. They have all the power they need — and it always overflows, and like water seeks the lowest crevices to fill (Richard Rohr).
Theologians in all the great faiths have devised all kinds of myths to show that this type of kenosis, of self-emptying, is found in the life of God itself. They do not do this because it sounds edifying, but because this is the way that human nature seems to work. We are most creative and sense other possibilities that transcend our ordinary experience when we leave ourselves behind (Karen Armstrong).
The God-human lived his own life throughout along the line of this simultaneous self-abasement on two levels. Christ our Lord underwent all the limitations and infirmities of human life. He was subject to every human propensity which does not involve sin: he experienced hunger and thirst, exhaustion, grief, temptation—though without yielding to this last. He himself bore witness to his ignorance, or at least the limitation of his knowledge to the measure of human inference. He continually prayed to his Father in heaven as God. His mighty works, his miracles, he performed in the power of the Spirit and of prayer, showing himself in this "a prophet mighty in deed and word. He performed his ministry as teacher and prophet, imparting divine Wisdom in human terms. And finally he fell into the hands of his human enemies and was betrayed to death (Sergei Bulgakov).
The kenosis of the Son reveals the mystery of God who is Love. This gift of life is an extension of a mysterious exchange at the heart of the Deity. In God himself the One does not exclude the Other, it includes it. The Unity of God is so complete, so rich, that it is not solitude enclosed in itself, but rather the fullness of communion. And thereby, the source of all communion (Olivier Clement).
[The Incarnation is like] a wave of the sea which, rushing up on the flat beach, runs out, even thinner and more transparent, and does not return to its source but sinks into the sand and disappears." From the above you might be able to surmise that kenosis, as with just about anything in theology and philosophy has two aspects: the human and the divine. From the divine perspective kenosis is the self-emptying of God into His creation. From the human perspective this involves the human emptying himself or herself in order to receive the fullness of God. Granted, the two perspectives aren't entirely mutually exclusive (Hans Urs von Balthasar).
Homily
One Issue Trumps All? ... Or 'Biden Your Time?
I don't know how any preacher could fail to make some reference to being in the throes of a presidential campaign soon to enter the home stretch. And while Catholic clergy are traditionally reticent to make public endorsements – something the IRS has taken a dim view of in the past – things have changed. Bishops, priests, religious and laity have all made their preference known while resorting, of course, to Catholic teaching in defense of their candidate. What has made things even more contentious – if that were possible – is the tendency of one side to accuse the other of betraying the faith. Here are some samples starting with the clergy:
One especially strident priest posted a video on YouTube in which he stated, "You cannot be Catholic and be a Democrat. Period .... So just quit pretending that you're Catholic and vote Democrat...Repent of your support of that party or face the fires of hell." To which a bishop, despite a considerable outcry of disdain for the priest's comments, replied, "I endorse Fr. Altman's statement in this video....My shame is that it has taken me so long. Thank you Fr. Altman for your COURAGE. If you love Jesus & His Church & this nation...pleases HEED THIS MESSAGE."
Then there's Cardinal Joseph Tobin who has said, "I think that a person in good conscience could vote for Mr. Biden....I, frankly, in my own way of thinking have a more difficult time with the other option....I don't think that we can reduce [it], at least in the current panorama of issues, to how a candidate stands on a single issue....No political party represents fully the Catholic tradition...I think of the two options we have on the national scene of the two political parties, there's serious reason not to consider either party as being representative of the Catholic tradition."
Among religious we had the two nuns who spoke at the conventions. Sr. Simone Campbell of Nuns on the Bus fame offered a prayer at the Democratic convention that included the following words: O Divine Spirit! During the weeks and months ahead, stir our hearts and minds that we might fight for a vision that is worthy of you and your call to honor the dignity of all of your creation. A vision of who we are as a people, grounded in community and care for all, especially the most marginalized. A vision that cares for our earth and heals the planet. A vision that ends structural racism, bigotry, and sexism so rife now in our nation and in our history. A vision that ensures hungry people are fed, children are nourished, immigrants are welcomed.
You might not be surprised then to hear her opinion of the Republican candidate: "Catholics cannot be true to their faith and vote for Donald Trump in November."
At the latter convention, Sister Deirdre "Dede" Byrne of the Little Workers of the Sacred Hearts of Jesus and Mary spoke – replete with credentials as a surgeon and retired U.S. Army officer – who exclaimed that "Donald Trump is the most pro-life President that this nation has ever had" and that "belief in the sanctity of life transcends politics."
Then there's the laity among which we find an organization called Catholics for Biden, one of whose representatives, Josh Dickson, has this to say: "We believe the Biden-Harris agenda is deeply aligned with the common good values of Catholics and people of faith and much more aligned with those values than what we see from the current administration." To which another group's president, Brian Burch of CatholicVote, responds: "Joe Biden's record makes clear he will not protect our Catholic values or defend our way of life....For Catholics who cherish the Faith and their freedom to live it, a Biden presidency represents an existential threat."
For those interested in what the pope has to say in the midst of this division, Francis wrote in his encyclical Gaudete et exultate: "Our defense of the innocent unborn, for example, needs to be clear, firm, and passionate, for at stake is the dignity of a human life, which is always sacred and demands love for each person, regardless of his or her stage of development. Equally sacred, however, are the lives of the poor, those already born, the destitute, the abandoned and the underprivileged, the vulnerable infirm and elderly exposed to covert euthanasia, the victims of human trafficking, new forms of slavery, and every form of rejection" (no.101).
None of this is new by the way. The so-called "Catholic vote" has been something of a mirage in recent years. Pew Research, for example, reported two weeks ago that roughly equal numbers of Catholics are Republicans or Democrats – and that they tend to line up on issues more in keeping with their party's policy stands than the teaching of the church. They are also unreliable when it comes to presidential elections as they have swung back and forth in recent years in support of candidates from both parties (cf. https://www.pewresearch.org/fact-tank/2020/09/15/8-facts-about-catholics-and-politics-in-the-u-s/).
By now, you must be wondering what happened to the Scripture readings for today's liturgy! Have I completely abandoned the homilist's charge? Not at all. For it seems to me that the political landscape reflects the dynamics of the Parable of the Two Sons (or Brothers, take your pick). For one thing, both sons are asked to work in their father's vineyard and one may assume, like brothers do, they have varied interests; younger brothers might have different priorities than their elder sibling. They might also work in difference sectors of the vineyard each tending to different varieties of grape. Looks, moreover, can be deceiving when trying to judge who is more "faithful." And finally, special care should be exercised when it comes to who is most receptive to divine initiatives since tax collectors and prostitutes have been known to enter the kingdom of Godbefore those one might have expected (cf. G). In the end, Paul's advice still seems relevant in highly polarized situations: Do nothing out of selfishness or out of vainglory; rather, humbly regard others as more important than yourselves, each looking out not for his own interests, but also for those of others.
Creed
Intercessions
That we may complete the joy of our holy leaders in the church by our unity of mind, doing nothing out of selfishness, and looking out for the interests of one another.
For the powerful of the world, that they may turn from the practices of a civilization of death to do what is right and just before the God of life.
That we may be doers of the Father's will, matching our actions with our words when we agree to obey Him, or if we have at first refused, changing our minds in the end.
For the conversion of sinners, that they may turn from wickedness to righteousness in the sight of God, that they may live without shame in His presence.
For all who have asked for our prayers in a time of distress, that they may know solace in our love, encouragement in Christ, and God's compassion and mercy in their troubles.
For our faithful departed, that they may be among the blessed ones who joyously proclaim that Jesus Christ is Lord in the kingdom of His Father.
O God, you alone judge rightly and search the depths of the heart. Make us swift to do your will and slow to judge our neighbour, that we may walk with those who follow the way of repentance and faith and so enter your heavenly kingdom. Grant this through Christ our Lord. Amen.
Offertory Anthem (Rooke Chapel Choir)
Let this mind be in you, which was also in Christ Jesus: Who, being in the form of God, thought it not robbery to be equal with God: But made himself of no reputation, and took upon him the form of a servant, and was made in the likeness of men: And being found in fashion as a man, he humbled himself, and became obedient unto death, even the death of the cross. Wherefore God also hath highly exalted him, and given him a name which is above every name: That at the name of Jesus every knee should bow, of things in heaven, and things in earth, and things under the earth; And that every tongue should confess that Jesus Christ is Lord, to the glory of God the Father. (KJV)
Lord's Prayer
We pray to be faithful to God's will as Jesus taught....
Spiritual Communion (Episcopal Prayer Book for the Armed Services)
In union, O Lord, with your faithful people at every altar of your Church, where the Holy Eucharist is now being celebrated, I desire to offer to you praise and thanksgiving. I remember your death, Lord Christ; I proclaim your resurrection; I await your coming in glory. Since I cannot receive you today in the Sacrament of your Body and Blood, I beseech you to come spiritually into my heart. Cleanse and strengthen me with your grace, Lord Jesus, and let me never be separated from you. May I live in you, and you in me, in this life and in the life to come. Amen.
Communion Antiphon

Closing Hymn (Words: W.H. Vanstone; Music: Dorothy Howell Sheets)
Morning glory, starlit sky,
soaring music, scholar's truth,
flight of swallows, autumn leaves,
memory's treasure, grace of youth:
Open are the gifts of God,
gifts of love to mind and sense;
hidden is love's agony,
love's endeavor, love's expense.
Love that gives, gives ever more,
gives with zeal, with eager hands,
spares not, keeps not, all outpours,
ventures all its all expends.
Drained is love in making full,
bound in setting others free,
poor in making many rich,
weak in giving power to be.
Therefore he who shows us God
helpless hangs upon the tree;
and the nails and crown of thorns
tell of what God's love must be.
Here is God: no monarch he,
throned in easy state to reign;
here is God, whose arms of love
aching, spent, the world sustain.
Archives