Third Sunday of Advent (B)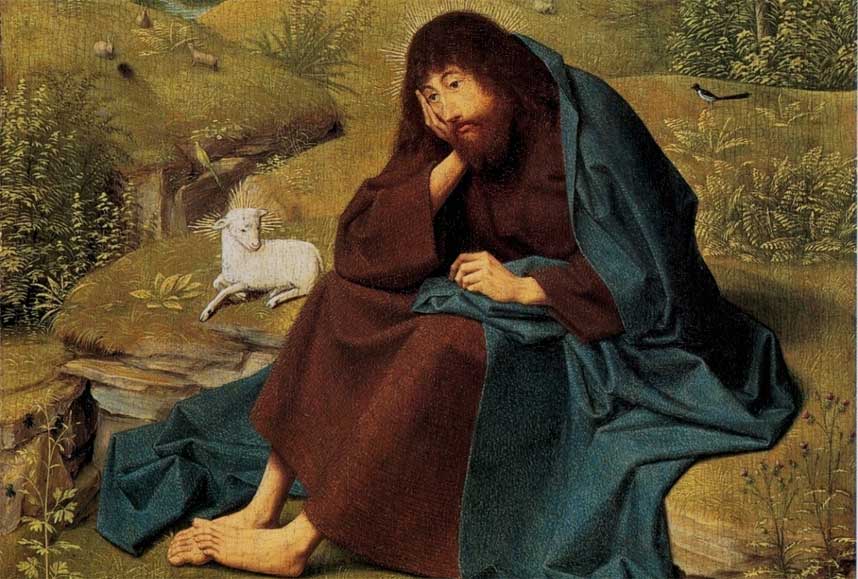 Introit
Kyrie
Collect
O God, who see how your people
faithfully await the feast of the Lord's Nativity,
enable us, we pray,
to attain the joys of so great a salvation
and to celebrate them always
with solemn worship and glad rejoicing.
Through our Lord Jesus Christ, your Son,
who lives and reigns with you in the unity of the Holy Spirit,
God, for ever and ever. Amen.
First Reading Is 61:1-2a,10-11
The spirit of the Lord GOD is upon me,
because the LORD has anointed me;
he has sent me to bring glad tidings to the poor,
to heal the brokenhearted,
to proclaim liberty to the captives
and release to the prisoners,
to announce a year of favor from the LORD
and a day of vindication by our God.

I rejoice heartily in the LORD,
in my God is the joy of my soul;
for he has clothed me with a robe of salvation
and wrapped me in a mantle of justice,
like a bridegroom adorned with a diadem,
like a bride bedecked with her jewels.
As the earth brings forth its plants,
and a garden makes its growth spring up,
so will the Lord GOD make justice and praise
spring up before all the nations.
Responsorial Psalm Lk 1:46-48,49-50,53-54
R/. My soul rejoices in my God.
My soul proclaims the greatness of the Lord;
my spirit rejoices in God my Savior,
for he has looked upon his lowly servant.
From this day all generations will call me blessed R/.

The Almighty has done great things for me,
and holy is his Name.
He has mercy on those who fear him
in every generation. R/.

He has filled the hungry with good things,
and the rich he has sent away empty.
He has come to the help of his servant Israel
for he has remembered his promise of mercy. R/.
Second Reading 1 Thess 5:16-24
Brothers and sisters:
Rejoice always. Pray without ceasing.
In all circumstances give thanks,
for this is the will of God for you in Christ Jesus.
Do not quench the Spirit.
Do not despise prophetic utterances.
Test everything; retain what is good.
Refrain from every kind of evil.
May the God of peace make you perfectly holy
and may you entirely, spirit, soul, and body,
be preserved blameless for the coming of our Lord Jesus Christ.
The one who calls you is faithful,
and he will also accomplish it.
Alleluia Is 61:1
Gospel Jn 1:6-8, 19-28
A man named John was sent from God.
He came for testimony, to testify to the light,
so that all might believe through him.
He was not the light,
but came to testify to the light.

And this is the testimony of John.
When the Jews from Jerusalem sent priests
and Levites to him
to ask him, "Who are you?"
He admitted and did not deny it,
but admitted, "I am not the Christ."
So they asked him,
"What are you then? Are you Elijah?"
And he said, "I am not."
"Are you the Prophet?"
He answered, "No."
So they said to him,
"Who are you, so we can give an answer to those who sent us?
What do you have to say for yourself?"
He said:
"I am the voice of one crying out in the desert,
'make straight the way of the Lord,'"
as Isaiah the prophet said."
Some Pharisees were also sent.
They asked him,
"Why then do you baptize
if you are not the Christ or Elijah or the Prophet?"
John answered them,
"I baptize with water;
but there is one among you whom you do not recognize,
the one who is coming after me,
whose sandal strap I am not worthy to untie."
This happened in Bethany across the Jordan,
where John was baptizing.
Reflection Questions:

How are you finding God to be "the joy of your soul" these days?
What challenges are you finding in being"perfectly holy" in spirit, soul, or body?
If questioned, how would you respond, "I am not?"
Catena Nova
The very Son of God,
older than the ages,
the invisible,
the incomprehensible,
the incorporeal,
the beginning of beginning,
the light of light,
the fountain of life and immortality,
the image of the archetype,
the immovable seal,
the perfect likeness,
the definition and word of the Father:
He it is who comes to His own image
and takes our nature for the good of our nature
and unites Himself to an intelligent soul
for the good of my soul,
to purify like by like. (St Gregory Nazianzen)
Open wide your door to the One who comes.
Open your soul, throw open the depths of your heart
to see the riches of simplicity,
the treasures of peace,
the sweetness of grace.
Open your heart and run to meet
the Sun of eternal light
that illuminates all people. (St. Ambrose of Milan)
"Rejoice in the Lord without ceasing" (cf. Phil 4:4), my dear children. I beg you rejoice, citizens of heaven but exiles on earth, inhabitants of the Jerusalem on high (cf. Gal 4:26) but banished from affairs here below, inheritors of the kingdom of heaven but disinherited from taking any part at all, in earthly pleasures! Rejoice, ardent travellers, at undergoing exile and maltreatment in a foreign land in the name of the commandment of God! Rejoice, you who are last in this world but lords of blessings that exceed our understanding (cf. Phil 4:7). Rejoice, noble company, brought together by God, assembly united in heart and soul, who give life to filial and fraternal love, a replica on earth of the host of angels!... Rejoice, God's workers, apostolic men and women....Rejoice, you who set your joy in each other, each making their own the reputation of their brother or sister, you in whom is found neither jealousy, rivalry nor envy but, in their place, peace and charity and life in common (St Theodore the Studite).
You already know who it is that comes, where he comes from and to whom, together with the why, the wherefore, and the when. The one thing still to learn is the road by which he comes, and this we must diligently search out so that we can run to meet him and give him a fitting welcome. However, just as he once came on earth in the flesh to accomplish our salvation, so he comes daily in the spirit to save each individual soul; the difference is that his first coming was visible to the eye, whereas the second is unseen. As Scripture says: Christ the Lord is the breath of life to us, and the hidden nature of this spiritual coming is shown in the continuation of the same text: Under his shadow we shall live among the nations. For this reason, even if you are too sick to go very far to meet the Lord, it is appropriate for you to respond to the great physician's visit by making an effort at least to raise your head and lift yourself up a little to greet him on his arrival. The road pointed out to you is not a long one; you do not have to cross the seas or pierce the clouds or climb mountains to meet your God. Enter into your own soul and you will find him, for his word is near you; it is on your lips and in your heart. Go down deep into your heart until you are stirred to compunction; make your confession, and so at least turn your back on a conscience so defiled as to be unworthy of entertaining the author of purity. These are the thoughts I put before you in respect to the coming of our Lord to each individual soul and the enlightenment his powerful presence brings us (St. Bernard of Clairvaux).
There are some souls on earth
Who search in vain for happiness,
But for me, it's just the opposite.
Joy is in my heart.
This joy is not ephemeral.
I possess it forever.
Like the springtime rose,
It smiles at me every day.
Truly I'm so happy.
I always have my way…
How could I not be joyful
And not show my cheerfulness ?
My joy is to love suffering.
I smile while shedding tears.
I accept with gratitude
The thorns mingled with the flowers.
When the blue Sky becomes somber
And begins to abandon me,
My joy is to stay in the shadow
To hide and humble myself.
My joy is the Holy Will
Of Jesus, my only love,
So I live without any fear.
I love the night as much as the day.
My joy is to stay little,
So when I fall on the way,
I can get up very quickly,
And Jesus takes me by the hand.
Then I cover him with caresses
And tell Him He's everything for me,
And I'm twice as tender
When He slips away from my faith.
If sometimes I shed tears,
My joy is to hide them well.
Oh ! How many charms there are in suffering
When one knows how to hide it with flowers !
I truly want to suffer without saying so
That Jesus may be consoled.
My joy is to see him smile
When my heart is exiled…
My joy is to struggle unceasingly
To bring forth spiritual children.
It's with a heart burning with tenderness
That I keep saying to Jesus :
"For you, my Divine Little Brother,
I'm happy to suffer.
My only joy on earth
Is to be able to please you.
Lord, I'm willing to live a long time more
If that is your desire.
I'd like to follow you to Heaven
If that would make you happy.
Love, that fire from the Homeland,
Never ceases to consume me.
What do life and death matter to me ?
Jesus, my joy, it's to love you !" (St. Thérèse of Lisieux).
The evangelist John's intention was to differentiate between the fleeting voice and the eternally unchanging Word. The one, he would suggest, was the morning star appearing at the dawning of the kingdom of heaven, while the other was the Sun of Justice coming in its wake. He distinguished the witness from the one to whom he testified, the messenger from him who sent him, the lamp burning in the night from the brilliant light that filled the whole world, the light that dispelled the darkness of death and sin from the entire human race. So then, the Lord's forerunner was a human being, not a god; whereas the Lord whom he preceded was both human and God. The forerunner was a man destined to be divinized by God's grace, whereas the one he preceded was God by nature, who, through his desire to save and redeem us, lowered himself in order to assume our human nature (John Scotus Erigena).
"Rejoice always," Saint Paul says. This means always being joyful, even when things do not go according to our wishes; but there is that profound joy, which is peace: that too is joy; it is within. And peace is a joy "at the ground level", but it is a joy. Distress, difficulties and suffering pass through each person's life, we are all familiar with them; and so often the reality that surrounds us seems to be inhospitable and barren, similar to the desert in which the voice of John the Baptist resonated, as today's Gospel passage recalls (cf. Jn 1:23). But the very words of the Baptist reveal that our joy rests on a certainty, that this desert is inhabited: "among you" — he says — "stands one whom you do not know" (v. 26). It refers to Jesus, the Father's envoy who comes, as Isaiah stresses, "to bring good tidings to the afflicted; he has sent me to bind up the broken-hearted, proclaim liberty to the captives, and the opening of the prison to those who are bound; to proclaim the year of the Lord's favour" (61:1-2). These words, which Jesus will speak in his discourse at the synagogue of Nazareth (cf. Lk 4:16-19), clarify that his mission in the world consists in the liberation from sin and from the personal and social slavery that it produces. He has come to the earth to restore to mankind the dignity and freedom of the Children of God — which only he can communicate — and thereby to give joy....For this reason a Christian, having encountered Jesus, cannot be a prophet of misfortune, but a witness and herald of joy. A joy to share with others; an infectious joy that renders the journey of life less toilsome (Pope Francis).
Homily
Lacking Recognition
No one knew what to expect. There was so much confusion. Everyone had a different opinion. Some thought he would be a king -- like David. Others a priest -- like Elijah. Still others a prophet -- like Moses. And no one thought he would be a carpenter -- from Nazareth of all places. Even John the Baptist, his witness, did not recognize him at first. But when the priests came from Jerusalem to question John, he knew one thing: He was none of those things people expected. He was neither David's successor, nor Elijah, nor the Prophet. They must have been very disappointed – some might even have been relieved!
Now you'd think God would be a little more obvious. After all, the One who was coming into the world was called the light (G). Some light! There he was. In front of everyone. And no one could see him. And all John could say was, There is one among you whom you do not recognize (G). Some witness -- to a light that conceals more than it reveals.
Of course, the whole of this season is like that. Think of the scenes about to fill our minds and hearts: an insignificant town in an obscure corner of the world, Bethlehem of Judaea; a lowly maiden whose husband can't find lodging for his pregnant wife; a stark manger where the Child is born, his helpless cries piercing the night air. There's little light in all of this, nothing to make us recognize One among us. There almost seems to be a divine conspiracy, deliberately designed to hide the unfolding Mystery. Sure, angels, shepherds and magi will come in recognition, but they convince few others. Soon the Child and his parents will flee into Egypt to hide from Herod, then move to Nazareth and more obscurity.
So how can such darkness be light? What can make us see that the Son of Mary is the Son of God; hear that the mute Child is the Word-made-flesh; know that the Hidden One is the Long-Expected Savior? Faith alone can make us see, and hear, and know him. And the kind of faith that knows by believing, hears in silence, and sees in the dark.
The delegation that came to question John had a difficult time with such perception. They came with too many ideas about how the Messiah should appear. If they had seen a king's crown, a priest's vestment, a prophet's mantle – fancy things that grab our attention --they would have been satisfied. But they saw none of those things. Nor did they expect the unexpected. So they missed what they were looking for. Because their vision was too narrow, apparently.
Like ours often is. Looking for God in ways we expect. Never thinking God might be where we never thought of looking: like in the lowly, the brokenhearted, the captive, the prisoner (cf. I) Yet, that's where the Bible says God is most likely to be found. Just like in a Bethlehem stall, or in a Nazareth workshop, or in Bethany, across the Jordan, where John was baptizing (G). While few noticed.
For we have, you see, this fatal flaw of looking for God in all the wrong places, and all the wrong faces. Look how dazzled we are by some of our secular saints, whom we practically treat as gods: athletes, rock stars, financiers. Their images flashing before us as though they were sacred icons. Images that compete with the ones given us in Scripture.
Take a look at John the Baptist. What do you see? Not LeBron James. But a man sent by God to testify to the light (G). Or look at Mary. What do you see? Not Taylor Swift! But a woman whom all ages to come shall call blessed (cf. RP) Or look, finally, at Jesus. What do you see? Not Jeff Bezos. But One on whom the Spirit of the Lord rests, because the Lord has anointed him (cf. I).

Which goes to show the world of difference between the talent, fame and wealth of worldly heroes, and those whom God approves. The former belong to the time being, the latter to the ages. Yet, how many of us see it? Indeed, how many of us will open our eyes this Advent to see our true Salvation coming in poverty, our ears to hear the voice of one crying out in the wilderness (G), our spirits to rejoice in God our savior (cf. RP)? Yet, this is the will of God for [us] in Christ Jesus who lives and reigns with God the Father, in the unity of the Holy Spirit, God, forever and ever. Amen (cf. II).
Creed
Intercessions
That all the baptized, anointed by the spirit, may proclaim the good news of this year of the Lord's favor.
That the Lord God may cause righteousness and praise to spring up as a garden of peace for all nations.
That those held captive by disease or addiction, by prejudice or oppression, may be released to rejoice in the liberty of God's children.
That we may recognize the One who stands among us in the brokenhearted and gladly serve Christ by binding up their wounds.
That we may hold fast to what is good, abstain from every form of evil and be sanctified entirely for the coming of our Lord Jesus Christ.
That those who suffer in body mind or spirit, especially from the ill-effects of Covid-19, may be made sound and whole again.
That the faithful departed maybe clothed with the garment of salvation at the banquet of the Lamb.
O God, most high and most near, you send glad tidings to the lowly, you hide not your face from the poor; those who dwell in darkness you call into the light. Take away our blindness, remove the hardness of our hearts, and form us into a humble people, that, at the advent of your Son, we may recognise him in our midst and find joy in his saving presence. We ask this through him whose coming is certain, whose day draws near: your Son, our Lord Jesus Christ, who lives and reigns with you in the unity of the Holy Spirit, God for ever and ever. Amen.
Interlude (Orlando Gibbons; 1583–1625)
This is the record of John, when the Jews sent priests and Levites from Jerusalem to ask him, "Who art thou?" And he confessed and denied not, and said plainly, "I am not the Christ." And they asked him, "What art thou then? Art thou Elias?" And he said, "I am not." "Art thou the prophet?" And he answered, "No." Then said they unto him, "What art thou? that we may give an answer unto them that sent us. What sayest thou of thyself?" And he said, "I am the voice of him that crieth in the wilderness, make straight the way of the Lord."
Lord's Prayer
With longing for the Day of the Lord, we pray as Jesus taught us....
Spiritual Communion
Though I long for your sacramental Presence in Holy Communion, I trust you dwell among us in the Spirit according to your words, "If anyone love Me, they will keep My word, and My Father will love them, and we will come to them and will make a home with them" (cf. Jn. 14:23). With a joyful heart, then, I pray, "Come, Lord Jesus, come!"
Thanksgiving
Closing Hymn(Lyrics by William and Annabeth Gay)
Each winter as the year grows older,
We each grow older too.
The chill sets in a little colder;
The verities we knew
Seem shaken and untrue.

When race and class cry out for treason,
When sirens call for war,
They overshout the voice of reason
And scream till we ignore
All we held dear before.

Yet I believe beyond believing,
That life can spring from death:
That growth can flower from our grieving;
That we can catch our breath
And turn transfixed by faith.

So even as the sun is turning
To journey to the north,
The living flame, in secret burning,
Can kindle on the earth
And bring God's love to birth.

O Child of ecstasy and sorrows,
O Prince of peace and pain,
Brighten today's world by tomorrow's,
Renew our lives again;
Lord Jesus, come and reign!
Archives