17th Sunday in Ordinary Time (C)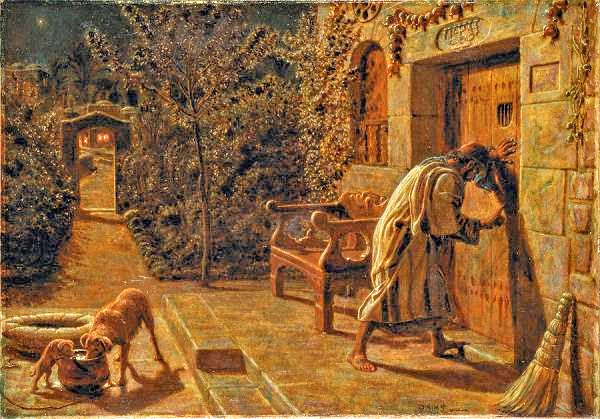 Introit
Kyrie
Gloria
Collect
O God, protector of those who hope in you,
without whom nothing has firm foundation, nothing is holy,
bestow in abundance your mercy upon us
and grant that, with you as our ruler and guide,
we may use the good things that pass
in such a way as to hold fast even now
to those that ever endure.
Through our Lord Jesus Christ, your Son,
who lives and reigns with you in the unity of the Holy Spirit,
God, for ever and ever. Amen.
First Reading Gn 18:20-32
In those days, the LORD said: "The outcry against Sodom and Gomorrah is so great,
and their sin so grave,
that I must go down and see whether or not their actions
fully correspond to the cry against them that comes to me.
I mean to find out."

While Abraham's visitors walked on farther toward Sodom,
the LORD remained standing before Abraham.
Then Abraham drew nearer and said:
"Will you sweep away the innocent with the guilty?
Suppose there were fifty innocent people in the city;
would you wipe out the place, rather than spare it
for the sake of the fifty innocent people within it?
Far be it from you to do such a thing,
to make the innocent die with the guilty
so that the innocent and the guilty would be treated alike!
Should not the judge of all the world act with justice?"
The LORD replied,
"If I find fifty innocent people in the city of Sodom,
I will spare the whole place for their sake."
Abraham spoke up again:
"See how I am presuming to speak to my Lord,
though I am but dust and ashes!
What if there are five less than fifty innocent people?
Will you destroy the whole city because of those five?"
He answered, "I will not destroy it, if I find forty-five there."
But Abraham persisted, saying "What if only forty are found there?"
He replied, "I will forbear doing it for the sake of the forty."
Then Abraham said, "Let not my Lord grow impatient if I go on.
What if only thirty are found there?"
He replied, "I will forbear doing it if I can find but thirty there."
Still Abraham went on,
"Since I have thus dared to speak to my Lord,
what if there are no more than twenty?"
The LORD answered, "I will not destroy it, for the sake of the twenty."
But he still persisted:
"Please, let not my Lord grow angry if I speak up this last time.
What if there are at least ten there?"
He replied, "For the sake of those ten, I will not destroy it."
Responsorial Psalm Ps 138:1-2, 2-3, 6-7, 7-8
R/. Lord, on the day I called for help, you answered me.

I will give thanks to you, O LORD, with all my heart,
for you have heard the words of my mouth;
in the presence of the angels I will sing your praise;
I will worship at your holy temple
and give thanks to your name.
Because of your kindness and your truth;
for you have made great above all things
your name and your promise.
When I called you answered me;
you built up strength within me.
The LORD is exalted, yet the lowly he sees,
and the proud he knows from afar.
Though I walk amid distress, you preserve me;
against the anger of my enemies you raise your hand.
Your right hand saves me.
The LORD will complete what he has done for me;
your kindness, O LORD, endures forever;
forsake not the work of your hands.
Second Reading Col 2:12-14
Brothers and sisters:
You were buried with him in baptism,
in which you were also raised with him
through faith in the power of God,
who raised him from the dead.
And even when you were dead
in transgressions and the uncircumcision of your flesh,
he brought you to life along with him,
having forgiven us all our transgressions;
obliterating the bond against us, with its legal claims,
which was opposed to us,
he also removed it from our midst, nailing it to the cross.
Alleluia Rom 8:15bc
Gospel Lk 11:1-13
Jesus was praying in a certain place, and when he had finished,
one of his disciples said to him,
"Lord, teach us to pray just as John taught his disciples."
He said to them, "When you pray, say:
Father, hallowed be your name,
your kingdom come.
Give us each day our daily bread
and forgive us our sins
for we ourselves forgive everyone in debt to us,
and do not subject us to the final test."

And he said to them, "Suppose one of you has a friend
to whom he goes at midnight and says,
'Friend, lend me three loaves of bread,
for a friend of mine has arrived at my house from a journey
and I have nothing to offer him,'
and he says in reply from within,
'Do not bother me; the door has already been locked
and my children and I are already in bed.
I cannot get up to give you anything.'
I tell you,
if he does not get up to give the visitor the loaves
because of their friendship,
he will get up to give him whatever he needs
because of his persistence.

"And I tell you, ask and you will receive;
seek and you will find;
knock and the door will be opened to you.
For everyone who asks, receives;
and the one who seeks, finds;
and to the one who knocks, the door will be opened.
What father among you would hand his son a snake
when he asks for a fish?
Or hand him a scorpion when he asks for an egg?
If you then, who are wicked,
know how to give good gifts to your children,
how much more will the Father in heaven
give the Holy Spirit to those who ask him?"
Reflection Questions
How does the "Lord's Prayer" shape your own?
How is your own prayer persistent?
How do you understand asking, seeking and knocking in prayer?
Catena Nova
The Lord has given us many counsels and commandments to help us toward salvation. He has even given us a pattern of prayer, instructing us on how we are to pray. He has given us life, and with his accustomed generosity, he has also taught us how to pray. He has made it easy for us to be heard as we pray to the Father in the words taught us by the Son… What prayer could be more a prayer in the spirit than the one given us by Christ, by whom the Holy Spirit was sent upon us? What prayer could be more a prayer in the truth than the one spoken by the lips of the Son, who is truth himself? (St. Cyprian of Carthage)
Our Lord and Savior wants us to attain the joy of the Heavenly Kingdom. That is why he taught us to pray. He promises we will receive the gift of the Kingdom if we pray for it. "Ask and you will receive, seek and you will find, knock and the door will be opened for you." Begin by asking to understand what these words mean for you personally. It is clear that they warn us not to be lazy do-nothings because only those who pray for the Kingdom, seek it by upright living and persevere in doing these things will enter that Kingdom. Words aren't enough. We also have to work hard at discovering how we are to live so as to become suited to live in that Kingdom.…To seek the Kingdom of God and its justice is to long for the graces of our heavenly homeland by giving constant thought to them and to the kind of upright living that obtains them…. Whether we pray for faith or hope or any other virtue that we long for we attain it only through the grace of the Holy Spirit. As we do our best, then, to follow in our Lord's own footsteps, let's ask God the Father for the grace of the Spirit to lead us along the path of the true faith—that faith which works through love. This is the way we become the kind of persons who are fit to receive what they have so longed and prayed for. We have to strive to live in a way that will make us the kind of persons fit to be children of such a Father. We must strive to preserve inviolate in body and spirit the sacramental rebirth of our baptism. It made us children of God! So if we keep Almighty God's commandments then God will certainly gift us with eternal blessings. From the very beginning God has prepared these blessings as our heritage. God has done this through Jesus Christ, our Lord. Jesus himself, with the Holy Spirit, is not only our help but the gift we are to receive in everlasting joy and glory. (St. Bede the Venerable)
The gifts of the Holy Spirit are touched upon in the Lord's Prayer. Those gifts are not had except from the Father of lights. For that reason Christ, wanting to teach us in what manner we can obtain them, teaches us to ask for them in the Lord's Prayer. In the first part the gift of fear is asked for, when He says: "Our Father, who art in Heaven, hallowed be Thy Name." Secondly piety is asked for, when He says: "May Thy Kingdom come." Third the gift of knowledge is asked for, when He says: "Thy will be done on earth as it is in Heaven." Fourth the gift of fortitude is asked for, when He says: "Give us this day our daily bread." Bread strengthens the heart of a man. Fifth the gift of counsel is asked for, when He says: "And forgive us our debts, as we also forgive our debtors." Sixth the gift of understanding is asked for, when He says: "And put us not to the test." Seventh the gift of wisdom is asked for, when He says: "But free us from evil. Amen." (Saint Bonaventure)
Much more is accomplished by a single word of the Our Father said, now and then, from our heart, than by the whole prayer repeated many times in haste and without attention. (St. Teresa of Avila)
O God, how good you are to allow us to call you, "our Father"! Not only do you allow it, you command it. What gratitude, what joy, what love, and above all, what confidence it inspires in me. And since you are so good to me, I should be good to others. You are Father to all people, so I should feel like a loving brother towards everyone, however wicked he may be. Our Father, our Father, teach me to have your name continually on my lips….What is it, O Lord, that I am expressing in these words? I am expressing the whole object of my desires, the whole aim and purpose of my life. I want to hallow your name in all my thoughts, words, and actions. And this means that I want to imitate your son, Jesus, since he hallowed your name in his every thought, word, and action. In these simple words, I am asking that you reveal the fullness of your glory, and that you make all people holy. Your kingdom will come when all people acknowledge you as master, seeking with all their minds to obey you, with all their hearts to love you, and with all their energies to serve you. So in saying those words, I am committing myself to spread the knowledge of your glory to all humankind. (St. Charles de Foucauld)
[I]magine yourself as highly malleable, being stretched between two force fields, two patterns of desire. What the "Our Father" is doing is inducting you into a pattern of desire within which you may be found, one which will enable you to inhabit the "being stretched" which is how the desire of the Other other brings into being the daughter or son who is learning to pray….So a crucial petition is the one specifically about the Other other's desire, "Your will be done, on earth as in heaven."…. So, may Your pattern of desire be achieved, here in our midst, amongst all these things that we are so often quick to reject, to despise, to tire of, be bored of, made to despair by. Your pattern of desire which already has and is a huge rejoicing and delight, a huge benevolence and peaceful longing, a real reality upon which our small reality rests, and from which it so often seeks to cut itself off, incapable of perceiving itself as the symptom of so much glory. May we be taken onto the inside of this pattern of desire. Remind us that we are the slot machine, and you the delighted player, so happy and lucky to have found us, fine-tuning us into disgorging far more treasure than we ever knew we had. … The pattern of desire into which we are being inducted by the Lord's Prayer recognizes evil, but only as that from which people can be delivered. Rather than its being a thing in itself, it is only known in its being left behind to curve down on itself, never to be given oxygen by being dignified with a concentrated gaze. But the real force in the universe is not evil, but love, and love really does want to rescue us, to bring us out of our tendency to enclose ourselves in smaller and smaller spaces, to bring us into being. (James Alison)
Luke, in his presentation of the only verbal prayer that Jesus ever taught, the Our Father (Lord's Prayer), offers a most telling introduction. He mentions that Jesus "was in a certain place praying," where he is interrupted by one of the disciples who has a request of him. "Lord, teach us to pray, just as John taught his disciples." (11:1-2) Groups were usually identified by having their official group prayer– something like the Serenity Prayer of Alcoholics Anonymous today. It identifies us and our spirituality to others and to ourselves. The very fact that they had to ask for it seems to imply that he had not given them a verbal prayer before! … Social and public prayers hold groups and religions together, but they do not necessarily transform people at any deep level. In fact, group certitude and solidarity often becomes a substitute for any real journey of our own. Hear this clearly, I am not saying there is no place for public prayer, but we do need to heed Jesus's very clear warnings about it. In my own church, I am afraid I have met many priests who have recited the Divine Office and performed Mass most days of their lives, yet who show little evidence of any inner life or depth. It is perhaps not a personal failure as much as a "structural sin." We all live inside of a common domain, which largely determines energy, depth, and how much we can hear or even imagine. As René Girard so well illustrated, we are imitative beings at the core. Our holiness is always the group's holiness first; our sin is invariably a social sin before it is our own. (Richard Rohr)
Homily
Prime Day
So did you get any good deals on Prime Day?It's a newish Solemnity on the secular calendar thanks to Amazon.com. July 15 now provides online shoppers a mid-summer's dream of endless deals to stock up on all manner of consumer goods – sort of an update to the old-fashioned "Christmas in July" come-ons merchants have long relied on to bolster sales while awaiting the real shopping season about to begin in September. Get ready for those decorations and holiday music soon to make their appearance in a store near you!
All of which makes me think of a hymn attributed to Pope St. Gregory the Great (+604) which makes a regular appearance in the liturgy during the Office of Readings on some Sundays during Ordinary Time. It might have a familiar ring as it's similar to the hymn On this day, the first of days. You might think of it as a Christian alternative to "Prime Day." Here's the translation by Anglican priest John Mason Neale (+1866):
On this the day that saw the earth
From utter darkness first have birth;
The day its Maker rose again,
And vanquish'd death, and burst our chain:
Away with sleep and slothful ease!
We raise our hearts and bend our knees,
And early seek the Lord of all,
According to the Prophet's call.
That He may grant us that we crave;
May stretch His strong right arm to save:
And purging out each sinful stain,
Restore us to our Home again.
Assembled here this holy day,
This holiest hour we raise the lay:
And oh that He to whom we sing
May now reward our offering!
O Father of unclouded light!
We pray Thee, kneeling in Thy sight,
From all defilement to be freed,
And ev'ry sinful act and deed:
That this our body's mortal frame
May know no sin, and fear no shame,
Whereby the fires of hell may rise
To torture us in fiercer wise.
We therefore, Saviour, cry to Thee
To wash out our iniquity:
And give us, of Thy boundless grace,
The blessings of the Heav'nly Place.
That we, thence exil'd by our sin,
Hereafter may be welcom'd in:
That blessed time awaiting now,
With hymns of glory here we bow.
O Father, that we ask be done,
Through Jesus Christ, Thine Only Son;
Who, with the Holy Ghost and Thee,
Shall live and reign eternally. Amen.
Surely you remember when Sunday was Sunday. Worship, family dinners and recreation were the main features of the Christian Sabbath. I remember being taught from the Baltimore Catechism that to obey the Third Commandment – "Keep holy the Lord's Day" – meant not only the Sunday obligation to attend Mass, but also "to refrain from servile work." Perhaps we should thank Jeff Bezos that Sunday shopping now requires no more effort than a click of the mouse!
Anyway, I know this is an uphill battle as we live more and more in a secular culture. The very thought of "blue laws" that once prevented stores from opening on Sunday now sounds like an affront to our freedom from religion. Surprisingly, until about a year ago you couldn't buy liquor in New York State until noon on Sundays and never on Christmas Day. But a new law makes it possible to do so from 10:00am. Why? To put it on par with a law that already permitted ordering a drink in bars and restaurants as omelets and mimosas become the preferred Sunday morning fare to the Body and Blood of Christ. And it's not just brunch. I can't count the number of college students whose papers I once read who said how their church attendance ended as soon as sports took over their lives.
Nevertheless, whether for the religious reasons outlined in the hymn above consecrating the First Day of the Week, or the need all humans have for periodic rest and rejuvenation, or to renew bonds of family and friendship, or simply to enjoy nature and the change of seasons, we ought to indeed pray that we may use the good things that pass in such a way as to hold fast even now to those that ever endure (Collect). That, I believe, includes online deals.
Early in his pontificate, right before the traditional "Ferragosto" holiday period when Italians go on a month's long holiday (or more!) Pope Francis made these comments during his weekly audience:
The time for rest, especially on Sunday, is ordained for us so that we can enjoy what is not produced and not consumed, not bought and not sold. Instead we see that the ideology of profit and consumerism even wants to feed on celebration: it too is sometimes reduced to a "business", to a way of making and spending money. But is this what we are working for? The greed of consumerism, which leads to waste, is an ugly virus which, among other things, makes us end up even more tired than before. It harms true labour and consumes life. Irregular rhythms of celebration often make victims of the young.
Ultimately, the time for celebration is sacred because God is there in a special way. Sunday Eucharist brings to the celebration every grace of Jesus Christ: his presence, his love, his sacrifice, his forming us into a community, his being with us.... And like this every reality receives its full meaning: work, family, the joys and trials of each day, even suffering and death; everything becomes transfigured by the grace of Christ.
Buona domenica!
Creed
Intercessions (Joe Milner; The Sunday Web Site)
For persistence in prayer: that the Spirit will teach us how to authentically express our deepest needs to God in prayer and give us strength never to grow tired of calling upon God for assistance.
For all who are facing trial and difficulty: that God's Spirit will strengthen the hearts of all Christians who are imprisoned or persecuted for their faith and fill them with courage.
For all who strive to help the poor and the forgotten of society: that God will strengthen them as they plead and call for justice for God's children.
For all who are fleeing violence: that God will lead them on their journey, protect them from harm and help them find a new home where they can grow and contribute to the common good.
For healing of racism and prejudice: that all people may look upon one another as sisters and brothers and work for the betterment of one another.
For government leaders: that God will guide them in addressing the issues of inflation, violence, and the care of creation so that all may live in safety, find housing, and have food.
For health and healing: that God will curtail the new Coronavirus variants, heal those who are ill, and protect the elderly and very young from the virus.
For peace: that God turn hearts away from violence, bring an end to warfare in Ukraine and Syria, and protect the vulnerable from harm.
Provident Father,
with the prayer your Son taught us always on our lips,
we ask, we seek, we knock at your door.
In our every need,
grant us the first and best of all your gifts,
the Spirit who makes us your children.
We ask this through our Lord Jesus Christ, your Son,
who lives and reigns with you in the unity of the Holy Spirit,
God for ever and ever.. Amen. (ICEL; 1998)
Offertory Hymn
Petite et accipietis;
quaerite et invenietis;
pulsate et aperietur vobis. Alleluia!
Ask and you shall receive;
seek, and you shall find;
knock, and it shall be opened to you. Alleluia!
Communion Antiphon
Closing Hymn (Text: Jim Cotter; A New Zealand Prayer Book: He Karakia Mihinare o Aotearoa)
Eternal Spirit, Earth-maker, Pain-bearer, Life (Love)-giver,
Source of all that is and that shall be,
Father and Mother of us all,
Loving God, in whom is heaven:
The hallowing of your name echo through the universe!
The way of your justice be followed by the peoples of the world!
Your heavenly will be done by all created beings!
Your commonwealth of peace and freedom sustain our hope and come on earth.
With the bread we need for today, feed us.
In the hurts we absorb from one another, forgive us.
In times of temptation and test, strengthen us.
From trials too great to endure, spare us.
From the grip of all that is evil, free us.
For you reign in the glory of the power that is love, now and for ever. Amen.
Archives