Holy Thursday (B)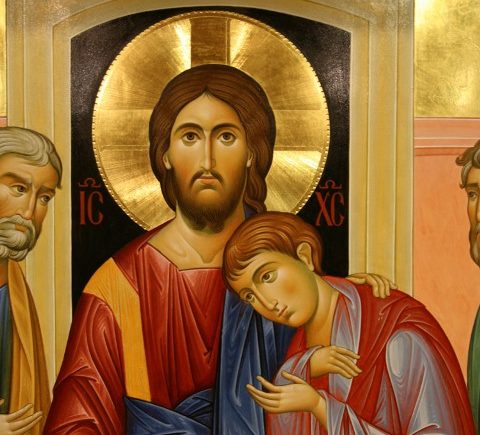 [For domestic celebrations, an altar of repose may be set up with candles, flowers, and a loaf of bread and goblet of wine]
Opening Hymn
Ubi caritas, et amor, Deus ibi est. (Where there is love and charity, there is God)
Kyrie
Gloria
Collect
O God, who have accomplished the work of human redemption
through the Paschal Mystery of your Only Begotten Son,
graciously grant that we, who confidently proclaim,
under sacramental signs, the Death and Resurrection of Christ,
may experience continued increase of your saving grace.
Through our Lord Jesus Christ, your Son,
who lives and reigns with you in the unity of the Holy Spirit,
God, for ever and ever. Amen.
First Reading Ex 12:1-8, 11-14
The LORD said to Moses and Aaron in the land of Egypt,
"This month shall stand at the head of your calendar;
you shall reckon it the first month of the year.
Tell the whole community of Israel:
On the tenth of this month every one of your families
must procure for itself a lamb, one apiece for each household.
If a family is too small for a whole lamb,
it shall join the nearest household in procuring one
and shall share in the lamb
in proportion to the number of persons who partake of it.
The lamb must be a year-old male and without blemish.
You may take it from either the sheep or the goats.
You shall keep it until the fourteenth day of this month,
and then, with the whole assembly of Israel present,
it shall be slaughtered during the evening twilight.
They shall take some of its blood
and apply it to the two doorposts and the lintel
of every house in which they partake of the lamb.
That same night they shall eat its roasted flesh
with unleavened bread and bitter herbs.

"This is how you are to eat it:
with your loins girt, sandals on your feet and your staff in hand,
you shall eat like those who are in flight.
It is the Passover of the LORD.
For on this same night I will go through Egypt,
striking down every firstborn of the land, both man and beast,
and executing judgment on all the gods of Egypt—I, the LORD!
But the blood will mark the houses where you are.
Seeing the blood, I will pass over you;
thus, when I strike the land of Egypt,
no destructive blow will come upon you.

"This day shall be a memorial feast for you,
which all your generations shall celebrate
with pilgrimage to the LORD, as a perpetual institution."
Responsorial Psalm Ps 116:12-13, 15-16bc, 17-18
R/. Our blessing-cup is a communion with the Blood of Christ.
How shall I make a return to the LORD
for all the good he has done for me?
The cup of salvation I will take up,
and I will call upon the name of the LORD. R/.
Precious in the eyes of the LORD
is the death of his faithful ones.
I am your servant, the son of your handmaid;
you have loosed my bonds. R/.
To you will I offer sacrifice of thanksgiving,
and I will call upon the name of the LORD.
My vows to the LORD I will pay
in the presence of all his people. R/.
Second Reading 1 Cor 11:23-26
Brothers and sisters:
I received from the Lord what I also handed on to you,
that the Lord Jesus, on the night he was handed over,
took bread, and, after he had given thanks,
broke it and said, "This is my body that is for you.
Do this in remembrance of me."
In the same way also the cup, after supper, saying,
"This cup is the new covenant in my blood.
Do this, as often as you drink it, in remembrance of me."
For as often as you eat this bread and drink the cup,
you proclaim the death of the Lord until he comes.
Verse Before the Gospel Jn 13:34
Gospel Jn 13:1-15
Before the feast of Passover, Jesus knew that his hour had come
to pass from this world to the Father.
He loved his own in the world and he loved them to the end.
The devil had already induced Judas, son of Simon the Iscariot, to hand him over.
So, during supper,
fully aware that the Father had put everything into his power
and that he had come from God and was returning to God,
he rose from supper and took off his outer garments.
He took a towel and tied it around his waist.
Then he poured water into a basin
and began to wash the disciples' feet
and dry them with the towel around his waist.
He came to Simon Peter, who said to him,
"Master, are you going to wash my feet?"
Jesus answered and said to him,
"What I am doing, you do not understand now,
but you will understand later."
Peter said to him, "You will never wash my feet."
Jesus answered him,
"Unless I wash you, you will have no inheritance with me."
Simon Peter said to him,
"Master, then not only my feet, but my hands and head as well."
Jesus said to him,
"Whoever has bathed has no need except to have his feet washed,
for he is clean all over;
so you are clean, but not all."
For he knew who would betray him;
for this reason, he said, "Not all of you are clean."

So when he had washed their feet
and put his garments back on and reclined at table again,
he said to them, "Do you realize what I have done for you?
You call me 'teacher' and 'master,' and rightly so, for indeed I am.
If I, therefore, the master and teacher, have washed your feet,
you ought to wash one another's feet.
I have given you a model to follow,
so that as I have done for you, you should also do."
Catena Nova
[The following passages are offered for reflection before your home altar of repose]
O boundless charity!
Just as you gave us yourself,
wholly God and wholly human,
so you left us all of yourself as food
so that while we are pilgrims in this life
we might not collapse in our weariness
but be strengthened by you, heavenly food.
O mercenary people!
And what has your God left you?
He has left you himself,
wholly God and wholly human,
hidden under the whiteness of this bread.
O fire of love!
Was it not enough to gift us
with creation in your image and likeness,
and to create us anew to grace in your Son's blood,
without giving us yourself as food,
the whole of divine being,
the whole of God?
What drove you?
Nothing but your charity,
mad with love as you are! (St. Catherine of Siena)
My soul, if you wish to penetrate the depths of this Mystery, your gaze must be illumined by Love! You need to see and understand! Contemplate the Last Supper: see Jesus Who knows that He will soon be separated from the body of His humanity, and yet wishing to be united to us forever; contemplate the Love by which He institutes this Sacrament which permits Him to be corporeally and forever united to humankind. O Inextinguishable Love! O Love of Christ! O Love of the human race! What a true Furnace of Love! O Jesus, You already saw the death which awaited You; the sorrows and atrocious tortures of the Passion were already breaking Your Heart, and yet You offered Yourself to Your executioners, and permitted them, by means of this Sacrament, to possess You forever as an Eternal Gift, O You, Whose delights are to be with the children of men and women! (St. Angela Foligno)
Receiving Communion is not like picturing with the imagination, as when we reflect upon the Lord on the cross or in other episodes of the Passion, when we picture within ourselves how things happened to Him in the past. In Communion, the event is happening now, and it is entirely true. There's no reason to go looking for Him in some other place farther away. ...Now, then, if when He went about in the world, the mere touch of His robes cured the sick, why doubt, if we have faith, that miracles will be worked while He is within us and that He will give what we ask of Him, since He is in our house? His Majesty is not accustomed to paying poorly for His lodging if the hospitality is good (St. Teresa of Avila).
Is it possible that there are souls who do not understand what the Blessed Eucharist is? Who are insensible to the Divine Presence…..to the mysterious and fervent effusions of the Sacred Heart of my Jesus? O Heart of Jesus! Heart of love!" "Yesterday, in the presence of Jesus in the Blessed Sacrament I felt myself burning so fiercely that I had to go away. I felt stunned that so many could stay so close to Jesus and not be reduced to ashes. I felt that I would be consumed. Jesus is such a sweet and irresistible Lover; how can one fail to love Him with one's whole heart and soul? How can one not wish to be wholly united in Him, and consumed in the flames of His holy love? (St. Gemma Galgani)
To stay at Your feet, O hidden God,
Is the delight and paradise of my soul.
Here, You give me to know You, O incomprehensible One,
And You speak to me sweetly: Give Me, give ME your heart.
Silent conversation, alone with You,
Is to experience what heavenly beings enjoy,
And to say to God, "I will, I will give You my heart, O Lord,"
While You, O great and incomprehensible One, accept it graciously.
Love and sweetness are my soul's life,
And Your unceasing presence in my soul.
I live on earth in constant rapture,
And like a Seraph I repeat, "Hosanna!"
O You Who are hidden, body, soul and divinity,
Under the fragile form of bread,
You are my life from Whom springs an abundance of graces;
And, for me, You surpass the delights of heaven (St. Faustina Kowalska).
It is most important that the Holy Eucharist becomes life's focal point: that the Eucharistic Savior is the center of existence; that every day is received from His hand and laid back therein; that the day's happenings are deliberated with Him. In this way, God is given the best opportunity to be heard in the heart, to form the soul, and to make its faculties clear-sighted and alert for the supernatural...Moreover, life with the Eucharistic Savior induces the soul to be lifted out of the narrowness of its individual, personal orbit. The concerns of the Lord and His kingdom become the soul's concerns...Those who attain the freedom of these heights and expansive views have outgrown what is usually called 'happiness' and 'unhappiness' (St. Edith Stein/Benedicta of the Cross).
The Eucharist is connected with the Passion. If Jesus had not established the Eucharist we would have forgotten the crucifixion. It would have faded into the past and we would have forgotten that Jesus loved us. There is a saying that to be far away from the eyes is to be far away from the heart. To make sure that we do not forget, Jesus gave us the Eucharist as a memorial of his love … When you look at the Crucifix, you understand how much Jesus loved you then, when you look at the Sacred Host you understand how much Jesus loves you now (St. Theresa of Calcutta).
Homily [There is no homily]
Intercessions (Peter Scagnelli; Prayers for Sundays and Seasons)
As we enter into the Passover of the Lord, let us intercede before God on behalf of all in the name of Jesus, our Teacher and Lord.
For the church, the household of faith redeemed by the blood of the Lamb: May it celebrate the Triduum as a festival of deliverance and new life.
For the world God loved so much that he gave his only Son: May God execute judgment on the false gods of power and greed.
For those enslaved by powers without or by forces within: May they find freedom in Christ's love and support from Christ's disciples.
For the sick and homebound and for those who take the Eucharist to them: May Christ be for them a source of healing and strength.
For those whose works of charity fulfill Christ's example of humility and service: May Christ's gift of the Eucharist sustain their gift of love to others.
For those ordained to preside at the altar of Christ's sacrifice and supper: May they fulfill by lives of service the love they celebrate in these mysteries.
For those who have departed this world to go to the Father: May they come to share fully in Christ's paschal victory.
O God, in the fullness of time you revealed your love in Jesus the Lord. On the eve of his death, as a sign of your covenant ,he washed the feet of his disciples and gave himself as food and drink. Give us life at this sacred banquet and joy in humble service, that, bound to Christ in all things, we may pass over from this world to your kingdom, where he lives with you now and always in the unity of the Holy Spirit, God for ever and ever. Amen. (ICEL; 1998)
Offertory Motet (Thomas Tallis)
A new commandment give I unto you, saith the Lord,
that ye love together, as I have loved you,
that e'en so ye love one another.
By this shall ev'ry man know that ye are my disciples,
if ye have love one to another.
Lord's Prayer
Let us pray for our daily bread in the words that Jesus taught....
Spiritual Communion
On this night, more than all others, we long to receive the gift of your most holy Body and Blood, Lord Jesus Christ. May this be among the few occasions left when we are so deprived. As we look forward to the day when we can again be present for the memorial of your sacrifice and join once more with our sisters and brothers in the communion of your church, make us ever more grateful for this inestimable Gift and never let us take for granted the source of grace.
Thanksgiving
Closing Hymn
You satisfy the hungry heart
with gift of finest wheat,
come give to us o saving Lord,
the bread of life to eat.
As when the shepherd calls his sheep,
they know and heed his voice;
so when You call Your family Lord,
we follow and rejoice. (Refrain)

With joyful lips we sing to You,
Our praise and gratitude,
that You should count us worthy Lord,
to share this heavenly food. (Refrain)

Is not the cup we bless and share,
the blood of Christ outpoured?
Do not one cup, one loaf declare
Our oneness in the Lord? (Refrain)

The mystery of Your presence Lord,
no mortal tongue can tell;
whom all the world cannot contain
comes in our hearts to dwell. (Refrain)

You give yourself to us o Lord,
then selfless let us be,
to serve each other in Your name
in truth and charity. (Refrain)
Words: Omer Westendorf (1977)
Music: Robert E. Kreutz (1977)
Archives