15th Sunday in Ordinary Time C (cont'd)
Homily
Opposites Attract?
I am not a fundamentalist.

(Catholics do not take that approach to the Bible).

But there are times when I do take a passage from Scripture quite literally.

At least I hope it's meant to be taken way.

One such place is Paul writing to the Colossians where he claims

all things are reconciled in Christ who has made peace by the blood of his cross,

whether those on earth or those in heaven (cf. II).

It's a remarkable thought, isn't it — but could Paul really mean "all things?"
Could he really mean all those antagonists throughout history who often met with death from their opponent?

If I were to limit myself to church history alone, I am left wondering if "all things" could possibly mean, for example, king Herod reconciled with John the Baptist whose head he served on a platter for his wife Herodias?

Or the emperor Nero reconciled with the holy apostles Peter and Paul and the other martyrs whom he later used as human torches to light the Roman night?

Or the other officials of the Empire in the following centuries like the prefect Rusticus who was convinced Christians threatened public order because they would not offer sacrifice to the gods.

Could they be reconciled with people like Justin martyr and his companions all of whom preferred torture and death to violating their conscience?
What of all the people like Arius and Athanasius, Irenaeus and the Gnostics, Augustine and the Donatists, Nestorius and Cyril — I could go on — whose teachings were at odds with one another thus sundering the unity of the ancient church?

How about the leaders of the Catholic and Orthodox churches who excommunicated each other at the time of the Great Schism of 1054 which separated East from West down to the present time? Or the great theological rivals of the Middle Ages like Bernard and Abelard?
What of the Catholic martyrs of the Reformation put to death in England like Sts. Thomas More and John Fisher? Could they reconciled with Henry VIII?

Or could Protestant martyrs like Thomas Cranmer, burned at the stake, be reconciled with the Catholic Queen Mary?
In other words, could all the blood shed throughout history in the name of Moses, the Emperor, the Shogun, the Caliph, the Party Chairman and, alas, the Pope, one day mingle with the Blood Paul says has "made peace?"

Not to mention the countless murderous regimes which punctuate human history and their numberless victims as well as smaller-scale crimes of hatred and violence.
This past week the liturgy celebrated the memorial of St. Maria Goretti — the Italian farm girl who died defending her bodily integrity during an attempted rape by a teenaged assailant.

He was sentenced to 30 years hard labor for his crime.

During that time he experienced a profound conversion he attributed to Maria's intercession and whom he believed had forgiven him.

He was released early from prison, sought out her mother's forgiveness — which she granted — and ultimately was present for Goretti's elevation to the altars: indeed, the first time in history a murderer attended the canonization of his victim.

So again, I ask, "all things?"
I suppose the answer to that depends on the one given to the question posed by that scholar of the law to Jesus:

And who is my neighbor?

(G).

To which Jesus himself replied, "Your neighbor is someone you despise as a foreigner, someone you think is a heretic, someone who worships in the wrong place, someone you think of as a half-breed and therefore unclean. In other words, a Samaritan. Who, by the way, thinks the same thing about you. That's who your neighbor is — and

whom you are to love as you love yourself."
I leave to your imagination who today's "Samaritans" are — their country, their religion, their race, their ethnicity, their sexual orientation, their political affiliation, their social status.

There's really no end to the people we might think of as our "opposite," is there?
The problem of reconciling opposites was one psychologist Carl Jung believed imperative for our personal growth and indeed our survival as a species — all the more so living as we do in a time when the "constellation of opposites" has reached a crisis point in this country.

In such times, both personal and collective, Jung believed the situation
requires a real solution and necessitates a third thing in which the opposites can unite.

Here the logic of the intellect usually fails, for in a logical antithesis there is no third. The 'solvent' can only be of an irrational nature. In nature the resolution of opposites is always an energic process: she acts

symbolically

in the truest sense of the word, doing something that expresses both sides, just as a waterfall visibly mediates between above and below. ["The Conjunction," CW 14, par. 705.]
I think if Paul read those words, he might say to Jung: "I know what the solvent is, a solvent strong enough to dissolve the differences that divide people and, at the same time, has the power to reconcile them.

And it is "irrational" because this peace has been made on the Cross, of all places, in the Blood of Christ.

Where God became the Samaritan.

And it's the symbol that does indeed express both sides, breaking down barriers of hostility between people by uniting because them in one Body, those who were far off now brought near."
Which is why we come here to celebrate the Sacrament where every opposite you can imagine is reconciled by the power of the "Reconciling Third" in God — the Holy Spirit: including the opposites of human and divine, time and eternity, matter and spirit, one and many, "us" and "them" — "all things" reconciled through him whose blessing-cup we bless, our communion in the Blood of Christ.

Who lives and reigns, forever and ever.

Amen.
Creed
Intercessions (Joe Milner; The Sunday Website)

For the Church: that we may follow Christ, the head of the Church, more closely and continue his mission of reconciling others to both God and one another.
For insight: that God will help us recognize our neighbor in the refugee, the homeless person, and the marginalized of society, and inspire our response to their needs today.
For all who have been the victims of crime: that God will restore their loss, heal their wounds, and help them to trust others again.
For all who care for those in need: that those working in outreach ministries, housing assistance, healthcare, pregnancy centers, or refugee services may continue to bring God's love and compassion to those whom they serve.
For all who are ill or recovering from surgery: that they may know the tender touch of God through the prayer and care of this community.
For healing of racism: that we may be instruments of reconciliation, working for justice, and promoting the advancement of all who have suffered prejudice or discrimination.
For growth in respect in civic dialogue: that political leaders may listen to opposing views, respect the dignity of those with different ideas, and strive to find a path that will promote the welfare of all.
For peace: that we may turn to Christ, whose death and resurrection offers the only peace that endures, to bring an end to violence and bloodshed and give us a new vision for cooperation and justice.
In Christ you draw near to us,
God of mercy and compassion,
lifting us out of death,
binding up our wounds,
and nursing our spirits back to health.
Let such a tenderness as yours compel us
to go and do likewise.
Grant this through our Lord Jesus Christ, your Son,
who lives and reigns with you in the unity of the Holy Spirit,
God for ever and ever. Amen. (ICEL; 1998)
Offertory Hymn
(David

Ogden)
Christ has no body but yours,
No hands, no feet on earth but yours,
Yours are the eyes with which he sees,
Yours are the feet with which he walks.
Yours are the hands, with which he blesses all the world.
Christ has no body now but yours,
No hands, no feet on earth but yours,
Yours are the eyes with which he sees,
Yours are the feet with which he walks,
Yours are the hands, with which he blesses all the world.
Christ has no body but yours,
No hands, no feet on earth but yours,
Yours are the eyes with which he sees,
Yours are the feet with which he walks,
Yours are the hands, with which he blesses all the world.
Communion Antiphon
Closing Hymn
(Text: James Montgomery, 1771-1854; Music: George Coles, 1792-1858)
A poor, wayfaring Man of grief
Hath often crossed me on my way,
Who sued so humbly for relief
That I could never answer nay.
I had not pow'r to ask his name,
Whereto he went, or whence he came;
Yet there was something in his eye
That won my love; I knew not why.
Once, when my scanty meal was spread,
He entered; not a word he spake,
Just perishing for want of bread.
I gave him all; he blessed it, brake,
And ate, but gave me part again.
Mine was an angel's portion then,
For while I fed with eager haste,
The crust was manna to my taste.
In pris'n I saw him next, condemned
To meet a traitor's doom at morn.
The tide of lying tongues I stemmed,
And honored him 'mid shame and scorn.
My friendship's utmost zeal to try,
He asked if I for him would die.
The flesh was weak; my blood ran chill,
But my free spirit cried, "I will!"
Then in a moment to my view
The stranger started from disguise.
The tokens in his hands I knew;
The Savior stood before mine eyes.
He spake, and my poor name he named,
"Of me thou hast not been ashamed.
These deeds shall thy memorial be;
Fear not, thou didst them unto me."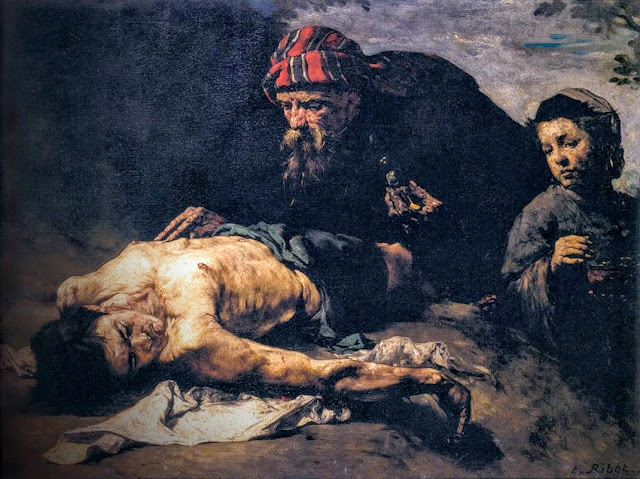 Introit
Kyrie
Archives