Fifteenth Sunday in Ordinary Time (A)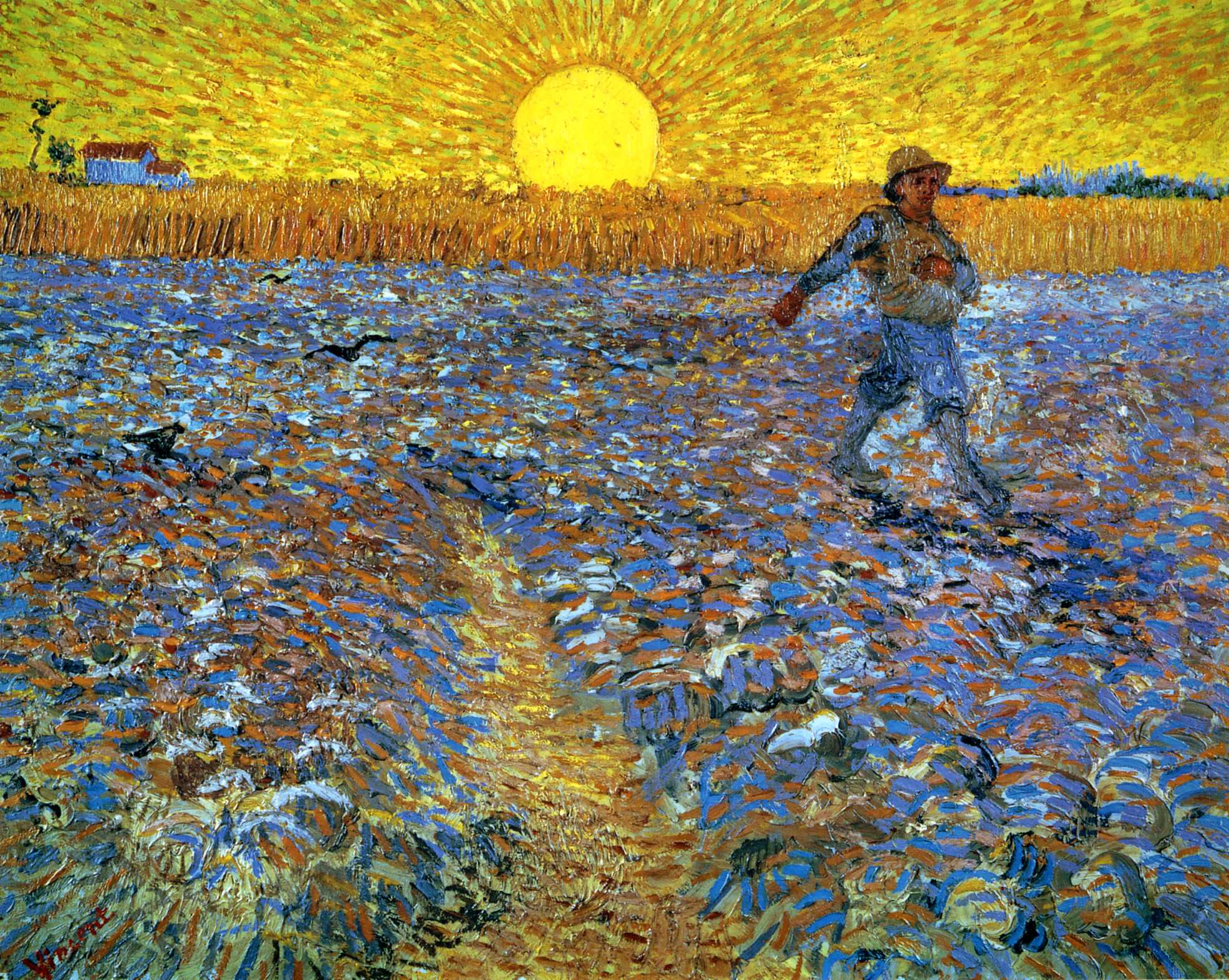 Introit
Kyrie
Gloria
Liturgy of the Word
First Reading (Is 55:10-11)
Thus says the LORD: Just as from the heavens the rain and snow come down and do not return there till they have watered the earth, making it fertile and fruitful, giving seed to the one who sows and bread to the one who eats, so shall my word be that goes forth from my mouth; my word shall not return to me void, but shall do my will, achieving the end for which I sent it.
Responsorial Psalm (Ps 65:10,11,12-13,14)
R. The seed that falls on good ground will yield a fruitful harvest.
You have visited the land and watered it;
greatly have you enriched it.
God's watercourses are filled;
you have prepared the grain. R/.

Thus have you prepared the land: drenching its furrows,
breaking up its clods,
Softening it with showers,
blessing its yield. R/.

You have crowned the year with your bounty,
and your paths overflow with a rich harvest;
The untilled meadows overflow with it,
and rejoicing clothes the hills. R/.

The fields are garmented with flocks
and the valleys blanketed with grain.
They shout and sing for joy. R/.

Second Reading (Rom. 8:18-23)
Brothers and sisters: I consider that the sufferings of this present time are as nothing compared with the glory to be revealed for us. For creation awaits with eager expectation the revelation of the children of God; for creation was made subject to futility, not of its own accord but because of the one who subjected it, in hope that creation itself would be set free from slavery to corruption and share in the glorious freedom of the children of God. We know that all creation is groaning in labor pains even until now; and not only that, but we ourselves, who have the firstfruits of the Spirit, we also groan within ourselves as we wait for adoption, the redemption of our bodies.
Gospel Acclamation
Gospel (Mt. 13:1-9; Short version)
On that day, Jesus went out of the house and sat down by the sea. Such large crowds gathered around him that he got into a boat and sat down, and the whole crowd stood along the shore. And he spoke to them at length in parables, saying: "A sower went out to sow. And as he sowed, some seed fell on the path, and birds came and ate it up. Some fell on rocky ground, where it had little soil. It sprang up at once because the soil was not deep, and when the sun rose it was scorched, and it withered for lack of roots. Some seed fell among thorns, and the thorns grew up and choked it. But some seed fell on rich soil and produced fruit, a hundred or sixty or thirtyfold. Whoever has ears ought to hear."
Catena Nova
O humanity, be like the earth. Bear fruit like her and do not fall short of what mere inanimate matter can achieve. The earth bears crops not for her own benefit but for yours. You, on the other hand, when you give to the poor, are bearing fruit which you will gather in for yourself, since the reward for good deeds goes to those who perform them. Give to a hungry person, and what you give becomes yours, and indeed it returns to you with interest. Just as the wheat that falls on the ground falls there to the great profit of the one who sowed it, so the bread given to a hungry person will bring you great profit in the world to come. Let your husbandry be aimed at sowing this heavenly seed: as scripture says, Sow integrity for yourselves (St. Basil the Great).
Dearly beloved, the reading from the holy gospel about the sower requires no explanation, but only a word of warning. In fact the explanation has been given by Truth himself, and it cannot be disputed by a frail human being. However, there is one point in our Lord's exposition which you ought to weigh well. It is this. If I told you that the seed represented the word, the field the world, the birds the demons, and the thorns riches, you would perhaps be in two minds as to whether to believe me. The more we progress, the more hardships we shall have to endure in this world. Therefore the Lord himself deigned to explain what he had said, so that you would know that a hidden meaning is to be sought also in those passages which he did not wish to interpret himself. Would anyone have believed me if I had said that thorns stood for riches? After all, thorns are piercing and riches pleasurable. And yet riches are thorns because thoughts of them pierce the mind and torture it. When finally they lure a person into sin, it is as though they were drawing blood from the wound they have inflicted. According to another evangelist, the Lord spoke in this parable not simply of riches but of deceptive riches, and with good reason. Riches are deceptive because they cannot stay with us for long; they are deceptive because they are incapable of relieving our spiritual poverty. The only true riches are those that make us rich in virtue (Pope St. Gregory the Great)
Now if you ask me what Jesus Christ means by the sower who goes out early to sow seed in his field, my dear brethren, that sower is the good God Himself! He began His work for our salvation from the beginning of the world by sending His prophets to us before the coming of the Messiah to teach us what we had to do to be saved. And, not satisfied with sending His servants, He came Himself, marked out for us the way we should take and came to preach His holy word. Do you know what those people are like who aren't sustained by that holy word or who abuse it? They are like the sick without a doctor, like a traveller who has gone astray without a guide, like a poor man without means. Let us rather say, my brethren, that it is altogether impossible to love God and please Him without being nourished by this divine word. What is there that can draw us to attach ourselves to Him if not because we know Him? And what enables us to know Him with all His perfections, beauty and love for us if not God's word, which teaches us all He has done for us and the good things He is preparing for us in the life to come, if we try hard to please Him? (St John Mary Vianney)

Every moment and every event of every person's life on earth plants something in her or his soul. For just as the wind carries thousands of winged seeds, so each moment brings with it germs of spiritual vitality that come to rest imperceptibly in the minds and wills of men and women. Most of these unnumbered seeds perish and are lost, for such seeds as these cannot spring up anywhere except in the good soil of freedom, spontaneity and love (Thomas Merton).
It's worth our while to stop a little to see what this teaching in parables consists in. The parables are highly creative little stories sprung from Jesus' imagination and have as their aim helping people to overcome their being blocked-up with respect to God and his project. However, behold, they are two edged weapons, capable of different interpretations. It is perfectly possible to interpret the greater part in terms of a violent God. In that case the parables only serve to reinforce what people already think anyway, and they move on no further. What I'm suggesting is that this would be the 'dull-hearted' reading of the parables. At the same time it is perfectly possible to read the same parables as obliging us to overcome this vision. This means that there is an interpretation for those who understand, and that what they understand will increase exponentially, and there is another interpretation for those who do not understand, so that what little they do understand is in the process of being lost, for they will get into an ever more tied-up and painful understanding of the things of God (James Alison).
I had the same response I always do to this parable: I started worrying about what kind of ground I was on with God. I started worrying about how many birds were in my field, how many rocks, how many thorns. I started worrying about how I could clean them all up, how I could turn myself into a well-tilled, well-weeded, well-fertilized field for the sowing of God's word. I started worrying about how the odds were three to one against me — those are the odds in the parable, after all — and I began thinking about how I could beat the odds, or at least improve on them, by cleaning up my act. That is my usual response to this parable. I hear it as a challenge to be different, as a call to improve my life, so that if the same parable were ever told about me it would have a happier ending, with all of the seed falling on rich, fertile soil. But there is something wrong with that reading of the parable, because if that is what it is about, then it should be called the parable of the different kinds of ground. Instead, it has been known for centuries as the parable of the Sower, which means that there is a chance, just a chance, that we have got it all backwards. We hear the story and think it is a story about us, but what if we are wrong? What if it is not about us at all but about the sower? What if it is not about our own successes and failures and birds and rocks and thorns but about the extravagance of a sower who does not seem to be fazed by such concerns, who flings seed everywhere, wastes it with holy abandon, who feeds the birds, whistles at the rocks, picks his way through the thorns, shouts hallelujah at the good soil and just keeps on sowing, confident that there is enough seed to go around, that there is plenty, and that when the harvest comes at last it will fill every barn in the neighborhood to the rafters? If this is really the parable of the Sower and not the parable of the different kinds of ground, then it begins to sound quite new. The focus is not on us and our shortfalls but on the generosity of our maker, the prolific sower who does not obsess about the condition of the fields, who is not stingy with the seed but who casts it everywhere, on good soil and bad, who is not cautious or judgmental or even very practical, but who seems willing to keep reaching into his seed bag for all eternity, covering the whole creation with the fertile seed of his truth (Barbara Brown Taylor).
Jesus invites us today to look inside ourselves – to give thanks for our good soil and to tend the soil that is not yet good. Let us ask ourselves if our heart is open to welcome the seed of the Word of God with faith. Let us ask ourselves if our rocks of laziness are still numerous and large, let us identify our thorns of vice and call them by name. Let us find the courage to reclaim the soil, to effect a conversion of our heart, bringing to the Lord in Confession and in prayer, our rocks and our thorns (Pope Francis).
Homily
A Seedy Proposition
Over the years I have planted many a perennial and a good share of annuals. Most of which have fallen prey to deer and squirrels. Still, like Charlie Brown ready to kick the football Lucy is holding no matter how many times she yanks it out of the way, I set myself up in the spring with new plants that I know deer will think is candy, and in the fall bulbs that I know squirrels will be quick to dig up. (A tip – deer don't like begonias and squirrels seem to pass on daffodils and hyacinths).
As a gardener, God seems to have better luck. According to Isaiah, God's word, like a seed, never fails to grow, even to thrive. My word shall not return to me void, but shall do my will, achieving the end for which I sent it (I), says the prophet.
What then shall we make of Jesus' parable? According to him, some of that seed gets eaten by birds; some gets scorched by the sun and withers; and some gets choked by thorns. You would think a skilled farmer would be more careful, right? Plant in the shade or water more often, for heaven's sake, and put up a scarecrow to shoo those birds away, and, please, avoid that thorny soil. Seems simple enough to me.
After all, what kind of gardener wastes good seed on a side path, or on rocky ground, or in the middle of thorns? Even I know better than that! But that's the kind of God we believe in – a God who's extravagant, generous, openhanded, even wasteful. There's nothing stingy about this God. Even more, the Lord doesn't plant seed only in good soil, the kind that will bring forth a hundred, or sixty or thirtyfold (G).
In other words, it seems God will take whatever produce springs up from our garden – even if it's withered and weedy – so even that little bit does not return to him void, but does his will, and achieves some good in God's sight. Otherwise, Isaiah has it wrong.
Which is not to say we bear no responsibility for the seed that has been sown in our lives. Countless people have had the seed planted in them through baptism, religious education, the example of parents, and yet failed to understand the word of the kingdom. Still, the seed was sown in their heart.
In others the seed did take root and for a time was even met with joy. I think of all the children who've received their first Holy Communion in all sincerity and innocence. But then came the challenges of growing up, facing peer pressure and finding other interests. Many a college student has told me in their papers how churchgoing stopped when sports took over and how confirmation amounted to "graduation" from church. Or sometimes people will come back from a pilgrimage or a retreat full of zeal that soon fades when the cares of a work-a-day world take over. Still, the seed was sown in their heart.
For many of us, the difficulties life poses can be an obstacle to faith especially when we realize how out of synch gospel values are with those of the world around us, so tribulations or persecution because of the word lead to falling away. And of course the lure of riches easily turns some of us into people bent only on things of earth rather than things of heaven and we bear no fruit (cf. G; Long form). Still, the seed was sown in our heart.
But rather than give up on sowing seed, whether in a ravaged garden or the most fertile of fields, you can be sure the Sower will be at it again next spring. That's why St. Paul says all creation is being set free from slavery to corruption to share in the glorious freedom of the children of God (cf. II). We are all a work in progress, and no sector of God's creation is a lost cause just because the soil seems so unpromising.
So don't be discouraged. After all, we to whom knowledge of the mysteries of the kingdom of heaven has been granted (G) will shortly offer what seems like some very "unpromising" bread and wine that the Word of God will make into the Bread of life and the Cup of salvation: the Seed par excellence scattered week in and week out in the hope it will fall at last on good soil and yield a harvest worthy of the kingdom.
Creed
Intercessions (Mary Grace Melcher)

For the members of the church, that they may endure the suffering of the present time with fortitude, waiting in hope for their sure revelation as children of God.
That God may visit the lands and peoples of the world and water them with truth and wisdom, making every soul reverent before His gift of life and the demands of His justice.
That we may respond fully to the Master's work, receiving the seed of His word in hearts that understand it, and bearing fruit with love and gratitude.
For creation, our beautiful world, which is yet enslaved to futility, that we may respect it as God's gift and redeem it by our holy lives.
For all who are groaning in the labor pains of anxiety, illness, financial setbacks, unemployment, and all the troubles of life, that redemption may come in a lifting of their burdens.
For those who have preceded us beyond the horizon of death, that their eyes may be blessed with the sight of God and their souls filled with His beatitude in heaven.
God of the heavens, God of the earth, all creation awaits your gift of new life. Prepare our hearts to receive the word of your Son, that his gospel may grow within us and yield a harvest that is a hundredfold.
We ask this through Christ our Lord.
Offertory Anthem
The seed is God's Word.
But that on the good ground are those
who hear the Word of God and keep it,
keep the Word in an honest and good heart,
and bring forth fruit with patience.
Lord's Prayer
Let us ask for our daily bread as Jesus taught ....

Spiritual Communion (Book of Common Prayer)
Come Lord Jesus, and dwell in my heart in the fullness of your strength; be my wisdom and guide me in right pathways; conform my life and actions to the image of your holiness; and, in the power of your gracious might, rule over every hostile power that threatens or disturbs the growth of your kingdom, who with the Father and the Holy Spirit, lives and reigns, one God, in glory everlasting. Amen.
Communion Antiphon
Closing Hymn (Dan Feiten)

Seed, scattered and sown,
wheat, gathered and grown,
bread, broken and shared as one,
the living Bread of God.
Vine, fruit of the land,
wine, work of our hands,
one cup that is shared by all,
the living Cup, the living Bread of God.

Is not the bread we break,
a sharing in our Lord?
Is not the cup we bless,
the blood of Christ outpoured?

The seed which falls on rock
will wither and will die.
The seed within good ground
will flower and have life.

As wheat upon the hills
was gathered and was grown,
so may the church of God
be gathered into one.
Archives