Sacred Heart of Jesus A (June 16)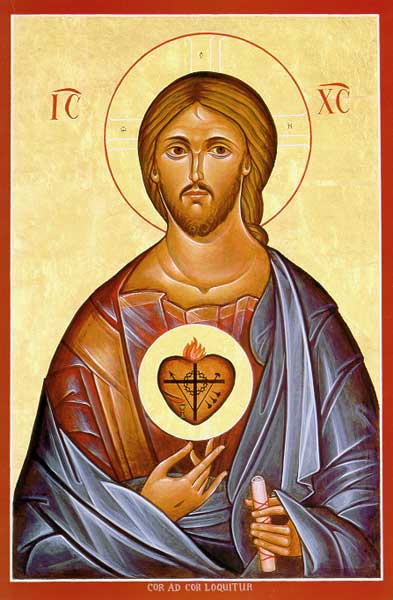 Collect
God of love,
you set your heart upon the least of nations,
and in the heart of Jesus
you reveal your love to the merest of children.
Make us simple enough to receive your great love,
and strong enough to bear it to others.
Grant this through our Lord Jesus Christ, your Son,
who lives and reigns with you in the unity of the Holy Spirit,
God for ever and ever. Amen.
(ICEL; 1998)
Moses said to the people:
"You are a people sacred to the LORD, your God;
he has chosen you from all the nations on the face of the earth
to be a people peculiarly his own.
It was not because you are the largest of all nations
that the LORD set his heart on you and chose you,
for you are really the smallest of all nations.
It was because the LORD loved you
and because of his fidelity to the oath he had sworn your fathers,
that he brought you out with his strong hand
from the place of slavery,
and ransomed you from the hand of Pharaoh, king of Egypt.
Understand, then, that the LORD, your God, is God indeed,
the faithful God who keeps his merciful covenant
down to the thousandth generation
toward those who love him and keep his commandments,
but who repays with destruction a person who hates him;
he does not dally with such a one,
but makes them personally pay for it.
You shall therefore carefully observe the commandments,
the statutes and the decrees that I enjoin on you today."
Responsory (Isaiah 12)
R/. You will draw water joyfully from the springs of salvation.
God indeed is my savior; I am confident and unafraid. My strength and my courage is the LORD, and he has been my savior.
With joy you will draw water at the fountain of salvation.
Give thanks to the LORD, acclaim his name; among the nations make known his deeds, proclaim how exalted is his name.
Sing praise to the LORD for his glorious achievement; let this be known throughout all the earth.
Shout with exultation, O city of Zion, for great in your midst is the Holy One of Israel!
Second Reading 1 Jn 4:7-16
Beloved, let us love one another,
because love is of God;
everyone who loves is begotten by God and knows God.
Whoever is without love does not know God, for God is love.
In this way the love of God was revealed to us:
God sent his only Son into the world
so that we might have life through him.
In this is love:
not that we have loved God, but that he loved us
and sent his Son as expiation for our sins.
Beloved, if God so loved us,
we also must love one another.
No one has ever seen God.
Yet, if we love one another, God remains in us,
and his love is brought to perfection in us.

This is how we know that we remain in him and he in us,
that he has given us of his Spirit.
Moreover, we have seen and testify
that the Father sent his Son as savior of the world.
Whoever acknowledges that Jesus is the Son of God,
God remains in him and he in God.
We have come to know and to believe in the love God has for us.

God is love, and whoever remains in love
remains in God and God in him.
Gospel Acclamation
Gospel Mt 11:25-30
At that time Jesus exclaimed:
"I give praise to you, Father, Lord of heaven and earth,
for although you have hidden these things
from the wise and the learned
you have revealed them to little ones.
Yes, Father, such has been your gracious will.
All things have been handed over to me by my Father.
No one knows the Son except the Father,
and no one knows the Father except the Son
and anyone to whom the Son wishes to reveal him.

"Come to me, all you who labor and are burdened,
and I will give you rest.
Take my yoke upon you and learn from me,
for I am meek and humble of heart;
and you will find rest for yourselves.
For my yoke is easy, and my burden light."
Interlude (John Michael Talbot)
All who are weary come unto Me
All who find life a burden
I will refresh you
Your soul will find rest
For My yoke is easy
And My burden is light
Take my yoke on your shoulders and learn
For I am gentle and humble
I will refresh you
Your soul will find rest
I am gentle and humble of heart
My yoke is easy
My burden is light
Your soul will find rest
Take My yoke on your shoulders and learn
I am gentle and humble of heart
Come unto Me
Your soul will find rest
My yoke is easy
My burden is light
I am gentle and humble of heart
All who are weary come unto Me
Catena Nova
How good and pleasant it is to dwell in the Heart of Jesus! Who is there who does not love a heart so wounded? Who can refuse a return of love to a Heart so loving? Amen. (St. Bernard of Clairvaux)
What more could he still do for us, that he had not done? He has opened his very Heart to us, as the most secret chamber wherein to lead our soul, his chosen spouse. For it is his joy to be with us in silent stillness, and in peaceful silence to rest there with us.... He gives us his heart entirely, that it may be our home. He desires our hearts in return that they may be his dwelling place. (Johannes Tauler)
The Sacred Heart of Christ is an inexhaustible fountain and its sole desire is to pour itself out into the hearts of the humble so as to free them and prepare them to lead lives according to his good pleasure.

(St. Margaret Mary Alacoque)
Hail, most merciful Heart of Jesus,
Living Fountain of all graces,
Our sole shelter, our only refuge;
In You I have the light of hope.
Hail, most compassionate Heart of my God,
Unfathomable living Fount of Love
From which gushes life for sinful man
And the Spring of all sweetness.
Hail, open Wound of the Most Sacred Heart,
From which the rays of mercy issued forth
And from which it was given us to draw life
With the vessel of trust alone.
Hail, God's goodness, incomprehensible,
Never to be measured or fathomed,
Full of love and mercy, though always holy,
Yet, like a good mother, ever bent o'er us.
Hail, Throne of Mercy, Lamb of God,
Who gave Your life in sacrifice for me,
Before whom my soul humbles itself daily,
Living in faith profound.

(St. Faustina Kowalska)
Geography comes to an end,
Compass has lost all earthly north,
Horizons have no meaning
Nor roads an explanation:
I cannot even hope for any special borealis
To rouse my darkness with a brief "Hurray"!
O flaming Heart,
Unseen and unimagined in this wilderness,
You, You alone are real, and here I've found You.
Here will I love and praise You in a tongueless death,
Until my white devoted bones,
Long bleached and polished by the winds of this Sahara,
Relive at Your command,
Rise and unfold the flowers of their everlasting spring. (Thomas Merton)
Under the symbol of the Sacred Heart the divine assumed for me, the form of fire… through its power to become universal this fire proved able to invade and impregnate with love the whole atmosphere of the world in which I lived…. It is in the Sacred Heart that the conjunction of the divine and the cosmic has taken place…. There lies the power that from the beginning has attracted and conquered me…. All the later development of my interior life has been nothing other than the evolution of that seed. (Pierre Teilhard de Chardin)
As he passes from depth to depth in his own heart the awakened disciple reaches the ultimate depth of the Heart of Jesus— a pointer to the ultimate recesses of the source of being. Then, passing beyond all, freed from all bonds, even mental ones, he finally comes to the Source, where, in his eternal awakening, he discovers that he is. (Henri Le Saux, Abhishiktananda)
Litany of the Sacred Heart
Archives