Third Sunday of Easter (B)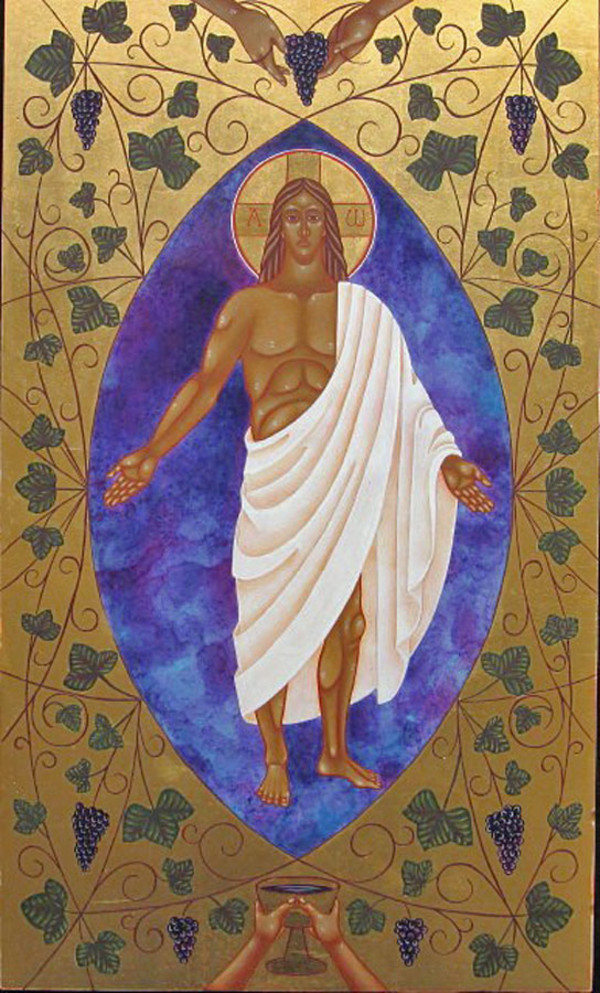 Introit
Kyrie
Gloria
Collect
May your people exult for ever, O God,
in renewed youthfulness of spirit,
so that, rejoicing now in the restored glory of our adoption,
we may look forward in confident hope
to the rejoicing of the day of resurrection.
Through our Lord Jesus Christ, your Son,
who lives and reigns with you in the unity of the Holy Spirit,
God, for ever and ever. Amen.
First Reading Acts 3:13-15, 17-19
Peter said to the people:
"The God of Abraham,
the God of Isaac, and the God of Jacob,
the God of our fathers, has glorified his servant Jesus,
whom you handed over and denied in Pilate's presence
when he had decided to release him.
You denied the Holy and Righteous One
and asked that a murderer be released to you.
The author of life you put to death,
but God raised him from the dead; of this we are witnesses.
Now I know, brothers,
that you acted out of ignorance, just as your leaders did;
but God has thus brought to fulfillment
what he had announced beforehand
through the mouth of all the prophets,
that his Christ would suffer.
Repent, therefore, and be converted, that your sins may be wiped away."
Responsorial Psalm PS 4:2, 4, 7-8, 9
R/. Lord, let your face shine on us.
When I call, answer me, O my just God,
you who relieve me when I am in distress;
have pity on me, and hear my prayer! R/.
Know that the LORD does wonders for his faithful one;
the LORD will hear me when I call upon him. R/.
O LORD, let the light of your countenance shine upon us!
You put gladness into my heart. R/.
As soon as I lie down, I fall peacefully asleep,
for you alone, O LORD,
bring security to my dwelling. R/.
Second Reading 1 JN 2:1-5A
My children, I am writing this to you
so that you may not commit sin.
But if anyone does sin, we have an Advocate with the Father,
Jesus Christ the righteous one.
He is expiation for our sins,
and not for our sins only but for those of the whole world.
The way we may be sure that we know him is to keep
his commandments.
Those who say, "I know him," but do not keep his commandments
are liars, and the truth is not in them.
But whoever keeps his word,
the love of God is truly perfected in him.
Alleluia CF. LK 24:32
Gospel LK 24:35-48
The two disciples recounted what had taken place on the way,
and how Jesus was made known to them
in the breaking of bread.

While they were still speaking about this,
he stood in their midst and said to them,
"Peace be with you."
But they were startled and terrified
and thought that they were seeing a ghost.
Then he said to them, "Why are you troubled?
And why do questions arise in your hearts?
Look at my hands and my feet, that it is I myself.
Touch me and see, because a ghost does not have flesh and bones
as you can see I have."
And as he said this,
he showed them his hands and his feet.
While they were still incredulous for joy and were amazed,
he asked them, "Have you anything here to eat?"
They gave him a piece of baked fish;
he took it and ate it in front of them.

He said to them,
"These are my words that I spoke to you while I was still with you,
that everything written about me in the law of Moses
and in the prophets and psalms must be fulfilled."
Then he opened their minds to understand the Scriptures.
And he said to them,
"Thus it is written that the Christ would suffer
and rise from the dead on the third day
and that repentance, for the forgiveness of sins,
would be preached in his name
to all the nations, beginning from Jerusalem.
You are witnesses of these things."
[During the Easter season, rather than provide reflection questions of my own, I am reproducing ones found in the pastoral letter on the Eucharist recently issued by Cardinal Joseph Tobin, Archbishop of Newark along with relevant sections of the document. I hope you will give thought to these as we resume Mass at the Mission House].
Do you think there will be long-term effects to separation imposed by the pandemic? Will some of us prefer virtual worship, if we worship at all?
Here is what I think.
During the first four months of the lockdown, I was not able to visit my mother, who is in her 90s and lives in southwestern Ontario, near the border with the United States. We talked on the telephone and saw each other "virtually" via Zoom calls, but we were not able to meet in person. During those months, too many people in the Archdiocese had similar or worse experiences, even being denied the opportunity to comfort the dying or bury their loved ones. While modern technology can somewhat ease these burdens, the forced separation remains a great tragedy.
When I was finally able to travel this summer and visit my mother in person at our home, I realized how much I had missed her and how different it was to sit across the same table and share a cup of tea! Ancient wisdom says that "absence makes the heart grow fonder." I know that was true in my case. My love for my mother, which has always been strong, deepened as I was prevented from being physically close to her. And when the day came that we were reunited, I experienced true joy.
Millions of Catholics across the world have had a similar experience with their love for Jesus. One of the greatest blessings of our faith is our deeply held conviction that our Lord is truly present to us in the Eucharist. We use different terms to describe this great mystery, but never fully explain it. Simply stated, we believe that when a priest invokes the power of the Holy Spirit during the celebration of Holy Mass, repeating the words of Jesus at the Last Supper, ordinary bread and wine are transformed into the Body and Blood of Jesus Christ (cf. Catechism of the Catholic Church, #'s 1373-1381). When we go to Communion, we receive Christ in the most intimate way possible during our life — allowing Him to become one with us — so that we actually become what we receive, the Body of Christ.
St. Augustine wrote and preached about this mystery often. In one of his most famous homilies, he asked:
How can bread be His Body? And the cup, or what the cup contains, how can it be His Blood?
The reason these things, brethren, are called Sacraments is that in them one thing is seen, another is to be understood. What can be seen has a bodily appearance, what is to be understood provides spiritual fruit. So, if you want to understand the Body of Christ, listen to the Apostle [Paul] telling the faithful: You are the Body of Christ and its members.
So if it's you that are the Body of Christ and its members, it's the mystery, meaning you, that has been placed on the table of the Lord; what you receive is the mystery that means you.
It is to what you are that you reply Amen, and by so replying you express your assent.
What you hear, then, is The Body of Christ, and you answer, Amen. So be a member of the Body of Christ, in order to make that Amen true. (Sermon 272, emphasis mine)
What we receive when we receive Holy Communion is the same "Body of Christ" that St. Paul tells us we are. When we say "Amen," we are committing to truly reflect the presence of our Lord in our daily lives and to share Him with everyone we encounter. In other words, when we receive the Eucharist, we receive Christ and agree to be Christ with and for others.
Catena Nova
For forty days Holy Wisdom gave us ample evidence that she was "seeking high and low for souls worthy of her, and displaying to them along their paths her smiling face, courting them with all the solicitude of her providence." (Wisdom 6:16-17). Jesus so willed to reveal himself as this Wisdom of which the Scripture speaks, and on that day to manifest physically what he reveals spiritually day after day; that is, to show us the smiling face on the roads of justice. That is why he went that day on the way to meet women returning from the tomb and, on the road once again, to show himself to the disciples on their way to Emmaus (Bl. Guerric of Igny).
Jesus accompanied two disciples who had almost given up, and by his conversation he restored their hope and so their faith. Now notice what happened. "Their eyes were opened and they knew him when he broke the bread." Think about the fact that Jesus is the bread he gives to us and, in effect, he breaks himself before us as part of his emptying of himself for our salvation. In doing this he gives us knowledge of himself, and so of ourselves if we are one with Him....When we break our bread for the hungry, we break ourselves in just the measure we have identified with the things we have and must now give or share with others. But if Jesus himself is bread and is broken then we are to share what we have received from him in order to become like him. We are to share all that we have and even all we are. Notice that if we do not break ourselves in sharing we do not really know Christ.... Anyone who doesn't live as Christ lived can't rightly claim to break the bread of life which Christ wants to give us and so can't have the joy he had. The Kingdom of God consists not in words but in power and deeds and joy. If we would follow Christ we must accept the condition of a servant and not even seek that of a superior. It is when you have emptied yourself as a servant that you know the Lord through the "breaking of the bread". True humility opens our eyes and teaches us that we ourselves are nothing. When we humble self more and more we grow more and more in lived knowledge of Christ, our God for this knowledge is love. To know God is to love as God loves. To gain such knowledge go to Christ and learn to break yourself as bread for others (Anonymous 12th Century Homilist).
"Was not our heart burning within us, whilst he spoke in the way?" said those happy pilgrims of Emmaus, speaking of the flames of love with which they were touched by the word of faith. But if divine truths be so sweet, when proposed in the obscure light of faith, O God, what shall they be when we shall contemplate them in the light of the noonday of glory! (St. Francis de Sales)
Who among us does not find the inn of Emmaus to be a familiar abode? Who has not walked this road one evening when all seemed lost? Christ died in us. They had taken him from us: the world, philosophers and scholars, our passion. There was no more Jesus for us on the earth. We were following a way, and someone was walking by our side. We were alone and we were not alone. It is evening. Here's an open door, the darkness of a room where the fireplace sheds light upon the clay floor and makes the shadows move. O broken bread! O breaking of the bread accomplished in spite of so much misery (François Mauriac).
Amid our questions and difficulties, and even our bitter disappointments, the divine Wayfarer continues to walk at our side, opening to us the Scriptures and leading us to a deeper understanding of the mysteries of God. When we meet him fully, we will pass from the light of the Word to the light streaming from the "Bread of life", the supreme fulfillment of his promise to "be with us always, to the end of the age" (cf. Mt 28:20) (Pope St. John Paul II).
What seems to you to be evil in you is purified by the mere fact of having noticed it…At the moment when you see with terror that, in spite of your efforts, not only have you not drawn closer to your goal, but you have even drawn further away from it, at that moment, I warn you beforehand, you will reach your goal, and you will see above you the mysterious power of the Lord, who, unbeknownst to you, has guided you with love (René Girard).
Death is nothing but a vacant form for God, something whose reality has been utterly emptied out, which can only be detected in the form of its traces in the human life story of someone who has overcome death. The marks, then, of Jesus' death were something like trophies: it was his whole human life, including his death, which was made alive and presented before the disciples as a sign that he had in fact conquered death. This not only meant that he had personally conquered death, which he had manifestly done, but that, in addition, the whole mechanism by which death retains people in its thrall had been shown to be unnecessary. Whatever death is, it is not something which has to structure every human life from within (as in fact it does), but rather it is an empty shell, a bark without a bite. None of us has any reason to fear being dead, something which will unquestionably happen to all of us, since that state cannot separate us effectively from the real source of life (James Alison).
Homily
For Lack of a Better Word
Do you believe in ghosts? Apparently, the disciples did. When Jesus stood in their midst… they were startled and terrified and thought they were seeing a ghost (G). A lot of Americans believe in ghosts too. A recent poll showed that 45% of Americans either believe that ghosts "definitely exist" or and "probably exist." Almost the same number believe that these ghosts are able come back and haunt people or places while a smaller, but significant 36% claim to have had a personal experience of feeling the presence of a spirit or ghost (YouGov; October 19, 2019).
The latter is, of course, nothing new for Catholics who believe in the communion of saints. Indeed, before anyone is added to the canon of official saints, a rigorous investigation is conducted of those who claim a miraculous event – almost always a sudden, unexplained and lasting medical cure – occurred due to the intercession of the person in question. With the exception of martyrs, two such miracles are normally required before a canonization can take place.
Pope Francis has canonized his share of saints, including his penultimate predecessor, John Paul II. In his case, a Costa Rican woman, Floribeth Mora-Diaz, was suffering from a brain aneurysm in 2011 and after praying to John Paul II while watching his beatification ceremony on television, Mora said her aneurysm abruptly disappeared during the broadcast. "I heard a voice saying, 'Get up and do not be afraid,' " she said, her voice trembling. "I knew that I was not alone." (Washington Post; April 25, 2014).
In Mother Teresa's case, a woman in India whose stomach tumor disappeared and a man in Brazil with brain abscesses who awoke from a coma both credited their dramatic recovery to prayers offered to the nun after her death in 1997 (National Catholic Register; August 29, 2016). And the canonization of Archbishop Oscar Romero of El Salvador was cleared due to the healing of Cecilia Maribel Flores, who was facing near-certain death towards the end of a difficult pregnancy. She suffered from internal hemorrhages and kidney failure resulting from an infection after having her third baby via Caesarean section. She was dying before praying to the late archbishop for his intercession (America; March 12, 2018). Most recently is the case of Carlo Acutis, the 15-year-old Italian teenager beatified by Francis after he approved a miracle involving the healing of a young Brazilian boy afflicted with a rare congenital disease of the pancreas. His family prayed a novena "with a priest who was devoted to Carlo. On the third day, the child said he wanted to eat" after days of not being able to eat solid foods, reported his mother. The doctors later discovered that he was completely healed (Crux; February 20, 2020)
Now lest you think such things are due to an unseemly credulity, the cause for Marguerite d'Youville, a nun who lived in 18th century Canada, involved the sudden recovery of a woman with incurable leukemia who had prayed to the nun 200 years after her death. The investigation fell to Dr. Jacalyn Duffin, a hematologist at Queen's University in Ontario. Duffin agreed to do the investigation, but only after giving this warning: "I revealed my atheism to them," Duffin says. "I told them my husband was a Jew, and I wasn't sure if they'd still want me. And they were delighted!" The group reasoned that if Duffin, as an atheist, found there was no scientific reason the woman should have recovered, who could doubt it was a miracle? In fact, after her investigation of the woman's recovery, Duffin agreed that the woman's healing was--for lack of a better word--miraculous. Intrigued by the experience, Duffin undertook her own research into the Vatican archives which chronicled such happenings over the past 400 years and after reviewing hundreds of such cases concluded that "miracles" do indeed happen (National Public Radio; August 31, 2016).

And what does this have to do with Easter? Everything, I think. For one thing, the word "dead" isn't really in the Christian vocabulary. Once the disciples were convinced the Lord was indeed risen from the dead, and by dying he has destroyed our death such that integrity of life is restored to us in Christ (Easter Prefaces I and IV), well, to speak of the "dead" made less and less sense.
Now to be sure, those who have "died" in the Lord should not to be thought of as ghosts, despite popular beliefs and language. For those who are with the Lord must yet attain in their flesh the incorruptible glory of the resurrection (Prayer after Communion) since a ghost does not have flesh and bones (G) – and we are not destined ultimately to be disembodied spirits. That doesn't mean, however, that the time "in-between" bodily death and resurrection is idle or lifeless. And whatever you make of these stories of ongoing concourse between the living and the "dead," they give us modern people, often embarrassed by reports of the "supernatural," pause to reconsider the claims of Christian faith – which is why I made sure some of the accounts reported in this homily appeared in secular sources. Since if nothing else, in the words of Bishop Robert Barron, "the miraculous shakes us out of a too-easy rationalism" (National Public Radio; August 31, 2016).
So as we await our own resurrection, we have an advocate with the Father, Jesus Christ the righteous one (II). And his intercession as our High Priest, to which the saints join their own, at times brings about bodily healing as a sign that Easter holds forth the promise of a salvation that includes the whole person, body and soul. So much so that he gives us his Body now as food, our Communion with him and all those joined to his Body, living and "dead." And we too are witnesses of these things (G) concerning the Author of life, whom God raised from the dead: Jesus Christ, the Holy and Righteous One, who lives and reigns, forever and ever. Amen (cf. I).
Creed
Intercessions (Peter Scagnelli; Prayers for Sundays and Seasons)
To the God of all our ancestors who has glorified his servant Jesus, let us pray not only for our own needs but also those of the whole world.
For all members of the church in every ministry: may we proclaim to all nations repentance and forgiveness of sins in the name of Jesus.
For worldly rulers who in ignorance reject God's Holy One and make the disciples suffer: may they repent and turn to God.
For those depressed by the burden of their sins: may they come to know that in Jesus Christ the righteous they have an advocate.
For the neophytes throughout the church: may the love of God reach perfection in them.
For believers whose hearts are filled with doubts: may they find comfort in God's word and joy at the Eucharistic feast.
For us to whom the Lord has been made known in the breaking of the bread: may we be effective witnesses to the peace Christ has bestowed on us.
For those who, in union with Jesus, endured suffering, and for all the departed: may they now be with the Author of Life, whom God raised from the dead.
God of all the prophets, you fulfilled your promise of old that your Christ would suffer and so rise to glory. Open our minds to understand the Scriptures and fill us with joyful wonder in the presence of the risen Christ, that we may be his witnesses to the farthest reaches of the earth. We ask this through Christ our Lord. Amen. (ICEL; 1998)
Interlude (Michael Philip Ward)

In the walking on the road, we saw Him.
In the telling of our hopes, we saw Him.
In the burning of our hearts, we saw the Lord.
At the meal He took the bread and then He blessed it, broke it, offered it.
In the breaking of the bread, we saw Him!
Suddenly our eyes were opened, and we knew He was alive!

We set out to find His friends to tell them.
We went to Jerusalem to tell them;
and with joy we told them, "We have seen the Lord!"
And as we were speaking there, He stood among us, blessed us, said to us,
"Now my peace I leave with you." We saw Him!
Suddenly our eyes were opened, and we knew He was alive!

But then we became afraid without Him.
In the darkened room we stayed without Him,
waiting for the One He said that He would send.
Then the Spirit of the Lord came down upon us,
filling us, changing us, giving us the strength to say:
We saw Him! Suddenly our eyes were opened, and we knew He was alive!

We ran out into the street to tell them,
everyone that we could meet, to tell them,
"God has raised Him up and we have seen the Lord!"
We took bread as He had done and then we blessed it, broke it, offered it.
In the breaking of the bread, we saw Him!
Suddenly our eyes were opened.

There within our midst was Jesus, and we knew He was alive.
In the breaking of the bread, He is here with us again,
and we know He is alive.

Alleluia! Alleluia! Alleluia!
Alleluia! Alleluia! Alleluia!
Lord's Prayer
Let us ask for our daily bread as Jesus taught his disciples....
Spiritual Communion
Like the disciples on the road to Emmaus, Lord, our hearts are troubled once again by our absence at your table for the breaking of the Bread of Life. We long to be fed once again by you in the Sacrament of your risen Presence among and within us. Yet we are consoled by the Easter gift of your Spirit by which you remain with us. Lead us soon, Lord, back to the company of your disciples, your mystical Body, so we may rejoice together in the glory of your resurrection.
Thanksgiving
Closing Hymn (Ricky Manalo CSP)

Worthy is the Lamb that was slain
to receive honor and glory.
Worthy are the ones who believe
to receive the goodness of God.

Worthy are you, O Paschal Lamb
Wisdom and strength belong now to you
You laid down your life and died upon the cross,
we've become a people of hope.
Worthy are you, O Bread of Life
Salvation and joy belong now to us
By conquering death and rising to new life,
we've become a people of praise.
Worthy are you, O Risen Christ
wonders and signs revealing your might
Your power and glory shine upon our lives,
we've become your light for the world.
Archives