Trinity Sunday (C)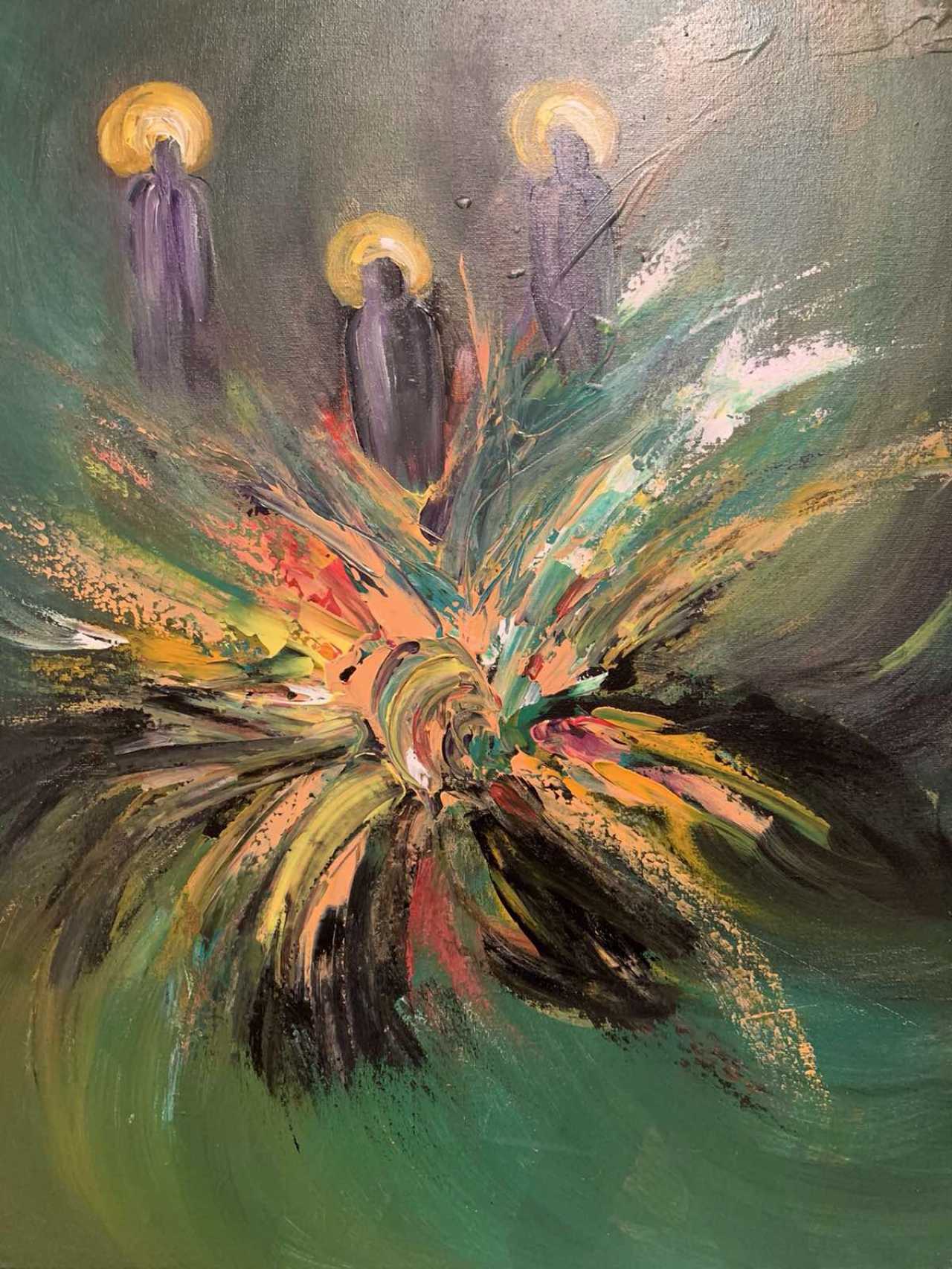 Introit
Kyrie
Gloria
Collect
God our Father, who by sending into the world
the Word of truth and the Spirit of sanctification
made known to the human race your wondrous mystery,
grant us, we pray, that in professing the true faith,
we may acknowledge the Trinity of eternal glory
and adore your Unity, powerful in majesty.
Through our Lord Jesus Christ, your Son,
who lives and reigns with you in the unity of the Holy Spirit,
one God, for ever and ever. Amen.
First Reading Prv 8:22-31
Thus says the wisdom of God:
"The LORD possessed me, the beginning of his ways,
the forerunner of his prodigies of long ago;
from of old I was poured forth,
at the first, before the earth.
When there were no depths I was brought forth,
when there were no fountains or springs of water;
before the mountains were settled into place,
before the hills, I was brought forth;
while as yet the earth and fields were not made,
nor the first clods of the world.

"When the Lord established the heavens I was there,
when he marked out the vault over the face of the deep;
when he made firm the skies above,
when he fixed fast the foundations of the earth;
when he set for the sea its limit,
so that the waters should not transgress his command;
then was I beside him as his craftsman,
and I was his delight day by day,
playing before him all the while,
playing on the surface of his earth;and I found delight in the human race."
Responsorial Psalm 8:4-5,6-7,8-9
R. O Lord, our God, how wonderful your name in all the earth!
When I behold your heavens, the work of your fingers,
the moon and the stars which you set in place —
What is man that you should be mindful of him,
or the son of man that you should care for him?

You have made him little less than the angels,
and crowned him with glory and honor.
You have given him rule over the works of your hands,
putting all things under his feet:
All sheep and oxen,
yes, and the beasts of the field,
The birds of the air, the fishes of the sea,
and whatever swims the paths of the seas.
Second Reading Rom 5:1-5
Brothers and sisters:
Therefore, since we have been justified by faith,
through whom we have gained access by faith
to this grace in which we stand,
and we boast in hope of the glory of God.
Not only that, but we even boast of our afflictions,
knowing that affliction produces endurance,
and endurance, proven character,
and proven character, hope,
and hope does not disappoint,
because the love of God has been poured out into our hearts
through the Holy Spirit that has been given to us.
Alleluia Cf. Rv. 1:8
Gospel Jn 16:12-15
Jesus said to his disciples:
"I have much more to tell you, but you cannot bear it now.
But when he comes, the Spirit of truth,
he will guide you to all truth.
He will not speak on his own,
but he will speak what he hears,
and will declare to you the things that are coming.
He will glorify me,
because he will take from what is mine and declare it to you.
Everything that the Father has is mine;
for this reason I told you that he will take from what is mine
and declare it to you."
Reflection Questions
Where do you find "delight in the human race?"
Are you able to "boast of your afflictions?
What truths do you find it "difficult to bear?"
Catena Nova
Can anyone comprehend the almighty Trinity? Everyone talks about it - but is it really the Trinity of which they talk? Rare indeed is the person who understands the subject of his discourse, when he speaks of that. People argue and wrangle over it, yet no one sees that vision unless he is at peace. I wish they would turn their attention to the triad they have within themselves. It is, to be sure, a triad far distant from the Trinity, but I propose it as a topic on which they may exercise their minds, by way of experiment and in order to make clear to themselves how great the difference is. The triad I mean is being, knowledge and will. I am, and I know, and I will. Knowingly and willingly I exist; I know that I am and that I will; I will to be and to know. Let anyone with the wit to see it observe how in these three there is one inseparable life: there is one life, one mind and one essence. How inseparable they are in their distinctness! Yet distinction there is. Everyone has himself readily available for inspection; let each, then, scrutinize himself, and see what he can find, and tell me. (St. Augustine of Hippo)

Trinity!! Higher than any being,
any divinity, any goodness!
Guide of Christians
in the wisdom of heaven!
Leads us up beyond unknowing and light,
up to the farthest, highest peak
of mystic scripture,
where the mysteries of God's Word
lie simple, absolute and unchangeable
in the brilliant darkness of a hidden silence.
Amid the deepest shadow
they pour overwhelming light
on what is most manifest.
Amid the wholly unsensed and unseen
they completely fill our sightless minds
with treasures beyond all beauty. (Pseudo-Dionysius)
Now you say, "How shall I proceed to think of God as he is in himself?" To this I can only reply, "I do not know." With this question you bring me into the very darkness and cloud of unknowing that I want you to enter. A man may know completely and ponder thoroughly every created thing and its works, yes, and God's works, too, but not God himself. Thought cannot comprehend God. And so, I prefer to abandon all I can know, choosing rather to love him whom I cannot know. Though we cannot know him we can love him. By love he may be touched and embraced, never by thought. Of course, we do well at times to ponder God's majesty or kindness for the insight these meditations may bring. But in the real contemplative work you must set all this aside and cover it over with a cloud of forgetting. Then let your loving desire, gracious and devout, step bravely and joyfully beyond it and reach out to pierce the darkness above. (The Cloud of Unknowing)
The deep wisdom of the Trinity is our Mother, in whom we are enclosed. And the high goodness of the Trinity is our Lord, and in him we are enclosed and he in us. We are enclosed in the Father, and we are enclosed in the Son, and we are enclosed in the Holy Spirit. And the Father is enclosed in us, the Son is enclosed in us, and the Holy Spirit is enclosed in us, almighty, all wisdom and all goodness, one God, one Lord. (Bl. Julian of Norwich)
Our great God is ready to remove the scales from the eyes of the soul so that she can see and understand something of the blessing he is granting her. He does this in a strange and inexplicable way. The soul enters the innermost chamber through a transcendental vision of the three divine Persons, which imparts to her a particular representation of truth. At first, an incredible clarity descends on the soul like a luminous cloud, setting her spirit on fire and illuminating each of the three aspects of God individually. At the same time, through a wondrous kind of knowledge, she apprehends the truth that all three divine Person as are one substance and one power and one knowing and one God alone. The soul realizes then that what the rest of us know by faith, you might say, she understands by sight. But this is not a seeing with the eyes of the body or even the eyes of the soul. It isn't a visual revelation. Here, all three Persons communicate themselves to the soul. They speak to her, explaining things, like what Christ meant in the gospels when he said that he and the Father and the Holy Spirit come to dwell inside the soul who loves God and honors his ways. (St. Teresa of Avila)
Our faith proceeds from the Father, who is God as the first beginning and blessed ending. The creed doesn't begin with a profession of faith in the One God, for this was taken for granted, but with a profession of faith in this one God as the Father of an Only Son, who is our Lord and bore the earthly name of Jesus and is also the Christ anointed of the Spirit, who is equally the God of my faith. The resurrection of the body will establish all this conclusively. We will rise again because through Christ the Holy Spirit has brought the divine life of the Spirit to earth. The Spirit has brought spiritual life to the community which, for that very reason, is called the Holy Church. The Church is to be the earthly reflection of what the Spirit is in God. The Church is our native country where we are safe. There our sanctification is accomplished through Christ until the glorious resurrection of our spiritualized being. The Church, then, is the mystic circle where the end joins the beginning. It leads us to our original source, the Father, who sent his Son to bring his children home. In the Church we see the image of the Spirit who unites Father and Son, and us, in mutual love. (Karl Rahner)
Knowing the Trinity is being involved in this circling movement: drawn by the Son towards the Father, drawn into the Father's breathing out of the Spirit so that the Sons' life may be again made real in the world. It is where contemplation and action become inseparable. (Rowan Williams)
Homily
Just Your Imagination?
I don't know anyone who likes to preach on Trinity Sunday. After all, what shall we say about the Mystery of mysteries: of One God in Three Persons? Human language fails before it. Either we speak in abstract theological terms, and end up all tongue-tied and twisted, or we might make a passing reference to the doctrine and focus instead on the readings. Unfortu­nately, neither approach—neither the classroom lecture, nor the silent treatment -- a homily for Trinity Sunday makes.
Yet preach we must. Lest this truth that lies at the heart of our faith be given lip service but once a year, and its meaning for our lives go unsaid. After all, revealed truths, however much beyond our comprehension, are given "for us and for our salvation." However much or little faith may understand of the mysteries, they are given to us so they will make a difference in how we live, and never merely to inform us or satisfy our curiosity. We need what theologian Catherine Mowry LaCugna called "living trinitarian faith." In other words, to rescue this doctrine from the arid abstraction and practical irrelevance which plague it, in favor of a vision of human relationships modeled after the Unity of Three co-equal yet distinct Persons. For the Trinity shows us a way--indeed, the only way-- we humans should exist for one another: After the pattern of God whose likeness we share.. Herein lies the "salvation" for which the Mystery has been revealed. Indeed, it boggles the imagination.
And if this truth ever did capture the imagination, what a different world it would be. Imagine, for instance, all of our divided trinities somehow managing a higher unity than the distinctions suggest: the three "persons" of Democrat, Republican, and Independent, able to live with regard for each other, neither placing political preference over the needs of the republic, seeking domination over the others at all costs, forgetting that citizens of this country share a fundamental equality. Such would a nation appear on the face of the earth, e pluribus unum – from the many, made one: politics transformed by belief in the triune God.
Or imagine an economy modeled after the Trinity. Where no one had "more" than another, yet each one had all they needed to be fully them­selves. Such would be the case where justice reigned, where human per­sons existed in right relationship to one another. Gone would be "First", "Second", and "Third" worlds, whose resources are hoarded by one, to the detriment of the others: a mockery of God who shares divine life equally among three Persons, without diminishing any.
Or imagine a society where differences between persons, of race, language, place of birth, or gender did not divide them, one from the other, but rather enhanced their uniqueness, and promoted true unity-in-diversity, where the "other" does not threaten, or summon exclusion, but elicits, instead, delight in the children of women and men (cf. I), made in God's likeness, both many and one.
Imagine too, the three world religions who trace their roots to Abraham and Sarah – Judaism, Christianity and Islam – able to worship Adonai-Abba-Allah in mutual respect, knowing God's Name is beyond all names.
Finally, imagine a church that believes we are an icon of the Trinity, a church that always and everywhere acts on such a belief. A church that truly believed we are the people of God; where no one's rank or status was thought higher or better than another's; where such things exist, as they do in God, for the sake of love, and for love's sake alone. A church, in other words, where each person was indeed equal in "sub­stance" and distinction of person served only to deepen the bond of communion among us.
All the stuff of fantasy, you say? A church and world transformed by living trinitarian faith, an alternative reality to the one we normally experience, committing us to a competing paradigm where typical patterns of power and control in human relationships are overturned by belief in the Trinity. Politics, economics, social relations in realms both sacred and secular, all transformed by our belief in God: the true and eternal Godhead…adored in what is proper to each Person, their unity in substance and their equality in majesty (Preface). Our faith forbids us to say such things are fantasy.
I am reminded here of my homiletics mentor, the late Thomas Troeger – who was always concerned to present the faith to a culture dominated by image yet sorely lacking in imagination – of what he once wrote:
The answer to the distortions of the human imagination is not to deny or suppress the imagination, but to bring it into relationship with the Holy Spirit, who fills us with world-transforming visions of the reign of God. If we fail to do this, we leave imagination in the hands of the media. Developing strategies for preaching in a multimedia culture represents, then, a great theological task. . . . To preach this vision to our mutlimedia culture is to transform the landscape of the heart and to capture the human imagination for the purposes of God. Surely a goal this great is worthy of all the imaginative energies and gifts our wondrous God has given us (Ten Strategies for Preaching in a Multi Media Culture, 120-121).
So the lack of imagination we see all around us is really a failure of imagination. Indeed, must we confess how little we've heard of all the Lord would tell us; how little of his truth we can bear; and how much we need the Spirit of truth to come, and guide us to all truth, announcing to us things yet to happen (cf. G).
For such a world is coming: a world transformed by God's grace; a world renewed in God's image and likeness. Indeed, we boast of our hope for the glory of God . . . And this hope will not leave us disappoint­ed. For we possess it even now, in our hearts, where the love of God has been poured out, through the Holy Spirit who has been given to us (cf. II). The Spirit of the Father and the Son, Who live and reign, one God, forever and ever. Amen.
Nicene Creed

Intercessions (cf. Joe Milner; Sunday Web Site)

For the Church: that we may experience the length, breadth, and depth of God's love that has been poured out into our hearts so that we may be transformed and fully live as children of God.
For a greater desire for truth: that we continually seek the truth so that we may see God in all things and be aware that we are always in God's presence.
For all who need conversion: that God's generous love will help those trapped by crime to seek a new way, those who hold others in servitude to free them, and help those who have abused others to change their behavior.
For renewal of our relationships: that the life and love of the Trinity will inspire us as we and grow in our relationships and learn to share our lives and enrich the lives of those to whom we are committed more fully.
For all who are preparing to celebrate matrimony this spring or summer: that God will form them into a community of life, strengthen their commitment to each other, and help them to encounter Jesus in their love for each other.
For healing: that God will bring an end to the Covid pandemic, bring healing to all who are ill, and give strength to all who are caring for them.
For leaders of religion, government, and communities: that the Spirit will inspire them with ways to resolve the issues of injustice, firearms, and immigration so that all may live in peace and safety.
For the gift of peace, especially in Ukraine: that God will bring an end to the violence, give leaders a new understanding of the dignity of each life, and deepen the desire for peace in their hearts.
For all who have been touched by violence, especially those who lost their lives in the attack on worshippers in Nigeria last Sunday: that God will give eternal life to all who have died by violence recently and console those who are grieving their passing.
O God,
your name is veiled in mystery,
yet we dare to call you Father;
your Son was begotten before all ages,
yet is born among us in time;
your Holy Spirit fills the whole creation,
yet is poured forth now into our hearts.
Because you have made us and loved us
and called us by name,
draw us more deeply into your divine life,
that we may glorify you rightly through your Son,
in the unity of the Holy Spirit,
God for ever and ever. Amen. (ICEL; 1998)
Offertory Hymn (Words: Samuel Longfellow, 1864. Music: Orlando Gibbons, 1623)
Holy Spirit, Truth divine,
dawn upon this soul of mine.
Voice of God, and inward Light,
wake my spirit, clear my sight.

Holy Spirit, Love divine,
glow within this heart of mine.
Kindle every high desire,
purify me with your fire.

Holy Spirit, Power divine,
fill and nerve this will of mine.
Boldly may I always live,
bravely serve and gladly give.

Holy Spirit, Peace divine,
still this restless heart of mine.
Speak to calm this tossing sea,
grant me your tranquility.

Holy Spirit, Joy divine,
gladden now this heart of mine.
In the desert ways I sing,
spring, O living Water, spring.
Communion Antiphon
Closing Hymn Text: Horatius Bonar (1861)
O love of God, how strong and true!
Eternal, and yet ever new;
Uncomprehended and unbought,
Beyond all knowledge and all thought.

O love of God, how deep and great!
Far deeper than man's deepest hate;
Self fed, self kindled, like the light,
Changeless, eternal, infinite.

O heavenly love, how precious still,
In days of weariness and ill,
In nights of pain and helplessness,
To heal, to comfort, and to bless!

O wide embracing, wondrous love!
We read you [thee] in the sky above,
We read you [thee] in the earth below,
In seas that swell, and streams that flow.

We read you [thee] best in Him who came
To bear for us the cross of shame;
Sent by the Father from on high,
Our life to live, our death to die.

We read your [thy] power to bless and save,
E'en in the darkness of the grave;
Still more in resurrection light,
We read the fullness of your [thy] might.

O love of God, our shield and stay
Through all the perils of our way!
Eternal love, in thee we rest
Forever safe, forever blest.

We will exalt you, God and King,
and we will ever praise your name;
We will extol you ev'ry day,
and evermore your praise proclaim.
Archives