Fourth Sunday of Easter (A)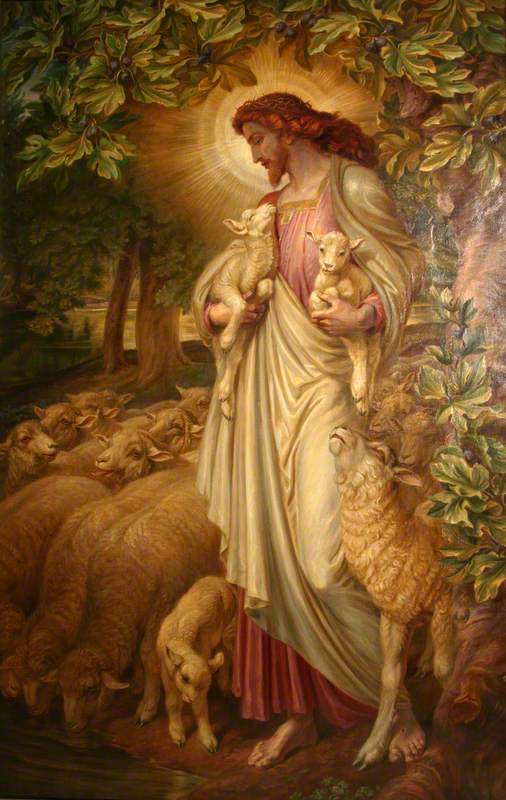 Introit
Collect
Almighty ever-living God,
lead us to a share in the joys of heaven,
so that the humble flock may reach
where the brave Shepherd has gone before.
Who lives and reigns with you in the unity of the Holy Spirit,
one God, for ever and ever.
First Reading Acts 2:14, 36-41
Responsorial Psalm
The LORD is my shepherd; I shall not want.
In verdant pastures he gives me repose;
beside restful waters he leads me;
he refreshes my soul.
He guides me in right paths
for his name's sake.
Even though I walk in the dark valley
I fear no evil; for you are at my side.
With your rod and your staff
that give me courage.

You spread the table before me
in the sight of my foes;
you anoint my head with oil;
my cup overflows.
Only goodness and kindness follow me
all the days of my life;
and I shall dwell in the house of the LORD
for years to come.
Second Reading 1 Peter 2:20-25
Verse before the Gospel
Gospel John 10:1-10
J
Reflection Questions

How do you seek to be saved "from this crooked generation?"
What challenges have these days posed for following "in Christ's steps" and after "his example?"
What "voices of strangers" do you sometimes confuse with those of the Good Shepherd?
Catena Nova
They are straying across the mountains and the high hills, they have been scattered over all the face of the earth. What does this mean, scattered over all the face of the earth? That they attach themselves to earthly things, the things that glitter on the face of the earth: they love and desire them. They do not want to die and be hidden away in Christ. Over all the face of the earth not only because they love earthly things but because across all the earth there are sheep astray. They are everywhere, but one thing, pride, is the mother of them all, just as Christians who are spread over all the world have one mother, the Church….But from where they lie she calls them back, for as St Paul says of the broken branches, God has the power to graft them back again. Whether you speak of sheep straying away from the flock or branches cut off from the vine, God is equally able to call back the lost sheep and to graft back the lost branches: the Lord, the true vine-dresser (St. Augustine of Hippo).
Where are you pasturing your flock, O good Shepherd, who carry the whole flock on your shoulders? (For the whole of human nature is one sheep and you have lifted it onto your shoulders). Show me the place of peace, lead me to the good grass that will nourish me, call me by name so that I, your sheep, hear your voice, and by your speech give me eternal life. Answer me, you whom my soul loves. I give you the name 'you whom my soul loves' because your name is above every name and above all understanding and there is no rational nature that can utter it or comprehend it. Therefore your name, by which your goodness is known, is simply the love my soul has for you. How could I not love you, when you loved me so much, even though I was black, that you laid down your life for the sheep of your flock? A greater love cannot be imagined, than exchanging your life for my salvation. Show me then (my soul says) where you pasture your flock, so that I can find that saving pasture too, and fill myself with the food of heaven without which no one can come to eternal life, and run to the spring and fill myself with the drink of God. You give it, as from a spring, to those who thirst – water pouring from your side cut open by the lance, water that, to whoever drinks it, is a spring of water welling up to eternal life. If you lead me to pasture here, you will make me lie down at noon, sleeping at peace and taking my rest in light unstained by any shade. For the noon has no shade and the sun stands far above the mountain peaks. You bring your flock to lie in this light when you bring your children to rest with you in your bed. But no-one can be judged worthy of this noonday rest who is not a child of light and a child of the day. Whoever has separated himself equally from the shadows of evening and morning, from where evil begins and evil ends, at noon he will lie down and the sun of righteousness will shine on him. Show me, then (my soul says), how I should sleep and how I should graze, and where the path is to my noonday rest. Do not let me fall away from your flock because of ignorance, and find myself one of a flock of sheep that are not yours. Thus my soul spoke, when she was anxious about the beauty that God's care had given her and wanted to know how she could keep this good fortune forever (St. Gregory of Nyssa).
I am the good shepherd. I know my own – by which I mean, I love them – and my own know me. In plain words: those who love me are willing to follow me, for anyone who does not love the truth has not yet come to know it. My dear brethren, you have heard the test we pastors have to undergo. Turn now to consider how these words of our Lord imply a test for yourselves also. Ask yourselves whether you belong to his flock, whether you know him, whether the light of his truth shines in your minds. I assure you that it is not by faith that you will come to know him, but by love; not by mere conviction, but by action. John the evangelist is my authority for this statement. He tells us that anyone who claims to know God without keeping his commandments is a liar. Consequently, the Lord immediately adds: As the Father knows me and I know the Father; and I lay down my life for my sheep. Clearly he means that laying down his life for his sheep gives evidence of his knowledge of the Father and the Father's knowledge of him. In other words, by the love with which he dies for his sheep he shows how greatly he loves his Father. Again he says: My sheep hear my voice, and I know them; they follow me, and I give them eternal life. Shortly before this he had declared: If anyone enters the sheepfold through me he shall be saved; he shall go freely in and out and shall find good pasture. He will enter into a life of faith; from faith he will go out to vision, from belief to contemplation, and will graze in the good pastures of everlasting life. So our Lord's sheep will finally reach their grazing ground where all who follow him in simplicity of heart will feed on the green pastures of eternity. These pastures are the spiritual joys of heaven. There the elect look upon the face of God with unclouded vision and feast at the banquet of life for ever more. Beloved, let us set out for these pastures where we shall keep joyful festival with so many of our fellow citizens. May the thought of their happiness urge us on! Let us stir up our hearts, rekindle our faith, and long eagerly for what heaven has in store for us. To love thus is to be already on our way. No matter what obstacles we encounter, we must not allow them to turn us aside from the joy of that heavenly feast. Anyone who is determined to reach his destination is not deterred by the roughness of the road that leads to it. Nor must we allow the charm of success to seduce us, or we shall be like a foolish traveler who is so distracted by the pleasant meadows through which he is passing that he forgets where he is going (St. Gregory the Great).
I am the Good Shepherd. Surely it is fitting that Christ should be a shepherd, for just as a flock is guided and fed by a shepherd so the faithful are fed by Christ with spiritual food and with his own body and blood. The Apostle said: You were once like sheep without a shepherd, but now you have returned to the guardian and ruler of your souls. The prophet has said: As a shepherd he pastures his flock. Christ said that the shepherd enters through the gate and that he is himself the gate as well as the shepherd. Then it is necessary that he enter through himself. By so doing, he reveals himself, and through himself he knows the Father. But we enter through him because through him we find happiness. Take heed: no one else is the gate but Christ. Others reflect his light, but no one else is the true light. John the Baptist was not the light, but he bore witness to the light. It is said of Christ, however: He was the true light that enlightens every man. For this reason no one says that he is the gate; this title is Christ's own. However, he has made others shepherds and given that office to his members; for Peter was a shepherd, and so were the other apostles and all good bishops after them. Scripture says: I shall give you shepherds according to my own heart. Although the bishops of the Church, who are her sons, are all shepherds, nevertheless Christ refers only to one person in saying: I am the Good Shepherd, because he wants to emphasize the virtue of charity. Thus, no one can be a good shepherd unless he is one with Christ in charity. Through this we become members of the true shepherd. The duty of a good shepherd is charity; therefore Christ said: The good shepherd gives his life for his sheep. Know the difference between a good and a bad shepherd: the good shepherd cares for the welfare of his flock, but the bad shepherd cares only for his own welfare. The Good Shepherd does not demand that shepherds lay down their lives for a real flock of sheep. But every spiritual shepherd must endure the loss of his bodily life for the salvation of the flock, since the spiritual good of the flock is more important than the bodily life of the shepherd, when danger threatens the salvation of the flock. This is why the Lord says: The good shepherd lays down his life, that is, his physical life, for his sheep; this he does because of his authority and love. Both, in fact, are required: that they should be ruled by him, and that he should love them. The first without the second is not enough. Christ stands out for us as the example of this teaching: If Christ laid down his life for us, so we also ought to lay down our lives for our brothers (St. Thomas Aquinas).
It pleases Jesus to lavish His gifts on certain souls in order to draw yet others to Himself; in His Mercy He humbles them inwardly and gently compels them to recognise their nothingness and His Almighty Power. Now this sentiment of humility is like a kernel of grace which God hastens to develop against that blessed day, when, clothed with an imperishable beauty, they will be placed, without danger, on the banqueting-table of Paradise. Dear little sister, sweet echo of my soul, Thérèse is far from the heights of fervour at this moment; but when I am in this state of spiritual dryness, unable to pray, or to practise virtue, I look for little opportunities, for the smallest trifles, to please my Jesus: a smile or a kind word, for instance, when I would wish to be silent, or to show that I am bored. If no such occasion offer, I try at least to say over and over again that I love Him. This is not hard, and it keeps alive the fire in my heart. Even should the fire of love seem dead, I would still throw my tiny straws on the ashes, and I am confident it would light up again. It is true I am not always faithful, but I never lose courage. I leave myself in the Arms of Our Lord. He teaches me to draw profit from everything, from the good and from the bad which He finds in me. He teaches me to speculate in the Bank of Love, or rather it is He Who speculates for me, without telling me how He does it--that is His affair, not mine. I have but to surrender myself wholly to Him, to do so without reserve, without even the satisfaction of knowing what it is all bringing to me. . . . After all, I am not the prodigal child, and Jesus need not trouble about a feast for me, because I am always with Him. I have read in the Gospel that the Good Shepherd leaves the faithful ones of His flock in the desert to hasten after the lost sheep. This confidence touches me deeply. You see He is sure of them. How could they stray away? They are prisoners of Love. In like manner does the Beloved Shepherd of our souls deprive us of the sweets of His Presence, to give His consolations to sinners; or if He lead us to Mount Thabor it is but for one brief moment . . . the pasture land is nearly always in the valleys, "it is there that He takes His rest at mid-day" (St. Therese of Lisieux).
There are several rather extraordinary features of John's Good Shepherd text, which I suspect can only be brought to life by the eucharistic Christ. Jesus says that he is the door — and of course it is the purpose of the door that it defines what is in and what is out. But he is a very special sort of door, because it is by entering through him, which means following him through a certain sort of death, that the sheep will be able to go in and out and find pasture. Now what is extraordinary about this is the freedom involved. The Good Shepherd enables people to go in and out and find pasture — it is a strange sort of door which does not seek to define people, but gives access to a temporary shelter which exists for the benefit of the sheep without wishing to confine the sheep therein. There is no definitive inside and outside for the Good Shepherd, there are places of shelter and of feeding, different places to which the door gives access, and which presuppose movement, non-fixity, and confidence in being neither in nor out. It is assumed that the best feeding place might not be one that seems to be "in," yet the good shepherd is able to make that place available to his sheep. There is a further display of the sort of comfort with diversity and plurality which characterizes John, despite efforts by some exegetes to read him as an anti-semitic sectarian writer. The Good Shepherd says he has other sheep, not of this flock, and he must bring them also, and they will heed his voice. This is the eucharistic Christ preparing us for what neither of the first two moments in our religion could imagine: our new "we" that we are being given passes through our learning to welcome as part of "us" people who seemed utterly foreign to us, completely unrecognisable to us. And that of course can only happen as we lose our ability to recognise ourselves, for in receiving them, we too are changed (James Alison).
In today's Gospel Jesus presents himself as the true shepherd of Gods' people. He speaks of the relationship that binds Him to the sheep of the flock; that is to say his disciples. And he insists on the fact that it is a relationship of mutual knowledge. He says "My sheep listen to my voice, I know them and they follow me . I give them eternal life and they will not be lost." Reading this sentence carefully we see that the work of Jesus is expressed in some actions. He speaks, He knows, Jesus gives eternal life, Jesus guards. The Good Shepherd Jesus is attentive to each one of us. He seeks and loves us addressing to us His words, knowing the depths of our hearts, our desires and our hopes as well as our failures and our disappointments . He welcomes us and loves us as we are with our strengths and weaknesses for each one of us He gives eternal life. That is He offers the possibility of leading a full life without end. Moreover, He protects us and guides us with love, helping us to cross the impervious paths and sometimes risky roads that arise in the path of life. The verbs and gestures that describe this way in which Jesus the Good Shepherd communicates with us are matched by the verbs that concern the sheep us. "They listen to my voice; They follow me." These are actions that show how we must correspond to the tender and caring attitudes of the Lord. Listening and recognising His voice in fact implies intimacy with Him who us joined in prayer in the heart to heart encounter with the divine master and pastor of our souls . This intimacy which opens us to speak with Jesus strengthens in us the desire to follow Him coming out of the labyrinths of wrong paths abandoning selfish behaviour to set out on the new paths of brotherhood and the gift of ourselves in imitation of Him (Pope Francis).
Homily
FOURTH SUNDAY OF EASTER (A)
Readings: Acts 2:14,36-41; 1 Pt. 2:20-25; Jn. 10:1-10
Comings and Goings
The place where I lived while studying in Rome was surrounded by a wall of stone topped by embedded pieces of jagged glass presumably to prevent a thief from climbing over – but also a reminder of the 1970s when Italy was terrorized by the Red Brigade. You entered the compound through a large metal gate. Gino, the porter, controlled access to the villa. When visitors came, they rang a bell. Gino would ask who it was and what they wanted. If they had business with the community, he pressed a buzzer and the gate would open.
As you approached the main building, you were greeted by another guard­ian: a terra cotta angel -- the one who passed over Egypt striking down their firstborn the night of the Exodus. The sculpture was splashed in red: the blood of the paschal lamb which protected the Hebrews from the angel of death. With Gino and the Avenging Angel standing watch, you felt quite secure living in that place. So much so that the glass doors to the house had no locks. If you made it past the gate, no one worried if you belonged there or not.
Truth is, we've all passed through the gate, haven't we? Our credentials have been checked, and we've gained entrance. Jesus, our Passover, has granted us safe passage. We've taken our place among the sheep…redeemed by the Precious Blood of [God's'] Son (cf. Prayer after Communion). We are the ones foreseen by Peter on the day of Pentecost: those still far off, whom the Lord our God would call. For we have repented, and been baptized in the name of Jesus Christ for the forgiveness of our sins; and have received the gift of the Holy Spirit (cf. I). The gatekeeper has opened the way, and we have passed through Christ, the gate, to find pasture. (cf. G) We, who had gone astray like sheep. . .have now returned to the shepherd and guardian of our souls. (II) We have every reason to feel safe.
Except for one thing. Is that what following Jesus is all about? Security? Does the voice of Christ lead us behind fortified walls, shielded from what threatens us? Is the religion of Christ a safe haven for those who'd rather not face the world? Should the flock of Christ huddle in a fold cut off from those outside? I think the figure of speech Jesus used in today's gospel suggests not.
True, on first hearing, you might get the impression Jesus leads his flock into a pasture, well-hedged and well-protected -- that his sheep pass through a gate that only swings inward. But that's not what he describes. Jesus speaks of calling his own sheep by name, and leading them out. And when he has driven out all his own, he walks ahead of them, and the sheep follow him (cf. G). Out to where? Apparently, to where he went: outside the gate, to suffer (see Hb. 13:12). And because Christ suffered for you, leaving you an example, you should follow in his footsteps (II).
So the Church is no place for the timid, or for those who are afraid, to bear what Jesus bore when he went outside the gate to consecrate the people in his blood. Oh no, the Church is not a walled fortress, whose Gate is hung on hinges that open one way only. A voice that led us in one direc­tion only would be a stranger's voice, a voice we do not recognize (cf. G). No, hiding in fear was for those disciples huddled behind locked doors we heard about the last few weeks -- doors Jesus passed through, telling them as he was sent, so he was sending them.
For when we attune ourselves to his voice the humble flock [goes] where the brave Shepherd has gone before (cf. Collect). Yes, we shall be exposed to ridicule, reproach, and restraint. Yes, we shall be vulnerable to attack. And yes, if we don't grasp this, we're like those who first heard the figure of speech Jesus used: who did not realize what he was trying to tell them (G).

That's one reason Pope Francis has so often honored what he calls "the new martyrs" of the 20th and 21st Centuries: "The Church cannot go forward without them….The Church needs everyday Saints, those of ordinary life, led forward with coherence, but also of those who have the courage to accept the grace of being witnesses to the end, to death. All of them are the lifeblood of the Church. They are the witnesses that lead the Church forward; those that attest that the Lord is Risen, that Jesus is alive, and they attest to it with their coherence of life and with the strength of the Holy Spirit, which they have received as gift."

So when we gather again in our various assemblies – pray God, soon -- released from behind our locked doors where we have been huddling in fear and feeling secure and supported by one another, we will have swung open the gate but one way only. For Jesus says, [they] will come in and go out, and find pasture (G). And while we have done well to seek sanctuary within the gate as danger lurks should we venture out, we must eventually go forth from beside restful waters to where dark valleys sometimes beckon. And though the Lord's table that is spread before us will once again be rich and sumptuous, we can't forget that we worship in the sight of our foes (cf. RP). Not a virus but those who care neither for the Shepherd nor the sheep.

So don't forget your place in the world outside as we remain locked down and our gates shut. For to this [we] were called (II): to enter by the Porter who is Christ and to go outside the Gate when bidden. Called by the One whom God has made both Lord and Messiah (I) this Jesus, crucified and risen. Who lives and reigns, forever and ever. Amen.
Intercessions
Offertory Chant

Communion
Closing Hymn
Archives