Fourth Sunday of Lent (A)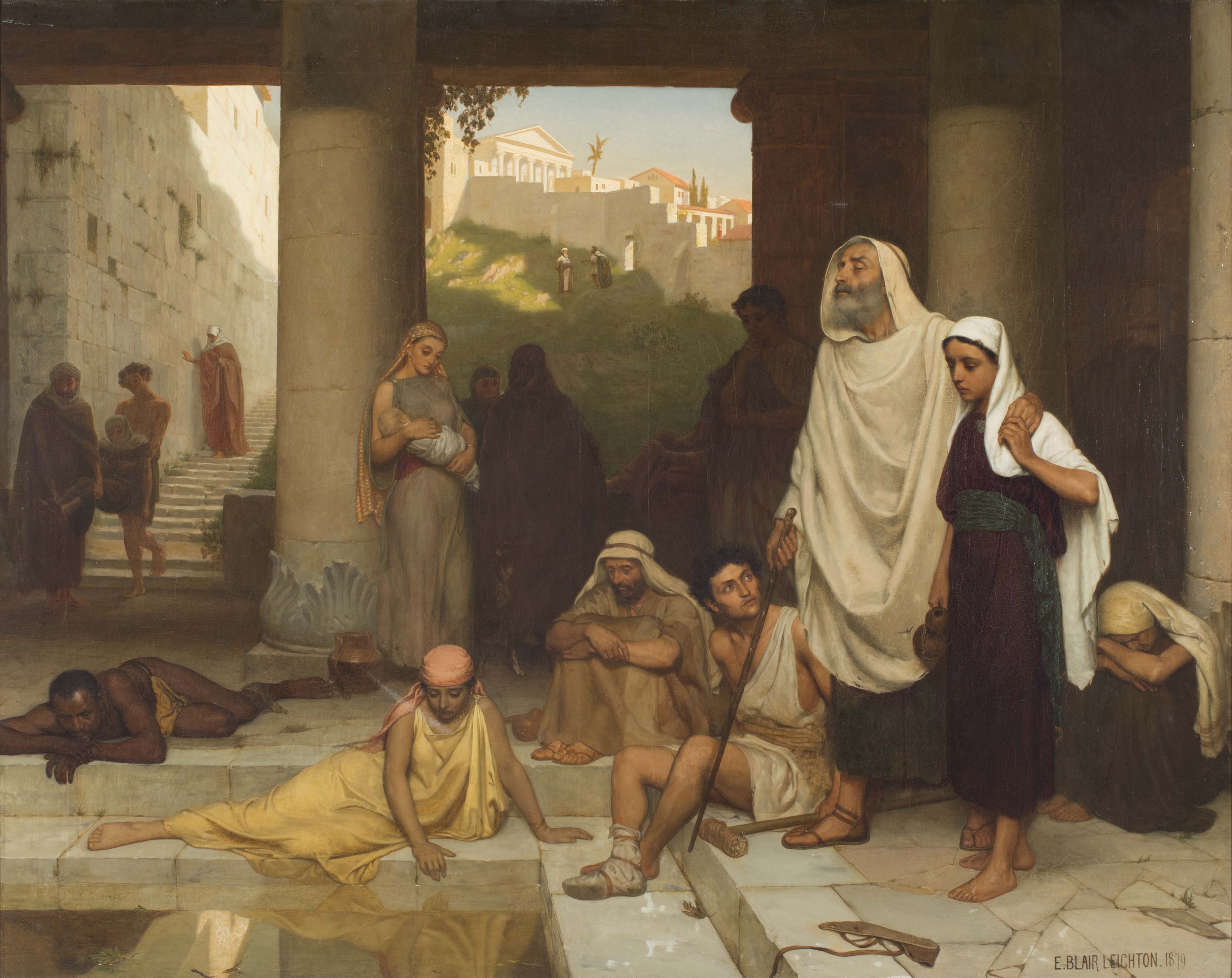 Introit
Rejoice, O Jerusalem; and gather round, all you who love her; rejoice in gladness, after having been in sorrow; exult and be replenished with the consolation flowing from her motherly bosom. Ps/. I rejoiced when they said tome, *"let us go to the house of the Lord." And now our feet are standing *within your gates, o Jerusalem.
Collect
O God, who through your Word
reconcile the human race to yourself in a wonderful way,
grant, we pray,
that with prompt devotion and eager faith
the Christian people may hasten
toward the solemn celebrations to come.
Through our Lord Jesus Christ, your Son,
who lives and reigns with you in the unity of the Holy Spirit,
one God, for ever and ever.
Liturgy of the Word
First Reading 1 Samuel 16:1, 6-7, 10-13
The LORD said to Samuel, "How long will you grieve over Saul, seeing I have rejected him from being king over Israel? Fill your horn with oil, and go; I will send you to Jesse the Bethlehemite, for I have provided for myself a king among his sons." When they came, he looked on Eli'ab and thought, "Surely the LORD'S anointed is before him." But the LORD said to Samuel, "Do not look on his appearance or on the height of his stature, because I have rejected him; for the LORD sees not as man sees; man looks on the outward appearance, but the LORD looks on the heart." And Jesse made seven of his sons pass before Samuel. And Samuel said to Jesse, "The LORD has not chosen these." And Samuel said to Jesse, "Are all your sons here?" And he said, "There remains yet the youngest, but behold, he is keeping the sheep." And Samuel said to Jesse, "Send and fetch him; for we will not sit down till he comes here." And he sent, and brought him in. Now he was ruddy, and had beautiful eyes, and was handsome. And the LORD said, "Arise, anoint him; for this is he." Then Samuel took the horn of oil, and anointed him in the midst of his brothers; and the Spirit of the LORD came mightily upon David from that day forward. And Samuel rose up, and went to Ramah.
Responsorial Psalm (Ps 23:1-3a,3b-4,5,6)
R. (1) The Lord is my shepherd; there is nothing I shall want.
The LORD is my shepherd; I shall not want.In verdant pastures he gives me repose;beside restful waters he leads me;he refreshes my soul. R/.
He guides me in right pathsfor his name's sake.Even though I walk in the dark valleyI fear no evil; for you are at my sideWith your rod and your staffthat give me courage. R/.
You spread the table before mein the sight of my foes;you anoint my head with oil;my cup overflows. R/.
Only goodness and kindness follow meall the days of my life;and I shall dwell in the house of the LORDfor years to come. R/.
Second Reading Ephesians 5:8-14
Once you were darkness, but now you are light in the Lord; walk as children of light (for the fruit of light is found in all that is good and right and true), and try to learn what is pleasing to the Lord. Take no part in the unfruitful works of darkness, but instead expose them. For it is a shame even to speak of the things that they do in secret; but when anything is exposed by the light it becomes visible, for anything that becomes visible is light. Therefore it is said, "Awake, O sleeper, and arise from the dead, and Christ shall give you light."
Verse Before The Gospel (Jn 8:12)
I am the light of the world, says the Lord;whoever follows me will have the light of life.
Gospel John 9:1, 6-9, 13-17, 34-38
As Jesus passed by, he saw a man blind from his birth. As he said this, he spat on the ground and made clay of the spittle and anointed the man's eyes with the clay, saying to him, "Go, wash in the pool of Silo'am" (which means Sent). So he went and washed and came back seeing. The neighbors and those who had seen him before as a beggar, said, "Is not this the man who used to sit and beg?" Some said, "It is he"; others said, "No, but he is like him." He said, "I am the man." They brought to the Pharisees the man who had formerly been blind. Now it was a sabbath day when Jesus made the clay and opened his eyes. The Pharisees again asked him how he had received his sight. And he said to them, "He put clay on my eyes, and I washed, and I see." Some of the Pharisees said, "This man is not from God, for he does not keep the sabbath." But others said, "How can a man who is a sinner do such signs?" There was a division among them. So they again said to the blind man, "What do you say about him, since he has opened your eyes?" He said, "He is a prophet." They answered him, "You were born in utter sin, and would you teach us?" And they cast him out. Jesus heard that they had cast him out, and having found him he said, "Do you believe in the Son of man?" He answered, "And who is he, sir, that I may believe in him?" Jesus said to him, "You have seen him, and it is he who speaks to you." He said, "Lord, I believe"; and he worshiped him.
Reflection Questions:

How have you misjudged on the basis of appearance?
How are you learning what is pleasing to the Lord?
How does the story of the man born blind challenge conventional views of sin?
Catena Nova
Those who have been freed and raised up follow the light. The light they follow speaks to them: I am the light of the world; he who follows me will not walk in darkness. The Lord gives light to the blind. Brethren, that light shines on us now, for we have had our eyes anointed with the eye-salve of faith. His saliva was mixed with earth to anoint the man born blind. We are of Adam's stock, blind from our birth; we need him to give us light. He mixed saliva with earth, and so it was prophesied: Truth has sprung up from the earth. He himself has said: I am the way, the truth and the life.We shall be in possession of the truth when we see face to face. This is his promise to us. Who would dare to hope for something that God in his goodness did not choose to promise or bestow? (St. Augustine of Hippo)
The Dark Night
One dark night,
fired with love's urgent longings
— ah, the sheer grace! —
I went out unseen,
my house being now all stilled.
In darkness, and secure,
by the secret ladder, disguised,
— ah, the sheer grace! —
in darkness and concealment,
my house being now all stilled.
On that glad night,
in secret, for no one saw me,
nor did I look at anything,
with no other light or guide
than the one that burned in my heart.
This guided me
more surely than the light of noon
to where he was awaiting me
— him I knew so well —
there in a place where no one appeared.
O guiding night!
O night more lovely than the dawn!
O night that has united
the Lover with his beloved,
transforming the beloved in her Lover.
Upon my flowering breast
which I kept wholly for him alone,
there he lay sleeping,
and I caressing him
there in a breeze from the fanning cedars.
When the breeze blew from the turret,
as I parted his hair,
it wounded my neck
with its gentle hand,
suspending all my senses.
I abandoned and forgot myself,
laying my face on my Beloved;
all things ceased; I went out from myself,
leaving my cares
forgotten among the lilies. (St. John of the Cross)
Dear Jesus, help me to spread Your fragrance everywhere I go. Flood my soul with Your spirit and life. Penetrate and possess my whole being so utterly that all my life may only be a radiance of Yours. Shine through me and be so in me that every soul I come in contact with may feel Your presence in my soul. Let them look up and see no longer me but only Jesus! Stay with me and then I shall begin to shine as You shine, so to shine as to be a light to others; the light, O Jesus, will be all from You; none of it will be mine: it will be You shining on others through me. Let me thus praise You in the way You love best: by shining on those around me. Let me preach You without preaching, not by words, but by my example, by the catching force, the sympathetic influence of what I do, the evident fullness of the love my heart bears to You. (St. John Henry Newman)
That our Easter festival should fall during the first weeks of spring is certainly no accident. Today, this third Sunday before Easter, is the Church's springtime festival. All men stand in wonder before the yearly miracle of spring, but we Christians have especial cause for wonderment and awe. For us, nature is the symbol of a fairer springtime, the springtime of grace in the kingdom of our God. Grace has filled our souls, and the death, the night, the cold of winter is passed. Woodlands and meadows are gay with the blossoms of spring; the air is vibrant with the song of the bird; and in this mirror of nature we see the reflection of a higher life still, the life of grace within our souls. Spring follows winter in unfailing succession; so too we are conscious that God has raised our fallen nature from its dreary winter sleep to the springtime of grace. We cannot believe in the eternal wickedness of the human heart. The joy of spring must return, and goodness, love, peace and grace once more blossom in our hearts. Nowhere could we find a fairer image of this transition from original sin to grace. Each year confronts us with the miracle of spring; each year, then, let us look into this mirror and see the greater miracle that God works in our souls: the miracle of grace. (Pius Parsch)
In the darkness . . . Lord, my God, who am I that you should forsake me? The child of your love — and now become as the most hated one. The one — you have thrown away as unwanted — unloved. I call, I cling, I want, and there is no one to answer . . . Where I try to raise my thoughts to heaven, there is such convicting emptiness that those very thoughts return like sharp knives and hurt my very soul. Love — the word — it brings nothing. I am told God lives in me — and yet the reality of darkness and coldness and emptiness is so great that nothing touches my soul. (St. Teresa of Calcutta)
God has not the slightest difficulty in bringing to a fullness of creation the person who is in some way incomplete and recognizes this. The problem is with those who think that they are complete, and that creation is, at least in their case, finished, and for this reason that goodness consists in the maintenance of the established order by the means we have seen: goodness is defined starting from the unity of the group, at the expense of, and by contrast with, the excluded evil one. The righteous members of the group, thinking that they see, become blind precisely by holding on to the order which they think that they have to defend. Whence we glimpse the deeper meaning of the Sabbath in John's thought. The Sabbath is the symbol of creation not yet complete. Either we grab at it, making it a criterion for division between good and evil, in which case we are resisting God who is alone capable of bringing to being even the things that are not, without rest; or else we receive the creative goodness of God which carries us to plenitude. Sin is resistance, in the name of God, to the creative work of God which seeks to include us all. (James Alison)
Our lives are sometimes similar to that of the blind man who opened himself to the light, who opened himself to God, who opened himself to his grace. Sometimes unfortunately they are similar to that of the doctors of the law: from the height of our pride we judge others, and even the Lord!… The lengthy account opens with a blind man who begins to see and it closes with the alleged seers who remain blind in soul. In the end the blind man who was healed attains to faith, and this is the greatest grace that Jesus grants him: not only to see, but also to know Him, to see in Him "the light of the world." (Pope Francis)
Homily
FOURTH SUNDAY OF LENT (A)
Readings: 1 Sm. 16:6-7,10-13; Eph. 5:8-14; Jn. 9:1-41
"20-20 In Both Eyes"
Do you know what PRK is? It stands for "Photo-Refractive Keratectomy." I had it done years ago. It's that laser procedure for correcting nearsight­edness. Those of you who don't wear glasses don't know what it's like to stumble around the house forgetting where you left them last; or coming into the house or getting into the car on a cold day and having your glasses fog up -- all so you can't see anyway!
I'll never forget the day in fourth grade when I put glasses on for the first time. I spent all of third grade in a desk placed right in front of the blackboard because I couldn't see it from any distance. And when the optometrist placed those glasses on me and I realized how blurry my vision was and how clear everything was now, well, that was a day to remember. A miracle, almost. So I can identify in a way with that man born blind whom Jesus healed, who all of a sudden could see.
Blindness, of course, is a metaphor for other kinds of vision problems. Samuel, for instance, assumed that God would go for things like height and maturity--a lofty stature--in choosing a king for Israel. But God didn't choose any of Jesse's hotshot sons, but chose David the youngest instead -- the one out tending the flock. Samuel was too shortsighted to realize that not as humans see does God see, because humans see the appearance but the Lord looks into the heart (I).
And what about those Pharisees! Why, some of them assumed Jesus could not be from God because he cured that blind man on the Sabbath. They were convinced Jesus was a sinner, just as they were sure the man born blind was a sinner too: 'cause, after all, anyone who suffers misfortune like that must have done something to deserve it. Right?
Wrong. In both cases, they failed to see how Jesus' doing good on the Sabbath was no violation of God's law, but a sign of who he is. And how the man born blind was not being punished for some wrong he or his parents had done, but so that the works of God might be made visible through him (G). Talk about being shortsighted. And I thought my eyes were bad!
But we can all make such misguided judgments can't we? Thinking that when things go right, it's because we're devout and doing God's will (G). And when things go wrong, it's because we've done something bad. Like the Pharisees, it's easy to assume that people blessed with riches, talents, or looks, are somehow or other favored in God's sight. Or if you win the lottery, it's because "someone up there" likes you. And just like the Pharisees, it's easy to assume when people are down on their luck, they just might be getting what they deserve. Look at the judgments about people who receive public assistance, or homeless people, or immigrants. I've even seen some Evangelicals pushing the theory that the coronavirus pandemic is a divine punishment for – you guessed it – tolerance of homosexuality. We heard much the same thing after 9/11 from the likes of Jerry Falwell. This is the same crowd, of course, that turns a blind eye to the offenses against human dignity and social justice overseen by their latter-day "King Cyrus."
The Bible thinks differently, however. It's always telling us we need corrective lenses to see things aright when it comes to God's ways. That's why Paul tells us, Be correct in your judgment of what pleases the Lord (II). Because our spiritual vision can be so dim, that we stumble around looking -- but not seeing. For these eyes of ours are so often out of focus.
I remember one time I was in a hospital cafeteria when I saw a couple of little kids go up to the menu board and begin to erase what was written there. And I saw their mother paying no attention. I thought to myself, "What's the matter with her? Doesn't she see what her children are doing? Parents today let their kids do whatever they want." But then I noticed a seeing-eye dog beneath the table where she was seated. And realized that, no, she couldn't see her kids at all. And I wasn't really seeing anything. Oh yes, we're quick like the Pharisees to dismiss someone, so sure we're in the right, and they're in the wrong. Look at the snap judgments being made these days about people of Muslim faith or Middle Eastern heritage or Central American refugees. And the hate crimes against Asians and others who will be scapegoated for the pandemic have only just begun.
But that's why we have Lent. A time to clean our lenses, check our prescription, get bifocals, or even have refractive surgery if we need it! All in order to see God, others, and ourselves, more clearly.
The catechumens among us-- now called the "elect"-- have been doing that for a long time: having their eyes examined. And for three Sundays of Lent they partake in rites called the "Scrutinies"— all to make sure their vision is as sharp as can be. So when they're baptized at the Easter Vigil, they'll know very well why baptism once upon a time was called "Illumina­tion."
And yes, there was a time when we were darkness too, but now we are light in the Lord (cf. II). For there was a day, I assume, when we all put on glasses for the first time, and saw how much we were miss­ing, without our belief in Christ, the light of the world. And should anyone ask us, "How were your eyes opened?" I assume we'd be able to tell them: that man they call Jesus did it, and now I can see. For we have [indeed] seen him who lives and reigns, forever and ever. Amen (cf. G).
Intercessions
In this time of anxiety and distress, we pray for all those affected by COVID-19 throughout the world, especially those who are currently infected, that they may find healing and comfort. R/. Lord, have mercy.
For a halt to the spread of this disease and for the protection of all, especially those in the medical field, from any infection and harm. R/. Lord, have mercy.
That government leaders, medical experts and researchers, may have the wisdom and knowledge to oversee efforts to treat COVID-19 successfully and to find a cure and develop an effective vaccine. R/. Lord, have mercy.
For those most susceptible to the severity of infection, especially children, the elderly, the immuno-compromised and the poor who lack insurance and other resources. R/. Lord, have mercy.
For those who work in the media, including those who make use of the Internet, that they may report with integrity, responsibility, and honesty, matters related to the containment and spread of COVID-19 and that they will disseminate information only from trustworthy sources. R/. Lord, have mercy.
That members of the public will react with wisdom and prudence in taking precautions to avoid infection and in preventing an atmosphere of hysteria or unnecessary panic. R/. Lord, have mercy.
That each of us, as opportunities arise, may serve with compassion our friends and neighbors who are sick. R/. Lord, have mercy.
For all who died from the effects of COVID-19, that they may find rest in the hands of God, and for those they leave behind. R/. Lord, have mercy.
Concluding Collect for Caregivers
Wondrous God, author of life, you fashioned us in your likeness
and breathed into us the life which is your own.
Be with those whose special care is the health of mind and body.
We pray especially for those in hospitals, clinics and at home, who are tending to those infected with COVID-19
Fill their hearts with awe for the life which is your gift and sustain them daily in your service,
that their hands may bring to others the comfort of your healing touch.
We make our prayer through our Lord Jesus Christ, your Son,
who lives and reigns with you in the unity of the Holy Spirit,
God for ever and ever. R/. Amen.
Offertory
Praise the Lord, for he is loving; sing in honour of his name, for he is gracious. He has accomplished whatever he resolved to do in heaven and on earth. Ps/. Praise the name of the Lord; *praise him, servants of the Lord, who stand in the house of the Lord, *in the courts of the house of our God.
Lord's Prayer
We pray to be delivered from all present and future evils as Christ the Lord has taught us...Our Father...
Spiritual Communion
(This is a traditional practice for those who are unable to receive sacramental Communion. One may make us of any one of the following formulas. The first is my own composition; the others are from several sources)
Lord Jesus Christ, in solidarity with those throughout the world who are deprived of the Most Holy Eucharist this day and every day, we ask you for the grace of a spiritual Communion that will unite us to yourself and one another in the mystery of your Mystical Body.
My Jesus, I believe that you are in the Blessed Sacrament. I love you above all things, and I long for you in my soul. Since I cannot now receive you sacramentally, come at least spiritually into my heart. As though you have already come, I embrace you and unite myself entirely to you; never permit me to be separated from you. Amen. (St. Alphonsus Liguori)
At Thy feet, O my Jesus, I prostrate myself and I offer Thee repentance of my contrite heart, which is humbled in its nothingness and in Thy holy presence. I adore Thee in the Sacrament of Thy love, the ineffable Eucharist. I desire to receive Thee into the poor dwelling that my heart offers Thee. While waiting for the happiness of sacramental communion, I wish to possess Thee in spirit. Come to me, O my Jesus, since I, for my part, am coming to Thee! May Thy love embrace my whole being in life and in death. I believe in Thee, I hope in Thee, I love Thee. Amen. (Cardinal Merry dal Val)
As I cannot this day enjoy the happiness of assisting at the holy Mysteries, O my God! I transport myself in spirit at the foot of Thine altar; I unite with the Church, which by the hands of the priest, offers Thee Thine adorable Son in the Holy Sacrifice; I offer myself with Him, by Him, and in His Name. I adore, I praise, and thank Thee, imploring Thy mercy, invoking Thine assistance, and presenting Thee the homage I owe Thee as my Creator, the love due to Thee as my Savior. Apply to my soul, I beseech Thee, O merciful Jesus, Thine infinite merits; apply them also to those for whom I particularly wish to pray. I desire to communicate spiritually, that Thy Blood may purify, Thy Flesh strengthen, and Thy Spirit sanctify me. May I never forget that Thou, my divine Redeemer, hast died for me; may I die to all that is not Thee, that hereafter I may live eternally with Thee. Amen. (Unknown Author)
In union, O Dear Lord, with the faithful at every Altar of Thy Church, where Thy blessed Body and Blood are being offered to the Father, I desire to offer Thee praise and thanksgiving. I present to Thee my soul and body, with the earnest wish that I may ever be united to Thee. And since I cannot now receive Thee sacramentally, I beseech Thee to come spiritually into my heart. I unite myself to Thee, and embrace Thee with all the affections of my soul. O let nothing ever separate me from Thee. Let me live and die in Thy love. Amen. Grant, O Lord Jesus Christ, that as the hem of Thy garment, touched in faith, healed the woman who could not touch Thy Body, so the soul of Thy servant may be healed by like faith in Thee, Whom I cannot now sacramentally receive; through Thy tender mercy, Who livest and reignest with the Father in the unity of the Holy Ghost ever one God. Amen. (Diocese of Malaita, Anglican Communion)
"O Jesus I turn toward the holy tabernacle where You live hidden for love of me. I love you, O my God. I cannot receive you in Holy Communion. Come nevertheless and visit me with Your grace. Come spiritually into my heart. Purify it. Sanctify it. Render it like unto Your own. Amen. Lord, I am not worthy that thou shouldst enter under my roof, but only say the word and my soul shall be healed." (Raccolta)
Communion Hymn (Amazing Grace; Andrea Bocelli)
Concluding Prayer (Pope Francis)
O Mary, you shine continuously on our journey as a sign of salvation and hope.
We entrust ourselves to you, Health of the Sick.
At the foot of the Cross you participated in Jesus' pain,
with steadfast faith.
You know what we need.
We are certain that you will provide, so that,
as you did at Cana of Galilee,
joy and feasting might return after this moment of trial.
Help us, Mother of Divine Love,
to conform ourselves to the Father's will
and to do what Jesus tells us:
He who took our sufferings upon Himself, and bore our sorrows to bring us,
through the Cross, to the joy of the Resurrection. Amen.
We seek refuge under your protection, O Holy Mother of God.
Do not despise our pleas – we who are put to the test – and deliver us from every danger, O glorious and blessed Virgin.