Lent with the Book of Job (Ch 20)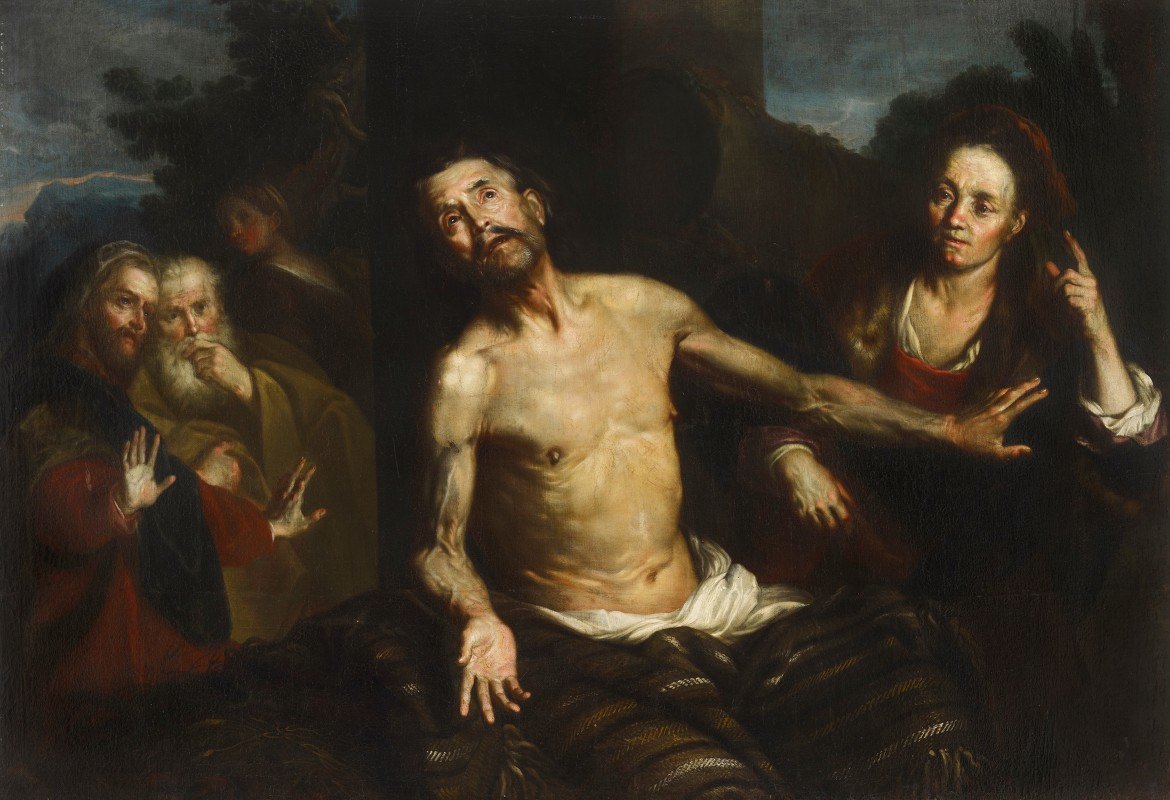 Chapter 20 (Monday of the Third Week of Lent)
Then Zophar the Naamathite answered:
'Pay attention! My thoughts urge me to answer,
because of the agitation within me.
I hear censure that insults me,
and a spirit beyond my understanding answers me.
Do you not know this from of old,
ever since mortals were placed on earth,
that the exulting of the wicked is short,
and the joy of the godless is but for a moment?
Even though they mount up high as the heavens,
and their head reaches to the clouds,
they will perish for ever like their own dung;
those who have seen them will say, "Where are they?"
They will fly away like a dream, and not be found;
they will be chased away like a vision of the night.
The eye that saw them will see them no more,
nor will their place behold them any longer.
Their children will seek the favour of the poor,
and their hands will give back their wealth.
Their bodies, once full of youth,
will lie down in the dust with them.

'Though wickedness is sweet in their mouth,
though they hide it under their tongues,
though they are loath to let it go,
and hold it in their mouths,
yet their food is turned in their stomachs;
it is the venom of asps within them.
They swallow down riches and vomit them up again;
God casts them out of their bellies.
They will suck the poison of asps;
the tongue of a viper will kill them.
They will not look on the rivers,
the streams flowing with honey and curds.
They will give back the fruit of their toil,
and will not swallow it down;
from the profit of their trading
they will get no enjoyment.
For they have crushed and abandoned the poor,
they have seized a house that they did not build.

'They knew no quiet in their bellies;
in their greed they let nothing escape.
There was nothing left after they had eaten;
therefore their prosperity will not endure.
In full sufficiency they will be in distress;
all the force of misery will come upon them.
To fill their belly to the full
God will send his fierce anger into them,
and rain it upon them as their food.
They will flee from an iron weapon;
a bronze arrow will strike them through.
It is drawn forth and comes out of their body,
and the glittering point comes out of their gall;
terrors come upon them.
Utter darkness is laid up for their treasures;
a fire fanned by no one will devour them;
what is left in their tent will be consumed.
The heavens will reveal their iniquity,
and the earth will rise up against them.
The possessions of their house will be carried away,
dragged off on the day of God's wrath.
This is the portion of the wicked from God,
the heritage decreed for them by God.'
Commentary
All creatures that exist are in the hands of God. The action of the creature can only be perceived by the senses, but faith sees in all things the action of the Creator. It believes that in Jesus Christ all things live, and that His divine operation continues to the end of time, embracing the passing moment and the smallest created atom in its hidden life and mysterious action. The action of the creature is a veil which covers the profound mysteries of the divine operation. After the Resurrection Jesus Christ took His disciples by surprise in His various apparitions. He showed Himself to them under various disguises and, in the act of making Himself known to them, disappeared. This same Jesus, ever living, ever working, still takes by surprise those souls whose faith is weak and wavering. There is not a moment in which God does not present Himself under the cover of some pain to be endured, of some consolation to be enjoyed, or of some duty to be performed. All that takes place within us, around us, or through us, contains and conceals His divine action. It is really and truly there present, but invisibly present, so that we are always surprised and do not recognise His operation until it has ceased. If we could lift the veil, and if we were attentive and watchful God would continually reveal Himself to us, and we should see His divine action in everything that happened to us, and rejoice in it. At each successive occurrence we should exclaim: "It is the Lord," and we should accept every fresh circumstance as a gift of God. We should look upon creatures as feeble tools in the hands of an able workman, and should discover easily that nothing was wanting to us, and that the constant providence of God disposed Him to bestow upon us at every moment whatever we required. Pursue then without ceasing, ye faithful souls, this beloved Spouse who with giant strides passes from one extremity of the heavens to the other. If you be content and untiring nothing will have power to hide Him from you. He moves above the smallest blades of grass as above the mighty cedar. The grains of sand are under His feet as well as the huge mountains. Wherever you may turn, there you will find His footprints, and in following them perseveringly you will find Him wherever you may be. The present moment is the ambassador of God to declare His mandates. The heart listens and pronounces its "fiat." Thus the soul advances by all these things and flows out from its centre to its goal. It never stops but sails with every wind. Any and every direction leads equally to the shore of infinity. Everything is a help to it, and is, without exception, an instrument of sanctity. To hallow the Name of God is to know, to adore, and to love the ineffable Being whom this name designates. It is also to know, to adore and to love His adorable will at every moment and in all its decrees. It was for this reason that Job blessed the name of God in his utter desolation. Instead of looking upon his condition as ruin, he called it the name of God and by blessing it he protested that the divine will under whatever name or form it might appear, even though expressed by the most terrible catastrophes, was holy.
(Jean-Pierre de Caussade; Abandonment to Divine Providence)
Musical Selection
(William Byrd)
Miserere mei, Deus, secundum magnam misericordiam tuam; et secundum multitudinem miserationum tuarum, dele iniquitatem meam.
Have mercy upon me, O God, after thy great goodness: according to the multitude of thy mercies do away mine offences.
Collect
Lord God,
we pray that your endless mercy
may cleanse and protect your Church;
and, since it cannot stand firm without you,
guide and govern it always by your grace.
Grant this through our Lord Jesus Christ, your Son,
who lives and reigns with you in the unity of the Holy Spirit,
God for ever and ever. Amen.
Archives