19th Sunday in Ordinary Time (C)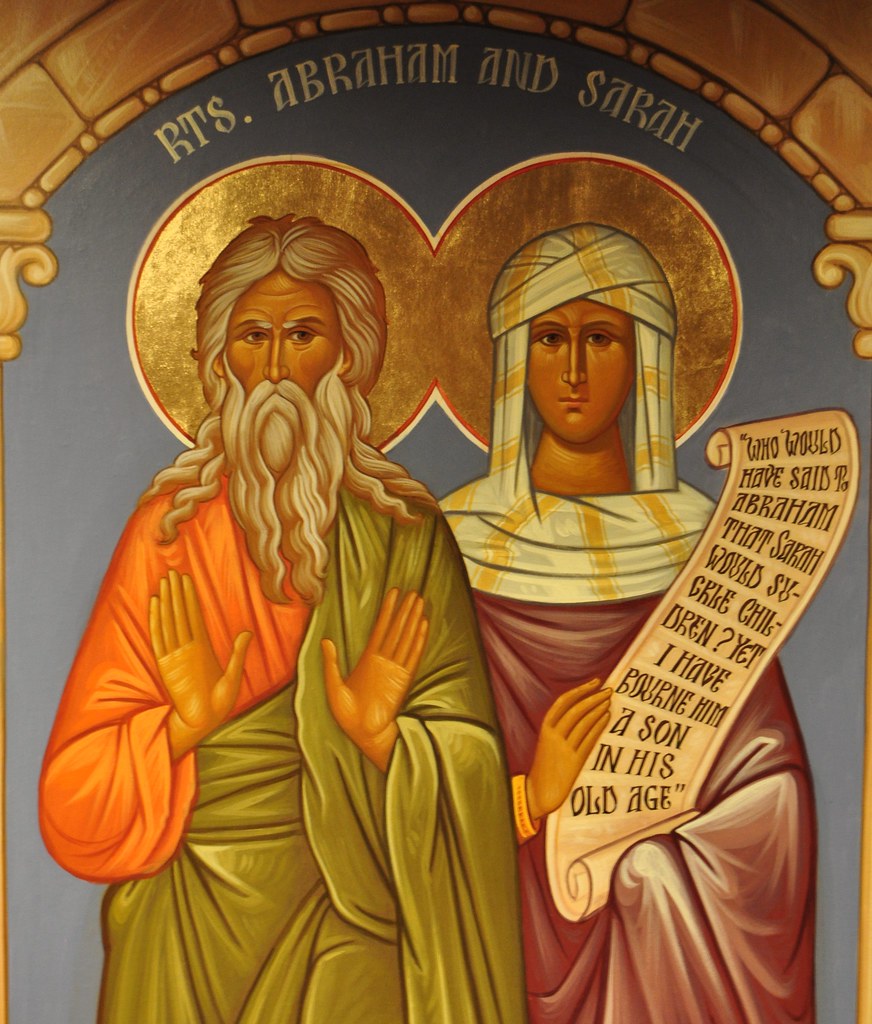 Introit
Kyrie
Gloria
Collect
Almighty ever-living God,
whom, taught by the Holy Spirit,
we dare to call our Father,
bring, we pray, to perfection in our hearts
the spirit of adoption as your sons and daughters,
that we may merit to enter into the inheritance
which you have promised.
Through our Lord Jesus Christ, your Son,
who lives and reigns with you in the unity of the Holy Spirit,
God, for ever and ever
First Reading Wis 18:6-9

The night of the passover was known beforehand to our fathers,
that, with sure knowledge of the oaths in which they put their faith,
they might have courage.
Your people awaited the salvation of the just
and the destruction of their foes.
For when you punished our adversaries,
in this you glorified us whom you had summoned.
For in secret the holy children of the good were offering sacrifice
and putting into effect with one accord the divine institution.
Responsorial Psalm Ps 33:1, 12, 18-19, 20-22
℟. Blessed the people the Lord has chosen to be his own.
Exult, you just, in the LORD;
praise from the upright is fitting.
Blessed the nation whose God is the LORD,
the people he has chosen for his own inheritance.


See, the eyes of the LORD are upon those who fear him,
upon those who hope for his kindness,
To deliver them from death
and preserve them in spite of famine.


Our soul waits for the LORD,
who is our help and our shield.
May your kindness, O LORD, be upon us
who have put our hope in you.


Second Reading Heb 11:1-2, 8-12
Brothers and sisters:
Faith is the realization of what is hoped for
and evidence of things not seen.
Because of it the ancients were well attested.

By faith Abraham obeyed when he was called to go out to a place
that he was to receive as an inheritance;
he went out, not knowing where he was to go.
By faith he sojourned in the promised land as in a foreign country,
dwelling in tents with Isaac and Jacob, heirs of the same promise;
for he was looking forward to the city with foundations,
whose architect and maker is God.
By faith he received power to generate,
even though he was past the normal age
—and Sarah herself was sterile—
for he thought that the one who had made the promise was trustworthy.
So it was that there came forth from one man,
himself as good as dead,
descendants as numerous as the stars in the sky
and as countless as the sands on the seashore.
Acclamation before the Gospel Mt 24:42, 44
Gospel Lk 12:35-40
Jesus said to his disciples:
"Gird your loins and light your lamps
and be like servants who await their master's return from a wedding,
ready to open immediately when he comes and knocks.
Blessed are those servants
whom the master finds vigilant on his arrival.
Amen, I say to you, he will gird himself,
have the servants recline at table, and proceed to wait on them.
And should he come in the second or third watch
and find them prepared in this way,
blessed are those servants.
Be sure of this:
if the master of the house had known the hour
when the thief was coming,
he would not have let his house be broken into.
You also must be prepared, for at an hour you do not expect,
the Son of Man will come."
Reflection Questions
What are your unrealized hopes?
For what are you vigilant?
Are you prepared for the Master to wait on you?
Catena Nova
Our Lord tells us to gird our loins and light our lamps. He isn't only warning us to stay awake and alert but telling us to put on our work clothes. He shows us a light and when it shines in our eyes it drives away sleep and lets us see to fasten our belt and get ready for the work he wants us to do…. Our proper work is love. But love is not doing only what we want or what brings us delight. Love is keeping God's commandments. But remember how Our Lord interpreted the fulfillment of these commandments: "Love one another as I have loved you". Remember all the Gospels tell us about how the Lord went among us doing good and doing all things well. We must learn to imitate him always more completely and ever better. (St. Gregory of Nyssa)
Do not live in fear of the last day, as though it were a thief coming to wreck your house while you sleep; but keep watch, and amend your life this day. Why put it off till tomorrow? If your life is to be long, let it be happy as well as long. No one puts off a good long dinner; and you would like a long evil life! If it is to be long, it will be all the better for being good. If it is to be short, it is as well that its fruits should last. (St. Augustine of Hippo)
We are preparing ourselves for the time, which will come very soon, when we shall find ourselves at the end of our journey and shall be drinking of living water from the fountain I have described. Unless we make a total surrender of our will to the Lord, and put ourselves in His hands so that He may do in all things what is best for us in accordance with His will, He will never allow us to drink of it. (St. Teresa of Ávila)
This time is called the time of mercy in which God looks down day after day so that we can amend our lives from good to better. If we do not do this, we will have to render account, not only of the evils we have done, but also of the goods left undone by our negligence. (St. Catharine of Bologna)
Our days are numbered. Every stroke of the clock reminds us to seek Him Who created time and Himself stands above the measure of time. He alone is able to pluck us out from the ravaging torrent of time… Every stroke of the clock tells us: Be watchful! You now have one hour less until you must cross the threshold into life after death which knows neither days nor hours. Do not be seduced by the momentary sweetness of sin which vanishes like a dream, leaving the soul empty, ailing, anguishing; it steals away precious time and ruins it forever. Do not waste time in useless occupations or idleness. Every one of you has a God-given talent to put to use. (St. John of Kronstadt)
The world will reach its fulfillment only in the Kingdom of God. Before that comes we are like so many fingers of God serving as signs and symbols of the fact that the Kingdom has already come into the world and is growing. More than this we can't do. But even this is a noble mission and well worth doing. We are set against the darkness and sent to enkindle the faith that the Kingdom of God is among us. Through such faith it grows until all God's purposes are accomplished. That is enough for us! (Karl Rahner)
This Sunday's Gospel speaks to us about the desire for the definitive encounter with Christ, a desire that keeps us ever ready, alert in spirit, for we anticipate this encounter with all our heart, with all our being. This is a fundamental aspect of life. It is a desire that we all share, whether explicit or secret, we have hidden in our heart; we all harbour this desire in our heart…. The Gospel intends to tell us that the Christian is someone who has a great desire, a deep desire within him: to meet his Lord with his brothers and sisters, his traveling companions…. We all have desires. The poor ones are those who have no desire, no desire to go forward, toward the horizon; and for us Christians this horizon is the encounter with Jesus, the very encounter with him, who is our life, our joy, our happiness. I would like to ask you two questions. First: do you all have a desiring heart? A heart that desires? Think about it and respond silently in your hearts. I ask you is your heart filled with desire, or is it a closed heart, a sleeping heart, a heart numb to the things of life? (Pope Francis)
Homily
"American Crisis" — Again
We might be forgiven if we thought the words of Thomas Paine applied as much to our times as to his, written when the future of the American Revolution was anything but certain: "These are the times that try men's souls; the summer soldier and the sunshine patriot will, in this crisis, shrink from the service of his country; but he that stands it now, deserves the love and thanks of man and woman. Tyranny, like hell, is not easily conquered; yet we have this consolation with us, that the harder the conflict, the more glorious the triumph." For we face more tyranny than the political variety as new revelations make ever-clearer how close the Republic came to being overthrown and whose forces are not finished with us. There is also the tyranny of a pandemic under which we have chafed for years and which is far from over. Add the tyranny of climate change, with record-breaking heat waves, deadly flooding, and consuming wildfires that leave us helpless before its relentless advance. Senseless crime and violence also make us reel before their steady onslaught. Plus renewed warfare on a continent we thought had seen the last of tyrannical regimes wiling to invade other countries — along with vague rumblings of the ever-resent nuclear threat. Trying times, indeed.
Faith in the future, whether the country's or the planet's, might also be forgiven should it waver of falter. And yet, we believe. For faith is the light penetrating the darkness which often invades our lives, leaving us without sure direction or confidence in finding our way. No human being and no human society goes through life without passing through one or several nights of faith — those times in which familiar certainties and trusted securities no longer serve us and crises of greater or lesser proportion threaten us.
Thus, Jesus predicts his coming at midnight or before sunrise, when it is darkest and the need for light greatest. At the hour when we least expect him (G), the Lord is most likely to reveal himself. But the only way we can see him in the darkness, is by the light of faith. At such moments, seeing is not believing; rather, believing is seeing. In our personal nights of uncertainty, the dark light of faith must serve as compass and chart.
Our first reading speaks of such a night, when God delivered his people from the darkness of slavery in Egypt: the night of the Passover in which the Lord ransomed Israel. The book of Wisdom says that during this night, the Hebrews put their faith (I) in God's promises while awaiting the salvation of the just and the destruction of their foes. (I) Their faith in the midst of tribulation led them ultimately to the land God swore to their ancestors.
The letter to the Hebrews goes on to praise these great figures of the Old Testament for their faith in God's word to them, even when they did not see its immediate fulfillment. The example of Abraham, Sarah, Isaac and Jacob, helps us realize that faith is confident assurance concerning what we hope for, and conviction about things we do not see.
So when we are tossed about by the storms which suddenly arise in our lives, making us despair of reaching our goal, we look for this confident assurance, remembering that because of faith the men [and women] of old were approved by God. For God is worthy of trust (II), even when our way is clouded by mist or fog — whereby we may to possess real conviction about things unseen.
We celebrated yesterday the feast of the Lord's Transfiguration - a feast of light more brilliant than the sun, shining on the face of Jesus. And yet, a light that was, at the same time, clouded over, so to speak — from which cloud God commended the Son and bid us listen to him. The apostles who witnessed this scene overheard some of the conversation between Jesus, Moses and Elijah as Luke tells us they speaking of the Lord's impending "exodus," his passage from death to life, when it seemed for a time that the light had gone out completely.
As it sometimes does for us. Yet, we are bidden to have our lamps burning ready, so the master will find us wide-awake on his return (G). Knowing only one thing fuels those lamps for such a long time — faith.
Here, in his little-noticed first encyclical called The Light of Faith, Pope Francis wrote,
There is an urgent need, then, to see once again that faith is a light, for once the flame of faith dies out, all other lights begin to dim. The light of faith is unique, since it is capable of illuminating every aspect of human existence. A light this powerful cannot come from ourselves but from a more primordial source: in a word, it must come from God. Faith is born of an encounter with the living God who calls us and reveals his love, a love which precedes us and upon which we can lean for security and for building our lives.
Transformed by this love, we gain fresh vision, new eyes to see; we realize that it contains a great promise of fulfillment, and that a vision of the future opens up before us. Faith, received from God as a supernatural gift, becomes a light for our way, guiding our journey through time. On the one hand, it is a light coming from the past, the light of the foundational memory of the life of Jesus which revealed his perfectly trustworthy love, a love capable of triumphing over death. Yet since Christ has risen and draws us beyond death, faith is also a light coming from the future and opening before us vast horizons which guide us beyond our isolated selves towards the breadth of communion. (Lumen fidei, 4)
Even when the times try our souls!
Creed
Intercessions (Joe Milner; The Sunday Website)

For the Church: that God will renew and deepen our faith so that we may be confident that God is always present and accompanies us along each step of our journey.
For a deepening of faith: that our hearts may be open to the witness of our friends and mentors who have gone before us and draw strength and courage from them.
For patience: that we may have the grace to wait upon God, even when answers do not seem clear, and confidently trust in God's love and providence.
For all who have lost faith: that the Spirit of God will renew their hearts and open a new springtime of faith so that they come to a new relationship with the living God.
For all whose faith is tested, particularly those being persecuted or leaving home for the first time: that they may rely upon God for strength and draw upon the values that they have learned in making decisions.
For migrants and refugees: that God will guide them in their search for safety and lead them to communities that are warm and welcoming.
For all who are in need: that God will give strength to all who have lost homes or possessions in storms and flooding, sustain them as they rebuild their lives, and open the hearts of many to assist them.
O God,
on whom our faith rests secure
and whose kingdom we await,
sustain us by word and sacrament
and keep us alert for the coming of the Son of Man,
that we may welcome him without delay.
We ask this through Christ our Lord. Amen. (ICEL; 1998)
Offertory Hymn (Music: Daniel ben Judah; Words: Thomas Olivers; 1725-1799)
The God of Abraham praise,
who reigns enthroned above;
Ancient of Everlasting Days,
and God of Love;
To him uplift your voice
at whose supreme command
from earth we rise and seek the joys
at his right hand.

There dwells the Lord, our King,
the Lord, our Righteousness,
triumphant o'er the world and sin,
the Prince of Peace;
on Zion's sacred height
his kingdom he maintains,
and, glorious with his saints in light,
for ever reigns.
Before the great Three-One they all exulting stand;
And tell the wonders He hath done, through all their land:
The listening spheres attend, and swell the growing fame;
And sing, in songs which never end, the wondrous name.
The God who reigns on high
the great archangels sing,
and "Holy, holy, holy!" cry
"Almighty King!
Who was, and is, the same,
and evermore shall be:
Eternal Father, great I AM,
we worship thee!"

The whole triumphant host
give thanks to God on high;
"Hail, Father, Son, and Holy Ghost"
they ever cry;
hail, Abraham's God and mine;
I join the heavenly lays;
all might and majesty are thine,
and endless praise.
Communion Antiphon
Closing Hymn (Marty Haugen)
Where your treasure is, there your heart shall be.
All that you possess will never set you free.
Seek the things that last; come and learn from me.
Where your treasure is, your heart shall be.
What do you gain from all your worry,
What you should eat or what to wear?
There is no peace in stress and hurry,
Do you not know that you are held within God's care? Where your treasure is...
Look at the ravens high above you!
They do not brood their whole lives through---
Yet God feeds them and protects them.
How much more will God protect and care for you! Where your treasure is...
Behold the lilies in their splendor!
In grace and beauty they are dressed.
And yet so soon their bloom is faded.
So how much more will those who look to God be blessed. Where your treasure is...
Do not fear little flock,
For God delights to give you the reign of God!
Give your possessions to the needy.
Gain a treasure that will not fade!
Where your treasure is...
Archives