16th Sunday in Ordinary Time (B)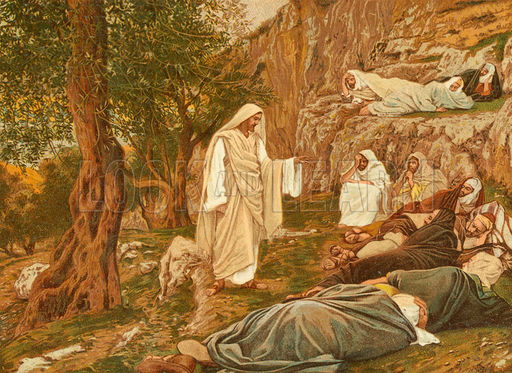 Introit
Kyrie
Gloria
Collect
Show favor, O Lord, to your servants
and mercifully increase the gifts of your grace,
that, made fervent in hope, faith and charity,
they may be ever watchful in keeping your commands.
Through our Lord Jesus Christ, your Son,
who lives and reigns with you in the unity of the Holy Spirit,
God, for ever and ever. Amen.
First Reading Jer 23:1-6
Woe to the shepherds who mislead and scatter the flock of my pasture, says the LORD. Therefore, thus says the LORD, the God of Israel, against the shepherds who shepherd my people: You have scattered my sheep and driven them away. You have not cared for them, but I will take care to punish your evil deeds. I myself will gather the remnant of my flock from all the lands to which I have driven them and bring them back to their meadow; there they shall increase and multiply. I will appoint shepherds for them who will shepherd them
so that they need no longer fear and tremble; and none shall be missing, says the LORD.

Behold, the days are coming, says the LORD, when I will raise up a righteous shoot to David; as king he shall reign and govern wisely, he shall do what is just and right in the land. In his days Judah shall be saved, Israel shall dwell in security. This is the name they give him: "The LORD our justice."
Responsorial Psalm Ps 23:1-3, 3-4, 5, 6
R. (1) The Lord is my shepherd; there is nothing I shall want.
The LORD is my shepherd; I shall not want.
In verdant pastures he gives me repose;
beside restful waters he leads me;
he refreshes my soul.
He guides me in right paths
for his name's sake.
Even though I walk in the dark valley
I fear no evil; for you are at my side
with your rod and your staff
that give me courage.
You spread the table before me
in the sight of my foes;
you anoint my head with oil;
my cup overflows.
Only goodness and kindness follow me
all the days of my life;
and I shall dwell in the house of the LORD
for years to come.
Second Reading Eph 2:13-18
Brothers and sisters: In Christ Jesus you who once were far off have become near by the blood of Christ. For he is our peace, he who made both one and broke down the dividing wall of enmity, through his flesh, abolishing the law with its commandments and legal claims, that he might create in himself one new person in place of the two, thus establishing peace, and might reconcile both with God, in one body, through the cross, putting that enmity to death by it. He came and preached peace to you who were far off and peace to those who were near, for through him we both have access in one Spirit to the Father.
Alleluia Jn 10:27
Gospel Mk 6:30-34
The apostles gathered together with Jesus and reported all they had done and taught. He said to them, "Come away by yourselves to a deserted place and rest a while." People were coming and going in great numbers, and they had no opportunity even to eat. So they went off in the boat by themselves to a deserted place. People saw them leaving and many came to know about it. They hastened there on foot from all the towns and arrived at the place before them. When he disembarked and saw the vast crowd, his heart was moved with pity for them, for they were like sheep without a shepherd; and he began to teach them many things.
Reflection Questions

Who might be "far off" in your life that could be "brought near?"
Have you found time this summer to "come away by yourselves and rest a while?"
For whom is your heart "moved with pity" these days?
Catena Nova
You have failed to strengthen the weak, says the Lord. He is speaking to wicked shepherds, false shepherds, shepherds who seek their own concerns and not those of Christ. They enjoy the bounty of milk and wool, but they take no care at all of the sheep, and the make no effort to heal those who are ill. I think there is a difference between one who is weak (that is, not strong) and one who is ill, although we often say that the weak are also suffering from illness....In the case of the weak sheep, it is to be feared that the temptation, when it comes, may break him. The sick person, however, is already ill by reason of some illicit desire or other, and this is keeping him from entering God's path and submitting to Christ's yoke....Now it is a part of the Christian's strength not only to do good works but also to endure evil. Weak people are those who appear to be zealous in doing good works but are unwilling or unable to endure the sufferings that threaten. Lovers of the world, however, who are kept from good works by some evil desire, lie sick and listless, and it is this sickness that deprives them of any strength to accomplish good works (St. Augustine of Hippo).
"The apostles returned to Jesus and reported to him everything they had done and taught...." And he said to them: "Come away to some place where you can be alone by yourselves and rest awhile." The following words show what real need there was to give the disciples some rest: "For many were coming and going and they had no time even to eat." The great happiness of those days can be seen from the hard work of those who taught and the enthusiasm of those who learned. If only in our time such a concourse of faithful listeners would again press round the ministers of the word, not allowing them time to attend to their physical needs! For those denied the time needed to look after their bodies will have still less opportunity to heed the soul's or the body's temptations....Jesus tested the crowd's faith, and having done so he gave it a fitting reward. He sought out a lonely place to see if they would take the trouble to follow him. For their part, they showed how concerned they were for their salvation by the effort they made in going along the deserted road not on donkeys or in carts of various kinds, but on foot. In return Jesus welcomed those weary, ignorant, sick, and hungry people, instructing, healing, and feeding them as a kindly savior and physician, and so letting them know how pleased he is by believers' devotion to him (St. Bede the Venerable).
Let those, then, who are singularly active, who think they can win the world with their preaching and exterior works, observe here that they would profit the Church and please God much more, not to mention the good example they would give, were they to spend at least half of this time with God in prayer, even though they might not have reached a prayer as sublime as this. They would then certainly accomplish more, and with less labor, by one work than they otherwise would by a thousand. For through their prayer they would merit this result, and themselves be spiritually strengthened. Without prayer they would do a great deal of hammering but accomplish little, and sometimes nothing, and even at times cause harm. God forbid that the salt should begin to lose its savour. However much they may appear to achieve externally, they will in substance be accomplishing nothing; it is beyond doubt that good works can be performed only by the power of God (St. John of the Cross).
O sad and pitiable spectacle, when the people of Christ wander on the hills as "sheep which have no shepherd;" and instead of seeking Him in His ancient haunts and His appointed home, busy themselves in human schemes, follow strange guides, are taken captive by new opinions, become the sport of chance, or of the humour of the hour, or the victims of self-will, are full of anxiety and perplexity,and jealousy and alarm, "tossed to and fro, and carried about by every wind of doctrine, by the sleight of men, and cunning craftiness whereby they lie in wait to deceive;" (Eph 4:14) —and all because, they do not seek the "one body" and the "one Spirit," and the "one hope of their calling," the "one Lord, one faith, one baptism, one God and Father of all," (Eph 4:5-6) and "find rest for their souls" (Mt 11:29)! (St John Henry Newman)
Many young people have come here and worked with us, and they tell us after a while that they have learned a lot and are grateful to us, but they disagree with us on various matters – our pacifism, our opposition to the death penalty, our interest in small communities, and our opposition to the coercive power of the state. You people are impractical, they tell us, nice idealists, but not headed anywhere big and important. They are right. We are impractical, as one of us put it, as impractical as Calvary. There is no point in trying to make us into something we are not. We are not another community fund group, anxious to help people with some bread and butter and a cup of coffee or tea. We feed the hungry, yes; we try to shelter the homeless and give them clothes, if we have some, but there is a strong faith at work; we pray. If an outsider who comes to visit doesn't pay attention to our praying and what that means, then he'll miss the whole point of things (Dorothy Day).
To allow oneself to be carried away by a multitude of conflicting concerns, to surrender to too many demands, to commit oneself to too many projects ... is to succumb to violence. The frenzy of our activism ... kills the root of inner wisdom which makes work fruitful (Thomas Merton).
Life is lived at high tension today. Nerves get frayed and our pace of life becomes very intense. But whatever it may cost, we have to learn to stop and draw a quiet breath. That means we have to learn to recognize our need. We have to learn that an ordinary vacation isn't enough. Going to different places and trying to have fun isn't the same as relaxing. And to learn to relax we must learn how to avoid inner imbalances. The word 'recreation' implies that one is doing something that re-creates, creates one over again, and gives a new life and a fresh start. Humanly speaking, to acquire the art of balanced relaxation we need to learn to take advantage of little opportunities that life offers us to again become at heart children. To be relaxed, for instance, doesn't mean avoiding others but being accessible to others in a positive way. For people of faith this starts with being accessible to Our Lord. He didn't want his disciples to live in a state of perpetual tension. We have heard the Gospel passage in which Jesus calls upon the disciples to "come away into a quiet place and rest a little". What we need is to take such opportunities when they are offered. We are offered the best of Jesus and of his message in moments like the present. We often stand in need of rest in the ordinary sense of that word. But we need even more to rest in God. In the bustle of our days we need to discover the little times which give us the opportunity to be with Jesus. Perhaps it is a matter of individual prayer. Perhaps it is a moment of meditative reading. It is like our need for oxygen. It is no luxury. It is a vital necessity. How good it is to sit down like Mary of Bethany at the feet of our Master. We need it especially if we are bustling about in order to complete indispensable daily tasks. In the midst of our work we must keep our hearts open to God. We talk about opening a window so fresh air can come in. We need even more to keep a window open to Heaven! This is a matter of learning to keep things in their proper relative proportions. Each task has its importance, and all are not equally important. Giving each its proper place is possible only if we have a standard of importance. The need to be with God is of supreme importance and gives us that standard. Without this everything one does is imbalanced and given undue importance. Faith enables us to see how to judge the relative importance of different things and tasks. Faith trusts first in God. If that is so, then faith tells us to give first priority to being with God and second priority to learning from God during these times. This not only enables us to bring balance to our lives but to relax and open ourselves to genuine refreshment and re-creation. Take time for Jesus! Jesus always had time for God! Paradoxically, that time is always now (Leon Cardinal Suenens).
At the heart of the Gospel we have just heard (Mk 6:30-37) is the "compassion" of Jesus (cf. v. 34). Compassion is a key word in the Gospel. It is written in Christ's heart; it is forever written in the heart of God. In the Gospels, we often see Jesus' compassion for those who are suffering. The more we read, the more we contemplate, the more we come to realize that the Lord's compassion is not an occasional, sporadic emotion, but is steadfast and indeed seems to be the attitude of his heart, in which God's mercy is made incarnate....This compassion did not appear suddenly at one moment in the history of salvation. No, it was always there in God, impressed on his paternal heart.... Jesus' disciples often show themselves lacking compassion, as in this case, when they are faced with the problem of having to feed the crowds. In effect, they say: "Let them worry about it themselves…" This is a common attitude among us human beings, even those of us who are religious persons or even religious "professionals". We wash our hands of it.... At this point we can ask ourselves: are we conscious – we, in the first place – of having been the object of God's compassion? ....We can ask ourselves: Do I feel God's compassion towards me? Do I sense in me the conviction of being a son or daughter of compassion? Do we have a lively awareness of this compassion that God feels for us? .... Unless I feel that I am the object of God's compassion, I cannot understand his love. This is not a reality that can be explained. Either I feel it or I don't. If I don't feel it, how can I share it, bear witness to it, bestow it on others? Perhaps, I am not able to do this. Concretely: am I compassionate towards this or that brother or sister, that bishop, that priest? … Or do I constantly tear them down by my attitude of condemnation, of indifference, of looking the other way and actually washing my hands of it? (Pope Francis).
Homily
Unsound Barriers
On July 5 in Las Vegas Shelly Hill was arrested for battery and a hate crime for punching a 6 year-old Korean American while hurling anti-Asian insults at him (yahoo.com; July 12, 2021)
In Christ Jesus you who [are] far off [can be] brought near by the blood of Christ. For he is our peace. . . who [can make] the two of [you] one and break down the barrier of hostility that [keeps] you apart (II).
On July 8 in Brighton, Massachusetts prosecutors added a hate crime charge to assault charges against Khaled Awad, 24, for brutally stabbing Rabbi Shlomo Noginski eight times outside a Boston synagogue (yahoo.com; July 12, 2021).
In Christ Jesus you who [are] far off [can be] brought near by the blood of Christ. For he is our peace. . . who [can make] the two of [you] one and break down the barrier of hostility that [keeps] you apart (II).
Gun violence is likely to be the highest in two decades by the time 2021 is over with 296 mass shootings having taken place -- where 4 or more people were killed -- by the end of last month (cbsnews.com; June 24, 2021). By the way, Rochester, NY has outstripped even Chicago in murder rate per capita (yahoo.com; July 14, 2021).
In Christ Jesus you who [are] far off [can be] brought near by the blood of Christ. For he is our peace. . . who [can make] the two of [you] one and break down the barrier of hostility that [keeps] you apart (II).
A Michigan man, Lee Mouat, was sentenced to 5 years in prison after pleading guilty to a hate crime against an African American teenager whom he assaulted with a bicycle lock, smashing his face, after shouting a racial epithet against him for using a public beach (yahoo.com; July 12, 2021).
In Christ Jesus you who [are] far off [can be] brought near by the blood of Christ. For he is our peace. . . who [can make] the two of [you] one and break down the barrier of hostility that [keeps] you apart (II).
A Wyoming bar located less than an hour from where Matthew Shephard was beaten to death in 1998 has sold out of T-shirts depicting a man in biker attire pointing a gun with the message, "In Wyoming, we have a cure for AIDS, we shoot [there follows an expletives and a slur both beginning with the letter "f"] (The Cheyenne Post; July 13, 2021).
In Christ Jesus you who [are] far off [can be] brought near by the blood of Christ. For he is our peace. . . who [can make] the two of [you] one and break down the barrier of hostility that [keeps] you apart (II).
It seems those words are no better understood today than when Paul first wrote them. Pious Jews of his day were scan­dalized by it; they might well cover their ears lest its sound reach them. For it was a vulgar language Paul spoke, saying, In his own flesh, [Christ] abolished the law with its commands and precepts, to create in himself one new [person] from [those] who had been two (II). Nor were Gentiles any quicker to grasp their meaning. For them, Paul's message was folly, a source of amusement. The language of blood flowing from a cross making peace was absurd.
But they didn't laugh for long. For among those who did understand were slaves, slaves who might well threaten the Roman Empire with all their subversive talk of being "one in Christ." Indeed, the social fabric that kept Jews far off from Gentiles; citizens far off from slaves; females far off from males--needed those divisions: divisions which kept the ancient world turning; its religion, its economy, and its domestic life going. The last word those who benefitted from the system wanted to hear was about breaking down such barriers between people.
That's one reason the cup is a central symbol of Christian faith -- a sign to a world divided; a world of broken relationships; a world where too many people are still far off from one another: in short, a sign of reconcilia­tion. When we drink from the chalice or -- since we are not likely to receive Communion under both Species for the foreseeable future due to Covid-19 concerns -- have the Sign of the Cross made over us with the blessing-cup -- we show we are one with Christ and each oth­er: brought near through the blood of Christ (II). When we "take and drink" as the Lord asks, we announce the good news of peace to all who are far off, and to those who are near: the good news that we all have access in one Spirit to the Father, and to each other, through him who lives and reigns, forever and ever. Amen. (II)
Creed
Intercessions (Peter Scagnelli; Prayers for Seasons and Feasts)
As disciples gathered around Jesus, let us offer to the Lord our intercessions for all God's children.
For those called to shepherd the Lord's flock: May they attend with compassion to the needs of all.
For the birth of a new humanity, reconciled to God and to each other in the blood of Christ: May Christ be our peace, putting to death the hostility that divides us.
For those who serve in the courts of law: May they judge wisely and administer justice and righteousness in the land.
For those who society has abandoned: May Christians extend to them the compassion of Christ the Shepherd.
For an increase in understanding between Jews and Christians: May the Mosaic covenant's wisdom and Christ's gospel deepen our mutual respect.
For those who work in law enforcement: May their regard for human rights and responsibility toward the people they serve enable the community to live in safety.
For those who encourage dialogue among diverse groups in this city: May we see that beyond our divisions we are members of one body.
For those who have been brought near to God and to each other by the blood of Christ: May we proclaim to all the peace God has bestowed on us and may God strengthen the witness and ministry of the Missionaries of the Precious Blood.
For those the Good Shepherd has gathered to himself: May they live forever in the Lord's fold.
Compassionate God, from far and near you gather your Church into one. Safeguard the unity of your flock through the teaching of Christ the Shepherd, that all your scattered children may find in him the guidance and nourishment they seek. We ask this through Christ our Lord. Amen. (ICEL; 1998)
Interlude
Now in Christ Jesus you who were far off
have been brought near in the blood of Christ.
For Christ is our Peace, who has made us one
and has broken down the dividing wall of hostility;
and he came and preached peace to you who
were far off,
so then you are no longer strangers and
sojourners,
but you are fellow-citizens with the saints
and members of the household of God,
built upon the foundation of the apostles and
prophets,
Christ Jesus himself being the cornerstone
in whom the whole structure is joined together
and grows into a holy temple in the Lord.
Lord's Prayer
Let us pray for our daily bread as Jesus taught us....
Spiritual Communion (United Methodist Church)
In union, O Lord with the faithful at every Communion Table and Altar of your Church, where the Holy Eucharist is this day want to be celebrated, we desire to offer you praise and thanksgiving. We present to you our souls and bodies with the earnest wish that we may continually be united with You. And since we cannot now receive You together with our faith community, we beg you to come spiritually into our hearts. We unite ourselves to You and embrace You with the affections of our souls. Let nothing ever separate us from You or You from us. May we live, serve and die in your love. Amen.
Thanksgiving
Closing Hymn (James Montgomery, 1825)
Shepherd of souls, refresh and bless
your chosen pilgrim flock
with manna in the wilderness,
with water from the rock.

We would not live by bread alone,
but by your word of grace,
in strength of which we travel on
to our abiding place.

Be known to us in breaking bread,
but do not then depart;
Savior, abide with us, and spread
your table in our heart.
Archives