Second Sunday in Ordinary Time (B)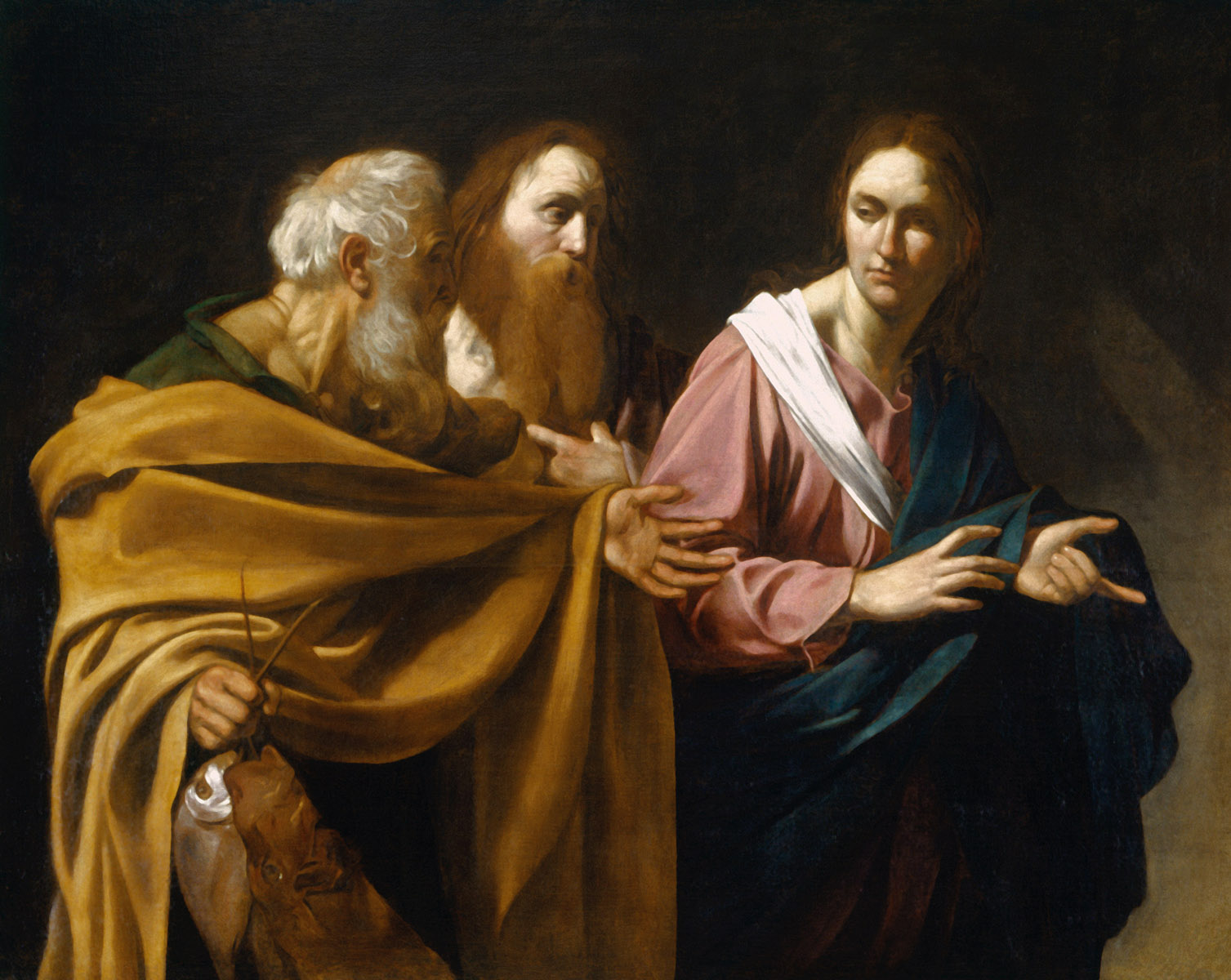 Introit
Kyrie
Gloria
Collect
Almighty ever-living God,
who govern all things,
both in heaven and on earth,
mercifully hear the pleading of your people
and bestow your peace on our times.
Through our Lord Jesus Christ, your Son,
who lives and reigns with you in the unity of the Holy Spirit,
God, for ever and ever. Amen.
First Reading 1 Sm 3:3b-10,19
Samuel was sleeping in the temple of the LORD
where the ark of God was.
The LORD called to Samuel, who answered, "Here I am."
Samuel ran to Eli and said, "Here I am. You called me."
"I did not call you, " Eli said. "Go back to sleep."
So he went back to sleep.
Again the LORD called Samuel, who rose and went to Eli.
"Here I am, " he said. "You called me."
But Eli answered, "I did not call you, my son. Go back to sleep."
At that time Samuel was not familiar with the LORD,
because the LORD had not revealed anything to him as yet.
The LORD called Samuel again, for the third time.
Getting up and going to Eli, he said, "Here I am. You called me."
Then Eli understood that the LORD was calling the youth.
So he said to Samuel, "Go to sleep, and if you are called, reply,
Speak, LORD, for your servant is listening."
When Samuel went to sleep in his place,
the LORD came and revealed his presence,
calling out as before, "Samuel, Samuel!"
Samuel answered, "Speak, for your servant is listening."
Samuel grew up, and the LORD was with him,
not permitting any word of his to be without effect.
Responsorial Psalm Ps 40:2,4,7-8,8-9,10
R/. Here am I, Lord; I come to do your will.
I have waited, waited for the LORD,
and he stooped toward me and heard my cry.
And he put a new song into my mouth,
a hymn to our God. R/.

Sacrifice or offering you wished not,
but ears open to obedience you gave me.
Holocausts or sin-offerings you sought not;
then said I, "Behold I come."R/.

"In the written scroll it is prescribed for me,
to do your will, O my God, is my delight,
and your law is within my heart!" R/.

I announced your justice in the vast assembly;
I did not restrain my lips, as you, O LORD, know. R/.
Second Reading 1 Cor 6:13c-15a, 17-20
Brothers and sisters:
The body is not for immorality, but for the Lord,
and the Lord is for the body;
God raised the Lord and will also raise us by his power. Do you not know that your bodies are members of Christ? But whoever is joined to the Lord becomes one Spirit with him.
Avoid immorality.
Every other sin a person commits is outside the body, but the immoral person sins against his own body. Do you not know that your body
is a temple of the Holy Spirit within you,
whom you have from God, and that you are not your own? For you have been purchased at a price.
Therefore glorify God in your body.
Alleluia Jn 1:41,17b
Gospel Jn 1:35-42
John was standing with two of his disciples,
and as he watched Jesus walk by, he said,
"Behold, the Lamb of God."
The two disciples heard what he said and followed Jesus. Jesus turned and saw them following him and said to them, "What are you looking for?"
They said to him, "Rabbi" — which translated means Teacher —,
"where are you staying?"
He said to them, "Come, and you will see."
So they went and saw where Jesus was staying,
and they stayed with him that day.
It was about four in the afternoon.
Andrew, the brother of Simon Peter,
was one of the two who heard John and followed Jesus. He first found his own brother Simon and told him, "We have found the Messiah" — which is translated Christ —.
Then he brought him to Jesus.
Jesus looked at him and said, "You are Simon the son of John; you will be called Cephas" — which is translated Peter.
Reflection Questions
For what are you listening attentively these days?
How do you glorify God in your body?
How have you "come and seen" where the Lord is staying?
Catena Nova
Spurred on by the testimony of John the Baptist, the glorious apostle Andrew left his teacher and ran to the one pointed out by him. John's words were his signal, and, moving more swiftly than John could speak, he approached the master with obvious longing, his companion, John the Evangelist, running beside him. Both had left the lamp to come to the sun. Andrew was the first to become an apostle. It was he who opened the gates of Christ's teaching. He was the first to gather the fruits cultivated by the prophets, and he surpassed the hopes of all by being the first to embrace the one awaited by all.... Having recognized the prophet foretold by the prophets, Andrew led his brother to the one he had found. To Peter, who was still in ignorance, he revealed the treasure: "We have found the Messiah" for whom we were longing. How many sleepless nights we spent beside the waters of the Jordan, and now we have found the one for whom we longed! Nor was Peter slow when he heard these words, for he was Andrew's brother. He listened attentively, then hastened with great eagerness. Taking Peter with him, Andrew brought his brother to the Lord, thus making him his fellow-disciple. This was Andrew's first achievement: he increased the number of the apostles by bringing Peter to Christ, so that Christ might find in him the disciples' leader (Basil of Seleucia).
When John the Baptist saw Jesus walking by he said, "Look, the Lamb of God who takes away the sin of the world!" Before that John had continually cried out, "Prepare the way for the Lord". He says this no longer. Preparing would now be out of place. The one for whom he prepared has come and is before our very eyes. The nature of the case now calls for a different task. We are now called to tell others, like John, who Jesus is and why he has come to us from God so that they might receive and follow him. John the Baptist says, "Look, the Lamb of God!" Jesus is the one of whom the prophet Isaiah says: "He was led like a sheep to the slaughter, and like a lamb before his shearer he didn't open his mouth".... Now the true lamb, the victim without blemish, has been led to the slaughter and has banished sin from the entire world.... He is for us the source of every blessing. Our task is to lead others to him so that they too may be given eternal life and be reconciled with God. Now the task is to teach all to reverence God and live upright lives. We are to help one another along the way to the Kingdom of Heaven. One lamb died for all in order to restore an entire flock to God even here on the earth. We are to gain all for God so that all might live no longer for themselves but for the one who died and was raised to life for all.... That task is to lead all to entrust themselves to the one who died for all so all might live in Him. Death tried to swallow the Lamb but was forced to disgorge him, and along with him disgorged all who are in Him and live in Him....Show salvation by your lives and all will see the goodness and glory revealed to us in Jesus Christ. All will be members of the redeemed flock of God (St. Cyril of Alexandria).
"John was there and two of his disciples with him." John was such "a friend of the Bridegroom" that he did not seek his own glory, he simply bore witness to the truth (Jn 3:29.26). Did he dream of keeping back his disciples and preventing them from following the Lord? Not in the least. He himself showed them the one they were to follow … He declared: "Why cling to me? I am not the Lamb of God. Behold the Lamb of God …. Behold him who takes away the sins of the world." At these words the two disciples who were with John, followed Jesus. "Jesus turned and saw that they were following him and said to them: 'What are you looking for?' They said to him: 'Rabbi, where are you staying?" As yet they were not following Him definitively, as we know, they joined themselves to Him, when He called them to leave their boat …, when He said to them: "Come after me and I will make you fishers of men" (Mt 4:19). That was the moment they joined Him definitively, no longer to leave Him. But for now they wanted to see where Jesus was living and put into practice the words of Scripture: "If you see an intelligent man, seek him out at daybreak; let your feet wear away his doorstep! Learn from him the precepts of the Lord" (cf. Sir 6:36f.). So Jesus showed them where He was living, they went and stayed with Him. What a happy day they spent! What a blessed night! Who can say what it was they heard from the Lord's mouth? Let us, too, build a dwelling in our hearts, construct a house where Christ can come to teach and converse with us (St Augustine of Hippo).
Christian, remember your dignity and now that you share in God's own nature, do not return by sin to your former base condition. Bear in mind who is your head and of whose body you are a member. Do not forget that you have been rescued from the power of darkness and brought into the light of God's kingdom. Through the sacrament of baptism you have become a temple of the Holy Spirit. Do not drive away so great a guest by evil conduct and become again a slave to the devil, for your liberty was bought by the blood of Christ (Pope St. Leo the Great).
John, the man of vision, sees the royal bridegroom and the ruler of the last age as a lamb. John, the Baptist, sees the God who is made human as lamb and bridegroom at the starting point of his road of salvation.... He appears as the lamb, who comes as bridegroom to the world. He comes as lamb, for as a lamb he will take away the world's sin.... We are the happy ones who have washed our clothing in his blood, and have been called to his wedding-feast. We are bride, the spouse; to us have the shining garments been given to put on. We are pure now, we are transformed, and part of the flock of the shepherd of heaven. We had gone aimlessly over the hills for long ages; now we are brought back to the shepherd and the guardian of our life. The lamb has paid the price for his sheep. The lamb has been plunged into Jordan; his fleece is wet with its waters; The royal mark is on his forehead, and his wounds send forth blessings everywhere. The sacraments grow up like meadows about him, and his sheep come to the banquet which is his (Aemiliana Löhr).
"And between the throne and the four living creatures and among the elders, I saw a Lamb standing, as though it had been slain" (Rv 5:6). When the seer of Patmos had this vision, the unforgettable day on the Jordan when John the Baptist showed him the "Lamb of God" who "takes away the sins of the world" (Jn 1:29) was still fresh in his memory....But why did he choose the lamb as the preferred symbol? Why did he continue to reveal himself in this form on the eternal throne of glory? Because he was innocent as a lamb and meek as a lamb; and because he came in order to allow himself to be led as a lamb to the slaughter (Is 53:7). This, too, John had witnessed when the Lord permitted himself to be bound at the Mount of Olives and nailed to the cross at Golgotha. There on Golgotha the true sacrifice of reconciliation was accomplished. Thereby the old sacrifices lost their efficacy; and soon they ceased entirely, as did also the old priesthood when the temple was destroyed. John had witnessed all of this. Therefore, he was not surprised at the Lamb on the throne. And because he was a faithful witness to the Lamb, the Bride of the Lamb was also shown to him....Just as the Lamb had to be killed to be raised upon the throne of glory, so the path to glory leads through suffering and the cross for everyone chosen to attend the marriage supper of the Lamb. All who want to be married to the Lamb must allow themselves to be fastened to the cross with him. Everyone marked by the blood of the Lamb is called to this, and that means all the baptized. But not everyone understands the call and follows it (St. Edith Stein/Benedicta of the Cross).
Jesus is called the Lamb: He is the Lamb who takes away the sin of the world. Someone might think: But how can a lamb, which is so weak, a weak little lamb, how can it take away so many sins, so much wickedness? With love. With his meekness. Jesus never ceased being a lamb: meek, good, full of love, close to the little ones, close to the poor. He was there, among the people, healing everyone, teaching, praying. Jesus, so weak, like a lamb. However, he had the strength to take all our sins upon himself, all of them. "But, Father, you don't know my life: I have a sin that..., I can't even carry it with a truck..." Many times, when we examine our conscience, we find some things there that are truly bad! But he carries them. He came for this: to forgive, to make peace in the world, but first in the heart. Perhaps each one of us feels troubled in his heart, perhaps he experiences darkness in his heart, perhaps he feels a little sad over a fault.... He has come to take away all of this, He gives us peace, he forgives everything. "Behold, the Lamb of God, who takes away sin": he takes away sin, it's root and all! This is the salvation Jesus brings about by his love and his meekness. And in listening to what John the Baptist says, who bears witness to Jesus as the Saviour, our confidence in Jesus should grow. Many times we trust a doctor: that is good, because the doctor is there to cure us; we trust in a person: brothers and sisters can help us. It is good to have this human trust among ourselves. But we forget about trust in the Lord: this is the key to success in life. Trust in the Lord, let us trust in the Lord! "Lord, look at my life: I'm in the dark, I have this struggle, I have this sin..."; everything we have: "Look at this: I trust in you!". And this is a risk we must take: to trust in Him, and He never disappoints. Never, never! ... This is the testimony of John: Jesus, the good One, the meek One, will end as a lamb, who is slain. Without crying out. He came to save us, to take away sin. Mine, yours and that of the whole world: all of it, all of it (Pope Francis).
Homily
What's a Body To Do?
I've noticed recently in all the reporting about the pandemic that deaths are sometimes referred to as the number of "souls" lost on a given day. The language has surprised me as it sounds rather old-fashioned. On one hand, I've been heartened to hear even a vague reference to humans being more than their bodies in our secular discourse. On the other hand, the language is questionable from a Christian standpoint since, while we are indeed more than biology and chemistry alone can determine, we are still material beings with a body -- something not accidental to human nature, but essential to it.
Once upon a time, the clergy's job was "to save souls." We don't speak that way either anymore. There's more to salvation than that. If all that mattered for Christian faith was "saving your soul," our religion would be unbalanced, incomplete, inhuman even. We'd be in the same boat as the people of Corinth were to whom St. Paul wrote his letter: people given to some strange views about the body, people who disregarded the body as very important in "spiritual" matters, sometimes to the extreme point of thinking what we do "in the body" matters little to God. Their slogan was, "All things are lawful for me" (1 Cor. 6:12).
It's a long-standing problem in the church. It's sometimes called "angelism" – mistaking humans with bodies for angels who lack them. A Presbyterian theologian by the name of Shirley Guthrie, provides a corrective to the problem: ""The Bible does not teach that the body is only a worthless or evil prison which degrades our true selves. … Our hope is for the renewal of our total human existence."
That's one reason Paul insists the Lord is for the body such that the body is not for immorality, but for the Lord (II). In the immediate context Paul was speaking of sexual immorality. But in the broader context of Paul's letter, things such as idolatry, gluttony, theft, and greed must be included within his purview.
And how might we avoid these mistaken views of the body displayed by the people of Corinth? Well, for one thing, by showing them the reverence due to them as temples of the Holy Spirit (cf. II). And not only our own bodies, but others' as well -- not unlike the reverence we show to a church where the Body of Christ gathers, or to the Blessed Sacrament, the very Body of the Lord. That's why, when incense is used at Mass, we incense not only the altar and the Blessed Sacra­ment to show them reverence, but also the bodies of everyone in the congregation, for God is present there too as in a temple. Just like at funerals when we incense the body of the deceased, the body that served as a temple of the Spirit, and which will rise again one day. For God raised the Lord and will also raise us by his power. . . . Therefore, we should, Paul says, glorify God in [our] body (II).
Perhaps you've been as outraged as I these past weeks when we have witnessed the desecration done to human bodies, beginning with a series of federal executions, including the death of a mentally ill woman Lisa Montgomery; or the violence done to bodies by those who rioted at the Capitol Building in their frenzied rage; or those who cannot extend the most elementary courtesy to another body by wearing a mask in public or those who, without a medical reason, refuse to get a Covid vaccine.
As Bill Tammeus, a Presbyterian elder, once wrote, "If, then, our bodies are sacred vessels and physical representations of our whole selves, abuse of them disrespects and denigrates God's plan of salvation." And so he urges the church to re-emphasize its teaching on the resurrection of the body, writing, "One might hope that the church could defend its body-soul-wholeness theology as a way of standing against the kind of...abuse that has been filling our newspapers and our news broadcasts....a well-articulated theology of body just might reduce the damage." (National Catholic Reporter; December 9, 2017).
For we are neither pure spirits, without bodies; nor mere animals, lacking spirit. We are human beings. Nothing we do is purely physical. We don't just "eat." We "dine." We don't just "reproduce." We "make love." Nor is anything we do purely spiritual. Including our presence here today, where communion with God takes place through human actions of eating and drinking. All of which is why Paul went on to write, whether you eat or drink--whatever you do--you should do all for the glory of God (1 Cor. 10:31). Who lives and reigns, forever and ever. Amen.
Creed
Intercessions
That the church may listen attentively to the voice of the Lord and respond with courage and resourcefulness in God's service.
That Pope Francis, called to exercise the ministry of Peter in God's church, may inspire by his own example our eager and ready response to Christ.
That the leaders of nations may hear in the voices of their people God's own voice summoning the world to a future of justice and peace.
For President Joseph Biden and Vice-President Kamala Harris, that they will be fortified in days to come with the strength of the Spirit, bring healing to a divided nation, and work tirelessly on behalf of peace and justice for all citizens.
That those who are seeking meaning and purpose for their lives may "come and see" and find in Christ the Teacher for whom they search.
That married couples may be blessed by God with deepening love and steadfast fidelity .
The educators may inspire young people to embrace and develop relationships marked by mutual respect.
That those whom God has called to eternal life may rejoice to remain forever with the Teacher they followed on earth.
From our earliest days, O God, you call us by name. Make our ears attentive to your voice, our spirits eager to respond, that, having heard you in Jesus your anointed one, we may draw others to be his disciples. We ask this through Christ our Lord. Amen.
Interlude (Words: William Blake/Music: John Tavener)
Little Lamb, who made thee?
Dost thou know who made thee?
Gave thee life, and bid thee feed
By the stream and o'er the mead;
Gave thee clothing of delight,
Softest clothing, woolly, bright;
Gave thee such a tender voice,
Making all the vales rejoice?
Little Lamb, who made thee?
Dost thou know who made thee?
Little Lamb, I'll tell thee,
Little Lamb, I'll tell thee:
He is called by thy name,
For he calls himself a Lamb.
He is meek, and he is mild;
He became a little child.
I, a child, and thou a lamb,
We are called by his name.
Little Lamb, God bless thee!
Little Lamb, God bless thee!
Lord's Prayer
Confident in the grace of adoption as God's children, we pray as Jesus taught...
Spiritual Communion
Although we cannot share today in the supper of the Lamb, we pray nevertheless for the Lamb to come and dwell in our midst and in our hearts with the blessings of redemption and of peace. Remain with us, Lord, as you did your disciples, who came and saw, enjoying the presence of the One who takes away the sins of the world.
Thanksgiving
Closing Hymn (Words: John L. Bell & Graham Maule)
"Will you come and follow me if I but call your name? Will you go where you don't know and never be the same? Will you let my love be shown, will you let my name be known,
will you let my life be grown in you and you in me?"
"Will you leave yourself behind if I but call your name? Will you care for cruel and kind and never be the same? Will you risk the hostile stare,
should your life attract or scare? Will you let me answer pray'r in you and you in me?"
"Will you let the blinded see if I but call your name? Will you set the pris'ners free and never be the same? Will you kiss the leper clean,
and do such as this unseen, and admit to what I mean in you and you in me?"
"Will you love the you you hide if I but call your name? Will you quell the fear inside and never be the same? Will you use the faith you've found
to reshape the world around, through my sight and touch and sound in you and you in me?"
Lord, your summons echoes true when you but call my name. Let me turn and follow you and never be the same. In your company I'll go where your love and footsteps show. Thus I'll move and live and grow in you and you in me.
Archives