Fifth Sunday in Ordinary Time (B)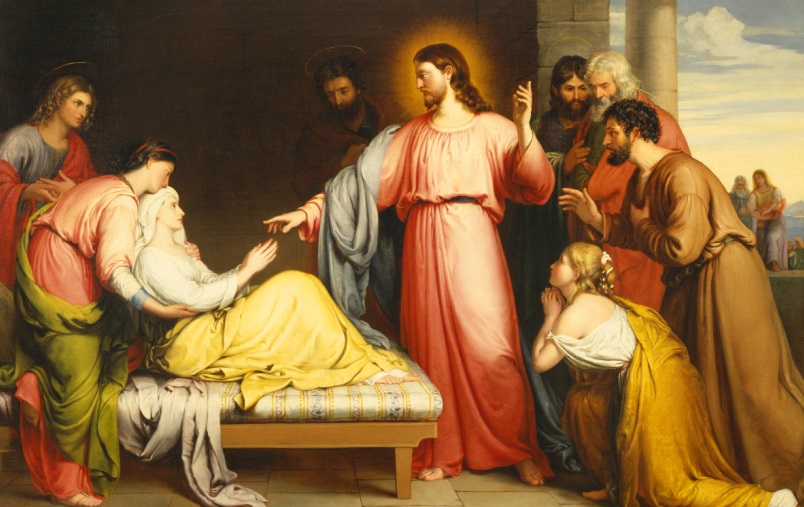 Introit
Kyrie
Gloria
Collect
Keep your family safe, O Lord, with unfailing care,
that, relying solely on the hope of heavenly grace,
they may be defended always by your protection.
Through our Lord Jesus Christ, your Son,
who lives and reigns with you in the unity of the Holy Spirit,
God, for ever and ever. Amen.
First Reading Jb 7:1-4,6-7
Job spoke, saying:
Is not man's life on earth a drudgery?
Are not his days those of hirelings?
He is a slave who longs for the shade,
a hireling who waits for his wages.
So I have been assigned months of misery,
and troubled nights have been allotted to me.
If in bed I say, "When shall I arise?"
then the night drags on;
I am filled with restlessness until the dawn.
My days are swifter than a weaver's shuttle;
they come to an end without hope.
Remember that my life is like the wind;
I shall not see happiness again.
Responsorial Psalm Ps 147:1-2,3-4,5-6
R/. Praise the Lord, who heals the brokenhearted.


Praise the LORD, for he is good;
sing praise to our God, for he is gracious;
it is fitting to praise him.
The LORD rebuilds Jerusalem;
the dispersed of Israel he gathers. R/.
He heals the brokenhearted
and binds up their wounds.
He tells the number of the stars;
he calls each by name. R/.
Great is our Lord and mighty in power;
to his wisdom there is no limit.
The LORD sustains the lowly;
the wicked he casts to the ground. R/.
Second Reading 1 Cor 9:16-19,22-23
Brothers and sisters:
If I preach the gospel, this is no reason for me to boast,
for an obligation has been imposed on me,
and woe to me if I do not preach it!
If I do so willingly, I have a recompense,
but if unwillingly, then I have been entrusted with a stewardship.
What then is my recompense?
That, when I preach,
I offer the gospel free of charge
so as not to make full use of my right in the gospel.

Although I am free in regard to all,
I have made myself a slave to all
so as to win over as many as possible.
To the weak I became weak, to win over the weak.
I have become all things to all, to save at least some.
All this I do for the sake of the gospel,
so that I too may have a share in it.
Alleluia Mt 8:17
Gospel Mk 1:29-39
On leaving the synagogue
Jesus entered the house of Simon and Andrew with James and John.
Simon's mother-in-law lay sick with a fever.
They immediately told him about her.
He approached, grasped her hand, and helped her up.
Then the fever left her and she waited on them.

When it was evening, after sunset,
they brought to him all who were ill or possessed by demons.
The whole town was gathered at the door.
He cured many who were sick with various diseases,
and he drove out many demons,
not permitting them to speak because they knew him.

Rising very early before dawn, he left
and went off to a deserted place, where he prayed.
Simon and those who were with him pursued him
and on finding him said, "Everyone is looking for you."
He told them, "Let us go on to the nearby villages
that I may preach there also.
For this purpose have I come."
So he went into their synagogues,
preaching and driving out demons throughout the whole of Galilee.
Catena Nova
"What will you worry about? What will you be anxious for? He who made you will take care of you. Will he who took care of you before you came into being not take care of you now, when you are what he wanted you to be? Because now you are a believer; you are walking on the way of justice. Will he, then, who causes his sun to rise on the good and the evil, and his rain to fall on the just and the unjust, not take care of you? Will he neglect, forsake or desert you who are already just and live by faith? On the contrary, he blesses you, he helps you, he gives you what you need, he defends you from adversity. In giving you gifts, he consoles you so that you will persevere. In taking them from you, he corrects you, so that you will not perish; the Lord cares for you; do not be anxious. He who created you supports you; do not fall from your Creator's hand; if you fall from the hand of your Maker, you will break. Your good will will help you stay in the hands of your Creator.... Abandon yourself to him; do not think that you are about to fall into the void; do not imagine such a thing. He has said: 'I will fill the heavens and the earth'. He will never fail you; do not fail him; do not fail yourself" (St. Augustine of Hippo).
My days pass more swiftly than the weaving of cloth by the weaver. In a very suitable image, the time of the flesh is compared with a cloth web. As the web advances thread by thread, so this mortal life passes day by day; in proportion as the web increases, so it advances to its completion. Just as we said before, while the time in our hands passes, the time before us is shortened. Moreover, of the whole length of our lives, the days to come are proportionally fewer to those days that have gone by. Job says that, The eye of him who sees me will behold me no more; while your eyes are upon me, I shall be gone. For the human eye is the pity of the Redeemer that softens the hardness of our insensibility when it looks upon us. Hence, as the Gospel witnesses, it is said, And the Lord turned, looked upon Peter, and Peter remembered the word of the Lord. And he went out, and wept bitterly. However, when the soul is divested of the flesh, the human eye henceforth does not see anything. The Redeemer's pity never delivers anyone after death whom it has not gracefully restored to pardon before death (Pope St. Gregory the Great).
Those who have listened attentively to today's Gospel will have learnt why the Lord of heaven, by whom all creation was renewed, entered the houses of his servants on earth. Nor should it surprise us that he so courteously adapted himself to every situation, since his motive in coming among us was to bring mercy and help to all.Here you see how fever loosens its grip on a person whose hand is held by Christ's. You can easily see what drew Christ to Peter's house on this particular occasion; it was no desire to sit down and rest himself, but compassion for a woman stricken down by sickness. He was prompted not by the need to eat but by the opportunity to heal, his immediate preoccupation being the performance of a work which only his divine power could carry out, rather than the enjoyment of human company at table.In Peter's house that day it was not wine that flowed, but tears. Consequently Christ did not enter to obtain sustenance for himself, but to restore vitality to another. God wants human beings, not human goods. He desires to bestow what is heavenly, not to acquire anything earthly. Christ came to seek not our possessions but us.As soon as Jesus crossed the threshold he saw Peter's mother-in-law lying ill in bed with a fever. On entering the house he immediately saw what he had come for. He was not interested in the comfort the house itself could offer, nor the crowds awaiting his arrival, nor the formal welcome prepared for him, or the assembled household. Still less did he look for any outward signs of preparation for his reception. All he had eyes for was the spectacle of a sick woman, lying there consumed with a raging fever.At a glance he saw her desperate plight, and at once stretched out his hands to perform the divine work of healing; nor would he sit down to satisfy his human needs before he had made it possible for the stricken woman to rise up and serve her God. "So he took her by the hand, and the fever left her."Here you see how fever loosens its grip on a person whose hand is held by Christ's; no sickness can stand its ground in the face of the very source of health. Where the Lord of life has entered, there is no room for death (St. Peter Chrysologous).
The opinions of people have differed about the condition of this present life. Some held that ultimate happiness was experienced in this life. The words of [Job's friend] Eliphaz seem to follow this opinion. The ultimate end of human beings is in that place where they expect the final retribution for good or evil. So if a person is rewarded by God for good deeds and punished for evil deeds in this life, as Eliphaz is eager to prove, it seems necessary to conclude that the ultimate end of a person is in this life. But, Job intends to disprove this opinion and he wants to show that the present life of men and women does not have the ultimate end in it, but is compared to this end as motion is compared to rest and the journey to the destination. He therefore compares this state to those states which tend to some end, namely the state of soldiers who tend to victory in military campaigns. So he says, "Man's life on earth is combat," as if to say: The present life which we live on earth is not like a state of victory, but like the state of a military campaign. He also compares it to the state of a hireling, as so he adds, "and his day like the day of the hireling," i.e. the time of living on earth. He compares the present life to these two states because of two things which threaten us in this present life. First, we must resist impediments and harmful things and on account of these [life] is compared to warfare. We must also do works useful for the end and on account of this we are compared to hirelings. From both images, one is given to understand that the present life is subject to divine providence. For soldiers fight under a general and hired hands wait for their pay from an employer. Also, the falsity of the opinion which Eliphaz defended is plain enough in these examples. For it is clear that the general of the army does not spare the vigorous soldiers from the dangers or toils, but the whole nature of warfare demands at times that he exposes them to both very great dangers and tasks. After the victory has been won, the general honors those [soldiers] more who proved more vigorous. In the same way, the father of a family entrusts the more difficult tasks to the better hirelings, but on pay day he gives higher salaries to them. So divine providence does not dispose things so that the good are more freed from adversities and labors of the present life, but rewards them more at the end (St. Thomas Aquinas).
God wishes to test you, like gold in the furnace.The dross is consumed by the fire but the pure gold remains and its value increases. It is in this manner,that God acts with His good servants, who puts their hope in Him and remain unshaken in times of distress. God raises them up and, in return for the things they have left, out of love for God, He repays them a hundredfold in this life and with eternal life hereafter. If then you remain constant in faith, in the face of trial, the Lord will give you peace and rest, for a time in this world, and forever in the next (St. Jerome Emiliani).
Whatever, wherever I am, I can never be thrown away. If I am in sickness, my sickness may serve him; in perplexity, my perplexity may serve him; if I am in sorrow, my sorrow may serve him. My sickness, or perplexity, or sorrow may be necessary causes of some great end, which is quite beyond us. He does nothing in vain. He may prolong my life; he may shorten it. He knows what he is about. He may take away my friends. He may throw me among strangers. He may make me feel desolate, make my spirits sink, hide the future from me—still he knows what he is about. O Adonai, O Ruler of Israel, you who guide Joseph like a flock, O Emmanuel, O Sapientia, I give myself to you. I trust you wholly. You are wiser than I—more loving to me than I am to myself. Deign to fulfill your high purposes in me whatever they be—work in and through me. I am born to serve you, to be yours, to be your instrument. Let me be your blind instrument. I ask not to see. I ask not to know. I ask simply to be used (St. John Henry Newman).
In his messianic activity in the midst of Israel, Christ drew increasingly closer to the world of human suffering. "He went about doing good," and his actions concerned primarily those who were suffering and seeking help. He healed the sick, consoled the afflicted, fed the hungry, freed people from deafness, from blindness, from leprosy, from the devil and from various physical disabilities, three times he restored the dead to life. He was sensitive to every human suffering, whether of the body or of the soul....Christ drew close above all to the world of human suffering through the fact of having taken this suffering upon his very self. During his public activity, he experienced not only fatigue, homelessness, misunderstanding even on the part of those closest to him, but, more than anything, he became progressively more and more isolated and encircled by hostility and the preparations for putting him to death (Pope St. John Paul II).
Homily
Weak Spots
Whenever the next pope is elected, I imagine seeing a frenzied mob of supporters of whoever the conservative favorite is, storming the Sistine Chapel wearing MCGA ("Make the Church Great Again") hats shaped like miters, to assure no election fraud prevents their candidate from becoming pope and, above all, no one named to the College of Cardinals by the deceased pope, Francis, gets elected. The Swiss Guard would be as unprepared and overwhelmed as the Capitol police. Fantasy, I assume, yet suggestive of the same kinds of division within the Catholic Church we see in the nation at large. And don't think these divisions don't overlap. The intertwining of politics and religion was evident on Inauguration Day as dueling bishops expressed their divergent views on the new, yes Catholic, president.
Thus Archbishop Jose Gomez, president of U.S. Conference of Catholic Bishops, issued a statement that said, in part, "Our new President has pledged to pursue certain policies that would advance moral evils and threaten human life and dignity....Most seriously in the areas of abortion, contraception, marriage, and gender. Of deep concern is the liberty of the Church and the freedom of believers to live according to their consciences."
This statement was quickly countered by Cardinal Blase Cupich of Chicago in a tweet that said, "Today, the U.S. Conference of Catholic Bishops issued an ill-considered statement on the day of President Biden's inauguration. Aside from the fact that there is seemingly no precedent for doing so, the statement, critical of President Biden, came as a surprise to many bishops, who received it just hours before it was released."
For his part, Pope Francis, sent words of congratulation, saying among other things, "At a time when the grave crises facing our human family call for farsighted and united responses, I pray that your decisions will be guided by a concern for building a society marked by authentic justice and freedom, together with unfailing respect for the rights and dignity of every person, especially the poor, the vulnerable and those who have no voice."
Such divisions of style and priority are played out, of course, in less rarefied quarters of the church all the time. On a single day this past week, one of my newsfeeds reported on some of them. Variety, for example, revieweda new documentary which premiered at Sundance called Rebel Hearts. It chronicles the conflict between the Immaculate Heart of Mary nuns and the Cardinal Archbishop of Los Angeles, James McIntyre, in the heady days following the Second Vatican Council when religious orders were undergoing rapid change -- too rapid for the Cardinal and not in the right direction. So much so that the order eventually relinquished its canonical status as officially "Catholic" rather than acquiesce to McIntyre's demands that they retain their traditional habits and roles as teachers in Catholic schools. Such was the price to preserve control over their own lives and ministries.
Another story from Business Insider was about Fr. John Zuhlsdorf ("Fr. Z"), an archconservative blogger and frequent critic of the pope, who resided in the Diocese of Madison though, inexplicably, incardinated in an Italian diocese. He posted videos of himself on YouTube performing livestreamed "exorcisms" designed to expel the "fraud" from the presidential election. He and the bishop came to a "mutual decision" it was time for him to move on and seek "other opportunities" elsewhere.

Finally, there is an article in Esquire reporting on St. Elizabeth's parish in Boone, North Carolina which has experienced a "take-over" in the form of two successive pastors who, like many new-fangled priests coming out of seminaries these days, are hell-bent on restoring their version of "orthodoxy" on parishioners -- including a return to pre-Conciliar forms of liturgy. One of these pastors went through the parish library and removed books -- later burned -- by such "heretics" as Thomas Merton and Henri Nouwen. Around half the congregation has left the parish, some of whom are meeting in an auto mechanic's shop for Mass celebrated by sympathetic priests.
Which brings me to the churches of St. Paul's time as they too were torn by factions. The "conservatives" of his day were always arguing over the Law of Moses and how much of it Gentile converts were supposed to keep. Some thought the whole thing, others just circumcision, still others a few dietary regulations, and some rules for marriage. And Paul was viewed as a dangerous "liberal" by the factions who were pro-Law, because he insisted the Gentiles did not have to observe much of it at all. Indeed, he thought even Jews no longer needed to do so. Why, he even called the conservatives "weak" for clinging to certain traditions and insisting others do the same – though he allowed the freedom to do as they saw fit for themselves.
But Paul would always rise to the defense of his Gentile converts whenever they came under attack by the Law-minded. Even the hot-button issue of eating meat sold in markets that came from a local temple where they had been sacrificed to some god by pagan priests -- even that didn't bother Paul very much. In a very "liberal" position, the apostle insisted, since such "gods" weren't real, you could eat meat sacrificed to them. Of course, this made the "conservatives" very upset. They accused Paul of promoting a "pagan agenda."
Yet Paul was, above all, a preacher. And like Jesus before him, all kinds of people were looking for him (cf. G). And for the sake of the gospel, he made [himself] a slave to all, so as to win over as many as possible (II). So much so that if eating meat would be a scandal to some people in the church, he advised the "strong" to refrain from such eating in the presence of the "weak": a more "conservative" position that I'm sure upset some of the more "liberal" Corinthians.
And the church today could learn much from Paul's approach, torn as we are on what is and what isn't essential to the faith, what the gospel demands and what it doesn't. Yes, we would do well to learn from Paul's wisdom: Although I am free in regard to all, I have made myself a slave to all so as to win over as many as possible. To the weak I became weak, to win over the weak. I have become all things to all [people], to save at least some. All this I do for the sake of the gospel, so that I too may have a share in it (II). Easier said than done – I know.
Creed
Intercessions
Let us join together in prayer to the God of compassion, who heals the broken hearted and binds up their wounds.
That by proclaiming the message of God's healing love, Christians may help cast out the demons of prejudice and misunderstanding.
That by making themselves servants to all, world leaders may promote that human dignity that is rightfully due to all.
For those sick with various diseases of body, mind or spirit, especially Covid-19, may find Christ's healing at the hands of those who assist in their recovery period.
That those burdened by anxious days and sleepless nights may find comfort in their trials and direction for the future.
That those whose labor is hard and whose wages are inadequate may receive the sustenance they need and work worthy of their dignity.
That we whom Christ has lifted up to new life may use the healing bestowed on us in the generous service of others.
That those who have passed through the long night of suffering and death may come quickly to the dawn of eternal life in God's presence.
Out of your power and compassion, O God, you sent your Son into our afflicted world to proclaim the day of salvation. Heal the brokenhearted, bind up our wounds. Bring us health of body and spirit and raise us to new life in your service. We make our prayer through Christ our L ord. Amen.
Interlude
O Christ, the healer, we have come
to pray for health, to plead for friends.
How can we fail to be restored,
when reached by love that never ends?

From every ailment flesh endures
our bodies clamor to be freed;
yet in our hearts we would confess
that wholeness is our deepest need.

Grant that we all, made one in faith,
in your community may find
the wholeness that, enriching us,
shall reach the whole of humankind.
Lord's Prayer
We pray to be delivered from evil in all its forms as Jesus taught us....
Spiritual Communion
Lord, we still face the trial of not sharing in the Banquet of life. This time of pandemic has been "more than drudgery," especially for the sick and those who care for them. Like Job, we have been assigned "months of misery." Refresh us with your Presence in the depths of our hearts that we may "see happiness again" now and in the days to come when we shall gather once more with your holy church to feast on the gift of your Body and Blood.
Thanksgiving
Closing Hymn
Praise the one who breaks the darkness
with a liberating light.
Praise the one who frees the prisoners,
turning blindness into sight.
Praise the one who preached the Gospel,
healing every dread disease,
calming storms and feeding thousands
with the very bread of peace.

Praise the one who blessed the children
with a strong yet gentle word.
Praise the one who drove out demons
with a piercing two-edged sword.
Praise the one who brings cool water
to the desert's burning sand.
From this well comes living water,
quenching thirst in every land.

Praise the one true love incarnate:
Christ who suffered in our place.
Jesus died and rose for many
that we may know God by grace.
Let us sing for joy and gladness,
seeing what our God has done.
Praise the one redeeming glory,
praise the One who makes us one.
Archives