Fifth Sunday of Lent (C)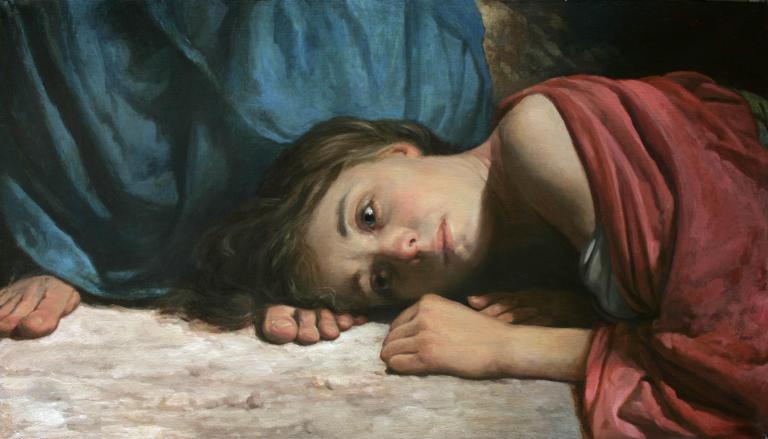 Introit
Kyrie
Collect
By your help, we beseech you, Lord our God,
may we walk eagerly in that same charity
with which, out of love for the world,
your Son handed himself over to death.
Through our Lord Jesus Christ, your Son,
who lives and reigns with you in the unity of the Holy Spirit,
God, for ever and ever. Amen.
First Reading Is 43:16-21
Thus says the LORD,
who opens a way in the sea
and a path in the mighty waters,
who leads out chariots and horsemen,
a powerful army,
till they lie prostrate together, never to rise,
snuffed out and quenched like a wick.
Remember not the events of the past,
the things of long ago consider not;
see, I am doing something new!
Now it springs forth, do you not perceive it?
In the desert I make a way,
in the wasteland, rivers.
Wild beasts honor me,
jackals and ostriches,
for I put water in the desert
and rivers in the wasteland
for my chosen people to drink,
the people whom I formed for myself,
that they might announce my praise.
Responsorial Psalm Ps 126:1-2, 2-3, 4-5, 6.
R/. The Lord has done great things for us; we are filled with joy.
When the LORD brought back the captives of Zion,
we were like men dreaming.
Then our mouth was filled with laughter,
and our tongue with rejoicing.

Then they said among the nations,
"The LORD has done great things for them."
The LORD has done great things for us;
we are glad indeed.

Restore our fortunes, O LORD,
like the torrents in the southern desert.
Those that sow in tears
shall reap rejoicing.
Although they go forth weeping,
carrying the seed to be sown,
They shall come back rejoicing,
carrying their sheaves.
Second Reading Phil 3:8-14
Brothers and sisters:
I consider everything as a loss
because of the supreme good of knowing Christ Jesus my Lord.
For his sake I have accepted the loss of all things
and I consider them so much rubbish,
that I may gain Christ and be found in him,
not having any righteousness of my own based on the law
but that which comes through faith in Christ,
the righteousness from God,
depending on faith to know him and the power of his resurrection
and the sharing of his sufferings by being conformed to his death,
if somehow I may attain the resurrection from the dead.

It is not that I have already taken hold of it
or have already attained perfect maturity,
but I continue my pursuit in hope that I may possess it,
since I have indeed been taken possession of by Christ Jesus.
Brothers and sisters, I for my part
do not consider myself to have taken possession.
Just one thing: forgetting what lies behind
but straining forward to what lies ahead,
I continue my pursuit toward the goal,
the prize of God's upward calling, in Christ Jesus.
Verse Before the Gospel Jl 2:12-13
Gospel Jn 8:1-11
Jesus went to the Mount of Olives.
But early in the morning he arrived again in the temple area,
and all the people started coming to him,
and he sat down and taught them.
Then the scribes and the Pharisees brought a woman
who had been caught in adultery
and made her stand in the middle.
They said to him,
"Teacher, this woman was caught
in the very act of committing adultery.
Now in the law, Moses commanded us to stone such women.
So what do you say?"
They said this to test him,
so that they could have some charge to bring against him.
Jesus bent down and began to write on the ground with his finger.
But when they continued asking him,
he straightened up and said to them,
"Let the one among you who is without sin
be the first to throw a stone at her."
Again he bent down and wrote on the ground.
And in response, they went away one by one,
beginning with the elders.
So he was left alone with the woman before him.
Then Jesus straightened up and said to her,
"Woman, where are they?
Has no one condemned you?"
She replied, "No one, sir."
Then Jesus said, "Neither do I condemn you.
Go, and from now on do not sin any more."
Reflection Questions
What might be something new in your life you have difficulty perceiving?
What might you be called to forget as lying behind while straining forward to what lies ahead?
What might tempt you to throw stones?
Catena Nova
The Pharisees approached the Lord with the cunning and dishonest idea that if he ordered the accused woman to be stoned he would lose his reputation for gentleness; but if he forbade what the law laid down, they could catch him for sinning against the law.... In the case of the adulteress he questioned the questioners, and in this way judged the judges. "I do not forbid," he says, "the stoning of someone who the law lays down must be stoned; what I want to know is—by whom?… Let whoever is without sin be the first to throw a stone at her."…When they had gone, the sinner and the Savior were left alone. The doctor with the sick woman. Pity with the pitiable. And looking at the woman he said, "Has no one condemned you?" She answered, "No one, Lord." She was still gnawed with anxiety, though. Sinners, it is true, had not dared to condemn her, had not dared to stone a sinner when they looked into their hearts and found themselves to be the same. But the woman was still in peril of her life because one who was without sin had stayed behind to judge her. Has no one, he asked, condemned you? She said, "No one, Lord; if you don't either, I'm safe." The Lord answered her anxiety by saying, "Neither will I condemn you. Neither will I, although I am without sin, neither will I condemn you. Those others were restrained by conscience from punishing you. I am moved by pity to help you." (St. Augustine of Hippo)
It is

n

ot

because I have been preserved from mortal sin that I lift up my heart to God in trust and love. I feel that even had I on my conscience every crime one could commit, I should lose nothing of my confidence: my heart broken with sorrow, I would throw myself into the Arms of my Saviour. I know that He loves the Prodigal Son, I have heard His words to St. Mary Magdalen, to the woman taken in adultery, and to the woman of Samaria. No one could frighten me, for I know what to believe concerning His Mercy and His Love. And I know that all that multitude of sins would disappear in an instant, even as a drop of water cast into a flaming furnace

. (St. Therese of Lisieux)
The episode recorded in the Gospel of John is repeated in countless similar situations in every period of history. A woman is left alone, exposed to public opinion with "her sin", while behind "her" sin there lurks a man – a sinner, guilty "of the other's sin", indeed equally responsible for it. And yet his sin escapes notice, it is passed over in silence: he does not appear to be responsible for "the others's sin"! .... Christ did everything possible to ensure that – in the context of the customs and social relationships of that time – women would find in his teaching and actions their own subjectivity and dignity.... Consequently each man must look within himself to see whether she who was entrusted to him as a sister in humanity, as a spouse, has not become in his heart an object of adultery; to see whether she who, in different ways, is the cosubject of his existence in the world, has not become for him an "object": an object of pleasure, of exploitation. Christ's way of acting, the Gospel of his words and deeds, is a consistent protest against whatever offends the dignity of women. Consequently, the women who are close to Christ discover themselves in the truth which he "teaches" and "does", even when this truth concerns their "sinfulness". They feel "liberated" by this truth, restored to themselves: they feel loved with "eternal love", with a love which finds direct expression in Christ himself. (Pope St. John Paul II)
Perhaps it is no wonder that the women were first at the Cradle and last at the Cross. They had never known a man like this Man - there never has been such another. A prophet and teacher who never nagged at them, never flattered or coaxed or patronised; who never made arch jokes about them, never treated them either as "The women, God help us!" or "The ladies, God bless them!"; who rebuked without querulousness and praised without condescension; who took their questions and arguments seriously; who never mapped out their sphere for them, never urged them to be feminine or jeered at them for being female; who had no axe to grind and no uneasy male dignity to defend; who took them as he found them and was completely unself-conscious. There is no act, no sermon, no parable in the whole Gospel that borrows its pungency from female perversity; nobody could possibly guess from the words and deeds of Jesus that there was anything "funny" about woman's nature. (Dorothy L. Sayers)
Let anyone among you who is without sin be the first to throw a stone at her. How can we put this word of life into practice? Let's remember, as we come before each brother or sister, that we too are sinners. We have all sinned and, even though it seems to us that we've not done anything seriously wrong, we have always to bear in mind that we may not realize the heavy circumstances that caused others fall so low, making them stray from God. How would we have done in their place? We too, at times, have broken the bond of love that ought to unite us to God; we've not been faithful to him. If Jesus, the only man without sin, didn't throw the first stone at the adulteress, then neither can we at anyone whoever it may be. And so, have mercy for all, react against those impulses that drive us to condemn without pity—we have to know how to forgive and forget. No harbouring in our hearts any lingering judgement or resentment, where anger and hatred can breed and alienate us from our brothers and sisters. See everyone as new. Having in our hearts, rather than judgement and condemnation, love and mercy for each person, we will help each person begin a new life, we will constantly give courage to start afresh. (Chiara Lubich)
The voyeurism and perversion of these men! Then they come en masse, in the terrible enthusiasm of a mob and they present the case to Jesus. Now, what does Jesus do in the face of this violent mob? First, He writes on the ground. The mysterious writing might indicate the listing of the sins of each person in the group. As He said in another Gospel, "Remove the plank in your own eye, and then you can see more clearly the speck in your brother's eye." And then He says, "Let the one among you who is without sin be the first to cast a stone at her." He forces them to turn their accusing glance inward, where it belongs. Instead of projecting their violence outward on a scapegoat, they should honestly name and confront the dysfunction within themselves. This story, like all the stories in the Gospels, is a foreshadowing of the great story toward which we are tending. Jesus will be put to death by a mob bent on scapegoating violence. (Bishop Robert Barron)
Jesus' interrogators are confined to narrow legalism and want to oblige the Son of God to conform to their perspective of judgment and condemnation. However, he did not come into the world to judge and condemn, but rather to save and offer people a new life. And how does Jesus react to this test? First of all, he remains silent for some time and then he bends down to write on the ground with his finger, almost as if to remind them that the only Legislator and Judge is God who had inscribed the Law on stone. And then he says: "Let him who is without sin among you be the first to throw a stone at her" (v. 7). In this way, Jesus appeals to the conscience of those men: they felt they were the 'champions of justice', but he reminds them of their own condition as sinners, due to which they cannot claim the right to life or death over one of their fellow human beings. At that point, one after the other, beginning with the eldest — that is, those who were more fully aware of their own failings — they all went away, and desisted from stoning the woman. This episode also invites each of us to be aware that we are sinners, and to let fall from our hands the stones of denigration, of condemnation, of gossip, which at times we would like to cast at others. When we speak ill of others, we are throwing stones, we are like these people.... In this Lenten Season, we are called to recognize ourselves as sinners and to ask God for forgiveness. And, in its turn, while forgiveness reconciles us and gives us peace, it lets us start again, renewed. Every true conversion is oriented toward a new future, a new life, a beautiful life, a life free from sin, a generous life. Let us not be afraid to ask Jesus for forgiveness because he opens the door to this new life for us. (Pope Francis)
Homily
Rolling Stones
I sometimes wonder if he saw those stones before. After all, this wasn't the first woman he knew whom some people would think should be stoned. His own mother had been under suspicion. And I wonder if those rumors of adultery persisted, if Mary remained suspect in the eyes of some, and if people now and then threw a stone her way, just to remind her, "We haven't forgotten."
I also wonder because, shortly after Jesus saved this woman from stoning, the Pharisees sneered at him with the question, Where is your father? and the veiled comparison, We are not illegitimate (Jn. 8:19, 41). Other than an allusion to Bethlehem (Jn. 7:42), this is the only place in John where questions about Jesus' human origins surface, however vaguely. Unlike Matthew and Luke, John says nothing about the circumstances of Jesus' birth. So the question, "Where is your father?" and the boast, "We are not illegitimate," have one goal in mind: to discredit Jesus. For there's nothing like a juicy rumor about someone's past to put his or her whole life under a cloud of suspicion. Is there?
And it makes little difference whether such rumors are false, as with Mary, or whether they're true, as with the woman caught in the very act of committing adultery (G) -- what matters are the stones people keep under their cloak for throwing. I'm quite sure that woman whom Jesus let go saw a stone fly her way every so often too.
Why Jesus himself was almost stoned to death. That's how this chapter from John's gospel ends. After he announced to the people God was his Father, and then used the divine name – I AM – thus making himself God's equal, they picked up stones to throw at him (Jn. 8:59). For Jesus committed blasphemy as far as they were concerned. And the penalty for blasphemy was the same as for adultery: death by stoning. So in the end, Jesus faced the same fate as the woman caught in adultery. Indeed, he took her place.
But I think he was used to it: used to being an object of scorn, perhaps from his birth – both he and his mother, regardless of their innocence. What's worse, that scorn rightfully belonged to others -- to us -- for not one of us is without sin, not one of us has the right to be the first to throw a stone (G). For as Paul says, we have no righteousness of [our] own based on the law:Because none of us has kept the law. The only righteousness we have comes through faith in Christ, the righteousness from God (II).
That's why some have guessed what the Lord was writing on the ground were the sins of the woman's accusers. For he knew their hearts. And he knew what was in those hearts: including the man's who was with the woman caught in adultery. Where was he? In the crowd, with stone in hand? After all, the Law dealt only with unfaithful women, not men. And how did the scribes and Pharisees know when and where she would be with that man? How did they come to be the eyewitnesses demanded by the Law? Or was the whole thing some miserable set-up, just to test [Jesus], so that they could have some charge to bring against him? (G) And who cared if some woman lost her life in the process?
Oh yes, he knew who they were. And he knew who he was. Which is the real rub, isn't it? The one ultimately put to death on the cross for breaking the Law was the only one who was innocent, the only one who could cast the first stone. He and his mother, of course: who shared in his sufferings by being conformed to his death (cf. II), standing near the cross, as if pierced by the same sword that would lance his side. So much for human judgments.
So if you're holding on to some stone, either to throw at yourself for some sin you committed long ago, or to throw at someone else for an offense you can't forgive, think of putting it down. Think of taking Isaiah's advice: Remember not the events of the past, the things of long ago consider not; see, I am doing something new! Now it springs forth, do you not perceive it? (I). For don't you see, the stones have already been thrown? At him – and at her.
How many times I've listened to stories of people who can't let go of their stones. One woman couldn't forget the sexual sins she committed in her youth, despite years of abstinence before she was married, and total fidelity since. Or the man who couldn't forgive himself for committing adultery, though he was terribly sorry and wept on my shoulder with loud sobs and cries from the heart. Neither one could drop their stones of self-accusation.
And what of the parents I've known: the ones who can't forgive their son for leaving the priesthood, others their daughter for marrying outside the church, and still others who refuse to allow their gay son into their home? None of them can drop their stones of judgment.
They've all forgotten how none of us has already attained perfect maturity(II), how we all have a long way to go before we take hold of the prize. They've forgotten what matters most is whether we continue [our] pursuit in hope that we may possess it (cf. II). And they've forgotten how these stones we hold on to, whether aimed at ourselves or at others, make us stumble and fall. For they keep us from forgetting what lies behind and straining forward to what lies ahead… the prize of God's upward calling, in Christ Jesus (II). Who lives and reigns, forever and ever. Amen.
Creed
Intercessions (Archdiocese of Adelaide)
That in these last two weeks of Lent we will want one thing alone: to know Christ and the power of his resurrection and to share in his sufferings.
That we who seek the mercy of God for our own sins this Lent will show mercy to others with kindness and refrain from passing judgement on them.
That the mercy of God will deliver the people of Ukraine and many other places around the world from the destructive evil of war and make peace possible.
That the many people affected by the Covid pandemic – those sick and their families, health workers, public officials and, governments – will be able to work together for the good of all.
That those who are persecuted for their Christian faith in Syria, Afghanistan, Iraq, China, Vietnam, India, Pakistan, Nigeria and in other countries, may draw strength from the cross of Christ.
That those who are preparing for the Easter Sacraments will keep focused on Jesus Christ and the all-embracing love and mercy he has for them.
That our deceased family members, friends and communities, along with those who have died in Ukraine, will gain the prize to which God calls them upward to receive in Christ Jesus.
God of power,
God of mercy,
you bring forth springs in the wasteland
and turn despair into hope.
Look not upon the sins of our past,
but lift from our hearts
the failures that weigh us down,
that we may find refreshment and life
in Christ, our liberator from sin,
who lives and reigns with you in the unity of the Holy Spirit,
holy and mighty God for ever and ever. Amen. (ICEL; 1998)
Interlude (Richard Farrant)
Lord, for thy tender mercy's sake,
lay not our sins to our charge,
but forgive that is past,
and give us grace to amend our sinful lives.
To decline from sin and incline to virtue,
that we may walk in a perfect heart before thee,
now and evermore. Amen.
Thanksgiving
Closing Hymn (Bernadette Farrell)
O God, you search me and you know me.
All my thoughts lie open to your gaze.
When I walk or lie down you are before me:
Ever the maker and keeper of my days.

You know my resting and my rising.
You discern my purpose from afar,
And with love everlasting you besiege me:
In ev'ry moment of life or death, you are.

Before a word is on my tongue, Lord,
You have known its meaning through and through.
You are with me beyond my understanding:
God of my present, my past and future, too.

Although your Spirit is upon me,
Still I search for shelter from your light.
There is nowhere on earth I can escape you:
Even the darkness is radiant in your sight.

For you created me and shaped me,
Gave me life within my mother's womb.
For the wonder of who I am, I praise you:
Safe in your hands, all creation is made new.
Archives