Lent with the Book of Job (Ch 14)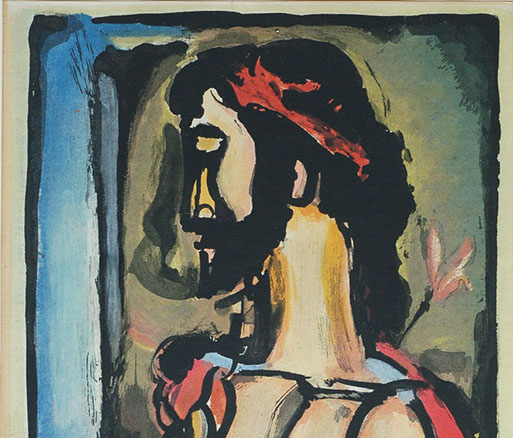 Chapter 14 (Tuesday of the Second Week of Lent)
'A mortal, born of woman, few of days and full of trouble,
comes up like a flower and withers,
flees like a shadow and does not last.
Do you fix your eyes on such a one?
Do you bring me into judgement with you?
Who can bring a clean thing out of an unclean?
No one can.
Since their days are determined,
and the number of their months is known to you,
and you have appointed the bounds that they cannot pass,
look away from them, and desist,
that they may enjoy, like labourers, their days.

'For there is hope for a tree,
if it is cut down, that it will sprout again,
and that its shoots will not cease.
Though its root grows old in the earth,
and its stump dies in the ground,
yet at the scent of water it will bud
and put forth branches like a young plant.
But mortals die, and are laid low;
humans expire, and where are they?
As waters fail from a lake,
and a river wastes away and dries up,
so mortals lie down and do not rise again;
until the heavens are no more, they will not awake
or be roused out of their sleep.
O that you would hide me in Sheol,
that you would conceal me until your wrath is past,
that you would appoint me a set time, and remember me!
If mortals die, will they live again?
All the days of my service I would wait
until my release should come.
You would call, and I would answer you;
you would long for the work of your hands.
For then you would not number my steps,
you would not keep watch over my sin;
my transgression would be sealed up in a bag,
and you would cover over my iniquity.

'But the mountain falls and crumbles away,
and the rock is removed from its place;
the waters wear away the stones;
the torrents wash away the soil of the earth;
so you destroy the hope of mortals.
You prevail for ever against them, and they pass away;
you change their countenance, and send them away.
Their children come to honour, and they do not know it;
they are brought low, and it goes unnoticed.
They feel only the pain of their own bodies,
and mourn only for themselves.'
Commentary
Why does evil exist? Why is there evil in the world? When we put the question in this way, we are always, at least to a certain extent, asking a question about suffering too. Both questions are difficult, when an individual puts them to another individual, when people put them to other people, as also when man puts them to God. For man does not put this question to the world, even though it is from the world that suffering often comes to him, but he puts it to God as the Creator and Lord of the world. And it is well known that concerning this question there not only arise many frustrations and conflicts in the relations of man with God, but it also happens that people reach the point of actually denying God. For, whereas the existence of the world opens as it were the eyes of the human soul to the existence of God, to his wisdom, power and greatness, evil and suffering seem to obscure this image, sometimes in a radical way, especially in the daily drama of so many cases of undeserved suffering and of so many faults without proper punishment. So this circumstance shows—perhaps more than any other—the importance of the question of the meaning of suffering; it also shows how much care must be taken both in dealing with the question itself and with all possible answers to it.
Man can put this question to God with all the emotion of his heart and with his mind full of dismay and anxiety; and God expects the question and listens to it, as we see in the Revelation of the Old Testament. In the Book of Job the question has found its most vivid expression.
The Book of Job poses in an extremely acute way the question of the "why" of suffering; it also shows that suffering strikes the innocent, but it does not yet give the solution to the problem. Already in the Old Testament we note an orientation that begins to go beyond the concept according to which suffering has a meaning only as a punishment for sin, insofar as it emphasizes at the same time the educational value of suffering as a punishment. Thus in the sufferings inflicted by God upon the Chosen People there is included an invitation of his mercy, which corrects in order to lead to conversion: "… these punishments were designed not to destroy but to discipline our people."
Thus the personal dimension of punishment is affirmed. According to this dimension, punishment has a meaning not only because it serves to repay the objective evil of the transgression with another evil, but first and foremost because it creates the possibility of rebuilding goodness in the subject who suffers.
This is an extremely important aspect of suffering. It is profoundly rooted in the entire Revelation of the Old and above all the New Covenant. Suffering must serve for conversion, that is, for the rebuilding of goodness in the subject, who can recognize the divine mercy in this call to repentance. The purpose of penance is to overcome evil, which under different forms lies dormant in man. Its purpose is also to strengthen goodness both in man himself and in his relationships with others and especially with God. (Pope St. John Paul II; Salvifici doloris)
Musical Selection
Man is born of woman
His days are few and full of trouble
He springs up like a flower and withers
And disappears like a fleeing shadow
If only You would hide me in the grave
Conceal me 'til Your anger has passed
Then I will answer You
When You call my name
When You long for the one
Your hands have made
All the days of my struggle
I will wait for my change
I will wait for my change to come
Only do not hide Your face from me
Don't take Your hand away
Don't take Your hand away
I will wait for my change to come
From the dust You have made me
And to the dust I will return
Surely You will count all my steps
But will not keep watch for my sin
The falling mountains crumble away
The water wears away the stones
Its torrents wash away
The dust of the earth
Only in You will I hope
All the days of my struggle
I will wait for my change
I will wait for my change to come
Only do not hide Your face from me
Don't take Your hand away
Don't take Your hand away
All the days of my struggle
I will wait for my change
I will wait for my change to come
Only do not hide Your face from me
Don't take Your hand away
Don't take Your hand away
I will wait for my change to come
I will wait for my change to come (Fernando Ortega)
Collect
Watch over your Church, Lord God, with unfailing mercy,
and since without you humankind will surely fall,
protect us by your grace from every harm
and guide us toward those things that work for our good.
We ask this through our Lord Jesus Christ, your Son,
who lives and reigns with you in the unity of the Holy Spirit,
God for ever and ever. Amen.
Archives