Holy Thursday (A)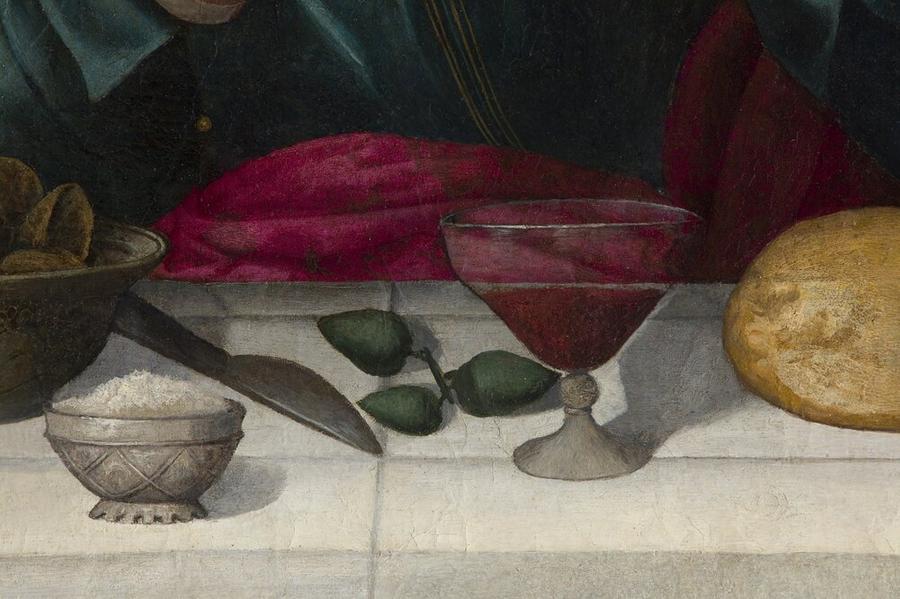 Introit
Collect
O God, who have called us to participate
in this most sacred Supper,
in which your Only Begotten Son,
when about to hand himself over to death,
entrusted to the Church a sacrifice new for all eternity,
the banquet of his love,
grant, we pray,
that we may draw from so great a mystery,
the fullness of charity and of life.
Through our Lord Jesus Christ, your Son,
who lives and reigns with you in the unity of the Holy Spirit,
one God, for ever and ever.
First Reading Exodus 12:1-8, 11-14
T
he LORD said to Moses and Aaron in the land of Egypt,
"This month shall stand at the head of your calendar;
you shall reckon it the first month of the year.
Tell the whole community of Israel:
On the tenth of this month every one of your families
must procure for itself a lamb, one apiece for each household.
If a family is too small for a whole lamb,
it shall join the nearest household in procuring one
and shall share in the lamb
in proportion to the number of persons who partake of it.
The lamb must be a year-old male and without blemish.
You may take it from either the sheep or the goats.
You shall keep it until the fourteenth day of this month,
and then, with the whole assembly of Israel present,
it shall be slaughtered during the evening twilight.
They shall take some of its blood
and apply it to the two doorposts and the lintel
of every house in which they partake of the lamb.
That same night they shall eat its roasted flesh
with unleavened bread and bitter herbs.
"This is how you are to eat it:
with your loins girt, sandals on your feet and your staff in hand,
you shall eat like those who are in flight.
It is the Passover of the LORD.
For on this same night I will go through Egypt,
striking down every firstborn of the land, both man and beast,
and executing judgment on all the gods of Egypt—I, the LORD!
But the blood will mark the houses where you are.
Seeing the blood, I will pass over you;
thus, when I strike the land of Egypt,
no destructive blow will come upon you.
"This day shall be a memorial feast for you,
which all your generations shall celebrate
with pilgrimage to the LORD, as a perpetual institution."
Responsorial Psalm
Second Reading
1 Corinthians 11:23-26
Brothers and sisters:
I received from the Lord what I also handed on to you,
that the Lord Jesus, on the night he was handed over,
took bread, and, after he had given thanks,
broke it and said, "This is my body that is for you.
Do this in remembrance of me."
In the same way also the cup, after supper, saying,
"This cup is the new covenant in my blood.
Do this, as often as you drink it, in remembrance of me."
For as often as you eat this bread and drink the cup,
you proclaim the death of the Lord until he comes.
Verse before the Gospel
Gospel John 13:1-15
Before the feast of Passover, Jesus knew that his hour had come
to pass from this world to the Father.
He loved his own in the world and he loved them to the end.
The devil had already induced Judas, son of Simon the Iscariot, to hand him over.
So, during supper,
fully aware that the Father had put everything into his power
and that he had come from God and was returning to God,
he rose from supper and took off his outer garments.
He took a towel and tied it around his waist.
Then he poured water into a basin
and began to wash the disciples' feet
and dry them with the towel around his waist.
He came to Simon Peter, who said to him,
"Master, are you going to wash my feet?"
Jesus answered and said to him,
"What I am doing, you do not understand now,
but you will understand later."
Peter said to him, "You will never wash my feet."
Jesus answered him,
"Unless I wash you, you will have no inheritance with me."
Simon Peter said to him,
"Master, then not only my feet, but my hands and head as well."
Jesus said to him,
"Whoever has bathed has no need except to have his feet washed, for he is clean all over;
so you are clean, but not all."
For he knew who would betray him;
for this reason, he said, "Not all of you are clean."

So when he had washed their feet
and put his garments back on and reclined at table again,
he said to them, "Do you realize what I have done for you?
You call me 'teacher' and 'master,' and rightly so, for indeed I am.
If I, therefore, the master and teacher, have washed your feet,
you ought to wash one another's feet.
I have given you a model to follow,
so that as I have done for you, you should also do."
Intercessions (Joe Milner; The Sunday Website)
For the Church: that we may live like Jesus and spend our lives in loving service, washing the feet, carrying the burdens, and comforting the brokenness of one another.
For the grace of unity: that divisions may be healed, unity restored, and that we may support one another in bringing forth the reign of God.
For those who cannot eat at the table of the Lord: that our love, friendship and service may offer them an experience of God's love, a sense of community and support for life's journey.
For our brothers who are priests: that they may be strengthened and renewed by God's love, and following the example of Jesus, the great High Priest, faithfully lead us in worship and service.
For those who have nothing to eat or who feel abandoned this night: that God will fill their emptiness, renew their spirit, and grant them peace of mind and heart.
For a transformation of society: that God will touch the hearts of many and guide them in bringing the truth of the Gospel into their families, their workplaces, and their civic communities.
For all who have been betrayed, abused or tortured: that God will heal their pain, give them hope and help them to trust again.
For all who serve our daily needs, those who care for the sick, those who supply food for our tables or who respond to emergencies: that God will renew their strength and fill them with peace.
For the sick, for those approaching death, and for those with mental illness: that God will send an angel to comfort and strengthen them.
For the gift of peace: that God will bring an end to war, violence, and terrorism so that all may live in safety and free from fear.
O God,
in the fullness of time you revealed your love
in Jesus the Lord.
On the eve of his death,
as a sign of your covenant,
he washed the feet of his disciples
and gave himself as food and drink.
Give us life at this sacred banquet
and joy in humble service,
that, bound to Christ in all things,
we may pass over from this world to your kingdom,
where he lives with you now and always in the unity of the Holy Spirit,
God for ever and ever. Amen. (ICEL; 1998)
(Offertory Chant)
(Communion Chant)
Closing Hymn
(The following are offered for reflection during prayer before the Repository)
We do not all possess the fullness of the priesthood here on earth, with the power to bring about the real presence of our Lord's body and blood by pronouncing the words of consecration, but all of us are called to exercise a priestly function by offering ourselves to God according to that exhortation of the Apostle Paul:
I beseech you to present your bodies to God as a living sacrifice, holy and acceptable to him, since this is the service required of rational beings.
In no other way shall we be permitted to enter into the celestial Holy of Holies, by which I mean heaven itself.
(Rupert of Deutz)
On one occasion I saw a brilliant light coming from heaven, irradiate the whole altar….a flame of extraordinary brightness shot down from above upon the bread and wine, illuminating them with its light as the rays of the sun make glass to shine. Upon this stream of light the sacred elements rose to Heaven, and when they descended they were transformed into true flesh and blood, though to the eye of man they yet appeared to be bread and wine. As I gazed upon this Flesh and Blood I saw the signs of the incarnation, the birth, the passion, of Our Saviour reflected in them as in a mirror, and just as we know these events to have been accomplished when the Son of God was on earth.
(St Hildegard of Bingen)
It is the Lord's Passover, Scripture tells us, that is, the Lord's passing. We are no longer to look upon the bread and wine as earthly substances. They have become heavenly, because Christ has passed into them and changed them into his body and blood. What you receive is the body of him who is the heavenly bread, and the blood of him who is the sacred vine; for when he offered his disciples the consecrated bread and wine, he said:
This is my body, this is my blood
. We have put our trust in him. I urge you to have faith in him; truth can never deceive.
(St. Gaudentius of Brescia)
I believe in my heart and openly profess that the bread and wine which are placed upon the altar are, by the mystery of the sacred prayer and the words of the Redeemer, substantially changed into the true and life-giving flesh and blood of Jesus Christ Our Lord, and that after the Consecration, there is present the true Body of Christ which was born of the Virgin and, offered up for the salvation of the world, hung on the Cross and now sits at the right hand of the Father, and that there is present the true Blood of Christ which flowed from His side. They are present not only by means of a sign and of the efficacy of the Sacrament, but also in the very reality and truth of their nature and substance.
(Pope St. Gregory VII)
The marvelous example of Christ's humility shone forth when, girt with a towel, the King of Glory diligently washed the feet of the fishermen and even of his betrayer. The marvelous richness of his generosity was manifest when he gave to those first priests, and as a consequence to the whole Church and the world, his most sacred body and his true blood as food and drink so that what was soon to be a sacrifice pleasing to God and the priceless price of our redemption would be our viaticum and sustenance. (St. Bonaventure)
In this Sacrament, O Christ, I find both Your humanity and Your divinity; from Your humanity I rise to Your divinity, and from it I go back to Your humanity. I see Your ineffable divinity which contains all the treasures of wisdom, of knowledge, of incorruptible riches. See the inexhaustible fountain of delights which alone can satisfy our intelligence. I see Your most precious soul, O Jesus, with all the virtues and gifts of the Holy Spirit, a holy and unspotted oblation; I see Your sacred Body, the price of our redemption; I see Your Blood, which purifies and vivifies us; in brief, I find treasures which are so precious and so great that I cannot comprehend them.
(St. Angela of Foligno)
In the Blessed Sacrament
God loves us so tenderly,
He empties Himself completely.
O, who could believe it?
Withholding nothing, He gives his all.
He gives his flesh for us to eat
He gives his blood for us to drink.
He gives his soul, his infinite being
To transform us into Himself.
Praised be the Blessed Sacrament!"
(St. Louis de Montfort)
Truly Jesus said to the apostles, after having instituted the Eucharistic sacrament, that he would drink a new wine together with them, once he entered into his reign. He calls it "new wine," because his body would be glorious; he says that he would drink it with them, to indicate to them their participation in his Eucharistic life. This blood, destined by God for the purification of the soul, is the blood of the Son of man who is also the Son of God, Jesus Christ. In the form of wine, He gave men and women living and life-giving blood, the true purification of souls, blood of the new and eternal covenant. Therefore, the Eucharistic existence of Christ who lives in the form of bread and wine, operates beyond this life, and gives the soul a mysterious life in Christ that never can grow less, because he is eternal by his nature. The Eucharistic body has a supernatural existence, which comes uniquely from heaven, and because of this is living and life-giving. No one can destroy it. (Bl. Antonio Rosmini)
The hour of the bloody marriage feast is very near, when he is to die on the cross, and let blood and water stream from his body. The water will flow into the well of baptism; the blood will flow and under the sign of the wine mixed with the water in the chalice of the altar. These are great mysteries: blood and water, both full of the life of God, pouring from his 'deepest heart'. There is life, pneuma, in this blood and water.
(Sr. Aemiliana Lohr)
It was the Pasch of Christ, his bloody death, which saved the world from its sins and fed it with food of everlasting life, god-life. On the eve of the earth's pasch, the saviour made of this pasch a complete mystery; he anticipated his death in the mystical rite, and made food of his sacrificed body, gave his blood as the foundation of a covenant. Here an historic event was celebrated but one which had its end beyond time, in God, in the passage from this aion to the world to come.
(Dom Odo Casel)
Archives