Fourth Sunday in Ordinary Time (B)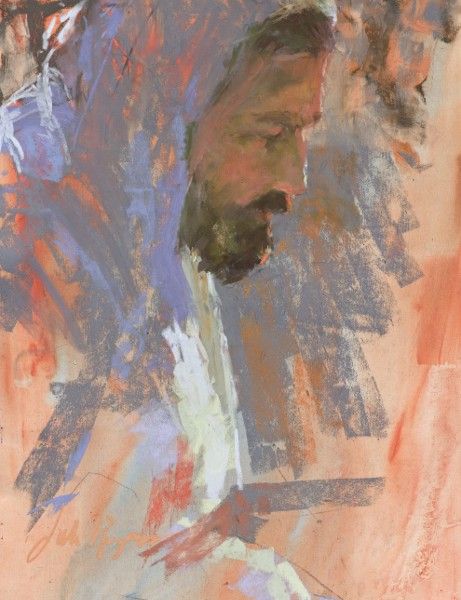 Introit
Kyrie
Gloria
Collect
Grant us, Lord our God,
that we may honor you with all our mind,
and love everyone in truth of heart.
Through our Lord Jesus Christ, your Son,
who lives and reigns with you in the unity of the Holy Spirit,
God, for ever and ever.
First Reading Dt 18:15-20
Moses spoke to all the people, saying:
"A prophet like me will the LORD, your God, raise up for you
from among your own kin;
to him you shall listen.
This is exactly what you requested of the LORD, your God, at Horeb
on the day of the assembly, when you said,
'Let us not again hear the voice of the LORD, our God,
nor see this great fire any more, lest we die.'
And the LORD said to me, 'This was well said.
I will raise up for them a prophet like you from among their kin,
and will put my words into his mouth;
he shall tell them all that I command him.
Whoever will not listen to my words which he speaks in my name,
I myself will make him answer for it.
But if a prophet presumes to speak in my name
an oracle that I have not commanded him to speak,
or speaks in the name of other gods, he shall die.'"
Responsorial Psalm Ps 95:1-2,6-7,7-9
R/. If today you hear his voice, harden not your hearts.
Come, let us sing joyfully to the LORD;
let us acclaim the rock of our salvation.
Let us come into his presence with thanksgiving;
let us joyfully sing psalms to him. R/.
Come, let us bow down in worship;
let us kneel before the LORD who made us.
For he is our God,
and we are the people he shepherds, the flock he guides. R/.

Oh, that today you would hear his voice:
"Harden not your hearts as at Meribah,
as in the day of Massah in the desert,
Where your fathers tempted me;
they tested me though they had seen my works." R/.
Second Reading 1 Cor 7:32-35
Brothers and sisters:
I should like you to be free of anxieties.
An unmarried man is anxious about the things of the Lord,
how he may please the Lord.
But a married man is anxious about the things of the world,
how he may please his wife, and he is divided.
An unmarried woman or a virgin is anxious about the things of the Lord,
so that she may be holy in both body and spirit.
A married woman, on the other hand,
is anxious about the things of the world,
how she may please her husband.
I am telling you this for your own benefit,
not to impose a restraint upon you,
but for the sake of propriety
and adherence to the Lord without distraction.
Alleluia Mt 4:16
Gospel Mk 1:21-28
Then they came to Capernaum,
and on the sabbath Jesus entered the synagogue and taught.
The people were astonished at his teaching,
for he taught them as one having authority and not as the scribes.
In their synagogue was a man with an unclean spirit;
he cried out, "What have you to do with us, Jesus of Nazareth?
Have you come to destroy us?
I know who you are—the Holy One of God!"
Jesus rebuked him and said,
"Quiet! Come out of him!"
The unclean spirit convulsed him and with a loud cry came out of him.
All were amazed and asked one another,
"What is this?
A new teaching with authority.
He commands even the unclean spirits and they obey him."
His fame spread everywhere throughout the whole region of Galilee.
Reflection Questions

Whom are you detecting that "speak in the name of other gods?"
What makes you "anxious about the things of the world?"
What are the "unclean spirits" most resistant to the teaching of Christ?
Catena Nova

All the epistles of the apostle teach self-control and continence and contain numerous instructions about marriage, begetting children, and domestic life. But they nowhere rule out self-controlled marriage. Rather they preserve the harmony of the law and the gospel and approve both the person who with thanks to God enters upon marriage with sobriety and the one who in accordance with the Lord's will lives as a celibate, even as each individual is called, making their choice without blemish and in perfection (St. Clement of Alexandria).
The most powerful weapon to conquer the devil is humility. For, as he does not know at all, how to employ it, neither does he know how to defend himself from it." (St. Vincent de Paul).
Deep convictions inspiring joy and peace, these are a part of the revelation which Christ, the Son of God, brings to those who obey him....Those who look towards him for teaching, who worship and obey him, will by degrees see "the light of the knowledge of the glory of God in his face, and will be changed into the same image from glory to glory...." Religion has a store of wonderful secrets which cannot be communicated to others, but which are most pleasant and delightful to know....Strange truths about ourselves, about God, about our duty, about the world, about heaven and hell, new modes of viewing things, discoveries which cannot be put into words, marvelous prospects and thoughts half understood, deep convictions inspiring joy and peace, these are a part of the revelation which Christ, the Son of God, brings to those who obey him (St. John Henry Newman).
There are two equal and opposite errors into which our race can fall about the devils. One is to disbelieve in their existence. The other is to believe, and to feel an excessive and unhealthy interest in them. They themselves are equally pleased by both errors and hail a materialist or a magician with the same delight (C.S. Lewis).
To offer the suffering of celibacy, temporary or permanent, to the Lord is to make use, in the best possible way, of man's greatest joy (Dorothy Day).
When Jesus opened his teaching ministry, Mark says that the people were "astounded" because he taught them "as one having authority, and not as the scribes." (Mk. 1: 22) Oddly, Mark doesn't include anything of what Jesus said. The Greek work exousia is much stronger than the English word that translates it. "Powerful authority" would bring us closer to the meaning. That Jesus' teaching was not like that of the scribes doesn't give us much more to go on as to the content, but it indicates that this authoritative teaching was distinct from those who were normally considered the teaching authorities. However, Jesus did something. Dramatically. He cast out an unclean spirit....However we understand the possession of this man, it is the imposition of something alien and oppressive....We get an important clue as to the nature of this alien invasion when the unclean spirit says: "I know who you are, the Holy One of God." (Mk. 1: 24).... [T]he term "Holy One of God" refers to Israel's priesthood. One of the main jobs of the priest was to expel anybody who was "unclean." Jesus' silences the unclean spirit, then, because the spirit is wrong. Jesus does not represent a priesthood who expels the "unclean." Quite the opposite. Jesus is expelling the collective attitude that the man is unclean when it is the crowd's spirit that has invaded the man and declared him unclean. By casting out this spirit, Jesus makes the man clean and so that he can rejoin the community.... Jesus is not healing an individual; he is healing a community.... We are left with the question of whether or not our communities accept the healing of Jesus where the unclean spirits of human persecution are cast out or if we will be swept away on the excitement of the crowd (Abbot Andrew Marr).
I have a nagging hunch that the gospel's power in our own time is about to be manifested in a manner as repugnant to the sensibilities of the society at large, and all of us who have accommodated ourselves to it, as the early Christian message was to Roman paganism. Our society is possessed, Christians as much as anyone. We are possessed by violence, possessed by sex, possessed by money, possessed by drugs. We need to recover forms of collective exorcism as effective as was the early Christian baptism's renunciation of "the devil and all his works" (Walter Wink).
Homily
The Devil You Say?
Wednesday of this past week was International Holocaust Remembrance Day, the anniversary of the liberation of the Nazi death camp at Auschwitz. Such things often pass with minimal notice but they do so at our peril. For in addition to the White supremacists at the Capitol siege three weeks ago, there were also anti-Semitic types who wore their vile slogans on sweatshirts with words like "Camp Auschwitz" emblazoned on them. Pope Francis, commenting on the Auschwitz observance noted, "We commemorate the victims of the Holocaust and all those persecuted and deported by the Nazi regime. To remember is an expression of humanity. Remembrance is a sign of civilization. To remember is a condition for a better future of peace and fraternity. Remembrance also means being careful because these things can happen again, starting with ideological proposals that are intended to save a people and end up destroying a people and humanity. Be aware of how this road of death, extermination, and brutality began."
As if to underscore the pope's words, another little-noticed event occurred earlier this month in Northern Ethiopia with the Church Times UK reporting as many as 750 people who were hiding in an Oriental Orthodox church – many trying to protect the Ark of the Covenant believed by some Ethiopian Christians to be housed there -- were rounded up by government troops and summarily shot to death in the town square. Ethiopia has been described as "a living nightmare" by Aid to the Church in Need personnel.
Apart from drawing attention to these things, I mention them for another reason: the Holocaust and atrocities like the Ethiopian massacre make be believe in the Devil. Oh, I don't mean to minimize the malice and cruelty of which human beings are capable, much less to mitigate their guilt, but to affirm my belief that such things have accomplices, that the perpetrators did not act alone. The sheer enormity of the evils human history has witnessed seems to me inexplicable solely on the basis of human nature, however depraved.
Hence, Satan and his legion of unclean spirits. For however much we might want to psychologize the exorcisms performed by Christ in the Gospels – not always without reason – as probable cases of epilepsy or else mental illness of some kind in a society that did not know of such things and hence mistakenly attributed them to demonic activity, it seems to me unwise to dismiss such accounts entirely.

And for once the world seems to agree – even if the Catholic Church is quite reticent to perform an exorcism and only then after all other explanations beside demonic activity have been eliminated. For while the church exercises great caution in these matters, the broader culture does not with its endless films and TV shows about demonic possession. If you are so inclined, for example, you can watch 6 seasons worth of Lucifer on Netflix and you could have tuned into Supernatural on the CW for 15 seasons.

By the way, Pope Francis isn't afraid to speak of the Devil either. He writes,
We will not admit the existence of the devil if we insist on regarding life by empirical standards alone, without a supernatural understanding. It is precisely the conviction that this malign power is present in our midst that enables us to understand how evil can at times have so much destructive force. True enough, the biblical authors had limited conceptual resources for expressing certain realities, and in Jesus' time epilepsy, for example, could easily be confused with demonic possession. Yet this should not lead us to an oversimplification that would conclude that all the cases related in the Gospel had to do with psychological disorders and hence that the devil does not exist or is not at work. He is present in the very first pages of the Scriptures, which end with God's victory over the devil. Indeed, in leaving us the Our Father, Jesus wanted us to conclude by asking the Father to "deliver us from evil". That final word does not refer to evil in the abstract; a more exact translation would be "the evil one". It indicates a personal being who assails us. Jesus taught us to ask daily for deliverance from him, lest his power prevail over us.
Hence, we should not think of the devil as a myth, a representation, a symbol, a figure of speech or an idea. This mistake would lead us to let down our guard, to grow careless and end up more vulnerable. The devil does not need to possess us. He poisons us with the venom of hatred, desolation, envy and vice. When we let down our guard, he takes advantage of it to destroy our lives, our families and our communities. "Like a roaring lion, he prowls around, looking for someone to devour" (1 Pet 5:8) (Gaudete et exultate, nos. 160-161).
I agree that somewhere between skepticism and credulity lies a prudent attitude toward such things. And while we shouldn't give the devil more than his due, a devil may care approach may not be helpful either. I've written before about a boy named Francesco who used to serve Mass at my first parish assignment. He was quiet, a little shy. A nice enough kid, from a good family. One day I got a phone call that Francesco had died. I asked how. "Was he ill? In an accident?" I avoided the S-word. But sure enough: suicide. Francesco had doused himself with kerosene and lit a match. Later, in the hospital, he asked to see a priest. He told the priest he had been involved in Satan worship. Some friends convinced him this would bring him power. But after a while, he felt guilty, and turned back to God. He picked up the Bible and found a passage in Revelation about the devil being consumed by fire. Hence the self-immolation. Shortly after receiving the last rites, Francesco died. He was twenty-one.
Somewhere along the line Francesco lost sight of where real power and protection are to be found. Not in frenzied attempts to subvert the political process to assert one's supremacy over others; not in the blandishments of murderous demagogues, and certainly not in dabbling with the occult, but only in Jesus, the Holy One of God. . .who commands even the unclean spirits and they obey him (G). His be the kingdom, the power, and the might forever and ever. Amen.
Creed
Intercessions
Let us intercede for our own needs and the needs of all in the name of Jesus, the Holy One of God.
That the church may teach the truth of God with an authority born of faithful witness and loving service.
That Jesus' teaching may rebuke the unclean spirits that torment our world: greed and violence, oppression and despair.
That the Lord our God may raise up prophets in every land and put in their mouths the challenging words of justice and peace.
That those burdened by emotional anguish or mental illness may receive the care they need, the love they desire, the healing they seek.
That those committed to celibacy for the sake of the gospel may grow in holiness and joy through their service of God and neighbor.
That unmarried people may find happiness in the gift of friendship and fulfillment in the kindness and care they extend to others.
That married couples may grow together in selfless love and share the blessings of that love with the wider community.
That each of us, leading the life to which God has called us, may strive to support one another in love.
That, with every unclean spirit cast out, the faithful departed may be led into the presence of the Holy One of God.
Your sovereign rule, O God, draws near to us in the person of Jesus your Son. Your word summons us to faith, your power transforms our lives. Free us to follow in Christ's footsteps, so that neither human loyalty nor earthly attachment may hold us back from answering your call. We ask this through Christ our Lord. Amen.
Interlude
Moses to gathered Israel said,
"One like to me, who'll be your head,
God will call forth and give him speech;
Let him your inmost heart then reach."
Jesus the Lord, one Sabbath day,
Cast out a spirit, who did say,
"You are God's Holy One, I know!"
Causing amazement there to grow.
Free of all worries called to be,
Busy with God's will endlessly,
We shall with Christ's own words most bold
Work until heaven we behold.
Lord's Prayer
Let us pray to be delivered from the power of evil as Jesus taught....
Spiritual Communion
Holy One of God, be present to us now who are unable to gather this day at your Table. Confirm us in your teaching, strengthen our obedience, free us from distraction, and enable us to renounce any unclean spirit opposed to your authority, that we might with profit enjoy anew your indwelling grace.
Thanksgiving
Closing Hymn (Wedding Canticle; John Rutter)


BLESSED are all they that fear the LORD, * and walk in his ways.
For thou shalt eat the labours of thine hands: * O well is thee, and happy shalt thou be.
Thy wife shall be as the fruitful vine * upon the walls of thine house;
Thy children like the olive-branches * round about thy table.
Lo, thus shall the man be blessed * that feareth the LORD.
The LORD from out of Sion shall so bless thee, * that thou shalt see Jerusalem in prosperity all thy life long;
Yea, that thou shalt see thy children's children, * and peace upon Israel. (Psalm 128; KJV)
Archives