Lent with the Book of Job (Ch. 10)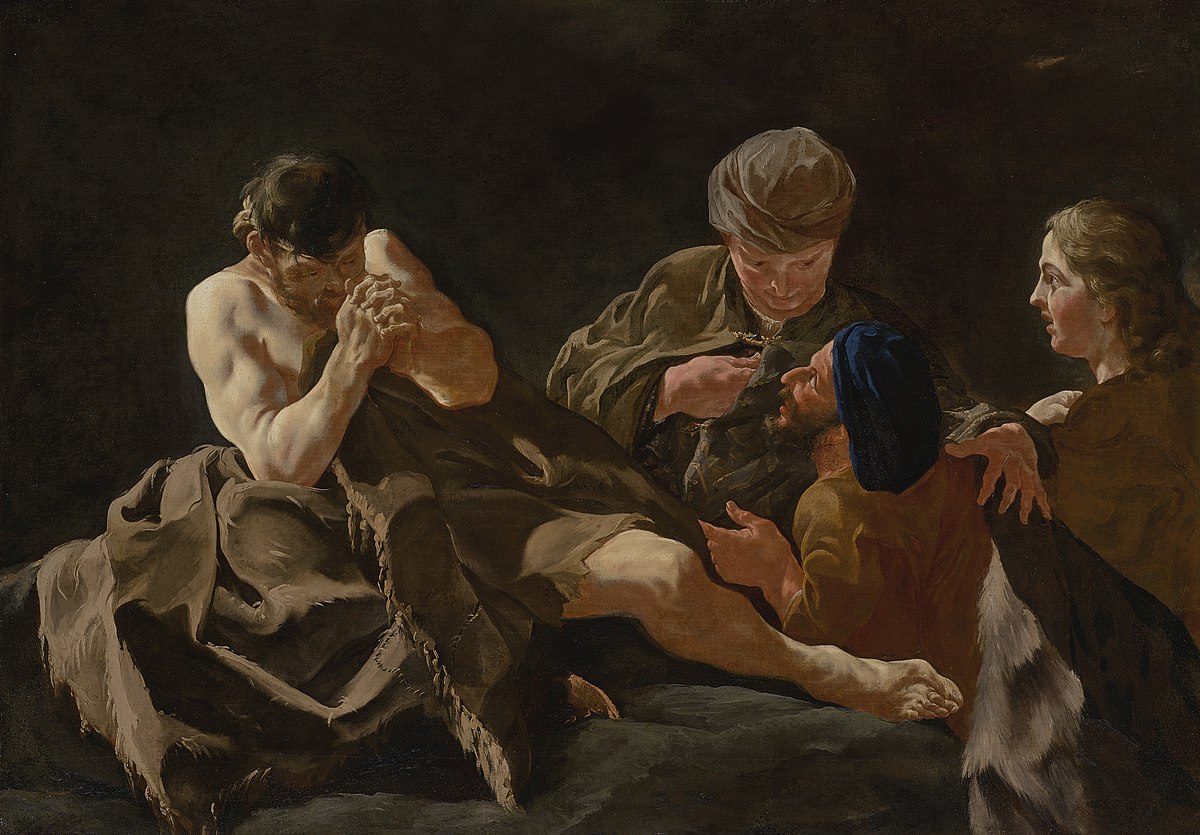 Chapter 10 (Friday of the First Week of Lent)
'I loathe my life;
I will give free utterance to my complaint;
I will speak in the bitterness of my soul.
I will say to God, Do not condemn me;
let me know why you contend against me.
Does it seem good to you to oppress,
to despise the work of your hands
and favour the schemes of the wicked?
Do you have eyes of flesh?
Do you see as humans see?
Are your days like the days of mortals,
or your years like human years,
that you seek out my iniquity
and search for my sin,
although you know that I am not guilty,
and there is no one to deliver out of your hand?
Your hands fashioned and made me;
and now you turn and destroy me.
Remember that you fashioned me like clay;
and will you turn me to dust again?
Did you not pour me out like milk
and curdle me like cheese?
You clothed me with skin and flesh,
and knit me together with bones and sinews.
You have granted me life and steadfast love,
and your care has preserved my spirit.
Yet these things you hid in your heart;
I know that this was your purpose.
If I sin, you watch me,
and do not acquit me of my iniquity.
If I am wicked, woe to me!
If I am righteous, I cannot lift up my head,
for I am filled with disgrace
and look upon my affliction.
Bold as a lion you hunt me;
you repeat your exploits against me.
You renew your witnesses against me,
and increase your vexation towards me;
you bring fresh troops against me.

'Why did you bring me forth from the womb?
Would that I had died before any eye had seen me,
and were as though I had not been,
carried from the womb to the grave.
Are not the days of my life few?
Let me alone, that I may find a little comfort
before I go, never to return,
to the land of gloom and deep darkness,
the land of gloom and chaos,
where light is like darkness.'
Commentary
Theology does not by itself provide wisdom in crisis. All theology must become a living spirituality to really change us or the world. It's disappointing that we Christians have emphasized theology, catechism, and religious education much more than prayer and practice. The biblical book of Job is probably one of the greatest books on prayer that has ever been written. It breaks our stereotypes of what it means to communicate with God.
If we view Job's story as a journey into an ever-deepening encounter with God, we keep the question of suffering from becoming an abstract debate observed at a distance. It is a text that only fully makes sense to those who've felt suffering, been up against the wall, at a place where, frankly, God doesn't make sense anymore and we no longer believe "God has a plan."
Job loses his livelihood, his savings, his family, and his health. His practical, religious friends appear as self-appointed messengers, to speak what they are sure is God's answer to Job's suffering. They offer the glib, pious platitudes of stereotypical clergy. What they do is try to take away the mystery, but they cannot solve the problem. God says you cannot solve the problem of suffering, you can only live the mystery. The only response to God's faithfulness is to be faithful ourselves.
Most of the things Job says to God in his pain are not what Christians have been trained to say to God. The pretty words are mostly gone; there's no "swirly talk," as writer-pastor Molly Baskette calls it, that Christians so love to put in their prayers. Instead, Job dares to confront God, the very thing many of us were trained never to do. In fact, we called it blasphemy.
During Job's crisis, he yells at God, accuses God of all kinds of things, speaks sarcastically, and almost makes fun of God. "If this is a game you're playing, then you're not much of a God! I don't need you and I don't want you!" It's this kind of prayer that creates saints. Yet we can't pray with that authority unless we know something experientially about God. We can't pray that way unless we are assured at a deep level of the profound connection between ourselves and God. It takes one who has ventured into that arena where we say angels fear to tread.
Ultimately Job's story reveals that God cannot really be known through theology and law. God can only be related to and known in relationship, just like the Trinity itself. Or, as the mystics assert, we know God by loving God, trusting God, and placing our hope in God. We cannot really "think" God.
Job's religious friends and advisers have correct theory but no experience; thoughts about God, but no love of God. They believe in their theology; Job believes in the God of their theology. It is a big difference. The first is information; the second is wisdom. (Richard Rohr; Job and the Mystery of Suffering)
Musical Selection
(Orlando Lassus)
Quis mihi hoc tribuat, ut in inferno protegas me, et abscondas me, donec pertranseat furor tuus, et constituas mihi tempus in quo recorderis mei? Putasne, mortuus homo rursum vivat? Cunctis diebus quibus nunc milito, exspecto donec veniat immutatio mea. Vocabis me, et ego respondebo tibi; operi manuum tuarum porriges dexteram. Tu quidem gressus meos dinumerasti, sed parce peccatis meis.
Who will grant me this, that thou mayst protect me in hell, and hide me till thy wrath pass, and appoint me a time when thou wilt remember me? That thou mayst protect me in hell. Shall man that is dead, thinkest thou, live again? all the days Thou shalt call me, and I will answer thee: to the work of thy hands thou shalt reach out thy right hand. Thou indeed hast numbered my steps, but spare my sins.
Collect
Lord,
prepare your people fittingly
for the celebration of Easter,
that the bodily penance we have solemnly begun
may work to the good of our souls.
We ask this through our Lord Jesus Christ, your Son,
who lives and reigns with you in the unity of the Holy Spirit,
God for ever and ever. Amen.
Archives