Fourth Sunday of Advent (B)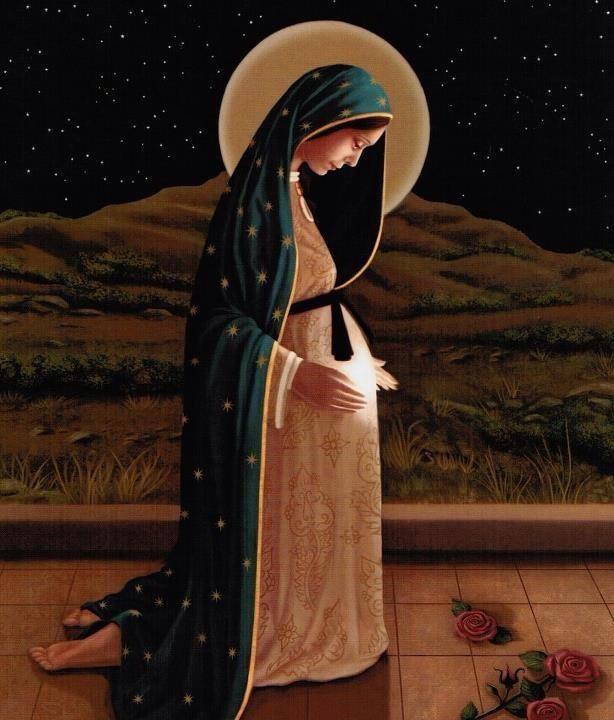 Introit
Kyrie
Collect
Pour forth, we beseech you, O Lord,
your grace into our hearts,
that we, to whom the Incarnation of Christ your Son
was made known by the message of an Angel,
may by his Passion and Cross
be brought to the glory of his Resurrection.
Who lives and reigns with you in the unity of the Holy Spirit,
God, for ever and ever. Amen.
First Reading 2 Sm 7:1-5,8b-12,14a,16
When King David was settled in his palace,
and the LORD had given him rest from his enemies on every side,
he said to Nathan the prophet,
"Here I am living in a house of cedar,
while the ark of God dwells in a tent!"
Nathan answered the king,
"Go, do whatever you have in mind,
for the LORD is with you."
But that night the LORD spoke to Nathan and said:
"Go, tell my servant David, 'Thus says the LORD:
Should you build me a house to dwell in?'

"It was I who took you from the pasture
and from the care of the flock
to be commander of my people Israel.
I have been with you wherever you went,
and I have destroyed all your enemies before you.
And I will make you famous like the great ones of the earth.
I will fix a place for my people Israel;
I will plant them so that they may dwell in their place
without further disturbance.
Neither shall the wicked continue to afflict them as they did of old,
since the time I first appointed judges over my people Israel.
I will give you rest from all your enemies.
The LORD also reveals to you
that he will establish a house for you.
And when your time comes and you rest with your ancestors,
I will raise up your heir after you, sprung from your loins,
and I will make his kingdom firm.
I will be a father to him,
and he shall be a son to me.
Your house and your kingdom shall endure forever before me;
your throne shall stand firm forever."
Responsorial Psalm Ps 89:2-3,4-5,27,29
R/. For ever I will sing the goodness of the Lord.
The promises of the LORD I will sing forever;
through all generations my mouth shall proclaim your faithfulness.
For you have said, "My kindness is established forever";
in heaven you have confirmed your faithfulness. R/.
"I have made a covenant with my chosen one,
I have sworn to David my servant:
Forever will I confirm your posterity
and establish your throne for all generations." R/.
"He shall say of me, 'You are my father,
my God, the Rock, my savior.'
Forever I will maintain my kindness toward him,
and my covenant with him stands firm." R/.
Second Reading Rom 16:25-27
Brothers and sisters:
To him who can strengthen you,
according to my gospel and the proclamation of Jesus Christ,
according to the revelation of the mystery kept secret for long ages
but now manifested through the prophetic writings and,
according to the command of the eternal God,
made known to all nations to bring about the obedience of faith,
to the only wise God, through Jesus Christ
be glory forever and ever. Amen.
Alleluia Lk. 1:38
Gospel Lk. 1:26-38
The angel Gabriel was sent from God
to a town of Galilee called Nazareth,
to a virgin betrothed to a man named Joseph,
of the house of David,
and the virgin's name was Mary.
And coming to her, he said,
"Hail, full of grace! The Lord is with you."
But she was greatly troubled at what was said
and pondered what sort of greeting this might be.
Then the angel said to her,
"Do not be afraid, Mary,
for you have found favor with God.
"Behold, you will conceive in your womb and bear a son,
and you shall name him Jesus.
He will be great and will be called Son of the Most High,
and the Lord God will give him the throne of David his father,
and he will rule over the house of Jacob forever,
and of his kingdom there will be no end."
But Mary said to the angel,
"How can this be,
since I have no relations with a man?"
And the angel said to her in reply,
"The Holy Spirit will come upon you,
and the power of the Most High will overshadow you.
Therefore the child to be born
will be called holy, the Son of God.
And behold, Elizabeth, your relative,
has also conceived a son in her old age,
and this is the sixth month for her who was called barren;
for nothing will be impossible for God."
Mary said, "Behold, I am the handmaid of the Lord.
May it be done to me according to your word."
Then the angel departed from her.
Reflection Questions

How might you need to hear Gabriel's words, "Do not be afraid?"
How have you "found favor with God?"
What challenges a belief that "nothing will be impossible for God?"
Catena Nova
Hail, full of grace, the Lord is with you. What Joy could surpass this, O Virgin Mother? What grace can excel that which God has granted to you alone? What could be imagined more dazzling or more delightful? Before the miracle we witness in you, all else pales; all else in inferior when compared with the grace you have been given. All else, even what is most desirable, must take second place and enjoy a lesser importance.... Truly, you are blessed among women. For you have changed Eve's curse into a blessing; and Adam, who hitherto lay under a curse, has been blessed because of you. Truly, you are blessed among women. Through you the Father's blessing has shone forth on humankind, setting them free of their ancient curse. Truly, you are blessed among women, because through you your forbears have found salvation. For you were to give birth to the Savior who was to win them salvation. Truly, you are blessed among women, for without seed you have borne, as your fruit, him who bestows blessings on the whole world and redeems it from that curse that made it sprout thorns. Truly, you are blessed among women, because, though a woman by nature, you will become, in reality, God's mother. If he whom you are to bear is truly God made flesh, then rightly do we call you God's mother. For you have truly given birth to God. Enclosed within your womb is God himself. He makes his abode in you and comes forth from you like a bridegroom, winning joy for all and bestowing God's light on all. You, O Virgin, are like a clear and shining sky, in which God has set his tent. From you he comes forth like a bridegroom leaving his chamber. Like a giant running his course, he will run the course of his life which will bring salvation for all who will ever live, and extending from the highest heavens to the end of them, it will fill all things with divine warmth and with life-giving brightness (St. Sophronius).
The angel came to Mary and said, Do not be afraid, Mary, for you have found favor with God. Behold, you will conceive in your womb and bear a son, and you shall name him Jesus. He will be great and will be called Son of the Most High, and the Lord God will give him the throne of David his father. (Lk 1:30-32) The angel refers to the kingdom of the Israelite nation as the throne of David because in his time, by the Lord's command and assistance, David governed it with a spirit of faithful service. The Lord God gave to our Redeemer the throne of his father David, when he decreed that he should take flesh from the lineage of David.
As David had once ruled the people with temporal authority, so Christ would now lead them to the eternal kingdom by his spiritual grace. Of this kingdom the Apostle said: "He has delivered us from the dominion of darkness and transferred us to the kingdom of his beloved Son." (Col 1:13) "He will reign over the house of Jacob for ever" (Lk 1:33). The house of Jacob here refers to the universal Church which, through its faith in and witness to Christ, shares the heritage of the patriarchs. This may apply either to those who are physical descendants of the patriarchal families, or to those who come from gentile nations and are reborn in Christ by the waters of baptism. In this house Christ shall reign for ever, and "of his kingdom there will be no end." During this present life, Christ rules in the Church. By faith and love he dwells in the hearts of his elect, and guides them by his unceasing care toward their heavenly reward. In the life to come, when their period of exile on earth is ended, he will exercise his kingship by leading the faithful to their heavenly country. There, for ever inspired by the vision of his presence, their one delight will be to praise and glorify him (St. Bede the Venerable).
The angel awaits your reply, Mary, for it is time that he should return to God, Who sent him. We, too, are waiting, O Lady, for a word of mercy we, who are groaning under the sentence of condemnation. See, the price of our salvation is offered to you; if you consent, we shall at once be delivered. By the Eternal Word of God we were all created, and behold we die. By your short answer we shall be refreshed and recalled to life. Adam, with all his race Adam, a weeping exile from Paradise, implores it of you. Abraham entreats you, David beseeches you. This is the object of the burning desires of the holy ancestors, of your ancestors, who are still dwelling in the region of the shades of death. Behold the entire human race prostrate at your feet in expectation. And rightly, for on your word depend the consolation of the wretched, the redemption of the captive, the freedom of the condemned, the salvation of your entire race, of all the children of Adam. Hasten, then, O Lady, to give your answer ; hasten to speak the word so longed for by all on earth, in limbo, and in heaven. Yea, the King and Lord of all things, Who has greatly desired your beauty, desires as eagerly your word of consent, by which He has purposed to save the world. He whom you have pleased by your silence will now be more gratified by your reply....Why do you delay ? Why are you fearful ? Believe confess receive. Let humility put on courage, and timidity confidence. It is certainly by no means fitting that virginal simplicity should forget prudence....Open, Blessed Virgin, your heart to faith, your lips to compliance, your bosom to your Creator. Behold, the desired of all nations stands at the gate and knocks. Oh, suppose He were to pass by while you delay ! How would you begin again with sorrow to seek Him whom your soul loveth ! Arise run open ! Arise by faith, run by devotion, open by acceptance. Mary speaks. " Behold the hand maid of the Lord, may it be done unto me according to thy word" (St. Bernard of Clairvaux).
O sweetest branch,
you bloom from Jesse's stock!
How great the mighty power,
that divinity
upon a daughter's beauty gazed—
an eagle turns his eye
into the sun:
As Heaven's Father tended to the Virgin's splendor
when he willed his Word
in her to be incarnate.
For in God's mystic mystery,
the Virgin's mind illuminéd,
the flower bright—a wonder!—
forth from that Virgin
sprung:
As Heaven's Father tended to the Virgin's splendor
when he willed his Word
in her to be incarnate.
Glory be to the Father and to the Son and the Spirit
Holy, as it was in the beginning.
As Heaven's Father tended to the Virgin's splendor
when he willed his Word
in her to be incarnate.
O branch of freshest green,
O hail! Within the windy gusts of saints
upon a quest you swayed and sprouted forth.
When it was time, you blossomed in your boughs—
"Hail, hail!" you heard, for in you seeped the sunlight's warmth
like balsam's sweet perfume.
For in you bloomed
so beautiful a flow'r, whose fragrance wakened
all the spices from their dried-out stupor.
They all appeared in full viridity.
Then rained the heavens dew upon the grass
and all the earth was cheered,
for from her womb she brought forth fruit
and for the birds up in the sky
have nests in her.
Then was prepared that food for humankind,
the greatest joy of feasts!
O Virgin sweet, in you can ne'er fail any joy.
All this Eve chose to scorn.
But now, let praise ring forth unto the Highest! (St. Hildegard of Bingen)
This is the first shining point of union between heaven and earth – the first of those events which were to be the greatest of all time. The Son of God, Word of the Father, "without whom was not anything made that was made" (John 1:3), in the order of creation, in this mystery takes on human nature and becomes a man, in order to save and redeem all people, all humankind. When Mary Immaculate, the finest and most fragrant flower of all creation, said in answer to the angel's greeting: "Behold the handmaid of the Lord" (Luke 1:38), she accepted the honour of divine motherhood, which was, in that moment, realised within her. And we, born once in our father Adam, formerly the adopted children of God but fallen from that high estate, are now once more brothers and sisters, adopted children of the Father, restored to His adoption by the redemption which was already begun. At the foot of the Cross, we shall all be children of Mary, with that same Jesus, whom she has conceived on that day. From that day onwards, she will be Mother of God (Mater Dei) and our Mother (Mater Nostra) too. What sublimity, what tender love is this first mystery! When we reflect on this, we see that our chief and constant duty is, to thank the Lord who deigned to come to save us and for this purpose, made Himself human, our fellow human; He has joined us by becoming the Son of a woman and by making us, at the foot of the Cross, the adopted sons and daughters of this woman. He wanted us, who were the adopted children of His Heavenly Father, to be the children of His own Mother. Let the intention of our prayer, as we contemplate this first picture offered to our thoughts, be, besides a constant feeling of gratitude, a real and sincere effort to acquire humility, purity and ardent love for the Blessed Virgin, who provides the most precious example of all these virtues (Pope St. John XXIII).
From the moment of Jesus' conception, then, we have the premonition that if the boy is going to grow up to become a king who rules forever, he is going to be a very different king than his ancestor David. He will be raised in a backwater of Galilee rather than in a palace. He will not have glossy magazines printing feature stories about him. His retinue will be a small group of men of humble origins, many of them fishers. The biggest and most crucial difference will be that David replaced Saul as king because he slew tens of thousands to Saul's thousands, (1 Sam: 18: 7) but Jesus would not wield a sword. Neither did he compete for the kingship with anybody, whether within or without Israel while David competed both against the Philistines and his own king. Rather than running a military operation, he let the Roman military operation run him up against the cross. But this slain king still reigns forever. How can this be? The angel also told Mary that her son would be holy and "be called the son of God." (Lk. 1: 35) Whereas David, descended from the house of Jesse in Bethlehem, rose up in the world, Jesus came down from heaven to a totally washed up royal house. That's quite a come down! But after dying on the cross, Jesus was raised from the dead where he does rule forever. And yet we still fight with each other, trying to kill tens of thousands over/against the thousands killed by our competitors. We fight those in our defined out-groups while we struggle against those within our in-groups whose authority we resent. But Jesus reigns without competing and without resentment. As one who became one of us among humans, Jesus is with us, within our hearts just as much as he is at the right hand of his heavenly Abba. Are we willing to be subject to a king as low as this? (Andrew Marr)
The annunciation to Mary can be read alongside the announcement to Zechariah of John the Baptist's birth. One annunciation happens to a priest in the Temple of God, during a liturgy, where everyone is waiting outside, while the other, happens to a young woman named Mary, in a small town that did not necessarily have a good reputation. This contrast is not insignificant. It serves as a sign that the new Temple of God, the new encounter of God with His people, will happen in places which we normally do not expect, on the margins, on the peripheries. By now, it will no longer be in a place reserved for the few, while the majority wait outside. Nothing and no-one, will be indifferent, no situation will be deprived of His presence, the joy of salvation began in the daily life of the home of a youth in Nazareth. Even today, God is still searching for hearts like Mary's that are open to welcoming His invitation and providing hope, even when it's hard. God continues to walk our neighbourhoods and our streets, He pushes in each place in search of hearts capable of listening to His invitation and making it become flesh here and now. In the end, the Lord continues to seek hearts like that of Mary, disposed to believe even in very extraordinary conditions. Just like He did with Mary, God also takes the initiative in our lives, inserting Himself into our daily struggles, anxieties and desires. It is precisely in the daily routine of our lives, that we receive the most beautiful announcement we can hear – "Rejoice, the Lord is with you!" (Pope Francis).
Homily
Who knows what she was doing? Was she making wedding plans, she and her mother putting the finishing touches on her dress, or thinking who to invite? Perhaps she was reading from the Torah, or on her way to the synagogue? Was she preparing a meal, dusting the furniture, doing the wash? Someone I know thought she was saying the Rosary! I told him I didn't think so. Maybe it all happened in a dream: when "the angel of the Lord appeared unto Mary."
But one thing's for sure: It happened in the most ordinary circumstances. For nothing could be more ordinary than a town of Galilee called Nazareth. And you can be sure the virgin named Mary was going about the most ordinary things, when the most extraordinary event in human history occurred: "She conceived by the Holy Spirit." Whatever task was interrupted by Gabriel's appearance to the handmaid of the Lord, it was, no doubt, the task at hand which occupied Mary the day she let it be done to [her] according to [his] word (cf. G). And she received in her womb the mystery kept secret for long ages (II).
This was not someone misled like King David into thinking God must be found in someplace extraordinary, in the splendor of a temple David thought to build, believing the ark of God was unfit to dwell in a tent. In his old age, David forgot how ordinary life was when God chose him to be famous like the great ones of the earth. He forgot how God took [him] from the pasture and from the care of the flock to be commander of [God's] people Israel. (I) Like Mary of Nazareth, David of Bethlehem was interrupted by God coming in the midst of routine. For God, you see, comes to us precisely there, in the rounds of daily life; He comes to us here and now, in the present moment.
Saint Francis De Sales once preached an Advent sermon, reminding his audience, "Our good is found in the present moment, which is today. Our life is the today in which we are living; who can promise himself a tomorrow?. . . . Absolutely no one--no matter who [s]he is. Our life consists in today, in this present moment in which we are living, and we cannot promise or assure ourselves of any other than that which we now enjoy. . . . Our whole life really depends on each present moment when we hear what must be done." Like Mary the day the angel appeared to her: that day when the world's salvation hung on her response to the present moment.
Living in the present moment is, of course, easier said than done. For we tend to live in the past, or else the future. We might look, for instance, to the past with nostalgia or regret. I know someone who watches only one thing on television: MeTV: a life full of reruns! Then there are people always fretting about tomorrow, or who live in a fanciful future. They prefer, like I do, Star Trek: The Next Generation, to the humdrum world of today. (Also in reruns!)
Now there's nothing wrong in itself, with looking back, or ahead. After all, the present is the product of the past. And woe to those who ignore its lessons and wisdom. Likewise, the future is shaped by present choices. Tomorrow doesn't just happen; in many ways, the future is what we make of the present moment. Yet, problems arise when the past or the future serve as places to escape from the present, wistfully wishing for what might have been "once upon a time" or dreamily longing for what might still be. All of which makes us less aware of the present, where God calls us to live.
Advent especially calls us to live in the present moment, on the lookout for God coming to us now, in the time "between" Christ's first and second coming. Time to live with greater urgency--yes in gratitude for what has been, and surely in hope for what shall be--but above all, in the here and now, attentive to God presently present.
Advent is time spent with Mary as Emmanuel takes shape within her day by day, moment to moment, till the days of her confinement are at an end. Mary, who surrendered herself to God's will, not only in her yes to the angel's message, but in each subsequent moment, with all the difficulties they would bring her: from the suspicions her pregnancy aroused, to the burdens of travel to Bethlehem, to the search for lodging, birth in a stable, through her exile into Egypt, to the loss of her Child in the Temple. All the scenes we shall shortly contemplate in the Christmas season.
Yet, through them all, Mary's soul magnified the Lord, and her spirit rejoiced in God her Savior, all the time practicing her obedience of faith in the present moment (II). Just as we do in the Eucharist: when we celebrate Christ who died and rose once in the past, who will come again in the future, but who meets us here and now in this present moment of grace. For it is here and now that we receive this pledge of eternal redemption (Prayer after Communion). To the only wise God, [then], through Jesus Christ, be glory forever and ever. Amen. (II)
Creed
Intercessions
For the people of God, the house the Lord is building: may all who call on God's name grow in the obedience of faith.
For all the peoples of earth, one Kingdom of God: may all who love peace be sheltered from violence.
For those in doubt or fear, perplexed by life's mystery: may their anxiety yield to trust in God's saving plan and purpose.
For those parents awaiting the birth of a child: like the Virgin Mary may they joyfully ponder God's power and goodness.
For the homeless and destitute, those abandoned by society: may God bring them to their own place and surround them with loving care.
For our communities and their life of worship and witness: may the Spirit come upon us, the power of the most high overshadow us.
For those whose days are fulfilled and who are gathered with our ancestors: may they be established in God's Kingdom of peace and rest.
Here in our midst, O God of mystery, you disclose the secret hidden for countless ages. For you we wait, for you we listen. Upon hearing your voice may we, like Mary, embrace your will and become a dwelling fit for your Word. Grant this through Christ our Lord. Amen.
Interlude (Gabriel's Message; Old Basque Carol)
The angel Gabriel from heaven came
His wings as drifted snow his eyes as flame
"All hail" said he "thou lowly maiden Mary,
Most highly favored lady," Gloria!
"For know a blessed mother thou shalt be,
All generations laud and honor thee,
Thy Son shall be Emanuel, by seers foretold
Most highly favored lady," Gloria!
Then gentle Mary meekly bowed her head
"To me be as it pleaseth God," she said,
"My soul shall laud and magnify his holy name."
Most highly favored lady. Gloria!
Of her, Emanuel, the Christ was born
In Bethlehem, all on a Christmas morn
And Christian folk throughout the world will ever say:
"Most highly favored lady," Gloria!
Lord's Prayer
In union with the Virgin Mary's "fiat," we pray the Lord's will be done in the words Jesus taught us....
Spiritual Communion
Though longing for communion with your Eucharistic Body, Lord, we are unable to be present this day at your altar. Come to us spiritually and make your dwelling within us according to your words, "If anyone love Me, they will keep My word, and My Father will love them, and we will come to them and will make a home with them" (cf. Jn. 14:23). "Come, Lord Jesus, come!"
Thanksgiving
Closing Hymn
Tell out my soul the greatness of the Lord!
Unnumbered blessings give my spirit voice;
Tender to me the promise of His word;
In God my Savior shall my heart rejoice.

Tell out my soul the greatness of His Name!
Make known His might, the deeds His arm has done
His mercy sure, from age to age the same.
His holy Name, the Lord, the Mighty One.

Tell out, my soul, the greatness of His might!
Pow'rs and dominions lay their glory by.
Proud hearts and stubborn wills are put to flight;
The hungry fed, the humble lifted high.

Tell out, my soul, the glories of His word.
Firm is His promise, and His mercy sure.
Tell out, my soul, the greatness of the Lord
To children's children and forevermore!
Archives