Season of Creation with St. Hildegard of Bingen (Days 25-28)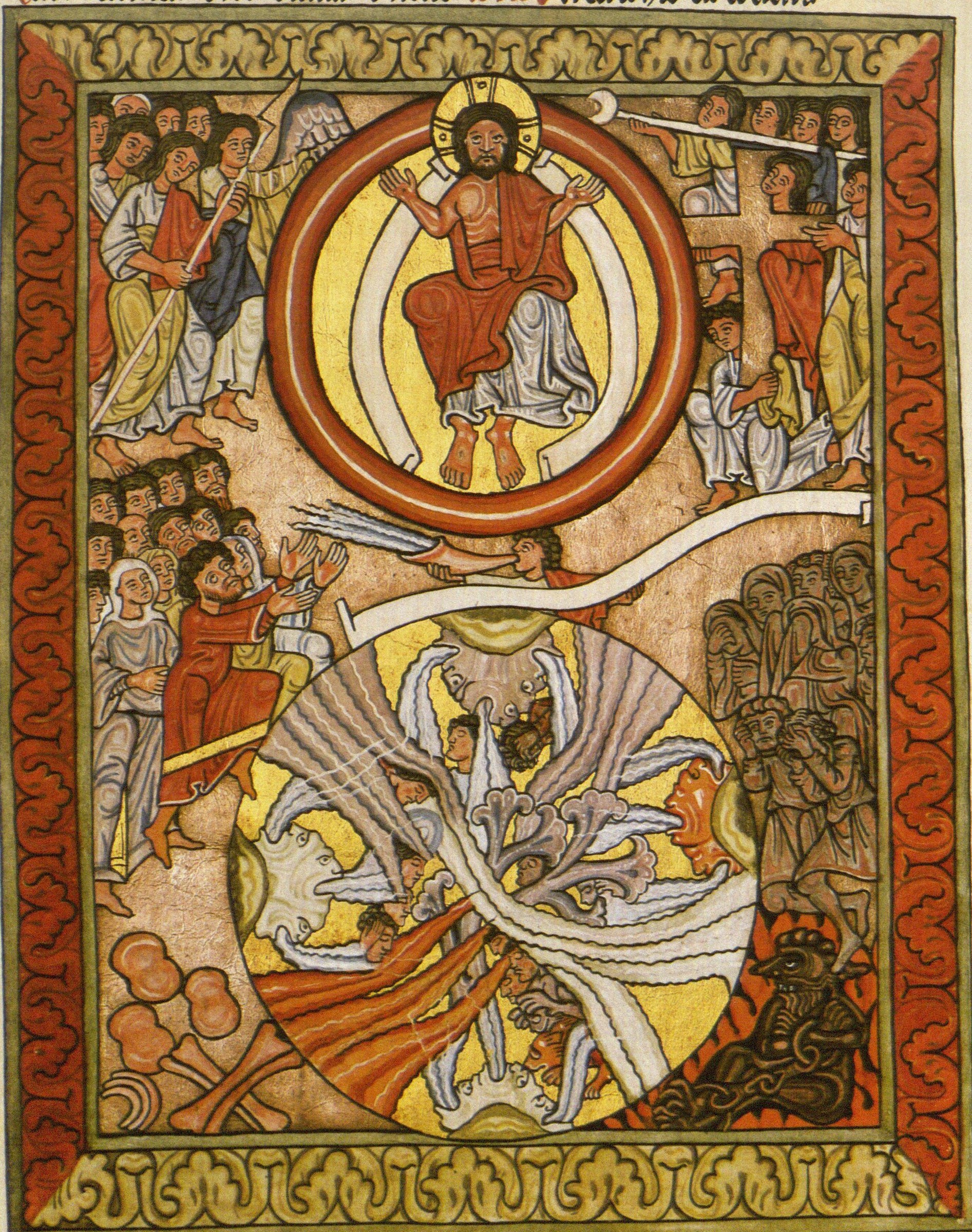 September 25
Wisdom is radiant and unfading,
and she is easily discerned by those who love her,
and is found by those who seek her.
She hastens to make herself known to those who desire her.
One who rises early to seek her will have no difficulty,
for she will be found sitting at the gate.
To fix one's thought on her is perfect understanding,
and one who is vigilant on her account will soon be free from care,
because she goes about seeking those worthy of her,
and she graciously appears to them in their paths,
and meets them in every thought.
The beginning of wisdom is the most sincere desire for instruction,
and concern for instruction is love of her,
and love of her is the keeping of her laws,
and giving heed to her laws is assurance of immortality,
and immortality brings one near to God;
so the desire for wisdom leads to a kingdom.
Therefore if you delight in thrones and sceptres, O monarchs over the peoples,
honour wisdom, so that you may reign for ever.
I will tell you what wisdom is and how she came to be,
and I will hide no secrets from you,
but I will trace her course from the beginning of creation,
and make knowledge of her clear,
and I will not pass by the truth;
nor will I travel in the company of sickly envy,
for envy does not associate with wisdom.
The multitude of the wise is the salvation of the world,
and a sensible king is the stability of any people.
Therefore be instructed by my words, and you will profit. (Wisdom 6:12-25)
Meditation
'On the right, above the sweep of the wing, was an image of an eagle's head', and you saw it had 'eyes of fire in which there appeared the brilliance of angels as in a mirror'. At the heights of triumphant subjection, then, when a person submits to God and conquers the devil, she is carried aloft in the joy of divine protection. And, fired by the Holy Spirit, when she raises up her mind and fixes her gaze upon God, then the blessed spirits appear in her in plain sight and offer to God the devotion of her heart. The eagle thus symbolizes the spiritual men and women who in full devotion of mind and in contemplation frequently gaze upon God like the angels. Therefore the blessed spirits, who ceaselessly contemplate God, rejoice in the good works of just people, and they show these works to God with their own natures, and so they continue their praise of God and never come
to an end, for they will never exhaust his fullness. Could anyone ever count all the innumerable wonders which God brings about through his power and might? Indeed for the angels there is a brightness as of many mirrors, and through this brightness they see, but no one is as active or as powerful as God, since no one is like him, and he is not subject to time. (The Book of Divine Works I, 6)
Chant Prayer
How great the wonder is!
Into the female form subdued
the King
has come.
This God has done, for meekness
mounts o'er all.
And O how great the happiness
is in that form,
for malice,
which from a woman flowed—
a woman then this malice wiped away,
and ev'ry sweet
perfume of virtues she has raised—
the heavens graced
far more than e'er the earth
in chaos cast. (Trans. Nathaniel Campbell)
September 26
Tell me, you whom my soul loves,
where you pasture your flock,
where you make it lie down at noon;
for why should I be like one who is veiled
beside the flocks of your companions?
If you do not know,
O fairest among women,
follow the tracks of the flock,
and pasture your kids
beside the shepherds' tents.
Ah, you are beautiful, my love;
ah, you are beautiful;
your eyes are doves.
Ah, you are beautiful, my beloved,
truly lovely.
He brought me to the banqueting house,
and his intention towards me was love. (Song of Songs 1:7-8,15-16; 2:4)
Meditation
Tell me, you whom my heart loves, where you pasture your flock, where you give them rest at midday, lest I be found wandering after the flocks of your companions (Song of Songs 1.7). This means the following. Wisdom did indeed say these things through Solomon, for when Solomon knew that he had been steeped in wisdom, he spoke to wisdom with the intimacy of love, like to a woman, and Wisdom said: "I then rose up and shook my mantle off and filled it with a hundred and thousand drops of dew. in which God values man. Thus we in turn spoke. For as I ordered all things when I surrounded the circle of heaven, I also spoke to Solomon about the love of the Creator for the creature and the creature for the Creator. I spoke about how the Creator loved the creature greatly, how the creature wanted to kiss the Creator, and how the creature obeyed the Creator because it was obedient to him in all things since the creature was kissed by the Creator when God gave it all the things it needed. I imitate the love of the Creator for the creature and the creature for the Creator with the love and faith by which God joins a man and woman together so that they can have children. As every creature proceeded from God, so also every creature looks back to God with his own talents and does not do anything without God's instruction, just as a woman looks to a man so that she can fulfill his commands in a way that is pleasing to him. Similarly, the creature is drawn to the Creator when it is submissive to him in all things and the Creator is present to the creature when he gives it greenness and strength. But the creature is made black when it does not use its talent correctly, but it is beautiful when it does its duty justly. Therefore, good comes to the creature who clings to the Creator for the necessities of life since the Creator brings. forth all the things the creature needs."
Wisdom also speaks to the Creator with loving love, as if she were speaking to her beloved, asking him where to bring food and where to bring the quietness of her virtue. She does not run around in error with idols who falsely claim the name of the Divinity for them selves. Similarly, man, who is all creature, seeks a kiss from God through the good will of his soul when he obtains grace, and he longs to be with the sweetness of God as he runs strenuously toward him. When he denies the shadow of sin, he restores his beauty through repentance so that he gives out a good and holy aroma with good fame for the daughters of the heavenly Jerusalem, of course, when he rises above his own will. Therefore, man also speaks to Christ, his redeemer, saying: "Through the beauty of your commandments that I follow in my soul since you redeemed me and lifted me up from death, show me the human nature that you received from the virgin and through which you ac complished all your work, just like the smell of good aromas in a garden full of aromas. Your humility as a human moistened all your good works, as a rose from heaven falls upon the earth where it can be watered. Show me where you rest in your burial place of death since in the fullness of faith, the fullest heart of the sun, of course, the Holy Spirit, filled up the faithful when the old law was fulfilled by the Holy Spirit after your resurrection and ascension. Otherwise I might run backwards to the old legal precepts and to the ancient philosophers who were with you when they brought forth those things that you inspired. I will not do this, however, because I do not want to return to squalid ways and idle works that will separate me from happiness." (Book of Life's Merits V, 31)
Chant Prayer
O Father of all and King and Emperor of the nations,
you founded us in our first mother's rib,
who drew up for us our hardship's grandest fall.
So we have followed her,
in our own right in exile sharing
commonly her pain.

O noblest Sire,
our course with keenest zeal we run to you,
and in penitence
so sweet and savored,
which comes to us from you, to you we heave our sighs,
and when our pain is past,
devotedly do you embrace.

O Christ, most glorious and fair,
you are life's resurrection!
For you we have relinquished
the fertile lover of a marriage,
and you we have embraced in heaven's charity
and in the virgin branch of your nativity—
to you we're joined with different turn
than once we were as to the flesh.

Help us to persevere and with you to rejoice
and from you never to be cleaved. (Trans. by Nathaniel M. Campbell)
[Over the next several days, other visions have a Christological focus albeit with similar imagery to the previous].
September 27
I [John] turned to see whose voice it was that spoke to me, and on turning I saw seven golden lampstands, and in the midst of the lampstands I saw one like the Son of Man, clothed with a long robe and with a golden sash across his chest. His head and his hair were white as white wool, white as snow; his eyes were like a flame of fire, his feet were like burnished bronze, refined as in a furnace, and his voice was like the sound of many waters. In his right hand he held seven stars, and from his mouth came a sharp, two-edged sword, and his face was like the sun shining with full force. (Revelation 1:12-16)
Meditation
I [Hildegard], a person not glowing with the strength of strong lions or taught by their inspiration, but a tender and fragile rib imbued with a mystical breath, saw a blazing fire, incomprehensible, inextinguishable, wholly living and wholly Life, with a flame in it the color of the sky, which burned ardently with a gentle breath, and which was as inseparably within the blazing fire as the viscera are within a human being. And I saw that the flame sparked and blazed up. And behold! The atmosphere suddenly rose up in a dark sphere of great magnitude, and that flame hovered over it and gave it one blow after another, which struck sparks from it, until that atmosphere was perfected and so Heaven and earth stood fully formed and resplendent. Then some flame was in that fire, and that burning extended itself to a little clod of mud which lay at the bottom of the atmosphere, and warmed it so that it was made flesh and blood, and blew upon it until it rose up a living human. When this was done, the blazing fire, by means of that flame which burned ardently with a gentle breath, offered to the human a white flower, which hung in that flame as dew hangs on the grass . Its scent came to the human's nostrils, but he did not taste it with his mouth or touch it with his hands, and thus he turned away and fell into the thickest darkness, out of which he could not pull himself. And that darkness grew and expanded more and more in the atmosphere. But then three great stars, crowding together in their brilliance, appeared in the darkness, and then many others, both small and large, shining with great splendor, and then a gigantic star, radiant with wonderful brightness, which shot its rays toward the flame. And in the earth too appeared a radiance like the dawn, into which the flame was miraculously absorbed without being separated from the blazing fire. And thus in the radiance of that dawn the Supreme Will was enkindled. (Scivias II 1)
Chant Prayer (Antiphon for St. John the Evangelist)
O mirror of the dove—
the chastest form—
you gazed upon the mystic bounty
within the clearest font:

O wondrous, flourished bloom
that never withered, never fell—
the Most High
Gardener has sent you forth:

O sweet repose
of sunshine's warm embrace:
the Lamb's especial son you are
within that privileged friendship of
a new posterity. (Trans. by Nathaniel M. Campbell)
September 28
Then I [John] saw in the right hand of the one seated on the throne a scroll written on the inside and on the back, sealed with seven seals; and I saw a mighty angel proclaiming with a loud voice, 'Who is worthy to open the scroll and break its seals?' And no one in heaven or on earth or under the earth was able to open the scroll or to look into it. And I began to weep bitterly because no one was found worthy to open the scroll or to look into it. Then one of the elders said to me, 'Do not weep. See, the Lion of the tribe of Judah, the Root of David, has conquered, so that he can open the scroll and its seven seals.' Then I saw between the throne and the four living creatures and among the elders a Lamb standing as if it had been slaughtered, having seven horns and seven eyes, which are the seven spirits of God sent out into all the earth. He went and took the scroll from the right hand of the one who was seated on the throne. When he had taken the scroll, the four living creatures and the twenty-four elders fell before the Lamb, each holding a harp and golden bowls full of incense, which are the prayers of the saints. They sing a new song:

'You are worthy to take the scroll
and to open its seals,
for you were slaughtered and by your blood you ransomed for God
saints from* every tribe and language and people and nation;
you have made them to be a kingdom and priests serving our God,
and they will reign on earth.' (Revelation 5:1-10)
Meditation
When I [Hildegard] tried to consider more closely the kindling of that will, I was opposed by a secret seal on the vision, and I heard a voice speak to me from on high: 'Of this mystery you may not see any more than is granted you through the miracle of belief.' And I saw a light-filled man emerge from the aforesaid dawn and pour his brightness over the aforementioned darkness; it repulsed him; he turned blood-red and pallid, but struck back against the darkness with such force that the man who was lying in the darkness became visible and resplendent through this contact, and standing up, he came forth out of the darkness. And thus the light-filled man, who had emerged from the dawn, appeared in greater splendour than any human tongue can express, and he proceeded to the utmost heights of immeasurable glory, where he shone out wondrously in the fullness of great fragrance and fruitfulness.

And I heard a voice speaking to me from the living fire I have mentioned: Insignificant earthly creature! Though as a woman you are uneducated in any doctrine of fleshly teachers in order to read writings with the understanding of the philosophers, nevertheless you are touched by my light, which touches your inner being with fire like the burning sun. Shout and tell! And write down these my mysteries which you see and hear in the mystical vision! Do not be afraid, but tell the mysteries as you understand them in the spirit, as I speak them through you. May they be ashamed who should be showing righteousness to my people! Through the fickleness of their own morals, they refuse to proclaim openly the justice which they know for themselves! They have no will to cease from their evil desires, which stick to them as though they were their teachers, causing them to run away from the face of the Lord, so that they are ashamed to speak the truth. Therefore, paltry soul, instructed as you are in your inner being by mystical inspiration, and although you are trampled by the male form because of Eve's transgression, speak nevertheless of the fiery work of salvation which this most certain vision reveals to you! The living God, who created all things through his Word, led the miserable human being who had fallen into darkness back to the salvation of faith through the Word incarnate. What does this mean? (Scivias II 1)
Chant Prayer (Responsory for St. John the Evangelist)
R. O chosen sweet,
inflamed by Flame
you gleamed, a root,
and in the Father's radiance
you beamed the mysteries,
and went into
the bed of chastity
within the golden City,
constructed by the King
when he received the scepter of the lands:

R. To pilgrims lend your aid.

V. For you have swelled the rain
together with your predecessors,
who cast it
with the spicers' viridity.

R. To pilgrims lend your aid. (Trans. by Nathaniel M. Campbell)
Archives