15th Sunday in Ordinary Time (B)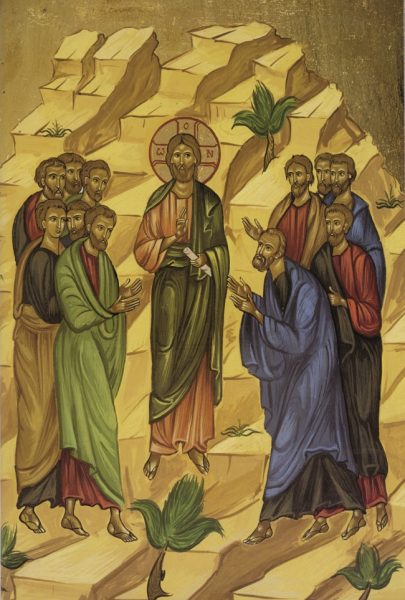 Introit
Kyrie
Gloria
Collect
O God, who show the light of your truth
to those who go astray,
so that they may return to the right path,
give all who for the faith they profess
are accounted Christians
the grace to reject whatever is contrary to the name of Christ
and to strive after all that does it honor.
Through our Lord Jesus Christ, your Son,
who lives and reigns with you in the unity of the Holy Spirit,
God, for ever and ever. Amen.
First Reading Am 7:12-15
Amaziah, priest of Bethel, said to Amos, "Off with you, visionary, flee to the land of Judah! There earn your bread by prophesying, but never again prophesy in Bethel; for it is the king's sanctuary and a royal temple." Amos answered Amaziah, "I was no prophet, nor have I belonged to a company of prophets; I was a shepherd and a dresser of sycamores. The LORD took me from following the flock, and said to me, "Go, prophesy to my people Israel."
Responsorial Psalm Ps 85:9-10, 11-12, 13-14
R. (8) Lord, let us see your kindness, and grant us your salvation.
I will hear what God proclaims;
the LORD —for he proclaims peace.
Near indeed is his salvation to those who fear him,
glory dwelling in our land.

Kindness and truth shall meet;
justice and peace shall kiss.
Truth shall spring out of the earth,
and justice shall look down from heaven.

The LORD himself will give his benefits;
our land shall yield its increase.
Justice shall walk before him,
and prepare the way of his steps.
Second Reading Eph 1:3-10
Blessed be the God and Father of our Lord Jesus Christ, who has blessed us in Christ with every spiritual blessing in the heavens, as he chose us in him, before the foundation of the world, to be holy and without blemish before him. In love he destined us for adoption to himself through Jesus Christ, in accord with the favor of his will, for the praise of the glory of God's grace that he granted us in the beloved. In him we have redemption by his blood, the forgiveness of transgressions, in accord with the riches of his grace that he lavished upon us. In all wisdom and insight, he has made known to us the mystery of his will in accord with his favor that he set forth in him as a plan for the fullness of times, to sum up all things in Christ, in heaven and on earth.
Alleluia Cf. Eph 1:17-18
Gospel Mk 6:7-13
Jesus summoned the Twelve and began to send them out two by two and gave them authority over unclean spirits. He instructed them to take nothing for the journey but a walking stick— no food, no sack, no money in their belts. They were, however, to wear sandals but not a second tunic. He said to them, "Wherever you enter a house, stay there until you leave. Whatever place does not welcome you or listen to you, leave there and shake the dust off your feet in testimony against them." So they went off and preached repentance. The Twelve drove out many demons, and they anointed with oil many who were sick and cured them.
Reflection Questions

Have you ever been called elsewhere while minding your own business?
How is the mystery of God's will being made known to you at this time?
Have you ever felt a need to shake the dust from your feet and move on?
Catena Nova
The Church, spread throughout the whole world, received this preaching and this faith and now preserves it carefully, dwelling as it were in one house. Having one soul and one heart, the Church holds this faith, preaches and teaches it consistently as though by a single voice. For though there are different languages, there is but one tradition (St. Irenaeus).
Besides teaching himself the Lord also sent out the Twelve in pairs. The reason for sending them in pairs was so that they would go more readily, for they might not have been so willing to set out all alone, and, on the other hand, if he had sent more than two together, there would not have been enough apostles to cover all the villages.... He commanded them to take nothing with them, neither bag, nor money, not bread, so as to teach them to despise riches, and to make people ashamed when they saw them preaching poverty by their own lack of possessions....The Lord instructed them to stay in the same house so as not to give the appearance of restlessness, as though they moved from one family to another in order to satisfy their stomachs. On the other hand, he told them to shake the dust off their feet when people refused to receive them, to show that they had made a long journey for their sakes and they owed them nothing; they had received nothing from them, not even their dust, which they shook off as a testimony against them—a testimony of reproach.... "So they set out to preach repentance. They cast out many demons, and anointed many sick people with oil and cured them" (Theophylact).
It must be pointed out to the preacher, if he is to cause his people profit and not to embarrass himself with vain joy and presumption, that preaching is a spiritual exercise rather than a vocal one. For, although it is practiced by means of outward words, its power and efficacy reside not in these but in the inward spirit. Wherefore, however lofty be the doctrine that is preached, and however choice the rhetoric and sublime the style wherein it is clothed, it brings as a rule no more benefit than is present in the spirit of the preacher (St. John of the Cross).
Everyone who breathes, high and low, educated and ignorant, young and old, man and woman, has a mission, has a work. We are not sent into this world for nothing; we are not born at random; we are not here, that we may go to bed at night, and get up in the morning, toil for our bread, eat and drink, laugh and joke, sin when we have a mind, and reform when we are tired of sinning, rear a family and die. God sees every one of us; He creates every soul, . . . for a purpose. He needs, He deigns to need, every one of us. He has an end for each of us; we are all equal in His sight, and we are placed in our different ranks and stations, not to get what we can out of them for ourselves, but to labor in them for Him. As Christ has His work, we too have ours; as He rejoiced to do His work, we must rejoice in ours also (St. John Henry Newman).
God is so good that he orders his representatives, each time they enter a home, to utter these words: Peace to this home. And he commits himself to make such words effective, bringing forth the peace they express, making it actually descend from heaven on this home at the very moment the words are uttered, provided that the souls inhabiting it do not of themselves reject peace through ill will. Let us hope, since we receive such gifts every day; let us hope especially since the heart of Jesus loves us to the extent of giving us so much! (Bl. Charles De Foucauld).
As the herald of the Gospel the Church begins its task by evangelizing itself. The Church is a fellowship made up of believers. This means it is a fellowship of living and shared hope. It is also a fellowship of familial love. It needs to hear the heart of its faith continually proclaimed. It needs to recall the grounds of its hope. This all comes through the new commandment of love. The Church is the People of God, living in the world and frequently tempted by false gods. So we, as the Church, need to be reminded of God's mighty deeds and their call to conversion. We need to hear the Lord's call anew. We need to be gathered together again into unity. The Church always needs to listen to the Gospel message. The only way it can retain vigor and zeal and discover in itself the power to proclaim Christ's message is through this listening. The only way for the Church to evangelize others is by evangelizing itself and being continually converted and renewed.... It is only insofar as it is evangelized that the Church can be sent out to preach. It sends out evangelists to continue the work which brought its members of God. It puts the word of salvation into our mouths.... The Church owes its origin to the preaching of the Good New by Jesus, and then by the Twelve.... The mission of evangelizing is that of the entire Church and each individual member. The labor and prayer and love of each is important for the fulfillment of the task given the whole (Pope St. Paul VI).
In the Gospel Jesus instructs the Apostles to take nothing for the journey but a walking stick - no food, no sack, no money in their belts. In essence, poverty. The apostle must be a pastor who does not seek sheep's milk, who does not seek sheep's wool. As expressed by Saint Augustine the shepherd who seeks milk seeks money, and the shepherd who seeks wool likes to dress with vanity. I invite Christians to follow a path of poverty, humility, meekness. Jesus told the Apostles "Whatever place does not welcome you or listen to you, leave there and shake the dust off your feet", but do so with meekness and humility. If an apostle, an envoy, one of us goes, with his nose in the air, believing himself superior to the others or because of self-interest looking for some human interest he will never heal anyone, he will never succeed in opening anyone's heart, because his word will have no authority (Pope Francis).
Homily
Minding Our Business
Imagine if you will, a bishop standing in front of the White House, and telling the President that his policies were an affront to the law of God and that, as a result, he would be impeached and die in a foreign country, and that the nation itself would be severely chastised for its infidelity to the Founders' vision for America, especially its oppression of the needy at the gate, and that its reliance on wealth and prosperity was a false god, and would soon be lost in an economic and social collapse from which it would never recover.

Then imagine the President appearing on the balcony of the Executive Mansion and yelling down to the bishop that his message was alarmist hogwash, an insult to the people of the United States, and that he should leave the country for his lack of patriotism. All at the urging of self-serving religious leaders who imagined themselves to be God's spokesmen.

Well, if you can imagine such a thing, then you've come pretty close to the experience of the prophet Amos in his confrontation with Jeroboam, King of Israel, whom the priest Amaziah and his temple cohorts urged to see the prophet off since the country could endure all his words (Amos 7:10). So the king, heeding the priest's counsel ordered Amos to leave the country, saying, Off with you, visionary, flee to the land of Judah! … never again prophesy in Bethel (I).
Well, in fact, it doesn't take much vision to imagine such things. The church in the United States has been embroiled in a highly-polarizing controversy these past months as a number of bishops have called for Catholics in public office – the President, in particular – to refrain from receiving Holy Communion for supporting policies that would maintain the legality of abortion in this country. We await a teaching document later this year that would spell out the rationale for such "Eucharistic coherence," called for by about three-fourths of the episcopate and opposed by the remaining quarter at their semi-annual meeting last month.
As for a politician calling out the church, we turn to Canada whose Prime Minister, Justin Trudeau, echoing the outrage of much of the populace, has called for Pope Francis to make a personal appearance on Canadian soil to apologize for the complicity of church personnel in the neglect and abuse of Indigenous children who staffed the government's residential schools in what has been termed "cultural genocide."

As for priests in both these cases, the parish council of President Biden's Holy Trinity parish in Washington – with the presumed concurrence of the Jesuits who staff it -- has made it clear "will not deny the Eucharist to persons presenting themselves to receive it." While the bishop of Syracuse, Douglas Lucia, has called on Pope Francis to repudiate the "Doctrine of Discovery," a series of 15th Century papal decrees that gave warrant for European colonial powers to conquer Indigenous peoples and occupy their land. "This particular doctrine has been used to justify both political and personal violence against Indigenous nations, Indigenous peoples and their culture — their religious and their territorial identities," noted the bishop.
And where in all of this, you might ask, is the authentic voice of prophecy, à laAmos? Well – and I am no Amos – in the matter of Communion, Vatican officials themselves have made it known to the American bishops that "any statement of the conference regarding Catholic political leaders would best be framed within the broad context of worthiness for the reception of Holy Communion on the part of all the faithful, rather than only one category of Catholics, reflecting their obligation to conform their lives to the entire Gospel of Jesus Christ as they prepare to receive the sacrament" and that "it would be misleading if such a statement were to give the impression that abortion and euthanasia alone constitute the only grave matters of Catholic moral and social teaching that demand the fullest level of accountability on the part of Catholics" (Cardinal Luis Ladaria; May 7, 2021).
As for the tragic history of maltreating Indigenous peoples, I cannot imagine anyone with a Christian conscience having anything but outrage and contrition and I would expect church leadership to take a lead role in redressing where possible historic injustice. (This reckoning over boarding schools, by the way, is coming soon to the Unites States as announced last month by the Secretary of the Interior Deb Haaland – herself a Catholic and Native American. An official of the Unites States Conference of Catholic Bishops, Bishop James Wall, has signaled a desire to cooperate in the impending investigation and to make such cooperation "a pastoral priority of the bishops").
One thing is, however, clear from the example of Amos: It would be a mistake to think one needs a special calling to be a prophet. Amos himself did not. In his own words, "I was no prophet, nor have I belonged to a company of prophets; I was a shepherd and a dresser of sycamores (I). He was literally minding his own business when the word of the LORD came to him and before he knew it he was calling out priests and king.
And it was no doubt the same for the Twelve sent out on their first preaching mission by Jesus. They were minding their own business too – Andrew, Peter, James and John tending their fishing nets; Matthew his tax collecting and the others no doubt their daily occupations when they heard Jesus' call to follow him. And before they knew it they were preaching repentance to people who, like Jeroboam and Amaziah, did not welcome [them] or listen to [them], so they left such places and shook the dust off [their] feet in testimony against them (cf. G).
And we can pretty much expect the same should we be minding our own business and hear the words, Go, prophesy to my people (I). And don't think like Amos and the apostles we aren't qualified. For in all wisdom and insight, God has made known to us the mystery of his will in accord with his favor that he set forth in Christ as a plan for the fullness of times, to sum up all things in Christ, in heaven and on earth (cf. II). In other words, we know the message. It's our business.
Creed
Intercessions (Peter Scagnelli; Prayers for Sundays and Seasons)
As a people redeemed and forgiven, let us earnestly pray to God, who freely bestows the riches of grace on all in Christ the Beloved.
That the church, sent by God for the healing of the nations, may proclaim Christ with courage and conviction, in simplicity and service.
That God's people may not fear or silence prophetic voices who challenge us to be more faithful to the gospel covenant.
That mutual acknowledgement and repentance for the conflicts of the past may drive from our world the demons of war and heal the wounds of discord.
That missionaries may be sustained by active support from friends at home and encouraged by a ready welcome in distant lands.
That those who confront our complacency by their words and example may lead society to a conversion that fosters justice and dignity for all.
That we may cheerfully extend to vacationers and travelers the hospitality of faith and the fellowship of our communities.
That parents and children brought together by adoption may see in their relationship a living image of God's adoption of each one of us in Christ Jesus.
That we who are redeemed by Christ's blood and forgiven our trespasses may eagerly make known to all the mystery of God's saving love for them.
That our dearly departed may now receive the promised inheritance of redemption.
God of justice, God of salvation, from every land you call a people to yourself. Yours is the work we do, yours the message we carry. Keep your Church single-minded and faithful to you. Let failure not discourage us nor success beguile our hearts, as you send us to proclaim the gospel. We make our prayer through Christ our Lord. Amen. (ICEL; 1998)
Interlude (John L. Bell)
O Christ, the Master Carpenter, who at the last, through wood and nails, purchased our whole salvation, wield well your tools in the workshop of your world, so that we who come rough-hewn to your bench may be fashioned to a truer beauty of your hand and touch. We ask it for your own Name's sake.
Lord's Prayer
We pray now for the coming of God's Reign as Jesus taught....

Spiritual Communion (Book of Common Prayer)
In union, O Lord, with your faithful people at every altar of your Church, where the Holy Eucharist is now being celebrated, I desire to offer to you praise and thanksgiving. I remember your death, Lord Christ; I proclaim your resurrection; I await your coming in glory. Since I cannot receive you today in the Sacrament of your Body and Blood, I beseech you to come spiritually into my heart. Cleanse and strengthen me with your grace, Lord Jesus, and let me never be separated from you. May I live in you, and you in me, in this life and in the life to come. Amen.
Thanksgiving
Closing Hymn
From the sheep the Lord called Amos,
"To my people, prophesy!"
Not a prophet by his training,
He had let the world go by,
Till the Lord sent him to Bethel
There to preach a warning word.
Scorned by those in posts of power,
Amos' warning went unheard.
Jesus called the Twelve and sent them
Two by two to preach God's reign.
Given pow'r o'er unclean spirits,
Telling of repentance plain.
Take no food, no purse, no money;
If a place won't hear your voice,
Shake its dust from you and move on
Tell the Good News and rejoice!
Praise our God, who gave—in Jesus—
Ev'ry blessing from above.
God has chosen us ere time was
To be blameless in His love.
Through Christ's blood we have been brought back
And our sins all washed away;
Washed and sealed by God's own Spirit,
Working towards the coming Day.
Archives