Third Sunday in Ordinary Time (A)
Third Sunday in Ordinary Time (A)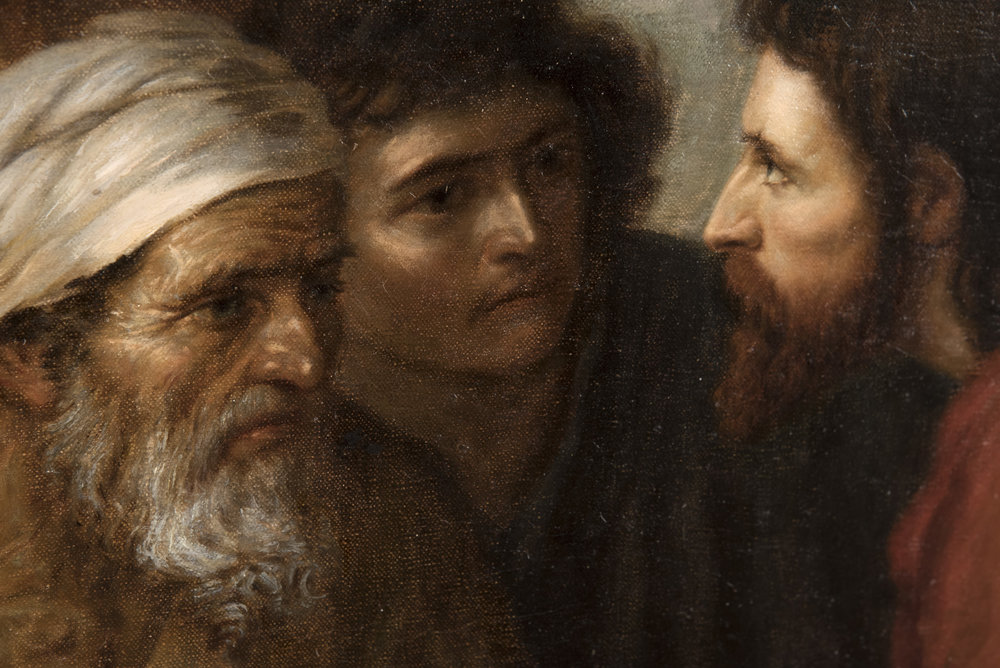 Collect
Almighty ever-living God,
direct our actions according to your good pleasure,
that in the name of your beloved Son
we may abound in good works.
Through our Lord Jesus Christ, your Son,
who lives and reigns with you in the unity of the Holy Spirit,
one God, for ever and ever.
Proper Chants
Introit
The Lord, walking by the sea of Galilee, saw two brothers, Peter and Andrew, and he called out to them: "Follow me, and I will make you fishers of men." Ps/. The heavens declare the glory of God, and the firmament proclaims the work of his hands. Day unto day conveys the message, *and night unto night imparts the knowledge.
Offertory
The Lord's right hand has shown strength, the Lord's right hand has exalted me. I shall not die, but live; and I shall declare the works of the Lord. Ps/. I called to the Lord in my distress; *he has answered and freed me. The Lord is at my side as my helper; * I shall look in triumph on my foes.
Communion
"Follow me; I will make you fishers of men." Whereupon they, leaving their nets and their boat, followed the Lord. Ps/. Blessed are those whose way is blameless, *who walk in the law of the Lord!
Liturgy of the Word
First Reading Isaiah 8:23--9:3
But there will be no gloom for her that was in anguish. In the former time he brought into contempt the land of Zeb'ulun and the land of Naph'tali, but in the latter time he will make glorious the way of the sea, the land beyond the Jordan, Galilee of the nations. The people who walked in darkness have seen a great light; those who dwelt in a land of deep darkness, on them has light shined. Thou hast multiplied the nation, thou hast increased its joy; they rejoice before thee as with joy at the harvest, as men rejoice when they divide the spoil. Second Reading
Second Reading 1 Corinthians 1:10-13, 17
I appeal to you, brethren, by the name of our Lord Jesus Christ, that all of you agree and that there be no dissensions among you, but that you be united in the same mind and the same judgment. For it has been reported to me by Chlo'e's people that there is quarreling among you, my brethren. What I mean is that each one of you says, "I belong to Paul," or "I belong to Apol'los," or "I belong to Cephas," or "I belong to Christ." Is Christ divided? Was Paul crucified for you? Or were you baptized in the name of Paul? For Christ did not send me to baptize but to preach the gospel, and not with eloquent wisdom, lest the cross of Christ be emptied of its power.
Gospel Matthew 4:12-23
Now when he heard that John had been arrested, he withdrew into Galilee; and leaving Nazareth he went and dwelt in Caper'na-um by the sea, in the territory of Zeb'ulun and Naph'tali, that what was spoken by the prophet Isaiah might be fulfilled: "The land of Zeb'ulun and the land of Naph'tali, toward the sea, across the Jordan, Galilee of the Gentiles -- the people who sat in darkness have seen a great light, and for those who sat in the region and shadow of death light has dawned." From that time Jesus began to preach, saying, "Repent, for the kingdom of heaven is at hand." As he walked by the Sea of Galilee, he saw two brothers, Simon who is called Peter and Andrew his brother, casting a net into the sea; for they were fishermen. And he said to them, "Follow me, and I will make you fishers of men." Immediately they left their nets and followed him. And going on from there he saw two other brothers, James the son of Zeb'edee and John his brother, in the boat with Zeb'edee their father, mending their nets, and he called them. Immediately they left the boat and their father, and followed him. And he went about all Galilee, teaching in their synagogues and preaching the gospel of the kingdom and healing every disease and every infirmity among the people.
Reflection Questions
Where do you see light shining in a land of deep darkness?

What strategies do you employ for dealing with the dissensions in your own life or community?

What nets are you being called to leave behind at this time in order to follow the Lord?
Catena Nova
Let anyone truly possessed by the love of Christ keep his commandments. Who can express the binding power of divine love? Who can find words for the splendour of its beauty? Beyond all description are the heights to which it lifts us. Love unites us to God; it cancels innumerable sins, has no limits to its endurance, bears everything patiently. Love is neither servile nor arrogant. It does not provoke schisms or form cliques, but always acts in harmony with others. By it all God's chosen ones have been sanctified; without it, it is impossible to please him. Out of love the Lord took us to himself; because he loved us and it was God's will, our Lord Jesus Christ gave his life's blood for us – he gave his body for our body, his soul for our soul. (St. Clement of Rome)
The moment we begin to feel satisfied that we are making some progress along the road of sanctification, it is all the more necessary to repent and confess that all our righteousnesses are as filthy rags. Yet the Christian life is not one of gloom, but of ever increasing joy in the Lord. God alone knows our good works; all we know is His good work. (Dietrich Bonhoeffer)
Worship at its best is a social experience with people of all levels of life coming together to realize their oneness and unity under God. Whenever the church, consciously or unconsciously caters to one class it loses the spiritual force of the "whosoever will, let him come, doctrine and is in danger of becoming a little more than a social club with a thin veneer of religiosity. (Martin Luther King Jr.)
I dream of gospel-based relationships not only among individuals but also among groups, movements, religious and lay associations. And among peoples and nations to the point that it becomes logical to love the other's nation as one loves one's own, logical to tend towards a universal sharing of goods, at least as the intended goal. I dream of a world with unity in the diversity of its peoples under one single alternating authority. (Chiara Lubich)
Correctly understood, repentance is not negative but positive. It means, not self-pity or remorse, but conversion, the re-centering of our whole life upon the Trinity. It is to look, not backward with regret, but forward with hope - not downwards at our own shortcomings, but upwards at God's love. It is to see, not what we have failed to be, but what by divine grace we can now become; and it is to act upon what we see. To repent is to open our eyes to the light. In this sense, repentance is not just a single act, an initial step, but a continuing state, an attitude of heart and will that needs to be ceaselessly renewed up to the end of life. (Kallistos Ware)
There is no sobornost without crucifixion, because it is through pain that one acquires that deep knowledge that has nothing to do with books and education… that deep knowledge that is given by God and by God alone that builds the foundation of unity. People thus united are transparent, and it is in those depths that one finds, I repeat, the foundation of sobornost… of unity. (Catherine de Hueck Doherty).
Beyond the differences which still separate us, we recognise with joy that at the origin of our Christian life there is always a call from God Himself. We can make progress on the path to full visible communion between us Christians not only when we come closer to each other, but above all as we convert ourselves to the Lord, who through His grace, chooses and calls us to be His disciples. And converting ourselves means letting the Lord live and work in us. For this reason, when Christians of different Churches listen to the Word of God together and seek to put it into practice, they make important steps towards unity is not only the call which unites us, but we also share the same mission to proclaim to all the marvelous works of God. (Pope Francis)
Homily
THIRD SUNDAY IN ORDINARY TIME (A)
Readings: Is. 8:23-9:3; 1 Cor. 1:10-13;17; Mt. 4:12-23
"So What's in Your Net?"
They call us 315ers. That's an area code that covers much of Central New York State, including Wayne County. The term is, let's face it, derisive. It suggests coming from a rather unsophisticated background; the word "rube" comes to mind. And yes, I'm one of them. From a little place called Newark. If people ask me though, I usually say "I'm from a little town between Rochester and Syracuse." That makes it easier on people who've only heard of Newark, New Jersey. It's all relative, of course. If you go to New York City and say you're from Rochester, you might have to explain where that is too. It's simpler just to say you're from "Upstate" for those who can't locate anyplace beyond Westchester County.
I suppose it's like being from the Land of Zebulun, and land of Naphtali, the way of the sea, beyond the Jordan (G). That's where Jesus was from. Zebulun and Naphtali were two of Jacob's twelve sons. And when they divided up the Pro­mised Land among their descendants, their tribes were given a chunk of Upstate Palestine. Which wasn't so great. 'Cause for one thing, they were close to Israel's great enemy, Syria, which invaded the region in the time of Isaiah -- when it became, in the prophet's words, the land of gloom (I).
By Jesus' time, a lot of pagans dwelled in the region. And the presence of so many unbelievers earned it the name Galilee of the Gentiles. So the city folk "downstate" in Jerusalem looked askance at people from the north. Galileans were suspect in their eyes 'cause they rubbed elbows with too many foreigners. That's one reason why Jesus, the prophet from Nazareth in Galilee, was never accepted by the establishment in Jerusalem. He could never be Messiah material, so they thought. One of his first disciples, Nathaniel, scoffed at the very notion anything good could come from Nazareth (Jn. 1:46).
God, of course, cares little about your hometown, your family background, your education, or how much you have in your retirement accounts. What's more, if you read the Bible, you'll see how God often favors what the world considers useless and absurd. And that's hard to accept, isn't it? Especially in a world like ours that values precisely those things God doesn't have much use for. And we Christians find God's ways just as hard to comprehend as anyone else, don't we?
Just look at the people of Corinth. Even though Paul tells us not many of them were wise by human standards, not many were powerful, not many were of noble birth (1 Cor. 1:26), they were still on the lookout for someone special to lead them. Celebrity and talent dazzled them. They even formed fan clubs, devoted to those they thought more important in God's eyes. Some pre­ferred Peter who, after all, was Jesus' chief apostle. Others took to Apollos, who was learned and eloquent. Still others thought Paul was best, 'cause he had those amazing visions of heavenly things.
It seems the people of Corinth forgot that Peter was a fisherman from Galilee who denied the Lord three times, and Paul was a tentmaker from Tarsus who persecuted the Church. As for Apollos, well, the wisdom of human eloquence can sometimes empty the cross of Christ…of its meaning (II). And the cross is the surest sign God couldn't care less for human achievements.
That's why Paul wrote his letter to the Corinthians: to remind them how God works. How God chooses the foolish of the world to shame the wise, [how] God chooses the weak of the world to shame the strong, and [how] God chooses the lowly and despised of the world, those who count for nothing, to reduce to nothing those who are something, so that no human being might boast before God (cf. 1 Cor. 1:27-29). Like Jesus' choice of Galilean fishermen to be his first disciples: Hardly the kind of people you'd find walking around the temple precincts in Jerusalem.
So if you think God doesn't have much in store for you while you're busy casting your nets -- whether cooking dinner, or driving to the office, or doing your homework -- think again. The Lord's likely to come 'a calling, right then and there. And you've got to be ready on a moment's notice. Just like Peter and Andrew who left their nets at once and followed him. Just as James and his brother John did who immediately left their boat and their father and followed him (cf. G).
And who knows what you might have to leave behind to follow the Lord? Maybe some sin long clung to, or a cherished grudge, or a simmering prejudice, or some earthly attachment. Or perhaps some inflated notion of one's own importance, or the bragging rights over some achievement, or how well you're doing compared to the Jonses next door: Any of those things we think make us really matter -- but are little more than window dressing in God's sight. In other words, whatever we might have in our nets that we must let go of -- not looking back -- to become the disciples Jesus calls us to be. For the kingdom of heaven is at hand (G). Where the Father lives and reigns with the Son, in the unity of the Holy Spirit, one God, forever and ever. Amen.