First Sunday of Lent (B)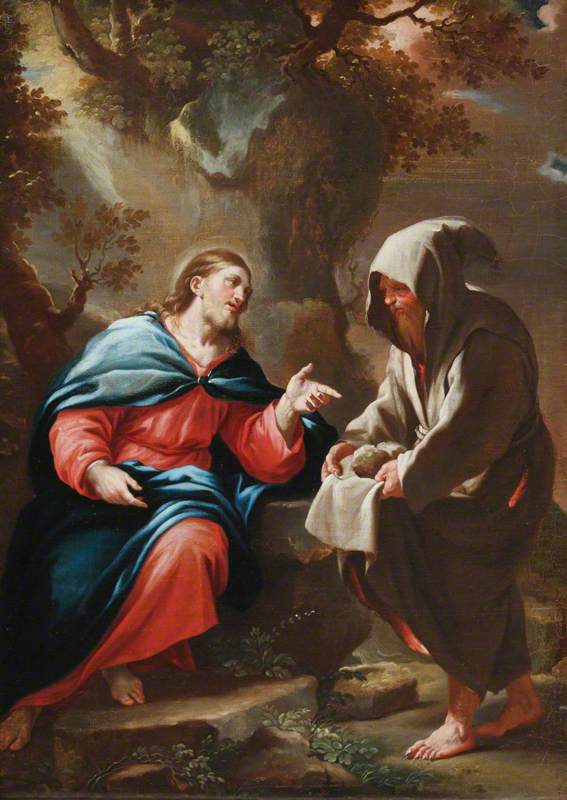 Introit
Kyrie
First Reading Gn 9:8-15
God said to Noah and to his sons with him:
"See, I am now establishing my covenant with you
and your descendants after you
and with every living creature that was with you:
all the birds, and the various tame and wild animals
that were with you and came out of the ark.
I will establish my covenant with you,
that never again shall all bodily creatures be destroyed
by the waters of a flood;
there shall not be another flood to devastate the earth."
God added:
"This is the sign that I am giving for all ages to come,
of the covenant between me and you
and every living creature with you:
I set my bow in the clouds to serve as a sign
of the covenant between me and the earth.
When I bring clouds over the earth,
and the bow appears in the clouds,
I will recall the covenant I have made
between me and you and all living beings,
so that the waters shall never again become a flood
to destroy all mortal beings.
Responsorial Psalm PS 25:4-5, 6-7, 8-9.
R/. Your ways, O Lord, are love and truth to those who keep your covenant.
Your ways, O LORD, make known to me;
teach me your paths,
Guide me in your truth and teach me,
for you are God my savior. R/.
Remember that your compassion, O LORD,
and your love are from of old.
In your kindness remember me,
because of your goodness, O LORD. R/.
Good and upright is the LORD,
thus he shows sinners the way.
He guides the humble to justice,
and he teaches the humble his way. R/.
Second Reading 2Pt 3:18-22
Beloved:
Christ suffered for sins once,
the righteous for the sake of the unrighteous,
that he might lead you to God.
Put to death in the flesh,
he was brought to life in the Spirit.
In it he also went to preach to the spirits in prison,
who had once been disobedient
while God patiently waited in the days of Noah
during the building of the ark,
in which a few persons, eight in all,
were saved through water.
This prefigured baptism, which saves you now.
It is not a removal of dirt from the body
but an appeal to God for a clear conscience,
through the resurrection of Jesus Christ,
who has gone into heaven
and is at the right hand of God, with angels, authorities, and powers subject to him.
Verse Before The Gospel Mt 4:4b
Gospel Mk 1:12-15
The Spirit drove Jesus out into the desert,
and he remained in the desert for forty days,
tempted by Satan.
He was among wild beasts,
and the angels ministered to him.

After John had been arrested,
Jesus came to Galilee proclaiming the gospel of God:
"This is the time of fulfillment.
The kingdom of God is at hand.
Repent, and believe in the gospel."
Reflection Questions

Are there any rainbows on the horizon in your life as a sign of God's providence?
How might you be appealing to God for a clear conscience this Lent?
Are you contending with any wild beasts or are any angels waiting on you these days?
Catena Nova
Dearly-beloved, be heavenly not only in hope, but also in conduct And though our minds must at all times be set on holiness of mind and body, yet now during these 40 days of fasting bestir yourselves to yet more active works of piety, not only in the distribution of alms, which are very effectual in attesting reform, but also in forgiving offences, and in being merciful to those accused of wrongdoing, that the condition which God has laid down between Himself and us may not be against us when we pray. For when we say, in accordance with the Lord's teaching, "Forgive us our debts, as we also forgive our debtors ," we ought with the whole heart to carry out what we say. For then only will what we ask in the next clause come to pass, that we be not led into temptation and freed from all evils: through our Lord Jesus Christ, Who with the Father and the Holy Spirit lives and reigns for ever and ever. Amen (Pope St. Leo the Great).
Let each one of us keep in mind the benefit of fasting and what gifts from God he has enjoyed in these few days and so become more eager for the days to come. For this healer of our souls is effective, in the case of one to quieten the fevers and impulses of the flesh, in another to assuage bad temper, in yet another to drive away sleep, in another to stir up zeal, and in yet another to restore purity of mind and to set him free from evil thoughts. In one it will control his unbridled tongue and…restrain it by the fear of God and prevent it from uttering idle or corrupt words (Eph 4:29; Mt 12:36). In another it will invisibly guard his eyes and fix them on high instead of allowing them to roam hither and thither, and thus cause him to look on himself and teach him to be mindful of his own faults and shortcomings. Fasting gradually disperses and drives away spiritual darkness and the veil of sin that lies on the soul, just as the sun dispels the mist. Fasting enables us spiritually to see that spiritual air in which Christ, the Sun who knows no setting, does not rise, but shines without ceasing. Fasting, aided by vigil, penetrates and softens hardness of heart…. I beseech you, let each of us strive that this may happen in us!… Let us gladly stand on the solid foundation of fasting. Let us stand firmly, let us stand willingly! (St. Symeon the New Theologian).
Everything the Lord Jesus decided to do, everything he chose to endure, was ordained by him for our instruction, our correction, and our advantage; and since he knew that the teaching and consolation we should derive from it all was far from negligible, he was loath to let slip any opportunity that might profit us.... And so when he was led out into the wilderness there is no doubt that his guide was the Holy Spirit whose intention was to take him to a place where he would be exposed to temptation, a place where the devil would have the audacity to accost him and put him to the test. The circumstances were so greatly in the devil's favor that he was prompted to capitalize on them: here was Jesus alone, at prayer, physically worn out by fasting and abstinence. A chance indeed to find out whether this man really was the Christ, whether or not he was the Son of God. From this episode therefore our first lesson is that human life on earth is a life of warfare, and the first thing Christians must expect is to be tempted by the devil. As Scripture tells us, we have to be prepared for temptation, for it is written: "When you enter God's service, prepare your soul for an ordeal...." Christ desires to impress upon us a second lesson. We should not lightly expose ourselves to temptation, for we read that it was the Holy Spirit who led Jesus into the wilderness. Mindful of our frailty rather, we must be on the watch, praying not to be put to the test, and keeping ourselves clear of every occasion of temptation (John Justus Landsberg).
"He shall give His Angels charge over Thee, to keep Thee in all Thy ways;" [Ps. xci. 11.] and the devil knows of this promise, for he used it in that very hour of temptation. He knows full well what our power is, and what is his own weakness. So we have nothing to fear while we remain within the shadow of the throne of the Almighty. "A thousand shall fall beside Thee, and ten thousand at Thy right hand, but it shall not come nigh Thee." While we are found in Christ, we are partakers of His security. He has broken the power of Satan; He has gone "upon the lion and adder, the young lion and the dragon hath He trod under His feet;" and henceforth evil spirits, instead of having power over us, tremble and are affrighted at every true Christian. They know he has that in him which makes him their master; that he may, if he will, laugh them to scorn, and put them to flight. They know this well, and bear it in mind, in all their assaults upon him; sin alone gives them power over him; and their great object is, to make him sin, and therefore to surprise him into sin, knowing they have no other way of overcoming him. They try to scare him by the appearance of danger, and so to surprise him; or they approach stealthily and covertly to seduce him, and so to surprise him. But except by taking him at unawares, they can do nothing. Therefore let us be, my brethren, "not ignorant of their devices;" and as knowing them, let us watch, fast, and pray, let us keep close under the wings of the Almighty, that He may be our shield and buckler. Let us pray Him to make known to us His will, to teach us our faults, to take from us whatever may offend Him, and to lead us in the way everlasting (St. John Henry Newman).
Even Jesus's temptation is not a heroic struggle of the human being against evil forces, as we gladly and lightly would like to understand it. Even Jesus is robbed of all his own strengths in his temptation; he is left alone; he is forsaken by God and human beings; even he must endure the assault of Satan in anxiety; he is held in complete darkness. Nothing is left for him except the saving, enduring, and uplifting word of God that holds him, fights, and wins the victory for him. The night of Jesus's last words, "My God, my God, why have you forsaken me?" has begun. This night must follow the hour of this temptation as the ultimate, bodily-spiritual, consummate temptation of the Redeemer. In that Jesus suffers this total abandonment by God and humankind, God's word and judgment are for him. As he succumbs defenselessly and powerlessly to Satan's power, the temptation is overcome. He was tempted as we are--and yet without sin. Thus, in Jesus' temptation nothing truly remains other than God's word and promise, not in any strength and delight of his own in fighting evil. Rather, God's power and victory alone remain, God who holds me in his word and through this word robs Satan of his power. Temptation can be overcome only through the word of God. "Then the devil left him"--just as initially God left him, now the devil leaves him--"and suddenly angels came and waited on him." In the garden of Gethsemane, too, "and angel from heaven appeared and gave him strength" (Luke 22:43). This is the end of temptation, namely, that the one who became utterly weak but was held by the word receives renewed strength for the vitality of body, soul, and mind through an angel of God (Dietrich Bonhoeffer).
Mark tells us that immediately after his baptism, the Spirit drove Jesus out into the wilderness where he was tempted, or tested, by Satan. Unlike Matthew and Luke, Mark tells us nothing else about the testing so we do not get a set of three drawn-out temptations to analyze. We are left with the bare fact of testing. What might the testing have consisted of in addition to, or underlying, the longer accounts? René Girard has given us a new and profound way to understand "Satan" in scripture by noting that the word skandalon (the Satan) literally means a stumbling block. Girard has demonstrated the ways humans become stumbling blocks to one another when they become conflicted. (Satan is well known to be a sower of discord.) In this model, it takes at least two to have a stumbling block, so how could Jesus, alone in the wilderness, have dealt with conflict unless he was fighting a supernatural creature? I, for one, know that when I am alone, many other people are still with me, particularly anybody with whom I happen to have a conflictual relationship. In fact, being alone during a time of conflict is a great way to become obsessed with a rival—OR—to let go and listen to a deeper voice free of scandal, such as Jesus' heavenly Abba (Abbot Andrew Marr).
Lent is a journey, it means accompanying Jesus who goes up to Jerusalem, the place of the fulfilment of his mystery of Passion, Death and Resurrection; it reminds us that Christian life is a "way" to take, not so much consistent with a law to observe as with the very Person of Christ, to encounter, to welcome, to follow…. It is above all in the liturgy, by participating in the holy mysteries, that we are led to make this journey with the Lord; it means learning at the school of Jesus, reviewing the events that brought salvation to us but not as a mere commemoration, a remembrance of past events. In the liturgical actions Christ makes himself present through the power of the Holy Spirit and these saving events become real. There is a keyword that recurs frequently in the liturgy to indicate this: the word "today"; and it should be understood in its original and practical, rather than metaphorical, sense. Today God reveals his law and we are granted to choose today between good and evil, between life and death (Dt 30:19). Today the Kingdom of God is at hand; repent and believe in the Gospel (Mk 1:15). Today Christ died on Calvary and rose from the dead; he ascended into heaven and is seated at the right hand of the Father; today the Holy Spirit is given to us; today is a favorable time…. Dear friends, on this Lenten journey let us be careful to accept Christ's invitation to follow him more decisively and consistently, renewing the grace and commitments of our Baptism, to cast off the former person within us and put on Christ, in order to arrive at Easter renewed and able to say, with Saint Paul: It is no longer I who live, but Christ who lives in me (Gal 2:20) (Pope Benedict XVI).
Homily
A Study in Contrasts
A priest-friend of mine told me how a colleague suggested we distribute masks rather than ashes last Wednesday. I mused a hypodermic needle might serve as an apt companion. Both items, after all, cover the three forms of Lenten penance: as a symbol of prayer for one's own and others' health; as a form of bodily penance like fasting involving discomfort and, finally, as an alms of charity given out of concern for your neighbor's and community's well-being.
As a substitute for ashes there is perhaps even more to a mask and a shot as potent symbols of Lenten discipline. As Anglican priest, Kenneth Leech once wrote,"The season of Lent begins with the memory of finitude and mortality, the symbolism of dust. On Ash Wednesday, Christians are marked with the sign of the man of dust. Looking foolish, with ashes on our foreheads, we confront our own mortality in the midst of a culture which tries to deny death's reality. The mark of dust identifies us as foolish. Yet the sign is also the sign of the cross of the crucified and risen Christ, and so it speaks also of glory. Here too there is contradiction and contrast" (We Preach Christ Crucified, 14-15).
So, on one hand, it's hard to forget our "finitude and mortality" whenever we don a mask to avoid a deadly infection and, yes, we do even look a little foolish! But, on the other hand, getting a vaccine serves as quite a contrast to round out the symbolism, for while the mask is a constant reminder of the virus lurking nearby, that shot in the arm contradicts it as a symbol of a life preserved.
It's kind of like the "contradiction and contrast" we see in Jesus' socially-distanced stay in the Judean desert where he encountered both wild beasts and angels. The desert being a suitable metaphor for our experience these many months of solitude, if not isolation – a dry and barren place where we have fasted from many of the things that sustain us and give us pleasure. And I can't imagine anyone who hasn't been tempted to abandon the safety protocols and risk engaging a ferocious adversary.
But the virus isn't the only dangerous thing roaming our desert. We've also seen the wild beasts of rampant racism, untamed gun violence, craven politicians thumping their chests, serpentine conspiracy theorists and, of course, those rabid insurrectionists invading what we thought was a safe haven. All these things have contradicted our imagined security. Yet, there are angels who have waited on us in the form of courageous health care workers, of peaceful protestors, of socially-conscious activists, of scientific researchers, and of decent political leaders who, in contrast to the wild beasts, just might manage to bring us out of the desert.
Peter as well notes "contradiction and contrast" between a destructive flood whose waters nevertheless prefigured baptism, which saves [us] now: the latter made possible by the supreme contradiction of Christ being put to death in the flesh contrasted by his being brought to life in the Spirit (II).
Lent likewise is a contradiction and a contrast. Joined to its penitential character, in which we face squarely the contradiction of our sins, Lent is equally about baptism's contrast whereby we may appeal to God for a clear conscience (II).
In all these ways, with contradictions and contrasts abounding, we live by the pattern of Christ's Paschal Mystery, of death and resurrection: the mystery that sealed the covenant between God and humanity, a new and eternal covenant – given for all ages to come (I). No longer signaled by a rainbow, but signed in the Blood of Christ. Who has gone into heavenand is at the right hand of God, with angels, authorities, and powers subject to him (II). To whom be glory, for ever and ever. Amen.
Creed
Intercessions
Saved by baptism and called to share Christ's victory over temptation, let us offer our intercession to God.
That these forty days in the wilderness of Lent may increase the church's strength for proclaiming the good news.
That God's covenant of peace with all flesh may inspire nations to prepare a heritage of peace for future generations.
That we who share this planet with every living creature may be good stewards of this fragile Ark and reverence it as God's creation.
That all the baptized, led by the Spirit and one with Jesus, may experience the Lenten wilderness as a place of testing and triumph.
That, having departed this life with a good conscience, our beloved dead may go with Christ into heaven to the right hand of God.
God of the covenant, as the forty days of deluge swept away the world's corruption and watered new beginnings of righteousness and life, so in the saving flood of baptism your people are washed clean and born again. Throughout these forty days, we beg you, unseal for us the wellspring of your grace, cleanse our hearts of all that is not holy, and cause your gift of new life to flourish once again. Grant this through Christ our Lord. Amen.
Interlude (Thomas Tallis)
Purge me, O Lord from all my sin
And save thou me by faith from ill
That I may rest and dwell with thee
Upon thy holy blessed hill.
And that done,
Grant that with true heart
I may without hypocrisy
Affirm the truth
Detract no man
But do all things with equity.
Lord's Prayer
In this Lenten season, above all, we pray to delivered from temptation as Jesus taught his disciples....
Spiritual Communion
Lord, we find ourselves yet again in the desert, alone and without the consolation of a community gathered together at your Table. In these moments of solitude comfort us with your interior Presence as you were consoled by angels in the hour of your temptation. Strengthen us for whatever time remains of this separation and unite us in the Spirit with our absent brothers and sisters.
Thanksgiving
Closing Hymn (Francis Poulenc)
Timor et tremor venerunt super me,
et caligo cecidit super me:
miserere mei, Domine, miserere mei,
quoniam in te confidit anima mea.
Exaudi, Deus, deprecationem meam,
quia refugium meum es tu et adjutor fortis.
Domine, invocavi te, non confundar.

Fear and trembling came over me,
and darkness fell over me:
have mercy on me, O Lord, have mercy on me,
for my soul trusts in you.
Hear, O God, my prayer,
for you are my refuge and my strong helper.
Lord, I have called upon you, I shall not be confounded.
Archives