Solemnity of Christ the King (A)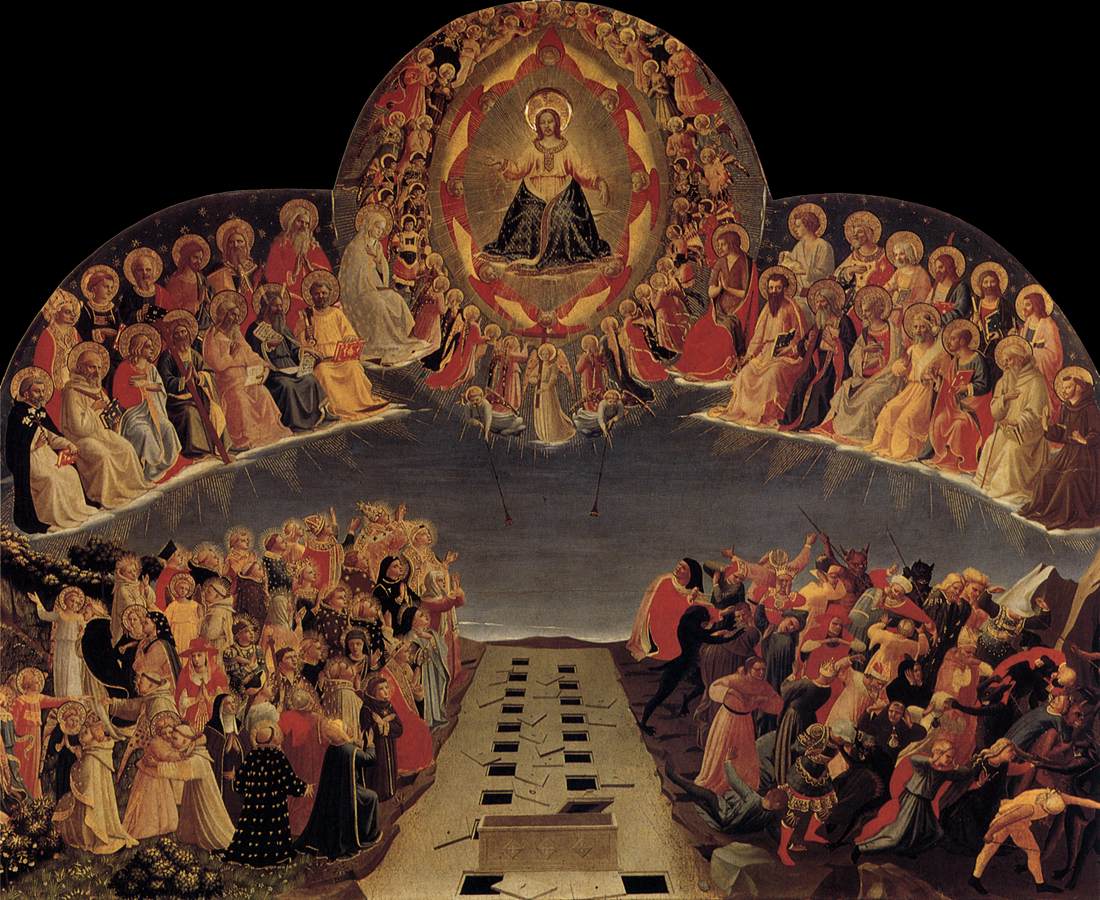 Introit
Kyrie
Gloria
Collect
Almighty ever-living God,
whose will is to restore all things
in your beloved Son, the King of the universe,
grant, we pray,
that the whole creation, set free from slavery,
may render your majesty service
and ceaselessly proclaim your praise.
Through our Lord Jesus Christ, your Son,
who lives and reigns with you in the unity of the Holy Spirit,
God, for ever and ever. Amen.

First Reading Ez 34:11-12,15-17 1
Thus says the Lord GOD:
I myself will look after and tend my sheep.
As a shepherd tends his flock
when he finds himself among his scattered sheep,
so will I tend my sheep.
I will rescue them from every place where they were scattered
when it was cloudy and dark.
I myself will pasture my sheep;
I myself will give them rest, says the Lord GOD.
The lost I will seek out,
the strayed I will bring back,
the injured I will bind up,
the sick I will heal,
but the sleek and the strong I will destroy,
shepherding them rightly.

As for you, my sheep, says the Lord GOD,
I will judge between one sheep and another,
between rams and goats.
Responsorial Psalm Ps 23:1-2,2-3,5-6
R/. The Lord is my shepherd; there is nothing I shall want.
The LORD is my shepherd; I shall not want.
In verdant pastures he gives me repose.
Beside restful waters he leads me;
he refreshes my soul.
He guides me in right paths
for his name's sake. R/.
You spread the table before me
in the sight of my foes;
you anoint my head with oil;
my cup overflows. R/.
Only goodness and kindness follow me
all the days of my life;
and I shall dwell in the house of the LORD
for years to come. R/.
Second Reading 1 Cor 15:20-26,28
Brothers and sisters:
Christ has been raised from the dead,
the firstfruits of those who have fallen asleep.
For since death came through man,
the resurrection of the dead came also through man.
For just as in Adam all die,
so too in Christ shall all be brought to life,
but each one in proper order:
Christ the firstfruits;
then, at his coming, those who belong to Christ;
then comes the end,
when he hands over the kingdom to his God and Father,
when he has destroyed every sovereignty
and every authority and power.
For he must reign until he has put all his enemies under his feet.
The last enemy to be destroyed is death.
When everything is subjected to him,
then the Son himself will also be subjected
to the one who subjected everything to him,
so that God may be all in all.
Alleluia Mk 11:9,10
Gospel Mt 25:31-46
Jesus said to his disciples:
"When the Son of Man comes in his glory,
and all the angels with him,
he will sit upon his glorious throne,
and all the nations will be assembled before him.
And he will separate them one from another,
as a shepherd separates the sheep from the goats.
He will place the sheep on his right and the goats on his left.
Then the king will say to those on his right,
'Come, you who are blessed by my Father.
Inherit the kingdom prepared for you from the foundation of the world.
For I was hungry and you gave me food,
I was thirsty and you gave me drink,
a stranger and you welcomed me,
naked and you clothed me,
ill and you cared for me,
in prison and you visited me.'
Then the righteous will answer him and say,
'Lord, when did we see you hungry and feed you,
or thirsty and give you drink?
When did we see you a stranger and welcome you,
or naked and clothe you?
When did we see you ill or in prison, and visit you?'
And the king will say to them in reply,
'Amen, I say to you, whatever you did
for one of the least brothers of mine, you did for me.'
Then he will say to those on his left,
'Depart from me, you accursed,
into the eternal fire prepared for the devil and his angels.
For I was hungry and you gave me no food,
I was thirsty and you gave me no drink,
a stranger and you gave me no welcome,
naked and you gave me no clothing,
ill and in prison, and you did not care for me.'
Then they will answer and say,
'Lord, when did we see you hungry or thirsty
or a stranger or naked or ill or in prison,
and not minister to your needs?'
He will answer them, 'Amen, I say to you,
what you did not do for one of these least ones,
you did not do for me.'
And these will go off to eternal punishment,
but the righteous to eternal life."
Catena Nova
As the holy Gospel clearly proclaims, the Son of Man will gather together all nations. "He will separate people one from another, as a shepherd separates sheep from goats. The sheep he will place at his right hand, the goats at his left. Then he will say to those at his right: Come, my Father's blessed ones, inherit the kingdom prepared for you from the foundation of the world." Come, you lovers of poor people and strangers. Come, you who fostered my love, for I am love. Come, you who shared peace, for I am peace. "Come, my Father's blessed ones, inherit the kingdom prepared for you" who did not make an idol of wealth, who gave alms to the poor, help to orphans and widows, drink to the thirsty, and food to the hungry. Come, you who welcomed strangers, clothed the naked, visited the sick, comforted prisoners, and assisted the blind. Come, you who kept the seal of faith unbroken, who were swift to assemble in the churches, who listened to my Scriptures, longed for my words, observed my law day and night, and like good soldiers shared in my suffering because you wanted to please me, your heavenly King....Inasmuch as you received, clothed, fed, and gave a drink to those members of mine about whom I have just spoken to you, that is, to the poor, you did it to me. Look, my kingdom is ready, paradise stands open, my immortality is displayed in all its beauty. Come now, all of you, "inherit the kingdom prepared for you from the foundation of the world...."enjoy for ever the gift of my heavenly Father, and of the most holy and life-giving Spirit (Hippolytus of Rome).
The kingdom of God, in the words of our Lord and Saviour, does not come for all to see; nor shall they say: Behold, here it is, or behold, there it is; but the kingdom of God is within us, for the word of God is very near, in our mouth and in our heart. Thus it is clear that he who prays for the coming of God's kingdom, prays rightly to have it within themselves, that there it might grow and bear fruit and become perfect. For God reigns in each of his holy ones. Anyone who is holy obeys the spiritual laws of God, who dwells in Him as in a well-ordered city. The Father is present in the perfect soul and with Him Christ reigns, according to the words: We shall come to them and make our home with them (Origen of Alexandria).
Truly I tell you, that whatever you did for one of the least of these my brothers or sisters, you did for me. What greater command could Christ have given us? How could he have given us greater incitement toward works of our own mercy and justice, than by saying that anything we gave to the poor and needy we gave to him, and that we offended him if we gave them nothing? It was in the hope that one who is unmoved by the thought of his brother or sister in the Church would at least be moved at the thought of Christ, and those who has no consideration for the distress and poverty of their fellow servant would at least have consideration for the Lord in the person of the one they despise. And therefore, dearest brothers and sisters, you who are pre­pared to fear the Lord, and have already rejected and spurned the world, raised your minds to celestial and divine matters, and made yourselves deserving through complete faith, a devout mind, and continuous good works, let us offer our worship to God. Let us give Christ earthly clothes to receive celestial ones; let us give him earthly food and drink, to join Abraham, Isaac, and Jacob at the heavenly feast. Let us sow abundantly so that our harvest will not be small. Let us look to our eternal safety and well-being while there is time, as the Apostle Paul urges us to do, saying: Therefore while we have time let us do whatever is for the good of all, but especially for the members of the faith. But let us not grow weary of doing good; for in its own time we shall reap our reward (St. Cyprian of Carthage).
By nature, each one of us
is enclosed, in his or her own personality
but supernaturally, we are all one.
We are made one body in Christ
because we are nourished by one flesh.
As Christ is indivisible, we are all one in Him.
Therefore, He asked His Father
"that they may all be One, as We also are one."
"We have passed over the waves
of this present life like a sea,
with its commotion and insane bustle.
We have eaten spiritual manna,
the bread that came down from heaven
giving life to the world.
Christ, has dominion over all creatures,
a dominion not seized by violence
nor usurped but His,
by essence and by nature.
The mark of Christ's sheep
is their willingness to hear and obey,
just as disobedience
is the mark of those who are not His.
We take the word 'hear'
to imply obedience
to what has been said.
We must note, therefore,
that they who do things pleasing to God,
serve Christ but they who follow their own wishes,
are followers, rather of themselves and not of God."
Our lives are all controlled by the Spirit now
and are not confined to this physical world
that is subject to corruption.
The light of the Only-begotten has shone on us
and we have been transformed into the Word,
the source of all life.
(St. Cyril of Alexandria)
O King of glory, and Lord of all kings! oh, how Thy kingly dignity is not hedged about by trifles of this kind! Thy kingdom is for ever. We do not require chamberlains to introduce us into Thy presence. The very vision of Thy person shows us at once that Thou alone art to be called Lord. Thy Majesty is so manifest that there is no need of a retinue or guard to make us confess that Thou art King. An earthly king without attendants would be hardly acknowledged; and though he might wish ever so much to be recognised, people will not own him when he appears as others; it is necessary that his dignity should be visible, if people are to believe in it. This is reason enough why kings should affect so much state; for if they had none, no one would respect them; this their semblance of power is not in themselves, and their authority must come to them from others. O my Lord! O my King! who can describe Thy Majesty? It is impossible not to see that Thou art Thyself the great Ruler of all, that the beholding of Thy Majesty fills people with awe. But I am filled with greater awe, O my Lord, when I consider Thy humility, and the love Thou hast for such as I am. We can converse and speak with Thee about everything whenever we will; and when we lose our first fear and awe at the vision of Thy Majesty, we have a greater dread of offending Thee,--not arising out of the fear of punishment, O my Lord, for that is as nothing in comparison with the loss of Thee! (St. Teresa of Avila).
The key feature of blessedness is that it involves living a deliberately chosen and cultivated sort of life which is not involved in the power and violence of the world, and which because of this fact, makes the ones living it immensely vulnerable to being turned into victims. That is the center of the ethic as taught by Jesus in the Sermon on the Mount....In the famous passage of the last judgement, the judgement is defined not in terms of belonging to this or that group, or believing this or that dogma. The judgement is presented in terms of the human relationships towards victims. Those who hunger, thirst, are naked, sick, or imprisoned. Those who have understood, whether or not they know anything about Jesus, are those who have seen their way out of the self-deception of the world which is blind to its victims, and have reached out to help them (James Alison).
The concluding parable of Matthew 25, the final teaching of Jesus in that Gospel, shows Christ as a king going about in disguise. Or does it? Neither the "sheep" who are welcomed into the Kingdom nor the "goats" who are sent to "the bad place" thought they were either serving or rejecting their heavenly king. What both the sheep and the goats saw—or failed to see—were vulnerable people who were starving or naked or in prison. This teaching has inspired a spirituality of "seeing" Jesus in vulnerable people, the rejects of society, the ones who are normally seen as the "goats," if seen at all. But what is at stake is seeing the people, seeing their vulnerability, and showing one has seen them by serving them....Edifying as this teaching of serving Christ through serving vulnerable people is, the grim sending away of the "goats" who failed to serve the vulnerable is disturbing. One way to understand this grim ending is to suggest that if our hearts shrink to the vanishing point so that we become permanently blind to the plight of vulnerable people, we end up in our own darkness.... I wonder if it might be emotionally easier to feed a hungry person than to care for a person who denies food to the hungry. It seems to me that any "sheep," like the Lamb of God, would want to save all of the "goats" (Andrew Marr).
Homily
"It's Good to be the King"
This time of year TV is likely to be showing any number of retrospectives on the Kennedy years as the anniversary of JFK's assassination rolls around – today as it turns out. One word used to evoke those years, of course, is "Camelot" -- the fabled notion that once upon a time there was a Golden Age in America, presided over by a couple as good and glamorous as King Arthur and Queen Guinevere could ever be. Even in a republic that overthrew a king, a longing for royalty seems to be deeply entrenched in the human psyche.

One reason for that is the power of what psychologist Carl Jung called "archetypes." Jung believed human beings have a disposition to produce characteristic images which are remarkably similar across time and space and in widely divergent cultures. He called these "soul images." They're like the DNA in our cells, except they carry the "genetic code" of the psyche. Arche­types show up everywhere: in the myths and stories which shape our identity; in the symbols that express our deepest beliefs and values; and in a special way, in our dreams. They influence the way we live, the way we interpret and organize our experience and the way we behave. Archetypes are the sources of energy that stir us to act. They form and fascinate us, often without our realizing it.
Following Jung, psychologists Robert Moore and Douglas Gillette have "decoded" the master archetypes of the male psyche, namely, the King, the Warrior (I prefer Hero), the Magician, and the Lover. Given the harrowing presidential election just passed, and today's feast of Christ the King, I thought it might be interesting to reflect on the first of these archetypes, what Moore and Gillette say is the "first in importance" and "underlies and includes the rest." (By the way, these archetypes all have corresponding parallels that are embodied in the lives of women. My reflection is therefore limited until such time as we have a woman in the White House and we can see firsthand how the energy of the "Queen" would play out in our culture. For now, I refer you to Queen Elizabeth II as someone who exemplifies this archetype in a longstanding and effective fashion for the people of the United Kingdom).
So despite the fact we live in a republic, the president invariably serves as a cultural lightning rod, for better or worse, with respect to the archetype of King. You could read the last 70 years of American history in light of the success or failure of this archetype to channel its energy for the good of the realm. Beginning with the Second World War when a generation of heroes returned one of whom would assume the mantle of king in the election of a former general to the presi­dency--a time generally regarded as one in which the realm was stable, if threatened.
The Eisenhower years were followed by the "Camelot" years mentioned earlier when, even if Arthur had some pretty serious flaws, his image was intact and the king was able to save the realm from the dire threat of nuclear annihilation. But then the Johnson years ensued--marked by the betrayal of a new generation at the hands of a king who presided over the Vietnam War, lost its trust and respect, such that he was led to abdicate. There followed the "imperial" presidency of another anti-king brought down by Watergate where, once again, he and his privy council proved unworthy. When Ford pardoned Nixon, inciting new feelings of betrayal by clumsy men, a new monarch was soon installed but the somewhat ineffectual Carter lost his throne for failing to gain the release of hostages. Then followed Reagan the actor who some think embodied the Emperor with no clothes. His successor Bush had to defend himself from charges of being a "wimp" (even though he was a war hero) and some think he found the perfect chance to prove himself by starting another war. After only one term – a sure sign the kingdom is tottering -- Clinton came along with the some serious faults leading to his impeachment though his throne was intact. The son of the first Bush, who occupied it next, met one of the gravest threats to the kingdom by trying to finish the job his father started though with false premises and fake intelligence. The surprise victory of Obama left a stunned underbelly of those who made him out to be an usurper priming his successor to assume the role after defeating someone who might have been the first Queen. Now we await a new king who promises to heal a divided land.
What, you might be wondering, would a good King look like? For Moore and Gillette, he "possesses the qualities of order, of reasonable and rational patterning, of integration and integrity . . . He stabilizes chaotic emotion and out-of-control behaviors. He gives stability and centeredness. He brings calm. . . . He brings mainte­nance and balance. He defends our own sense of being and purpose . . . . He looks upon the world with a firm but kindly eye. He sees others in all their weakness and in all their talent and worth. He honors them and promotes them. He guides them and matures them toward their own fullness of being. He is not envious, because he is secure. . . in his own worth. He rewards and encourages creativity in us and in others."

But this is the good King. There are, of course, Shadow Kings – every positive archetype has a sinister anti-type -- immature figures who represent a failure of kingly energy. The king who isn't up to the task "lacks centeredness, calmness, and security within himself, and this leads him into paranoia" while the overcompensating sort who thinks himself the center of the universe is extremely status-conscious, with an unjustly inflated ego, and full of self-importance. He is really a very insecure man who is notably weak at crucial points which include sensitivity to criticism, hidden fears, and terrifying weaknesses that he will do anything to hide -- above all from himself. He often has a negative father complex motivated by wounds inflicted by a father who was abusive, demanding, and impossible to please. Such a father-wounded boy is likely to grow into a man noted for his cruelty and need to control others, above all women.
Now for Christians Jesus perfectly embodies the various archetypes, including the King: the royal figure of Christ is visible even from childhood when at his Epiphany he received the homage and gifts due the new-born king of the Jews by fellow kings arriving from the East. As a man, his message was to announce, "The kingdom of God is at hand!" As one who teaches with authority, Jesus ascended the Mount, as if another Moses, to deliver the Law of the new dispensation.
As a good mentor would do, he trained his disciples, initiating the Twelve into the mysteries of the reign of God. The parables he told the crowds speak of a new order coming into the world, a kingdom where justice, peace, love will reign. Many of his miracles, like the calming of the storm, showed forth a majestic command of nature.
But it's in the mystery of his passion that the archetype of the King makes its strongest impression, when Jesus assumes the office of Messiah as the Suffering Servant. His triumphal entrance into Jerusalem; his dignity and composure before his interrogators; his crowning with thorns; and his proclama­tion as "King of the Jews" fixed to the cross, all give a specific contour to Jesus' sovereignty--one that demonstrates how he came to overthrow reigning notions of earthly authority in favor of a kingly energy exercised primarily through humble service. And when the Son of Man comes in his glory (G), when he hands over the kingdom to his God and Father, [Christ] will destroy every sovereignty and every authority, and power (cf. II).
Before that happens, however, all the nations will be assembled before him (G) where there'll be reserved seating. There'll be a section for the ancient peoples of Rome and Greece, of Egypt and Babylon. The leaders of nations will be there too: the Caesars and Pharaohs, the Sultans and Sho-guns. Their latter-day counterparts will be there as well, from Europe and Asia, and the New World too. With their kings, prime ministers, heads of state, and dictators. We'll be there too, in the place set aside for America, with Washington and Lincoln, Roosevelt and Kennedy, Eisenhower and Nixon, when all shall be brought to life (cf. II). And don't forget the Mexicans and Somalians, the Iroquois and Sioux, the Yemenis and the Haitians. They'll be there too.
And all that will matter to the Judge on that Day will be how the nations cared for each other: the favor shown by the fed and the sated to the hungry and thirsty; by the shel­tered and clothed to the homeless and naked; by the healthy and free to the sick and imprisoned. Thus will the nations be separated one from another -- by what was done to the least of Christ's kin. For the despised and neglected of this world are the vice-regents of Christ the King, those who wore the royal insignia of his passion and his crown of thorns. And he will rescue them from every place where they are scattered, where it is cloudy and dark (cf. I).And thus present to the immensity of God's majesty an eternal and universal kingdom a kingdom of truth and life, a kingdom of holiness and grace, a kingdom of justice, love and peace (cf. Preface). Who live and reign, forever and ever. Amen.
Creed
Intercessions (Mary Grace Melcher)
For our shepherds in the church, that they may diligently look after and tend God's sheep, bringing back the strayed, binding up the injured, healing the sick, shepherding us rightly.
That all sovereignties, authorities, and powers that are in opposition to God may be brought under subjection to Christ the King, that God may be all in all.
That we who know in what the final judgment of God will consist may be the first to treat Christ in the hungry, the thirsty, the stranger, the sick, and the imprisoned with compassion and reverence.
That we who have the Lord as our shepherd, who want for nothing under His care, may reach out to those who do not yet know God as Savior and Friend, leading them to Jesus.
That those who are going through a dark valley of sickness, poverty, oppression, or grief may feel the guiding press of the divine Shepherd's staff, leading them to restful waters and the anointing of joy and grace.
For our faithful departed ones, that Christ, the first fruits of those who have fallen asleep, may bring all who belong to Him rejoicing into His Father's kingdom.
Almighty God, you have conferred upon Christ Jesus sovereignty over every age and nation. Direct us, in the love of Christ, to care for the least of his brothers and sisters, that we may be subject to his dominion and receive the inheritance of your kingdom. Grant this through Christ our Lord. Amen.
Offertory Anthem (Franz Schubert)
Where thou reignest, King of glory, throned in everlasting light, In thy courts no more is needed sun by day nor moon by night. Soon may we those portals enter, when this earthly strife is o'er, There to reign with Saints and Angels in thy presence evermore.
Praise to God the eternal Father, praise to God the eternal Son, Praise to God the eternal Spirit, One in Three and Three in One. Honour, praise, thanksgiving, blessing now and evermore be done; God most holy, we adore thee, ever-blessed Trinity.
Lord's Prayer
We pray for the reign of God to come among us in fullness as Jesus taught...
Spiritual Communion (BCP)
In union, O Lord, with your faithful people at every altar of your Church, where the Holy Eucharist is now being celebrated, I desire to offer to you praise and thanksgiving. I remember your death, Lord Christ; I proclaim your resurrection; I await your coming in glory. Since I cannot receive you today in the Sacrament of your Body and Blood, I beseech you to come spiritually into my heart. Cleanse and strengthen me with your grace, Lord Jesus, and let me never be separated from you. May I live in you, and you in me, in this life and in the life to come. Amen.
Communion Antiphon
Closing Hymn (Vaughan Williams)
The King of love my Shepherd is,
Whose goodness faileth never,
I nothing lack if I am His
And He is mine forever.
Where streams of living water flow
My ransomed soul He leadeth,
And where the verdant pastures grow,
With food celestial feedeth.
Perverse and foolish oft I strayed,
But yet in love He sought me,
And on His shoulder gently laid,
And home, rejoicing, brought me.
In death's dark vale I fear no ill
With Thee, dear Lord, beside me;
Thy rod and staff my comfort still,
Thy cross before to guide me.
Thou spread'st a table in my sight;
Thy unction grace bestoweth;
And O what transport of delight
From Thy pure chalice floweth!
And so through all the length of days
Thy goodness faileth never;
Good Shepherd, may I sing Thy praise
Within Thy house forever.
Archives